Lync 2013 now available for Windows Phone 8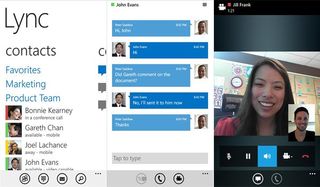 Lync 2013 has been made available for Windows Phone 8 smartphones. The app from Microsoft enables those who have a Lync 2013 account to utilise the service on Windows Phone. Voice and video is supported with instant messaging, conferencing and extra call features to help provide an effective platform for business and enterprise to take advantage of.
The company previously revealed plans to launch the app this month, after demonstrating integration between both Lync and Skype at its Lync conference, held in San Diego last month. We expect to see updates in the future to further integrate everything together. Windows Phone has already sported a Lync 2010 app for some time.
Features highlighted in the Lync 2013 store description:
View colleagues' availability in real time and select the best way to communicate – initiating an instant message (IM), email, voice or video call.
Connect to Lync Meetings with a single touch, without requiring long numeric passcodes or conference numbers.
Forward or simultaneously ring calls to your Enterprise Voice (Lync ID) number so you'll never miss a call.
Lync 2013 for Windows Phone provides transport layer security (TLS) and perimeter/internal network protection without requiring a VPN, so your communications experience is safer no matter where you are or what network you use.
You can download Lync 2013 from the Windows Phone Store. Thanks, Techno-Freak, for the tip!
Windows Central Newsletter
Get the best of Windows Central in in your inbox, every day!
Rich Edmonds was formerly a Senior Editor of PC hardware at Windows Central, covering everything related to PC components and NAS. He's been involved in technology for more than a decade and knows a thing or two about the magic inside a PC chassis. You can follow him on Twitter at @RichEdmonds.
I am on it.. It looks really nice!

why not merging lync with skype properly and get the skype integration to a point where it is actually usefull

Because the Skype team is asleep at the wheel.

both Skype & Lync team are sleeping, both of them are unusable on my phone (Nokia Lumia 920), Lync takes for ever to open, both these needs to be integrated with messaging like Facebook is integrated. Is Lync 2013 any better ? we are still using Lync 2010.

You should be able to use the Lync 2013 client even though your server is still running 2010.

Works fine with my Lync Online on office 365, which seems to still be powered by 2010 servers.

What o365 plan do you have? We have e3 and it tells me not allowed to sign in, use 2010

I also have E3.
Mine works with all the Lync 2013 clients: the classic desktop one, the W8 Modern version and now WP8 too.

Oh, and video and voice calls work pretty dandy.

ahh ok, i think it may be related to that update push they are doing on the back end.

The O365 tenants are still being updated over the next few months. It sounds like yours has not been updated yet. Nothing you can do, at the will of MS on this one.

Mine has always worked with Lync 2013 since Office 2013 was in beta last autumn. However all of my O365 portal still has the old 2010 layout.

Well the desktop version of Lync 2013, which comes with Office 2013, does work with Lync Server 2010 on the backend. The Windows 8/RT app also works with the Lync Server 2010 backend as you noted earlier. However, the WP8 App will not work with Lync Server 2010. I know parts of Office 365 can be updated at different times (i.e. SharePoint Online will be/is updated before Exchange Online) I don't know why the Lync upgrade would happen before the portal layout change, though.

You mean the Lync 2013 client for 32/64 Bit machines. If you're talking about the Lync 2013 app for Windows Phone 8 then it won't work on Lync 2010 Server. You'll need Lync 2013 Std/Ent Server to use the Lync 2013 phone app.

Uh yea....Lync 2013 is being released for WP8 and iOS at the same time, Android version is coming later.

If I was MS I wouldn't give Google nothing...:)

If Microsoft witheld anything from other platforms, I am sure it would result in some sort of BS "monopolistic practices" lawsuit, somehow.

Yeah you're right.. That sucks! I understand why they would give it to Google though.

It's not a lawsuit they're worried about... not having a version for android would drive people away from using Lync. People don't understand that separate parts of ms are accountable for their own products and need to do things that will make them successful.

that problem should be solved by 80% WP market share - no need for android anymore. Or why is office not ported on Linux yet :)

Still waiting for the final Skype rollout.

Can't get this to work with my Lync 2013 server. All other clients work ok, but apparently I should be using the 2010 client..

Just researched and this requires Lync Server 2013 with CU1 for this to work. Cu1 came out at the end of February.

You will need a Lync 2013 server to use this

Lync in WP?! How dare you MS. I'll never use MS again. Yours truly, Mr. Entitled.

So, It won't work with office communicator 2007 R2. My company deployed MS office communicator 2007 R2, which is compatible app in wp 8 for MS OC 2007 R2? If anyone using kindly reply here,


There is no compatible app for OCS on WP. We just have to wait for Lync on our corp servers

There is no OCS client for WP7/WP8. Microsoft said back at the launch of WP7 that there wont be one and everyone should be on Lync already. Unfortunately, my employer is still on OCS 2007 as well.

The company I work for has lync however I've NO idea to set it up - what teh feck at internal and external servers on this

Works great for internal server but not on Office 365 account. Update Office365 now working just took time to sign in.

I am on Office 365 and it's working just fine.

My company is on Office 365. Everytime I try to sign in it says, "You can' sign in with this version of Lync. Please install Lync 2010".

Whats the difference between Lync 2013 and Sharepoint?

Pretty much... everything. Lync is like Skype. SharePoint is content management, etc.

Lync is like Skype for work and Lync if added or setup also is a PBX. SP is more company announcement company calendar and share files for collaboration.

This is really slick. In a single release they seem to have outdone Skype. Very nice. I just wish I could setup more than 1 Lync account and switch between them.

+1
I have Lync for my company and when at clients office they like our techs on Lync for communication with in house IT team but I want to be able to checkup on them at the same time. We can have two exchange accounts why not Lync?

Man I wish this was compatible with Lync 2010, and was fully integrated with the OS.

This was really awesome, just did video lync, etc. UNTIL... it bricked my phone!!


UPDATE: Phone back up and running. Hopefully it doesn't happen again!

Just tested with my Office 365 account and it works well for both voice and video calls. Officially happy bunny as this has been on my wishlist for like forever.

Why just for Windows Phone 8!!! :'(

Anyone else not getting push notifications through the wp8 app? iOS is working fine and everything works but I'm not getting notifications or live tile updates. Only way i can use it is when the app is active.. Sucks to be me, plus im only wp8 user in my uni tech teams, the admin is getting well pissed at me for complaining about it lol

I seem to getting push notifications on mine. Received a couple of messages on it today and some calls all seemed to work well. The only problem I have noticed is the resume time can take to long and sometimes fails and you have to recover the conversation. Calls however have been fine and I was little suprised when driving home to recieve my Lync call via the handsfree (All my other calls had been WiFi up till now and the call quality was as good as a normal call via 3G). I guess I am just used to voice calls and was not expecting this and I suppose Skype calls would work the same way just never had one as I do not really use Skype.

my nokia lumia 822 straight up hangs on resume all the time with lync 2013 app. i had to uninstall it. it seemed that the more idle my phone is (ie. not using it) the harder it had time to resume. if i picked up the phone frequently it would resume lync fine most of the time. i would have to shut down the phone and power back on to get my phone back

anyone else having the resume issue?

Looks like "John Evans" needs a grammar checker on his Lync client..."No, I'll sent it to him now."?? hahaha Probably should have proofread before the screencap lol ;)

Techiedude
Windows Central Newsletter
Thank you for signing up to Windows Central. You will receive a verification email shortly.
There was a problem. Please refresh the page and try again.