A former Windows phone diehard's experience switching to iPhone 8 Plus
With Apple's fancy new iPhone X now available, the prospect of switching from Windows 10 Mobile to iOS has never been more attractive. This is one man's tale of finally giving in and going all-in on iOS.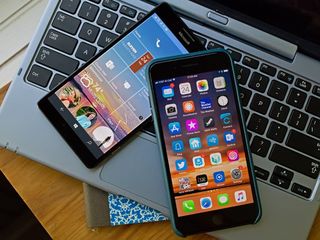 (Image credit: Windows Central)
After using a Windows-based phone for the better part of 10 years, it's now come time for me to move on. I knew it was inevitable and with an ailing Microsoft Lumia 950 XL and failing apps, the end came a bit quicker than I had hoped.
My move was to the iPhone 8 Plus and while I will miss Windows 10 Mobile, the move was not as traumatic as I had imagined. Ends up that the grass is a bit greener on the iPhone side of things these days (with Windows 10 Mobile dying on the vine) and the iPhone 8 Plus is an option worth considering if your Windows Phone just isn't cutting it anymore.
I have been researching options for the past few weeks when the Lumia 950XL started missing notifications, self-resetting more frequently and apps began crashing with more regularity. I was very impressed with the Samsung Galaxy S8 but just didn't feel comfortable with the operating system. Android is a capable OS and not a wrong choice, but I was more comfortable with iOS, plus everyone in my family sports an iPhone.
I've grown accustomed to the larger screen of the 950XL, which narrowed things down to one of Apple's Plus models of the iPhone. I ended up going with the iPhone 8 Plus with 256GB of memory. I figured it was my first iPhone and I should get the most current model. I'll miss the expansion card slot of the Windows Phones, but with 256GB of memory, I should be good to go.
I did consider waiting for the iPhone X but the "notch" bothered me. The new sensor bar is a critical component of the iPhone X and offers delivers some cool features. I also liked the infinity screen but you lose a good amount of real estate on the screen with the sensor bar resting so low. It's like having an ad banner on a YouTube video that you cannot close out. Had Apple increased the iPhone X's casing and positioned the sensor bar above the screen, I might have waited.
I have enjoyed using the iPhone and find it to be a capable operating system. However, I am often reminded that Windows 10 Mobile does a fantastic job of delivering a boatload of information at a glance. From the lockscreen to Live Tiles, you can keep up with life rather easy. With iOS, you can still keep up with life, but it requires you to dig a little. For example, you do get notifications on the lockscreen but have to swipe to the right to access a widgets screen that can display everything from the weather to news items to your favorite contacts.
Speaking of which, I would like to see Apple allow for contacts to be pinned to the home screen, much like Windows 10 Mobile does by creating contact tiles. The only option that comes close is the option to display your favorite contacts on the widgets screen.
There are other little differences with iOS that take some getting used to. You lack the ability to assign a specific notification sound to apps, you lack the ability to add information to the lockscreen (just shows time and current notifications) and when connected to a PC, the iPhone does not act like an external drive.
On the plus side, it is refreshing to see the volume of apps available for the iPhone (including the Microsoft suite of apps). It is a bittersweet experience to see so many apps that are available on Windows 10 Mobile in the Apple Store and updated. This only increases the app gap and sadly reflects the state of Windows 10 Mobile where apps are left unattended or abandoned by their developers.
I like the Touch ID system, not only for unlocking the phone but in many cases, it can replace the need for typing in a password with some apps. I haven't spent much time with the camera, but it does feel on par with the Lumia 950XL's camera. Battery life is respectable and the convenience of wireless charging is always a plus. I do think the build quality of the 950XL and other Windows Phones is better than the iPhone. I'm nervous enough about scratching the glass backing of the iPhone 8 that I bought a skin case to protect it. I haven't bought a protective case for a Windows Phone since the days of the Lumia 900.
I have to tip my hat to Microsoft for bringing Windows phones to the table. From the Palm Treo 750 to the Microsoft Lumia 950 XL, Microsoft delivered a mobile platform that developed into the best mobile OS on the market. Unfortunately, Microsoft failed to put enough energy behind Windows Phone to make it a competitive platform. While I think Apple could learn from Microsoft on smartphone features, Microsoft could learn from Apple on marketing.
It's a shame Microsoft is letting Windows 10 Mobile die on the vine and while I would like to see someone at Microsoft have the backbone to say Windows 10 Mobile is dead, I'm not going to hold my breath. I'll continue to hope that Microsoft reenters the smartphone market next year, maybe with a Surface Phone, but if that never happens I'm comfortable with the iPhone. There is a slight learning curve, but nothing too taxing. I think my biggest challenge is to stop the temptation to double-tap to wake the phone.
If you are considering making the jump to iOS or Android, here are a few Windows Central Forum discussions going on that might be helpful. Plus, you can always sound off in the comments..
Updated November 2, 2017: We decided to rerun this story following the release of the iPhone X.
George is the Reviews Editor at Windows Central, concentrating on Windows 10 PC and Mobile apps. He's been a supporter of the platform since the days of Windows CE and uses his current Windows 10 Mobile phone daily to keep up with life and enjoy a game during down time.
I think i'll be switching to LG V30 soon

Whilst you can't pin contacts you can quick msg, quick call, quick email with 3D Touch. So it's 1 press dependant on what type of quick comms you want. Camera? Are you kidding us? iphone 6s is very similar to Lumia 950 But iPhone 7 onnward smokes the 950 for photography- it's not even close.

I had the 950XL and now own an iPhone 7 Plus and I have to disagree: in my opinion the picture quality and detail were much better on the Lumia.

I completely agree. The 950XL has a better camera. I actually had this very conversation with an iPhone 7 owner (soon to be an iPhone 8 plus owner) on Saturday. He was so insistent that the iPhone 7 had a better camera until I pulled out my 950XL and let him scroll through my camera roll. He quickly changed the subject. It was really fun to watch his face when I zommed in on a few pics. The detail at full zoom was awesome. I wonder why he didn't show me any of the photos on his iPhone 7?

Come to Windows Central to look at Windows and Tech news. First article praising iPhone. I am pissed.

You should reassess your priorities in life if you are pissed about something like this.

As much as I wanted Windows Mobile to succeed this is my third year with Android and MS has done great with its Microsoft launcher they should have a setting to emulate the OS as much as possible. But seriously grow up :)

I had a similar experience. I took pictures of my son and his friends and I got teased. The comment was, "Ohh dad and his Windows Phone." However, when i compared the pictures I took with the pictures that were taken on iPhone 7s and Android devices, It was clear the pics i took were better. Yet, everyone wanted me to send the pics I took with my 950 XL.

hwangeruk, I disagree. The camera in the 950 is REALLLLLY Good. The 1020 was better still for image quality. Even the 8 cannot hang with those devices for camera. However, Even my 6s blows the doors of the 950 for EVERYTHING else. Speed, app availablility, ease of use, quality, reliability....and I do own both!

you are one of those who get all titbits from the media..do some thinking on your own. I have an iphone 7 and lumia 950. While the iphone 7 camera is quick, the pic quality is often better on the lumia

I don't personally have an iPhone 6s or 7. But from everything I've seen, with very very few exceptions, this is a an incorrect assessment of the camera.

No way. I had the 950, currently have the Galaxy S8 and & iPhone 7. The camera and processing was better on the 950 than both of these.

Yeah, camera on 950/950XL is far superior. Even though i don't like the post processing of the Camera app, the result is still very good. I have gotten accustomed to doing important pictures on the Raw+jpg setting at 4:3 ratio. And I use RAWER on phone for quick or RawTherapee on Surface for detailed post processing of my photos. Cannot do any of that with photos from iPhone or Samsung devices.

Thanks for the tip. Didn't know there was a raw app for mobile, I've been wanting to play around with RAW since i know it will step up the 950xl camera even more than it already is

iOS is decades uglier than WP in comparison..... Android is even more ugly, but at least you can attempt to do something about Androids revolting looks. With iOS you're just stuck with boring...... BS

Been FAIRLY happy with my V20. I won't go to Apple until they make their prices better. If WM somehow picks up again I'll go back to it in a heartbeat.

I'm using an LG V20, and I really like it, especially the camera and the quad DAC.

The camers is amazing, and I bought it partly because of the DAC, then I realized I don't use my phone as much for audio lol. I only use it on my way home from work, and then I use bluetooth into my car.

I use Bluetooth in the car, but I use wired high impedance headphones at home or at the gym.

All flagship prices are rising, so get used to that. You do realize the price of a flagship devices outside of Apple was in the $5-600 range in 2010? Now, a Galaxy S pushes $800 on release and It's competitors aren't far behind. Galaxy Notes are almost $950 - more than an iPhone Plus with 4x the storage. I I think the long term support from Apple is worth sonething, though. They support their devices fully and reliably for 4-5 years. If you aren't a yearly uograder, that is worth a premium over competing Android handsets. There is no comparison between Apple's device support/longevity and that of LG (lol) it Samsung. Google doesn't even support Nexus devices as well.

The iPhone SE has most of the features mentioned in the article, it is a heap cheaper and fills the void fairly well in terms of MS app support OneDrive Office etc. ive been happy with the switch, the iPhone ecosystem is quite dull, but everything works perfectly straight out of the gate. i won't buy a flagship until OEMs can significantly improve on the phones of 3yrs ago. It is a stagnant industry at the moment, trying to rip everyone off along the way.

"Make thier prices better".. Lol😂😂😂😂😂😂😂😂😂😂😂😂😂😂😂😂😂😂😂😂😂😂😂😂😂😂😂😂😂😆😆😆😆😆😆😆😆😆😆😆😆😆😆😆😆😆😆😆😆😆😆😆😆😆😆😆😆😆😆😆😆😆😆😆😆😆😆😆 🤣🤣🤣🤣🤣🤣🤣🤣🤣🤣🤣🤣🤣🤣🤣🤣🤣🤣🤣🤣🤣🤣🤣🤣🤣🤣🤣🤣🤣🤣🤣🤣🤣🤣🤣🤣🤣🤣🤣🤣🤣🤣🤣🤣🤣🤣🤣🤣🤣🤣🤣🤣🤣🤣🤣🤣🤣🤣🤣🤣🤣🤣🤣🤣🤣🤣🤣🤣🤣🤣🤣🤣🤣🤣🤣🤣🤣🤣🤣😬 🤣🤣🤣🤣🤣🤣🤣🤣🤣🤣🤣😛😛😛😛😛😛😛😛😛😛😛😛😛😛😛😛😛😛😛😛😛😛😛😛😛🎃😐😛😛😛😛😛😛😛😛😛😛😛😛😛😛😛😛😛😛😛😛😛😛😛😛🎃😛😛😛😛😛😛😛😛😛😛😛😛😛😛😛😛😛😛😛😛😛😛😛😛😛🎃 🥓🥓🥓🥓🥓🥓🥓🥓🥓🥓BACON!!!!!!❗❗❗❗❗❗❗❗❗

I'm probably going to give either the V30, Galaxy Note8 or Pixel XL2 a try just to see where Android is at right now. I'm leary of trusting LG or Samsung to keep their phones updated regularly and I hate the fact that they're allowed to make so many alterca