Disney's Maleficent Free Fall casts a match-3 spell on Windows Phone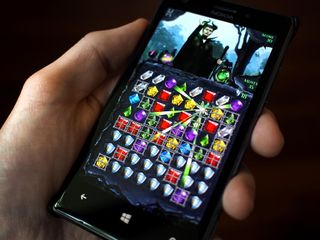 Disney has kicked off a new game for their upcoming film starring Angelina Jolie called Maleficent Free Fall. The play is more or less standard match-3 fare, only following the theme of Sleeping Beauty's classic villainess. Players are presented with a grid of colored gems, and must swap adjacent tiles to match up those of the same color so they disappear. Every stage requires players to eliminate a certain number of gems in a limited number of moves. The standard freemium tropes are employed here, including in-app purchases for power-ups and a timer-based energy system.
The game is free-to-play, with all of the usual tropes like energy and timers, Disney has also made a similar title for their successful film Frozen, not to mention more popular puzzle titles like Where's My Water? It makes sense that Disney continues to pair up their major releases with mobile titles, and the match-3 genre is one a lot of folks are familiar with (even if it's a bit tired for many mobile gamers). Anybody interested in seeing the movie at least? Do you play match-3 titles regularly?
You can download download Maleficent Free Fall for Windows here (opens in new tab), or on Windows Phone.
Windows Central Newsletter
Get the best of Windows Central in your inbox, every day!
Yup, why not just update the Frozen Free Fall with Maleficent content.

Where's the money in that :)

Just like any other apps: IAP and ads :p

Grabbing this one right away. :) Uninstalling Frozen free fall. (I hard reset my phone recently and went back to Level 1 so doesn't really matter) :P

Me too! Pissed me off. The game even has save data in OneDrive!?!?

Did u have it linked to ur Facebook? One if the recent updates allows you to log in.

Was it relesed to iOS and Android today as well? Even if not, Disney seems to considerate Windows Phone quite excellent! Not only that, they actually update their apps very often

Yep, it was a same-day release across all three.

Yes, It was released for iOS and Android today as well!

Wow, that is awesome. I dare to say not even Gameloft is *that* committed to Windows Phone and they're good though!

Sweet that its on PC as well!!!

Love Disney's support on Windows platforms

And they'll do the same thing they did with Frozen free fall. Make it impossible unless you buy power ups.

It's not impossible. I'm at level 165... haven't spend a penny.

Agreed. Never spent a cent and I was constantly waiting for an update to play more levels.

Psychological game they play is quite something... first you'll have it real easy... than it will get harder and harder without powerups... than you'll basically won't be able to progress without in-apps... but at that point in time you're already hooked, sometimes just by false beleif that "next level will get easier if I buy this power up"...

You are a much better free faller than I. Lol. I'm not paying for something that I can play for free so I've been stuck at level 40 something for about 5 months. Haha.

I currently struggling in level 192. No money spent. Fun game! :-)

I struggle to get to lvl 67 in Frozen. Holding myself from buying things.

My wife is on level 80 on her galaxy s5. She didn't even know about the frozen game until I installed it and told her. I'm stuck on 26 in frozen and made it to 5 in maleficent before needing to charge my phone.

Holy crap yes! Frozen Free Fall was awesome but my wife and i are HUGE Maleficent fans. This rules!

Bejeweled and nothing else xboxxxxxxxxxxxxxxxxxxxxxxx =P

Nah, not until Crandy Crush Waka .Lol for no issues with kling.

Saw a trailer for this on YouTube at 10am EST. Found it on the Disney site which had a link button to the WP store, searching at that time found nothing.

I'm not a grammar nazi but using the same adjective and examples in the last sentence of one paragraph, then in the first sentence of the second paragraph seems wrong. Game seems cool though.

Frozen is an ass, this one is very similar to Frozen. So no thank u. But for the movie I say yes.

I've been impatiently waiting for the movie to come out for months. Next weekend can't come fast enough.

Deleted. Laggy and don't like how it doesn't utilize more screen for play.

I'd rather stick on Sweets Mania Space Candy.
I like graphics and fast movements of the game.

Wish Frozen Free Fall had this performance and parallax effects :)

Is candy crush still a thing?

Disney always making the same games over and over...

I don't see how... they have Where is My Water, Where is My Water 2, and Where is My Mikey! /s

Ah, a puzzle game with falling pieces of colored things. How unique. I've waited long for something this original.

Is this any better than Sweet Crush? (Candy Crush on WP).. Frozen game was boring.

Well this game is original - Sweet Crush is NOT original as it's an illegal ripoff of Candy Crush. In the first version they blatantly stole the music, sounds, graphics and gameplay of Candy Crush. They've recently released a new version with the graphics and sound changed (probably to avoid a lawsuit), but it's basically the same rip-off game. Sweet Crush is actually worse than Candy Crush as it doesn't have powerups which are sometimes necessary to finish a level. I'm struggling at level 40 or 41 on Sweet Crush, but still going strong at level 141 on Candy Crush. Maleficent plays very similar to Candy Crush, but has a few unique spells etc

Thumbs up to Disney for not forgetting Windows Phone. WPC App for Android- Lenovo IdeaTab A3000

Fucking awesome!Currently on level 137 now in frozen free fall. Now I will install this as well!