Mango on Verizon September 27?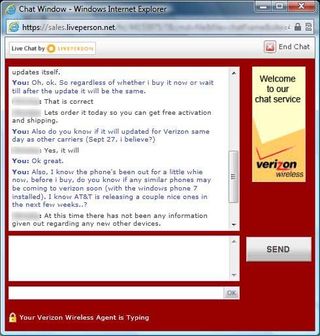 After Microsoft's announcement that Mango updates would roll out "in coming weeks" and AT&T's confirmation that they would begin on September 27th, one of our faithful readers decided to take it upon himself to try to find out when exactly Verizon was planning to send out their updates.
He poked around the Verizon Wireless site, when suddenly he was prompted to join a live chat with a representative. Through a clever bit of social engineering (AKA, directly asking the rep if Verizon's Mango update would roll out the same day that other major carriers' would) he was told that it would indeed be available on September 27th.
There are a couple of other interesting points in this conversation. Firstly, the representative says that regardless of whether the phone is purchased now, or post-Mango roll out, the software will be the same. So it sounds like Trophies will come pre-loaded with Mango. Secondly, when asked about other Windows Phone devices on the horizon, the customer support rep states that no information has been given out. Hopefully, this is just a matter of timing and not a sign that the Trophy will be Verizon's sole WP7 offering.
You can see the relevant part of the chat log above. Names have been redacted, as to not get anyone fired. Now, customer support reps have been known to be wrong in the past, so don't take any of this as gospel truth.
We are also seeing Mango referenced in Verizon's support pages on updating the HTC Trophy. Not only can you download a .pdf on the benefits of updating to Mango but also the instructions on how to go about updating your Trophy.
Thanks for the tip, Sam!
Clarification: Where the CSR informs our reader that whether the phone is purchased now or after the Mango roll out, the software will be the same, the CSR is referring to the update itself. While we could see Trophy's shipped with Mango eventually, the CSR meant the software update will be the same for existing phones and those currently in inventory.
And yes, CSR talk can be confusing and designed to make the sale. Hence the caveat to not take any of this as gospel. It is simply an indicator that September 27th might be Mango Day for Verizon customers.
Get the Windows Central Newsletter
All the latest news, reviews, and guides for Windows and Xbox diehards.