AT&T begins Mango update program September 27th. Full details.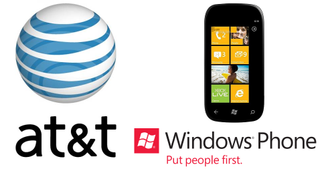 For all of you on AT&T and awaiting Mango, we have some big news for you, so grab yourself a seat, because you're hearing it here first. Looks like that earlier info about "being on time" was accurate.
We just received a series of emails exchanged between some higher ups at AT&T and an anonymous source (the source is anonymous to you, but known and verified by us). The emails give, in detail, AT&Ts plans for their Mango updates, including schedule according to device. The original emails are attached as images with all names and times redacted.
In short, here is the plan. "Starting September 27, 2011, Microsoft has approved and is planning to release a new "Mango" update to AT&T customers using..."
HTC Surround (SKU 65212)
LG Quantum (SKU 65205)
Samsung Focus (SKU 65203) [More on this below]
The update requires two steps: download new Zune software and plug in your phone.
Now the bad news. The Samsung Focus is still divided into two camps, depending on the hardware revision. Revision v1.3 will get the update on 9/27 while v1.4 will have to wait till end of October:
The Samsung team came back an provided this information about WINDOWS 7.5 for the Samsung Focus devices.
rev 1.3(Micron): Windows 7.5 update will be available through Zune on 9/27.
rev 1.4(LSI) : Update has not entered the AT&T SPE lab yet; however, Samsung is targeting for 10/17 lab entry and 10/31 TA
So there you go folks. The only thing missing from the above is the Dell Venue Pro, but we're under the impression that Dell will handle that directly. More info as it comes in. And thanks to our tipster for the excellent information and timely communication! Full emails after the break...
Daniel Rubino is the Executive Editor of Windows Central, head reviewer, podcast co-host, and analyst. He has been covering Microsoft here since 2007, back when this site was called WMExperts (and later Windows Phone Central). His interests include Windows, Microsoft Surface, laptops, next-gen computing, and arguing with people on the internet.
quick question and probably kind of stupidhow can i tell whether or not my Focus is 1.3 or 1.4 all I know is that i got it last november

Look at the label under the battery, should be pretty easy to see. I really hope this comes to pass!

thanksand i do have REV 1.3 SO EXCITED!!!!let's hope this isn't a flop like AT&T did with NoDo

Me too! Super excited as well. When I read about the whole 1.3 vs. 1.4 thing, I was like "Oh, no!" Luckily I'm on 1.3.

Thanks for the tip. I'm on 1.3. Yessss!

Mine doesn't say rev1.3 or 1.4.It's a replacement device, my first Focus' screen went bad.

Same issue with me. Replacements don't have the same sticker. My device could not find the internal memory after the NoDo update.I think the other good way to tell: 1.3 is build 7390 (never received 7392) and rev 1.4 is build 7392.

Check the 2nd email image--it explains it's in the IMEI number in the battery well

I have version 1.3. Excited! I was bracing for the worst, that AT&T would drag their feet on this like NoDo.

I know, right? Waiting for NoDo sucked!

Daniel, thank you for the both speedy and thorough article. This is obviously one of the biggest news items of the year. I'm glad I read it here first.

That's cool. Congratulations to those who have those devices...........any news on Verizon? I mean, how difficult can it be? They only have 1 device.

Verizon you know is anti Windows phone and you might have to wait longer before they give they roll out the update. It is obviously clear even to the blind man that with Nokia on board coupled with MS rich Ecosystem and a posssible merger with Windows 8, WP is definitely the third mobile platform but Verizon is notoriously refusing to accept that fact. Verizon CEO prefers Samsung Bada OS and soon to be dead Blackberry OS to Windows Phone.

Actually the Verizon CEO expects WinPhone to kick BB's butt.

And what about Sprint? When can I expect my Mango update for my HTC Arrive?

I am obviously thrilled to hear this. I only wish AT&T or Microsoft could have nutted up and told us this themselves.

Now they dont have to and I just posted it in comments on facebook for MS and ATT

Good idea! Now they may have to either comfirm or deny this, which they will not likely do on the weekend, and waiting until Monday may be later than they would like.

great news for ATT customers....i am so happy for them..i am on T MO so i am hoping for update soon as well...but ATT deserves it after the last (delayed) update..yay !!!

Hmmm I don't see either 1.3 or 1.4 in the IMEI? Help lol

Its on a sicker on the phone under the battery.

My Sticker doesn't say 1.3 or 1.4. It says the model, IME, and SKU. SKU is S5203. Is that Version 1.4?

I used this(got it from XDA):In Diagnosis (##634# in Dialer), enter *#32489#press Back button on the screen 4 times (lower right)until you see:1. debug screen2. version information3.....here, type 2 (version information)after, select 2 (HW VERSION)after, select 1 (READ HW VERSION)Mine is 1.3 so happy!! Good luck

Sweet I got 1.3 as well. Thanks man!

Thank you for showing this. I now know my phone is v 1.3 as well :-)

between the sku and the seral number to to the right side of the sticker it say rev 1.3 or rev 1.4

There is a problem reading this article in the WP7 app. When you expand the text to it's largest size and scroll to the bottom, some of the text gets cut off. You can only see the text if you shrink the fornt back down.

v1.4 of our app is being approved now by MS, hopefully it'll fix that

Thanks foir this article Daniel. This is truly great news!

I'm glad the 'premier' carrier is finally acting like they should.

I need to watch that Mango video on the WP7 Facebook page to get familiar with the new features.

My confidence in ATT and getting it done has been vindicated! They said they would be among the first and while they were first to announce they will have it to focus 1.3 (thats me too) within a week Tuesday that will be grreat looking fowrd to the update. I already have the zune 4.8 XX update and the other Window Phone USB driver update so it should be good to gowhen it gets here. Now IO guess we can all wonder when on the 27th?

Great news Daniel, now i have one question hoping you can relay it to your source. Is visual voicemail being turned on as well starting on the 27th?

I certainly hope so. I will not be happy with AT&T if they refuse to turn it on for WP but have it enabled for the iPhone & BB.

It would be cool, but to be honest it isn't a big deal seeing as they are prrrrrobably going to be pretty busy on the 27th...ya know with the whole Mango rollout and whatnot. But hopefully they have some sort of team dedicated to the visual voicemail portion.

I sure hope we get visual voice mail along with Mango as well.

What can possibly be the reason that me and others with the HTC HD7S have to wait longer for the update?

I know that the HD7s shipped with NoDo, so maybe there is a slightly different update path. I have no idea how/why that would be.Another possible reason could simply be because it was the last Gen I device distributed, and they have some business reason for holding off the update.

Can someone answer me this: Will the Mango update act as an update in place or will it be like a clean wipe (necessitating reinstall of apps, re-signing into all accounts, etc etc)?

It wont delete your stuff don't worry ;)

Clean wipe. Trust me, you won't mind.

Hah, two different answers, love it. And no, I'm not freaking out or anything, obviously everything is backed up except for game progress (which is annoying to lose) but it's still mildly annoying setting everything up. Again. Since I just had to do it last month to add more memory to it. Meh. It is what it is.. guess we'll see.

Zune will back up everything that was synced through Zune. This does NOT include call history, SMS/MMS threads, Office & PDF docs, and apps & games. After updating the OS, some app will reinstall, but most will need to be reinstalled "by hand". Setting up the phone again will take some time again of course.I have absolutely no problem setting up my phone again. I will be thrilled to finally use the Mango features!

Trust me, it's an upgrade so there's no clean wipe, some people clearly don't know what they're talking about. NOTHING will disappear, all your apps, games, documents, call history, etc. will be there. Clean wipe happens when people install leaked ROMs, not when they update the official way (well, except in Taiwan).

Now you've got me second-guessing myself here. Maybe an update to Mango doesn't clear everything out, but going to NoDo required a fresh start for me.

Going to Nodo I kept everything and that's how all updates are supposed to work.

Maybe it's a good thing that I stuck with AT&T. Since they're the premier WP7 partner here's hoping they keep getting updates first.It's surprising Mango is this close. Microsoft has been teasing Mango for almost 6 months now.

YES!!! I have the HTC Surround (SKU 65212)!

quite shameful for a premier carrier to be charging high rates along with data caps

They need the money to grease the palm of the republicans in Congress and line the coffers of Republican presidential candidateslike Rick Perryand they are in business to turn a profit. If you can pay you cant play!

I freaken knew it!they want it out before iphone 5. ;-)

Hopefully we'll turn some people to the light side :)

this makes me happy as a Surround user. I almost got a focus or an hd7s the other day. Im glad I decided not to.

UGH. This is definitely making me hit myself for getting an HD7S. Time to go back to a Samsung ASAP.

Well, this is a good news/bad news situation for me. I have an r1.3 (yay me!) but my wife has and r1.4 (boo!). I can see her trying to talk me into switching phones with her just as soon as she finds out.

Boy, I know how that would end up in my house. It would end so badly for me.....

As they say if momma isnt happy aint nobody happy Dude!

My GF is on 1.4 too, I believe, but she's not as into her phone so she won't mind waiting a bit.

"expensive" list of enhancements? Maybe they meant their rate plans. :rolleyes:

What about Verizon and Sprint? I think we have heard from everyone else at this point...

As a Sprint customer of 12 years, trust me, I'm trying to find out what we can. Sprint was pretty good with the Arrive, NoDo and the security fix, so I think they'll be early on this too.

It's an ATT announcement Sprint and VZN will get around to it when they get around to it. Sprint is busy right now trying to nix the ATT acquisition of TMO. Apparrently they want to buy it. I believe that the main thing they Att and Sprint want is (this should come as no surprise) the bandwidth!

OMG i have rev 1.3 the wait ends on 9/27/2011 i cannot explain waiting for mango, finally i waited for multitasking i needed that feature so badly

I totally agree, so frustrating of a wait. **** ya. FINALLY!! plus 9/27 is my birthday! Happy birthday ME!

AT&T can really find a group of loyal consumers in WP believers if they keep this up. Sprint and Verizon may really miss the boat on this. If they keep up the device support and manage this Mango update well, why wouldn't anyone interested in Windows not become a AT&T customer? Or, in my case, stay one? Truly happy for everyone on this list. Hope the updates go smooth. And do not worry, HDH7S crowd and anyone with the Focus 1.4- October is just 2 weeks away. Than, Mango is yours forever. Better they do it right as opposed to quick.

Excellent news. Maybe I can finally ditch my android phone and use my windows phone to it's (more) full potential.

so that means it might be september 27th on the blurry pic of nokia 800?

Ok, this is great news but how long until they release the new phones? Anyone know i want my new phone and i WANT IT NOWWWWW.

The Titan is already available for sale in Europe with European 3G frequencies for about $850.00 unlocked. The radar $G is supposed to be on sale starting late October on TMo.

Aww man.. I Have v1.4 I was really excited when i read this article until i checked what version i had.. oh well, i guess i will just go back to my Quantum for now.. till they release mango for my focus. win win

I'm an AT&T Samsung Focus Rev 1.3 user. My question is, since I'm still on the 7.0.7390 (NoDo) update, does this mean I'll receive two separate updates, one to 7.0.7392 (the root certificate update) and another to 7.5 (Mango)? Or will I simply receive the Mango update?

You'll receive 7392 as well as Mango. MS said 7392 for rev 1.3 Focus would be wrapped up in a future update. I'm assuming this meant Mango.

You get the 7392 and then the Mango. In case you missed this several months ago MS policy is a carrier may skip ONE update but has to push out the skipped update when they push the next update!!!

So just to confirm; I will have to go through the update process twice, correct? Once for 7392, and again for Mango?Or will it be a straight update to Mango?

LG Quantum is gettin' a makeover. NICE!

Will AT&T suport Video Voicemail, Tethering, and the other features that are being nixed by other providers?

unknown as of now Maybe ATT will come out with announcement on Monday or Tuesday about it Patience!

In regard to Sprint. I have a friend who works for one of their stores. He told me they received some HTC Arrives with Mango installed. I don't know what that means for us current owners of Arrive but hopefully we'll start getting Mango soon.

I thought that if you take the battery out on the Focus that it reset your phone to factory? Is that not true?

What? No, that's not true at all. Why would it be?...in fact, where did you even hear that?

And where is Verizon in all this..... Wow, just as I expected, not a word

*SIGH* - I have the Focus 1.4. Why did I have high hopes the software distribution issues with the 1.4 had been solved with the NoDo debacle?

I'm with you - and while 10/31 is the "target" I have very little faith that we'll be up and running by the "target"... fug.

Tuesday can't come fast enough. I really hope Visual Voicemail is included by AT&T. Looking forward to the voice recognition, IE9 and multitasking. Hopefully it fixes the hiccups I'm having with text threads refreshing over and over again unnecessarily.Now if AT&T could only fix their network so I could actually use data in a place occupied by more than a dozen people it'd be perfect!

I am 1.4 as well :( It took nearly 3 months to get the NoDo out to us 1.4'ers after the 1.3 if I remember correctly.I wish they would give more explination on why it is so hard to do 1.4......damn it more waiting!

Certainly great news that AT&T and MS have been coordinating this to be a rapid roll out.Bit of an kick in the pants to Customers who shelled out for AT&T's Flagship WP handset - the HD7s mind you.I'd like to grumble that they are updating phones they have been practically giving away lately and sending their best phone customers to the back of the bus - well, I just did - but if they actually compete this rollout in under a month it's such an improvement over last time that I'll have to tip the hat to all involved.Hopefully next time they will prioritize their most expensive phones first?MadSci2

That last part on the "email" worries me. It says at the very end:"This all we know at this time."Shouldn't it read: "This is all we know at this time." And even so, what does that mean? This all we know at this time. As well as the fact that it's coming from a group and/or single person that's a professional representing a multi-billion dollar corporation. What kind of grammar is that? Anyway, whatever.You either know or you don't. I have a hard time taking this seriously especially after this long a wait. Every time they've speculated the update to be coming, nothing has happened. I want to see AT&T and/or Windows Phone Blog directly announce it themselves, if they're so willing to tell these people who will obviously get the community excited prematurely, then why don't they just announce it officially if it's so official or whatever?I'm not purposefully trying to be negative but it has been kind of nerve racking for the past few months since what, July? And this is all definitely getting ridiculously annoying with these teasers about it finally coming.Grar!

Even professional folks like us make little mistakes sometimes. It's only an email, not a published book.

One more day for my Focus and Mango! I am keeping my fingers crossed this will all go smoothly. I can't wait to actually download all the Apps I want but can't have yet because I do not have Mango. Getting this right would be a great accomplishment for MS, AT&T, and Samsung...restore a little faith in them.

Not sure what it means but when I kicked off Windows Update on my computer last night I got an update to the Zune Software that had not been there a few days earlier. It was really two updates. One to Zune and one to Windows Phone USB.

HAVENT GOTTEN AN UPDATE YET AND IM ON DA QUANTUM

What time today is the Mango update coming out on AT+T?

can some one please confirm that you are have actually received the update,

Any updates on this yet? anyone actually receive the update? The Where's my phone has been updated to scheduling, not "Delivering" yet.

still don't have an update for my Focus...I'm beginning to think this site just makes up all the rumors. They've been wrong on about 99% of the other rumors they don't get from other sites.

Still no update on my AT&T ver 1.3 Focus.

I have the Surround, and yeah, I'm checking hourly, and nothing thus far, nor have there been any confirmations from Microsoft or AT&T.

WHERES MY UPDATE HAS BEEN...UPDATED! NOW DELIVERING! :D

BOOOOOOOOOOO, I have Focus 1.4. Why is Apple the only one that gets update delivery right. Android and WP7 are epic fails in that regard.

Apple controls both the ONE phone and OS; it would be epic fail if they got it wrong... which I've been told they did a time or so...The 1.4 problem was Samsung's doing, not WP. Regardless, all WPs will get updated, unlike Android; I don't see how that's epic fail.

I will believe it when I see it at this point. MSFT has been bad at communicating the Mango update, and initially they tried to set hardware standards - not sure what happened there. I like the metro UI, but the problems are lack of apps, poky performance, and missing features compared to others. They need to get this update out to ALL that have put some faith in their product - and soon.MSFT should have spent $8 billion on more apps rather they buy SKYPE. They are WAY behind Android and iOS. Maybe I will have an update before Iphone 5 releases. I do blame Microsoft for their botched mobile strategy.

Zune found the update for my Dell Venue Pro and installed it. Running 7.5 as I type :)

FYI: I went to my local AT&T store just to ask the very question as to why there was no update yet, and the response was this.The store manager looked and said that it was due to be released today, and to keep trying it maybe due to the volume of people updating that I was not seeing mine yet. Then another store associate said that the windows rep. was in earlier and said yes it is being released today, but it was only being released to certain number(s) groups at any given time. What this means is beyond me as the store manager even had a puzzled look on his face. The only reason we could think was to prevent system overload. The other associate then said the rep. said it could take up to 2 weeks before everyone has the upgrade, guessing that is only for those of us who have the V1.3 that should get it first. This is starting to suck, might just have to hop on the I-phone bus next time the opportunity presents it's self:-/

I have 1.3 and am still waiting for my update.

Well,Thanks foir this article....Best antivirus reviews are here http://www.free-antivirus.co
Windows Central Newsletter
Get the best of Windows Central in in your inbox, every day!
Thank you for signing up to Windows Central. You will receive a verification email shortly.
There was a problem. Please refresh the page and try again.