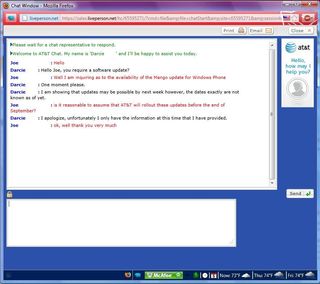 Yes, you read that title correctly.
There are those who remain skeptical about AT&T and the upcoming update (opens in new tab) that looms over the community on Windows Phone. Hopefully the above conversation could possibly shed light on lessons being learned from NoDo problems - here's one of our experiences with updating (opens in new tab).
While the representative couldn't provide our reader with confirmation if Mango would be rolled out by the end of September, he was told that it could be within the next week. We'll cross our toes and fingers that the rep is correct.
Thanks Joe for the image and tip!
Rich Edmonds is Senior Editor of PC hardware at Windows Central, covering everything related to PC components and NAS. He's been involved in technology for more than a decade and knows a thing or two about the magic inside a PC chassis. You can follow him over on Twitter at @RichEdmonds.
I tried the same thing with T-Mobile....No luck, they have no idea. The representative also did not know about the 4G HTC Radar.....

Wohoo! Go AT&T, learn from NoDo!

I take the above with a grain of salt. However, I hold out hope that they learned a valubale lesson from the NODO debacle. Seems as though they are trying to get all their ducks in a row for a unified deployment. I have some faith in MS, AT&T not so much.

I'm shocked. Now hopefully AT&T will awe me with Mango next week.(Yes, I did just reference shock & awe...... I feel so lame now.)

I'll believe it when I have Mango on my HD7S. They've still not bothered to ship 7392 for that phone, and actually haven't done any upgrades on it yet at all (it shipped with 7390), so I'm worried it'll be a Focus 1.4 debacle all over again.

I am firmly in the "I'll believe it when I see it" camp. If you put a gun to my head and asked me if every WP7 phone on AT&T will have mango by Halloween, I am pretty sure my answer would be no.

I'm trying to remain optimistic about it, especially since I'm such a pessimist about everything else. And I missed out on the whole NoDo fiasco since I didn't get my phone (LG Quantum) until after NoDo was released. And shortly after I got it, it updated just fine.

as long as it comes out within the next 2 weeks...I'm a happy camper.

But we do have to keep in mind this is just a customer service rep on chat.. I really don't believe they have access to real rollout information.

They probably logged on to wpcentral.com and read the same rumor that you and I read.

Looks like a good day to be an AT&T subscriber for once!

This is funny because when I ask AT&T they tell me they have NO idea about the status of the update releases and that in fact have very very little to do with the updates or the scheduling of the release. Told me to call microsoft and ask them. I have talked to 4 different representatives about it and they all say exactly that. And of course if you ask microsoft they say it's up to the carriers and they(microsoft) are "on schedule"Hot Potato?

Another funny thing is that everyone I talked to including the microsoft reps, chuckled when I asked them.

really this impatience needs to stop. u guys can wait 1-2 weeks.

If it were a case of waiting 1-2 weeks, that would be fine. The concern is that AT&T has historically shown no ability to reliability push out updates like this (neither with NoDo nor with the various Android updates), so skepticism about AT&T's ability to get Mango out to existing users is warranted.Seriously. AT&T just recently had a pretty big **** up with Gingerbread updates. For a month or more they had been saying that the Samsung Infuse would finally get Gingerbread in August. That date came and went with no update, and then several weeks after the fact they announced that they had confused "Samsung Infuse" with "HTC Inspire" (which did, indeed, get a gbread update), and there's no known date for the Infuse upgrade. If AT&T can't even get out 9 month old Gingerbread, how are they going to get out 2 week old Mango?

Maybe they figure that Gingerbread doesn't spoil as fast as Mango?

LMAO, I needed that laugh

Well apparently we will have to. The vagueness is quiete irritating, it seems like companies such as at&t and microsoft would have more definite schedules/plans and be able to tell their loyal customers precisely when something so huge (to "us") will be available. it not like we are just waiting for a tiny update that will allow us custom ringtones, this is massive.

2 weeks ok? they don't have to give an exact date. so somewhere between tomorrow and 10/7 everyone will be getting mango.

Very massive, which is why they didnt give an exact date. Let them test it, they know they have a soft deadline. Its alot easier to work with than a hard deadline.

If it will drop in one to two weeks, then next week will be best.First week of October belongs to Apple. If Microsoft wasn't the underdog, they could try to steal Apple's thunder but since they are trying to gain mindshare they cant.Next week would be optimal. They could roll out Mango to all existing handsets, have carriers announce availability of the new phones. Perhaps exciting new Mango only apps. Get bloggers to pick up on Mango's features and run with them for a week.Then when Apple shows off iOS 5 the following week, people will have already read about Windows Phone having the same capabilities.

I am very much fulfilled for using the fantastic alternatives in this md5 hasher blog page that to using the amazing alternatives in this blog page. Thanks a lot for providing the fantastic alternatives in this blog page that to using the amazing technology.
Windows Central Newsletter
Thank you for signing up to Windows Central. You will receive a verification email shortly.
There was a problem. Please refresh the page and try again.