AT&T NoDo Update: Let the adventures begin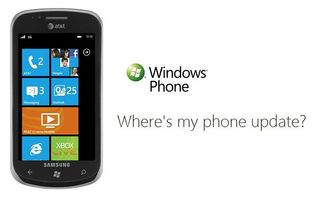 Well, it's official. AT&T has begun distributing the Windows Phone 7 (NoDo) update for the Samsung Focus and LG Quantum. It hit the airways around lunchtime and many have already updated their Windows Phone.
Most AT&T customers will receive a message on their Focus or Quantum alerting them to the update. If not, simply connect your Windows Phone to your computer and Zune. You can check for the update under the phone settings in Zune. The entire process takes about an hour and you'll first install the February 2011 update and then the March 2011 update.
While I have successfully updated my Samsung Focus, it wasn't flawless. Luckily, Microsoft has a nice troubleshooting page (opens in new tab) set up to help with all the errors we might encounter. To read more on my adventures in updating, ease on past the break.
February 2011 Update
The February 2011 or pre-Nodo update will be the first update you'll install (February in April...what a concept). It is a nine step process that should take about twenty minutes. I made it through Step 8 or 9 when my first headache occurred.
I received a "error 800705B4" message along with notification the update process failed. Microsoft's troubleshooting page lays out all the errors and solutions very nicely. My particular error was created because the update process timed out.
To resolve this error it was recommended that I clear your phone's browser, map and search history. I followed the steps, re-connected my phone, began the update process and recieved the same error. Ran through the corrective measures again, hoping third time was the charm, and recieved the same error.
According to the Troubleshooting page, my next step was to install the Update Support Tool.
Windows Phone Update Support Tool
The Update Support Tool is simple and straight forward. Download the Support Tool from Microsoft (opens in new tab), install it and run the app from your computer. The on-screen directions are well laid out and it takes a few minutes for the tool to recognize your phone. Unfortunately, there isn't any indicator to let you know when this happens.
I waited a few minutes and simply hit the "Recover" button until the Tool recognized my Windows Phone and started the recover process. From there, it will feel as though the Tool stalls but it is just a timely process. The entire process from downloading the tool to recovering the phone took about ten minutes.
Back to the February 2011 Update
With the help of using the Windows Phone Support Tool, the February 2011 update processed smoothly. It took just shy of twenty minutes to complete. Once completed, you will be prompted, in Zune and on your Windows Phone, that the March 2011 update is available.
March 2011 Update
To save you some time and frustration before applying the March 2011 Update, you'll need to make sure you have enough space on your computer to facilitate the backup process. If you have 8GB of storage in use on your phone, you need to make sure you have 8GB of storage free on your computer. Otherwise, the Updater will return with an error saying there's not enough room on your computer to proceed.
Another suggestion is that if you have applications (trial or full) on your Windows Phone that you haven't used in months, delete them. This will shorten the backup process and minimize the amount of space you need on your computer.
Installing the March 2011 update went without a hitch and took about 40 minutes. The longest part of this update was the time it took to backup your phone. Upload speeds from AT&T also seemed painfully slow and might be due to high demand.
Final Thoughts
While it felt odd applying a February and March update to my Windows Phone in April, I was glad to see Nodo rolling out. The process didn't go as smooth as I had expected but Microsoft presented troubleshooting solutions (that worked) rather nicely.
The end result shows my Samsung Focus with OS Version 7.0.7390.0 and Firmware Version 2103.11.3.3.
First impressions on the Focus running Nodo is that the Windows Phone has a little more zip to it. I was never on the edge of my seat waiting for Copy/Paste but it is a nice tool to have. The Marketplace moves along with a little more zip as well. Most notably though is that resuming applications is noticeably reduced.
Overall, I'm very pleased with the Nodo Update. While it would have been nice to have received the updates during their designated months, I can only hope that Microsoft and all parties concerned have learned from this process to help make the Mango update more consumer friendly.
So, how did your update process go? Any adventures? Tips to offer to help others from pulling their hair out in frustration? Feel free to share them in our comments section or over in the Forums.
Post Script: If your curious where the AT&T Address Book support is, just go to settings>applications>people and the AT&T Address Book will be listed under the accounts you can add to your phone.
Windows Central Newsletter
Get the best of Windows Central in your inbox, every day!
George is the Reviews Editor at Windows Central, concentrating on Windows 10 PC and Mobile apps. He's been a supporter of the platform since the days of Windows CE and uses his current Windows 10 Mobile phone daily to keep up with life and enjoy a game during down time.
I got the "error 800705B4" tried removing a bunch of apps and photos. Turned out all I needed to do was run the Windows Phone Support Tool.

I also got the 800705B4 error and went through the troubleshooting page. Clearing the caches did not work. Running the Windows Phone Tool did. All in all, took about 45 minutes to get everything working.On the bright side, the load speeds and resume times are absolutely amazing.

Got the error as well, everything was smooth after running the tool to fix that.Another fantistic little addition (for me anyways)...On the Focus, the camera now defaults anti-shake to ON!!!! For me this will be used far more than copy / paste.. lol

Nice write up. I have a question though...so from what i understand the install actually makes a back up of your phone, then installs the update. So basically after the update is the phone reset, and then its installs back your settings/programs/files??The reason i ask is, if its the case, could i add one of the new 8 gig ram on the phone so after the update and reinstalling the phone backup will i be able to get the update and the memory increase.Otherwise, it would be nice to have an app that backsup your phone so that you dont have to reinstall EVERYTHING after a hard reset to add memory.THanks,

I just finished talking with @WinPhoneSupport on Twitter and determined that while this may be possible, it certainly isn't as clean as I would like. The restore points/backups aren't a full image of your device. They only save specific things (Outlined here: https://www.windowscentral.com/e?link=https2F%2Fclick.linksynergy.co... Text messages and app data (two of the most important things to me!) are all gone.I happily purchased one of the new certified SD cards earlier today, but it looks like I'm going to be walking right back into the store to return it. I was hoping to have a full backup of my phone, not this half-assed attempt at a backup that they give us

Thanks for the reply.somebody should make an app for this!....app settings....i guess its ok as long as i can get the apps automatically loaded. I can live with out the txt messages myself as i backup the info on it if its important on an email, mostly the windows settings, outlook, not having to manually reinstall the apps... and backup songs automatically again... :)

I initially got the error 801812C1 - "software mode reported by your phone is incorrect". Apparently, a driver needed to be updated/installed. I disconnected my phone from the PC, rebooted my phone into "Connect to PC" mode, reconnected and the driver installed. I attempted the update again, only to now get the 800705B4 error. I then deleted the history in the IE, maps and Bing, to no avail. I used the WP Update Support Tool, tried the update again and it worked. For a moment, I thought I was done. But, of course, there was still the actual NoDo update. That took about 1 hour (I'm running Zune on very old hardware, though). Adventurous, indeed.

I updated to NoDo on my Focus using the VPN method a couple of weeks ago.Today, I was prompted for the "Samsung for Windows Phone" update.I RESTORED the phone to the backup performed when I updated as debranded THEN I got prompted for the March 2011 update and applied it.I have NoDo again, but NO FIRMWARE update this time. My FW version remains the same: 2103.10.10.1.I also see NO AT&T Address Book listing under the available accounts to add. As of now, it doesn't look like I got ANY specific AT&T pieces of the update.

I've got a few errors along the way. I had to use the support tool. I'm currently installing the March update right now.

With my LG Quantum:February update was successful - no errors.March update - I got to step 8 or 9 fine, but then it said I had an error and restored me back to pre-March update (with February still intact, since Zune only lists March as the only available update). The error code is 80004005, which isn't listed on the troubleshooting page. I'm going to go ahead and try it again, but if anyone has any ideas or suggestions, please reply!!!

UPDATE: I fell asleep after I started the March update the second time, but it worked:OS Version - 7.0.7390.0Firmware Version - 1.1.3.11I still have no idea why the March update didn't work the first time...

Just finished the update on my Focus. My experience was almost identical to yours, George. Cleared all cache after first failure. Just tried rebooting both phone and computer after the second then I dl'd and ran the Phone Tool and it worked perfectly from there. I did dig out my original Samsung Focus cable and switched to it after the two failures. I've been using a generic cable to connect to my computer. May or may not make a difference but I thought it was worth mentioning.

Ran both updates without a single issue!! Also, glad to see that my 16GB SD card didn't cause any issues. Was a little worried that it might.. Happy Updating!!!!!

Got the focus update this eveing during supper worked around installed drivers then pre and then no do took about 25 minutes for all. went to scouts came back saw the article about HSUA checked that and got back R6. Nice still thinking about doing the 16gb microsd card thing!

I got the 800705B4 error when attempting the Feb update. I tried it twice. I did all the history clears that Microsoft recommended, and I also switched to a different PC.Both updates installed then without a hitch.I don't know if it's placebo, but my Focus seems faster. It's like a new phone.It was a pain that it took that long, but glad to see that it works well.

I used the VPn method to update early as well, but by the time NoDo got installed my phone had locked in the unbranded state. So far Zune is reporting my phone is up todate. I'm not dismayed, since I have NO use for that garbage AT&T insisted on throwing in and causing this ridiculous delay. But, some of you might be looking for that stuff, so unless you can re-brand your phone you might be out of luck.

I just restored it and the update came right up and I did the vpn hack on my and the wife focus so I am guessing if you restore it re-brands your phone just a though

@ ScubaDog Your also missing the Samsung Firmware fixes but hey thats on you yerimsayin!!!

@Natebird, I'm betting the WISPr feature is part of the firmware update. If there's more to the firmware update than that, I'd rather hold off until I see evidence that it's something I care about. Just because there IS a firmware update doesn't mean it's a DESIREABLE one. I much prefer the stock update, not the fragmented ones. Oh, and I'm not about to restore my device back just to get the AT&T update. I've installed way too much stuff on my device (I have the 32GB Kingston card). And restoring won't necessarily drop folks back to a branded state. It will restore them to the state they were in at the time of the backup. In my case I was unbranded at that time. The only benefit (for those who need to) is that you'd be restored to pre-NoDo, so you could still use the unlock took and use the registry hack to re-brand your phone. I'm not about to go back.

Just updated my family member's quantum! Worked like a charm! Now waiting for HTC Surround Update :(

After my update I get an error message when I try to push my notifications on to my live tile note pad. It says unable to open notification channel. Any one have any ideas for me?

Hi, I had a few problems with the update which a little disappointing. Thankfully, I wasn't left with a bricked phone as I originally thought. Note, I attempted NODO update AFTER I had already installed the previously announced 8GB WP7 MicroSDDHC card for sale at AT&T. In my case, I had to remove the SDD card, format BACK TO OEM 8GB, plug USB cable to the back of the computer and all was fine. Oh, and yes, I attempted the update after EACH step mentioned above, not after making all of the changes :(--------------------------- ERROR CODE 801812DD ---------------------------Though the initial portions of the update will complete successfully when connected to USB ports other than those in the rear of your computer, the actual backup process may fail with this error code. Be sure to plug your phone into a USB port in the REAR of your computer and try again.-------------------------- Update Help Wizard ---------------------------If you have problems with the update process, the following wizard provides links to the ZUNE errors codes such as those mentioned above.http://support.microsoft.com/common/survey.aspx?scid=sw;en;1822&showpage...For AT&T Specific Documentation on the SAMSUNG FOCUS:http://www.wireless.att.com/support/tutorials.do?tutorialsCategory=Getti...--------------------------------------------- OS REFORMAT - for removing/adding SDD -- -------------------------------------------If you want to add or remove an SDD card and the OS Software "reset" doesn't cause your phone to recognize post-insert/removal memory capacity, try the hardware format.1.Simultaneously press and hold the Camera key, Volume down key, and Power key.2.Once the phone vibrates, release the Power key while still holding down the Camera and Volume down keys.3.When the "Format" prompt is displayed on screen, release the Camera and Volume down keys, press the WINDOWS key.4.Press the Windows key again to confirm formatting.5.Once the format is completed, the Initial setup will be displayed.6.Verify the *available memory has been updated by tapping Settings > About.*This can be used to remove an SDD card and revert capacity back to OEM 8GB. Removing a previously "integrated" SDD card may leave the OS with the impression the memory is still installed even if it is physically removed. OS will malfunction and Zune will fail to recognize phone in this instance.

Is anybody having issues getting the data usage texts (via the *3282# method) after installing NODO?NO clue if (or why) it would be related to the update, but I'm not getting the text. *shrugs*

its not related because i just tried to do it on my htc surround with no updates installed and it didnt work

Hey Does anyone know what the "Better Facebook Integration" is? What did they change?

I got the error 800704DD but no one else got this error! AHHH I've been trying to update my Focus for the whole day! Someone help me!

Wow. I still can't sync to my corporate Exchange account because WP7 continues to not support a Space in the user name. The 3gs I got rid of for the Focus did this, and I did not want to go back to that phone, but it appears I have no choice as apparently this does not affect enough people to be a priority. I was hoping this would be one of the minor fixes with Nodo.

Completed the update this morning without a single problem. Even so, the process felt disjointed and unpolished.

I got my phone stolen last Friday. Sad trombone. Bought a new phone Saturday and a 32gb chip (upgraded from a 16gb class4) and from the time I bought it to having it restored took about 40 minutes after email and contact sync.I then sync about 11gb of music back in and after that I was notified that my phone had an update but first update my Zune software. So, I updated my Zune app then ran the phone update with no problems. I noticed yet another update but skipped that as I had to leave. Sunday I hooked up my phone again and went ahead with the 45 minute update, and again, had no problems.Now I'm reading the it was this NoDo thing and it was for 2 separate months. Phone is working great! Well, now anyway. Lets see in a few weeks how it takes to the memory card I bought. The cut and paste is there, marketplace moves MUCH faster too! Where does one find the OS version and firmware info?