Manupatra, the popular legal research service, arrives on Windows Phone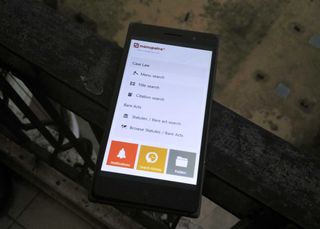 Founded in 2000, Manupatra is one of the pioneers in online legal research in India and one of the largest legal database providers online. Available online, as compact discs, and in print, the service is now available as an app for Windows Phone.
Manupatra provides corporate, legal, taxation, and business policy content across all subjects of law and while it started off as being an India centric database, today Manupatra covers case laws from US, UK, Sri Lanka, Bangladesh, and Pakistan.
The Windows Phone app allows you to access the Manupatra database anytime you need it – during your research, in court, or working with a client. The legal research resource gives you instant access to an entire set of Indian Case laws and Acts and allows you to search the comprehensive library.
You can search via keywords, citation, title, and acts. The app allows you to read documents enriched with editorial inputs with Zoom In/Zoom Out feature and hyperlinked to Cases and Acts. You can also save recent research and documents to folders for use later. The app allows you to save documents to OneDrive for later use or to download on your device as .docx for editing or annotating as you'd prefer.
Manupatra is an indispensable resource for legal professionals, and is updated daily. While the app is free, the service is available as a paid subscription only. If you are a legal professional or require research in the domain frequently, give it a whirl and let us know how you like it.
Windows Central Newsletter
Get the best of Windows Central in in your inbox, every day!
Indianna Jones uses this.

Indiana Jones knows how to spell his name, too.

Apps, Apps, Apps, Games, Games, Apps, Apps ...Keep coming!

It covers cases law from Pakistan hahaha

Haha! I see what you did there

I'll definitely check this out. Hopefully we see a Westlaw Next and LexisNexis app in the future.

Precisely. England & Wales specific. It's nice to see companies in other regions bring their products over but beggars belief the same can't be said for here in the West. Ignored.

Launching the app that with one drive support :clapping: One thing is sure Indian devs will be supporting the WP forever...

Yes they will, cause windows phones is only growing in india. Windows phones used to be 1 in 10 among all the three smartphone oses and now it is gone up to 3 in 10. That's progress.

Most popular device in India nowadays is Microsoft branded Lumia 535.

Windows phone market share is also growing in Bangladesh.

India is full of completely devoted to their passion techies of all walks on earth. (from a viewer who lacks cultural knowledge about India's diversity, heritage and culture point of view). Major claps since nothing could be portrayed any more erratically than apu from the Simpson's as your every day Hindu person. Such talents!

They started making Windows 10 apps type UI.

No, not quite. If you look at the screenshot in the middle with the "One Drive" option (which actually should read "Onedrive") you can see that it still looks like a Windows Phone 8.1 app. Windows 10 apps are not like that. Perhaps you looked at the first screenshot and thought it reminded you of Windows 10, but it's not. Anyway, it seems like a handy application to have with you, instead of a big law book or clunky laptop. Even a tablet can be clunky in some scenarios.

Looks pretty useful. Thanks.

Subriscrption. Is 5000 rupees or 100$ that too much

It is meant for legal professionals, also even for regular consumers 5k INR is chump change if you need legal help.

When in India???.... Oh..
Windows Central Newsletter
Thank you for signing up to Windows Central. You will receive a verification email shortly.
There was a problem. Please refresh the page and try again.