Windows Phone stock app Markets & Me version 2.0 on the way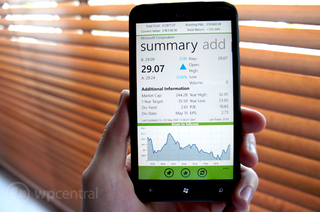 We previously looked at Markets & Me, a stock portfolio management app for Windows Phone, earlier in the year. We praised the work by the developer, who managed to create a beautiful experience for those who are interested in checking out the markets, or who have a heavy inventory full of stock. You may have seen Windows Phone Central use the app while taking shots for other stories.
Version 2.0 has been in development for some time and we're pleased to relay the announcement that it has been submitted to the Marketplace. We expect the Markets & Me update to go live sometime next week. So, what's included in this latest release?
A premium version! The current free version of the app will remain present (and will be updated), but the premium Markets & Me will sport advance features should you wish to have something slightly more rich in functionality.
Let's first take a look at what's included in version 2.0 for the free version of Markets & Me:
There's noticeable performance improvement, especially launch time
Support for adding positions/holdings to multiple portfolios is now supported, this is a feature much requested
Another highly requested feature is ability to pin-to-start the watchlist, this has now been added with support for up to 6 quotes on the Live Tile. This means in addition to the indices and currencies hub, livetile for 18+ quotes can be pinned to start without impacting performance at all
A simple sort feature now added for quote list
Improvements to the UI making it even more appealing
Quotes from more exchanges supported, including Helsinki Exchange which some of our users have complained in the past wasn't available
That in itself is a relatively large update, and really gives the user more to play with. We're told by the developers they want to add more to Markets & Me, but wish to get the release published to stick to a regular update schedule. In other words - there's more to come. Much more to come.
We mentioned a premium version of the app, so what's going to be featured in the paid edition of Markets & Me?
For the chart enthusiast and those who've already attested to Markets&Me having the best charts of any stock market app on windowsphone platform, this has even improved further. Now you can add financial indicators such as moving averages, MACD, RSI, etc.
Many users informed they wanted to be able to customise the hub, removing predefined indices/currencies they don't care about, this is now possible. The entire hub constituents can be replaced with the user's choice
In addition, predefined indices/currencies can now be added to watchlist
And also on tap, the indices/currencies now have dedicated summary pages, with information about how many stocks advanced or declined on the respective stock index on the trading day, with the currencies providing conversion options
The predefined indices/currencies can also be removed entirely, and re-added later as user desires, in fact custom currency pairs can be added to the app, and to watchlist or pin-to-start
The sorting in the premium version is also more advanced, giving the user total control on the ordering of the quotes in the relevant lists
Sounds like a featured-packed update. Be sure to check out Markets & Me if you haven't already, as it really is a beautifully crafted app. We'll have more information and will publish an announcement when version 2.0 his available on the Marketplace.
You can download Markets and Me from the Marketplace for free - premium version on the way.
Windows Central Newsletter
Get the best of Windows Central in your inbox, every day!
Rich Edmonds was formerly a Senior Editor of PC hardware at Windows Central, covering everything related to PC components and NAS. He's been involved in technology for more than a decade and knows a thing or two about the magic inside a PC chassis. You can follow him on Twitter at @RichEdmonds.
awesome! great app, looking forward to checking out that premium version

Definitely get the premium version

I'm buying this on day 1. I was very frustrated with the crappy stocks app until I found this awesome app.

Now please someone please bother to make a sports app that has similar visuals and keeps me within the app rather than constantly getting me to web pages to show stats.


I use this app and a few others. WP has a few really nice stock apps.For live feeds on your stocks shoing in a tile "My Stocks " is awesome. for a really nice over pitcure of what the markets are doing in metals. oil ect a must have is " Market Watch" the three I use right there.

This should be built into the new Bing interface for wp8, & wp7.8.

I'm not even interested in stocks, but I'll be getting this. Crazy good example of high-density "Windows Phone style" design.

I been using this app and love it. Also for some reason the live tile seems to not work? It use to work before.

Looking forward to the update to provide some much needed extra functionality. This is by far the best looking market app out there, but has been lacking in options until now.
I'll definitely buy the premium.

I got this app a while ago, but I have run into issues with quotes not updating. I also have trouble reading the red numbers on the black backgound. Yes, I understand the solution is to have less red stocks. I am working on that, but for the moment these are the numbers I am seeing :)
I've been using MyStocks Portfolio for a while and I like the real time quotes, the readability and the number of custom live tiles I can have.
This app and MyStocks are my go to financial applications at the moment. Ultimately I am quite pleased to have such good quality apps. It's good to see versions continuing to improve. I will certainly update to the new version as soon as it shows up for me. Thanks to all the developers.