Mattel is working on an Echo-like device for kids powered by Cortana's AI smarts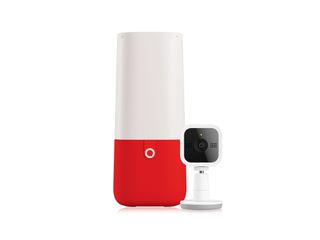 If there were still any doubts about the coming ubiquity of intelligent, voice-activated digital assistants, Mattel's latest product should put them to rest. Standing in the midst of a number of Amazon Alexa-related products at CES 2017, Mattel's Aristotle is a kind of AI smart hub built just for kids that just happens to be powered in-part by Microsoft Cognitive Services and — soon — Cortana intelligence tech.
While Aristotle may draw comparisons to the Amazon Echo, Mattel has a specific purpose in mind for the smart hub, aimed at helping both parents and children (via Geekwire):
The overall goal is to entertain, teach and comfort children as they develop, Mattel says. That means the Aristotle will be able to do things like help kids with homework or even automatically soothe detect and soothe crying babies with music. Aristotle also comes with a system of smart lights that include a "a night light, reading light, changing light, and multiple color lighting-specifically designed as a dynamic feedback system tied to the AI." Of course, the smart hub packs the usual array of IoT integrations as well, with Aristotle being able to interact with products from Wink, Wemo, Samsung Smart Things, Philips Hue, and more.
For Microsoft's part, it's pretty interesting to see third-party products leveraging Cortana's AI smarts. As the year wears on, we should see Cortana make its way in full to third-party products, including a Cortana-powered Harman Kardon speaker that was teased just before CES.
Aristotle is set to launch this summer as part of a $299 package that also includes a camera.
Windows Central Newsletter
Get the best of Windows Central in your inbox, every day!
Dan Thorp-Lancaster is the former Editor-in-Chief of Windows Central. He began working with Windows Central, Android Central, and iMore as a news writer in 2014 and is obsessed with tech of all sorts. You can follow Dan on Twitter @DthorpL and Instagram @heyitsdtl.
I would have serious issues with anything internet connected listening to my kids (if they were still kids.)

That's great however, don't you have to be at least 13 years old to use Cortana? My daughter, who's turning13 soon, has complained about this since her Lumia 520, 635, 735. Maybe now that she'll be old enough, I can talk her into trying Cortana on her GS6...nope, probably not. Missed the boat again...sigh.

whats the difference between a 10y. old 13y. and a 15y. girl nowadays??? Cuz if you ask me.. they are on the same boat

Not sure I follow...MSFT requires a user to be 13+ to sign in and use Cortana. Two years ago, when my kid was genuinely excited to use Cortana, MSFT wouldn't let her (or even let me approve as her parent on her MSA). Now that she'll soon be old enough, she's moved on to android and likely couldn't care less. MSFT missed the boat again.

US law specifically says that data can't be gathered on users under 13, so marketing this to kids is a big red flag.

True. I wonder if this will be allowed because there is no way for the child to "sign in" as of yet on an echo like device. Therefore, they cannot gather data on any underage user.

Cortana is partly usefull on a phone but, worthless on a PC... 1/2 the things I ask end up with a web search, when I ask the same question to my Andoid phone 85% of the Windows 10 WEB serches are answered...

This is true. Cortana rarely gives a voice response to queries where Google Now answers a ridiculous amount of stuff.

This is all starting to get a bit creepy tbh.

All those CES Alexa announcements look like another missed boat for Microsoft, was the leaked cortana device even mentioned?

I dont think the boat is missed. Not many people have googles home hub thing and not many people have alexa in their homes either. Its like the VR thing. Many think Microsoft missed that "boat" to but I dont know anyone with an htc vive/rift and I know 1 person who a psvr headset (I know, just cause I dont know anyone... But the stats and usage backs that up). But what will change the scope of things? 3rd parties release VR headsets using windows holographic. I think Microsoft will start to dominate the VR space when $400 headsets come out and average people can actually afford them and not just the tech elite or fanboy of a certain company. Like VR, voice AI is just starting out...

Agreed. It still early, but one thing is clear, Cortana and Alexa are probably going to be the dominate AIs in the industry, surprised that there is not a single Google Assistant product.

Likely because Goole Assistant maybe are only exclusive Google for now. Not sure the specific details about Google's effort but Amazon really wants Alexa to be everywhere. They had a head start and they are well known to consumer space, thus OEMs flocked as soon as they get. I agree that if MS played they cards right, Cortana and Alexa may dominate in the future. Though I wouldn't count off Google, since that company often likes to venture out into new things asap. Google have Big Data to take advantage off, thus AI is something we expect in their pipeline and will push very quickly, even more than Amazon and Microsoft that are not as globally available. Microsoft seriously needs to do something and rally their regional efforts quickly and consistently among other regions. Cortana on its own is quite good, but Microsoft regional effort needs work alot. It really feels like Microsoft on most countries just slack off or too slow to make progress on to make services available, even to developed nations.

Data these days matters more from the cloud than search. But expect Bing to become very big in the AI world, as basically the AI world of search as powered by it. If it is the cloud that is powering all the data, then it'll be Cortana and Alexa as Microsoft and Amazon are current duopoly in the cloud world. True, Microsoft does seem to have started getting partnerships ready and they have just released their SDK to developers just last month and there already seems to be interest. Home Hub and Windows 10 IOT also seems to be a play. Seems like furniture is going to be the future of AI, not smartphones. A

This is why I said a big data which Google is also specialized at. They already beyond search for a long time just like how MS is beyond Office and Windows. This is why Google will still play a big role in AI in the future because of their current foundation. So I expect at least 3 giants like Microsoft, Amazon, and Google. Apple is shrouded in mystery on how they really wants into AI. They started consumerizing AI assistants such as Siri, but they stagnate to evolve it ever since, or at least too slow progress that there is no certainty what Siri plays in the near future. Apple have smart home initiative though, so their presents will persist at least on consumers. Microsoft is fortunately building a good foundation to this smart home and AI industry.

Where will the AI live though if not in phones? Devices like Alexa are fantastic in a specific room but you wouldn't necessarily carry a separate one around with you. I think the phone will still have a place, but could be replaced by cellular PC in the right form factor as you'd have the benefits of a full PC with mobile power savings/always on functionality

I want more info about the harman Cortana speaker!

Dan you probably read some of our comments on another article right?

$299, also known as dead on arrival.

Considering it has a baby monitor, this price is actually very competitive. Good baby monitors are usually over $150, great ones are about $250 and up.

Somebody will ditching their babysitter for this LOL!

I hope it doesn't mistake "Pause" for Porn like Xbox does sometimes (A LOT less these days, but during the earlier previews it was often), you'd assume there will be a set of terms blocked in this device lol. MS did show their server side speech recognition in a demo where a child read from a book once and it did a really good job so I think this device should work well. A lot of people say they have recognition issues with Cortana but I think a lot of it is the Microphones used, I'll admit though that at times it feels like Cortana is trying to be too clever in guessing what you're saying rather than just listening (Saying "Start Again" during SMS dictation a few times can lead to some bad recognition)

Just don't get it. Do not understand what a device trying to talk to me so I have to write stuff down to remember it makes my life easier???? Give me a screen with it.

Aristotle doesn't seem like a very kid-friendly name.