Mediscape is a universal Windows 10 app that lets you access WebMD's Medscape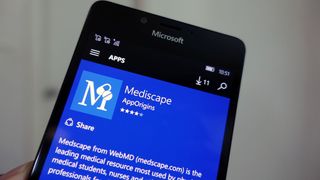 WebMD's Medscape is an online medical resource used by healthcare professionals for referencing information on clinical drugs, procedures and more. There's now an unofficial client called Mediscape that allows users access to WebMD's platform, with the ability to download content for offline usage.
Here's what's on offer with Mediscape:
Drugs Reference (with offline support)
Conditions Reference (with offline support)
Procedures Reference (with offline support)
Calculators
News
Education
Mediscape is available as a universal Windows 10 app for $1.49. Interested? Head down to the link below to check out the utility.
Buy Mediscape from the Windows Store ($1.49) (opens in new tab)
Thanks Fahmi Bassem!
Windows central will hopefully start the new year with a bang Aka universal

Before the end of the year I would like to see an article about 5/10 things Microsoft needs to do in 2016

It is amazing that they have not made a universal app, yet report on apps everyday and on what WM10 needs.

It's in development. Some apps take longer than a week to make.

We talking months here....heard the app was in development back in August. That's some time now.

I guess "Jay Bennet" WC App developer is on a long leave (On a Half World Tour by foot) & may B, he will make his comeback in mid 2016.

Not interested in your comment either

nice ...hi fy..cute Posted via the Windows Central App for Android

You have no idea how useful Medscape is for practising doctors

Not only for doctors but for patients as well.

And nurses. Not that I am one, but know quite a few.

need for life Posted via the Windows Central App for Android

If you mean not interested in an unofficial client then I agree.

Well YOU are not interested ! But I am sooo glad it is here ✌✌ i use it almost daily in my studies , medical student over here :p

Glad it's here but I don't pay for unofficial apps so I'm still not moved.

Me too. I just started using it. :)

Waiting for snapchat universal app

Keep waiting they might not be one ever.

The universe will end before that happens, sadly. Although I don't know why snapchat is popular for legitimate uses. I've never used it because it's not on Windows. Plus I have no desire to use it.

Go to iDroid then. It ain't comin

One more "unofficial client".
something better.. than nothing.
Anyways thanks for info Harish.

The next part of the story will come next week, when another unofficial client gets forced to take their app down. ;)

First they bring em.. Then they are taken down with comments comments from android bout the appgap ;)

You know what Universal app we need? Livescape. Anyone remember that? I still use it every day to measure my weight with that custom live tile.

It's great to see a lot of new apps coming to the platform, even if they are third party apps, sometimes things could go in the good way like Telegram and make the client the official one.

Was waiting for this for a long time. All i need now is the w10m official update for L640

Yeah, I "insidered" it, and don't regret it one bit!

Still not linking some apps mentioned in article on mobile devices huh? Sucks to have to choose "show in browser" just to see app link.

Wait till WC gets their universal app out. It will have it from what I'm told.

It is a great news! Finally! But I still wish to be better than the android version! Anyway it is better than nothing!

Thank you for thanking me :)

Provide offline version for Windows 10 phone too why we are nor have this app

Snap chat could be used in a lot of better ways and not for just clicking stupid selfies like teenage American girls all the time.

How come windows central don't have download links any more

Nice.. Happy to see new apps. Hope more apps to come..

I am a medical professional and nobody I know uses WebMD for reference. Hahaha!!

It has the Medscape database. I actually invested heavily in Android because of Microsoft's anaemic med app situation. The dev should be commended, he is helping Windows Mobile after all. Posted from my Note 5

As nice as this is for occasional drug references and procedural help when needed if this is theb best we can do to please the medical using community on wp10 then sorry it's not enough. How about some legitimate anatomy apps, radiology help, and an UpToDate app. Had to switch to android bc of lack of medical stuff Posted via the Windows Central App for Android

UpToDate app IS available in the store.

Nice app. I did some digging, but I can't find the developer anywhere on the web. And in the fremium version the about and settings page is not accessible, so I can't see the developers disclosure and developer data. This is very important in medical data, especailly for a website like medscape. I think this app could have potential but the look and feel is all a bit secretive and vague. Why wouldn't this developer just strike a deal with Medscape itself and ask for a bit more, instead of a shady copy of the original name Medscape to Mediscape and keeping developer info and disclosure data so locked up tigth in the free version. In my book there are alarm bells going off with regard to the validity and reliability of this app. A shame, because the good potential is there. But it is not necessary to lock disclosure and developer data under a 1,49 price. That shouldn't be the intent of medical information for proffessionals and patients. I understand the effort of reward for development, but there could be some more transparency. The design is simple and clean and intuitive. Things I would ask for improvement is some kind of progress bar to show the offline caching of data and package sizes. Also it would be nice if the downloading would happen in the background whilst the user could continue browsing the app. Also it would be nice if medscape news could be filtered accoriding to medical speciality. Its now a kind of unified inbox of info (too much info!). And it would be nice of we could selectively pin certain information or calculators as a secondary live tiles (bookmark) to the startscreen.

Great review!
I'm going to send him this and tag your name :)

I think coz this was done under the official company's nose so if they reveal this one the Medscape company might ask a slice of the pie

Hi there! I'm the developer of the app. Thanks for your feedback. You being unable to access settings/about is unintentional. I've just found that this is a bug that occurs under certain conditions. I've fixed the bug and submitted a new release to the store, which you should be able to download soon! You've got a couple of good suggestions too. I think I'm going to try and add those in :)

Hello Hosney, Thanks for your reply. I noticed a 2.0.4. update. Now I can access the navigation pane. I have some more feedback for you to improve your app, but will send it via your app channels. I think your app is an important one for the windows platform as there are not many "good quality" medical apps on the windows store. Contentwise I would consider medscape an essential one. So you've already made a great step. I hope this app will be here to stay as a maintained high quality medical reference and education app for years to come.

thanks Posted via the Windows Central App for Android

Folks I am glad to see that Businesses are making Windows 10 Universal Apps . Now if they are really well made they snould work on a Windows 10 mobile smart phone. This is the thing That Microsoft must get Developers to doto get more Apps on Windows Mobile smart phones

Medscape app is needed in Windows phone
Windows Central Newsletter
Thank you for signing up to Windows Central. You will receive a verification email shortly.
There was a problem. Please refresh the page and try again.