Meet the new Windows Mobile online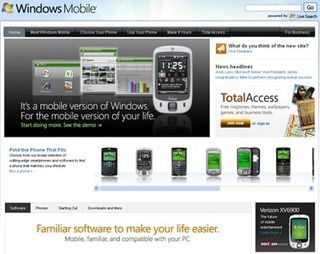 We've done our fair share of hating on Microsoft over Windows Mobile, and some much of it is deserved. But we're not above dishing out some unfettered love from time to time, and that's about what we have for the new Windows Mobile online (opens in new tab).
The site is mainly geared for consumers, and does a pretty good job of going through the basics of Windows Mobile.
Join us after the jump for a more friendly Microsoft (yeah, we're going that far), one that takes the time to introduce you to Windows Mobile, your phone, and how to make it yours.
The home page
The page you see above is what you first see when you visit the site. You're greeted by a Verizon HTC Touch, and a scrolling list that helps you "Find the phone that fits." Hovering over a phone will display its name, operating system - odd that 6.1 is nowhere to be found - and what carrier you can find it on in the United States. Samsung, HTC and Motorola are represented, though Palm is conspicuously missing. We'll see if the upcoming Treo 800W or Treo 850, which should both sport WinMo 6.1, are added once they're released later this summer (we hope).
Receiving prominent placement is "TotalAccess," which we'll touch on in a little bit.
For now, let's dive into the nav bar at the top. Featured are:
Meet Windows Mobile
Choose Your Phone
Use Your Phone
Make It Yours
Total Access
Meet Windows Mobile
Ah ha! There's 6.1! And, Microsoft says, "Your mobile life is about to get much better." Better? Yeah. Much? Maybe. But there are a few items on this page that we'd like to point out.
Compare versions:

(opens in new tab)

A chart that compares the features of WM 5.0, 6.0 and 6.1, standard and pro. (Actually, the list is so long it's a little unwieldy, but them's the breaks.)
WinMo 6.1 FAQ:

(opens in new tab)

Translated, that's Windows Mobile 6.1 frequently asked questions. 'Nuff said.
See the phones:

(opens in new tab)

Here's a rundown of phones currently available in the U.S. that are running WinMo 6.1.
Windows Live: We've covered this pretty extensively, but think search, maps, e-mail.
Choose Your Phone
With the myriad devices on the market today, it can be pretty tough - overwhelming, even - to decide what will work best for you, and what will work best within your budget.
For our part, check out How To: Buy a Windows Mobile Phone. Boy, some of those phones look old now, but the principles behind making a decision still stand.
Here (opens in new tab), Microsoft lets you drill down through the features, carriers and brands available. Standard vs. Pro. WiFi. GPS. Physical or on-screen keyboard. It's a very useful tool if you're not sure what's out there, or if you're helping someone else pick out their first smartphone. (Also check out our numerous device reviews and Phone Scoop's Phone Finder.)
Outside the U.S.? No problem. Pick your country from the drop-down list, and you're on your way.
Use Your Phone
This is why you bought the thing in the first place, right? This page is broken down into several basic sections.
Getting started:

(opens in new tab)

Because, as the site says, you have to start somewhere.
Personalizing:

(opens in new tab)

Make the phone your own, without third-party software.
E-mailing and texting:

(opens in new tab)

Pretty self-explanatory, but it does tackle how to manage multiple e-mail accounts.
Synchronizing your phone and PC:

(opens in new tab)

Still the bane of most WinMo users, to the point where many people only sync over the air. Maybe this will help.
User forums:

(opens in new tab)

Find help from someone like you. Or someone more experienced than you.
Support: How to get in touch with your carrier or device manufacturer.
Notices and upgrades: Such as the Daylight Saving Time fix, for those who still need it, and upgrades to ActiveSync.
Make It Yours
Here's a repository of apps, including the usual Microsoft gang - Office Mobile, Live Search, Outlook Mobile, Internet Explorer Mobile (no longer Pocket IE?), Live, and Media Player Mobile.
The Windows Mobile Catalog features third-party apps, though it really serves as a portal to software retailers Handango and MobiHand.
Total Access - the elephant in the room
Evident on just about every page is a link to Total Access (opens in new tab). Sign in with your Windows Live ID, and you'll get ... most of the same things you've gotten through the rest of the site, with a couple of bright spots. The best news is that it's all free.
Conclusion: A good start
It's good to see Microsoft making an earnest effort. Simplicity is key for the average user, and this site should offer some help. There's plenty of room for improvement, but this could prove to be a good step as we await Windows Mobile 7, and hope that such extensive how-to sites aren't even necessary.
Windows Central Newsletter
Get the best of Windows Central in your inbox, every day!