Verizon XV6900, The Touch, Now Available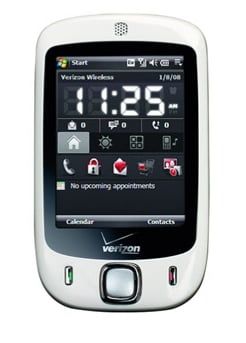 We told you that the Verizon XV6900, aka the Touch, would be available on April 16th. Lo and Behold, the Verizon Wireless XV6900 Product Page (opens in new tab) is indeed up and ready to accept your order. You're looking at dropping $299 US on the sucker after rebates and contracts and whatnot.
We all know the Touch very well by now, but it's unclear as of yet what version of TouchFLO we're looking at. It could be crippled, crap-app-filled version that Sprint gave unto us. It could also be the un-crippled, points-directly-to-Windows-Apps properly, and also has a real fourth side to the TouchFLO Cube that Alltel dropped.
Either way, Verizon's version comes in Arctic white and rocks the standard EVDO, Bluetooth, Windows Mobile 6, 128RAM / 256 ROM, and 2 megapixel camera. If you grab one, do please let us know about the TouchFLO on it: is it good times or bad?
Recieved mine Wed. morning. TouchFlo is not filled with any verizon products. Each button launches the standard windows associated program (or HTC variant in the case of the photo viewer).

W00T!!!
4th side to the cube?

No, standard three-sided 'cube' is all that comes on it.

Shrug. That's alright. Just pleased to see Verizon doing the right thing in the first place with the Cube.

well, one thing that keeps me with Windows Mobile is that it's so customizable. The cube on my Sprint Touch has 4 sides and 3 of them have 12 app icons apiece.
Windows Central Newsletter
Get the best of Windows Central in in your inbox, every day!
Thank you for signing up to Windows Central. You will receive a verification email shortly.
There was a problem. Please refresh the page and try again.