Meet Your Match at Westfield Stratford: Demo fun for everyone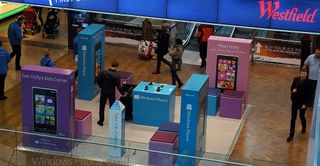 The Windows Phone 8 launch activities continue in full with the "Meet Your Match" demo crew hitting various sites around the UK. Today they are in London's biggest shopping mall, Westfield Stratford.
The holiday season is upon us and this is the best time for Microsoft to make a splash highlighting Windows Phone 8. If you're in London and want to check out some Windows Phone 8 device and have a chance at winning £100 read on past the break to find out more.
The guys will be at the centre until 18:00 today to provide some hands on demos to potential customers. We headed there very early today to see what was going on and it was still pretty quiet, they were still setting up. We also noted that they had a demonstrator on hand in the O2 store to provide some help with the devices. Sadly the O2 shop is still without the ATIV S and the ATIV TAB units for their nice display. That should be changing soon with availability now on schedule for the coming days.
They have some stiff competition there today as Samsung have taken over a huge section of the public space to demo their Galaxy line of handsets and their Smart TV's, is there no end to their marketing budget? Also of note is that most of the screens there are displaying Windows Phone 8 adverts on rotation. Other Microsoft action there includes HP who have set up a Meet Windows 8 area and PCWorld have a huge touchscreen built into their Window to show off Windows 8's new interface.
The last event we attended had prizes and free drinks, were we too early for them at his event or have things changed?
If you have been there today and had a demo we'd like to know what you thought. While we're here have you guys been seeing these types of events elsewhere in the world? Let us know in the comments.
Source: Facebook Windows Phone UK
Get the Windows Central Newsletter
All the latest news, reviews, and guides for Windows and Xbox diehards.
They should go.to united states mall. Sick of London getting all events.

There are events in the US, I was at the mall of Georgia yesterday and they had a stand set up to show off wp8 and Nokias in particular.

I was actually there to see a movie but I did see a couple people there when I walked by. There were large signs and quite a few posters so it seems like they are putting some real effort into marketing.

The US has shops. Not sure why these events would be that good there? RB

Agree with the former, it'd be cool to see this all over. And somewhat off-topic but I'd also love to see a Microsoft store in Philadelphia.

I saw them last week and had a good play with a white 920. Did help me make my mind up that I want a matte 920 rather Han glossy. Just feels better.

I actually had a HORRIBLE time with Meet your match in the states. i got to the Verizon store, about 5 guys with windows phones who didnt seem to fully know the phones. They explained some parts and yada yada, i asked them about the contest and they confirmed but it was win a $100 gift card or nothing. Great i said, they handed me a phone to fill out basic info and agree to terms l/ conditions. Finally a big button came up and said play now. I pressed it and it said " sorry, looks like you dont get to play " the guy grinned and said sorry and i left...

Very poor marketing making it seem that anyone can come up and challenge windows phone but then turns out your have to play...to play..to play...

Where can I get one of those jackets