Taking it to the people. How Nokia and Microsoft are getting you to meet Windows Phone.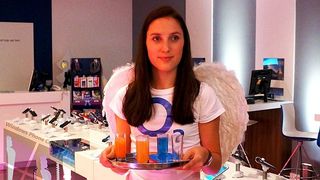 Walk into any mobile phone shop anywhere and you'll be greeted with row after row of rectangle shaped devices. How on earth does one choose which phone to buy when faced with this veritable sea of similar looking handsets? Nokia have done good work with their promotion of their Lumia range, often having dedicated displays to highlight the devices in stores but this alone does not sell devices.
As Windows Phone does break away from the standard looking icon-based user interface and offer something new, there is a need to tell its story. We checked in to the 'Meet Windows Phone' event yesterday evening to see what Microsoft and O2 are doing to engage the man and woman on the street.
Lots of fun with the Tombola - Roll up Roll up!
In the absence of any retail presence in the UK, Microsoft work either on their own to host dedicated events or with their partners to create some. The event last night was held in an O2 store in London's Westfield shopping centre. The shop was transformed with some additional seating, a fast talking cocktail engineer and 'O2 angels' to meet folks on the door with a drink and offer to try Windows Phone 8.
We arrived early and watched as the shop quickly filled with folks who had heard about the event through us, Facebook or were simply intrigued by the hubbub in store. If you took a demo of a Windows Phone 8 device you were given the chance to win some prizes. Microsoft's dedicated demo guys were there and as ever were doing great work showing what live tiles are and highlighting all the unique features of Windows Phone.
Windows Phone 8 demo funtime!
We were also pleasantly surprised to find a dedicated Samsung representative on hand to show people the rarest of devices, the ATIV S and the ATIV Tab. The ATIV S is still unavailable to actually buy despite being the first Windows Phone 8 device to be announced so seeing it in a shop in any form is a bit of a treat. O2 have installed dedicated Windows Phone 8 retail stands in their stores which are awaiting the arrival of the ATIV Tab and the ATIV S.
O2 have been quite active promoting Windows Phone and they seem on the verge of taking that further. If only they had actual stock to fill those blank spaces in stores. The ATIV Tab seems like a great little tablet, it's really light and easy to hold, we'll be interested to see how well it sells. One customer immediately asked if it was a competitor to the iPad and quietly admitted that he hated Apples tablet while shouting over to his friends to come and take a look.
Samsung ATIV S and ATIV Tab - Look but you cannot buy!
The event was fun, informative and seemed to do the job of attracting passers-by into store to take a closer look at Windows Phone. We seem to be slowly reaching a point where shop staff and consumers are becoming more aware of what Windows Phone is but it's clear these events are still hugely important. When faced with a sea of devices with similar colours and icons, Windows Phone 8 is really starting to stand out. Microsoft and its latest marketing efforts seem finally to be getting through, let's hope they keep up this sustained push, the mobile market will move on quickly if they drop the momentum.
We're keen to hear from you about how Microsoft is pushing Windows Phone where you are, let us know about events and offers. Comments below are open for business, speak to us.
Get the Windows Central Newsletter
All the latest news, reviews, and guides for Windows and Xbox diehards.