Microsoft in talks with landlords – Set to push Microsoft Stores to Europe in 2013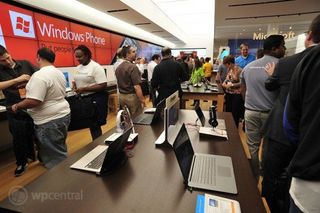 The Financial times are reporting that MS is now talking with UK landlords to secure outlets for opening its first stores outside of the Americas.
The company is said to be confident that the first outlets can be opened during 2013 pending an internal review of their US stores.
The internal review of their existing stores is said to be taking place to study how well they have performed and which formats have worked best. Currently MS have rolled out their retail stores in Canada, US and Puerto Rico but thus far no stores exist outside of the Americas. We have previously reported on rumours to take the stores globally but these talks could now signal more firm preparations.
As Microsoft increasingly moves to bolster their wider eco system offerings with Music, Video and cloud connected services they also have plans to increase their device portfolio. Seen as an essential part of their devices and services strategy is the need to produce computing devices to complement the services running in the cloud.
We have just seen the biggest shake up of products and services the company has ever rolled out. With that has come the addition of the Surface tablets and strong indications that MS are keen to produce their own smartphone. With the current product refresh we have seen traditional retailers fail to take advantage of the next wave and marketing has been weak leading some to speculate that sales of Windows 8 have thus far been weak.
Securing more retail outlets is seen as key to reversing a trend of negative mindshare from consumers about Microsoft. Having flagship stores will provide the best possible way to experience and buy into the MS eco system. Like Apple the MS stores offer classes and training for customers which during this time of massive changes to the UI across all its platforms could be invaluable in retaining folks who are confused by the new metro way of doing things.
Also of interest is that the US stores are to be put under the spotlight before any future expansion will get the green light. Just how well the existing retail outlets have done is difficult to determine but the need to provide a premium way to experience the products globally, even if in singular flagship stores is evident.
If rumours are true regarding a Surface Phone and new Xbox products then the stores will provide the best platform to show off their products to the public.
Source: Financial Times
Windows Central Newsletter
Get the best of Windows Central in in your inbox, every day!
I'm in Detroit.... Lets get one there for crying out loud!

Good news. Electronics retailers in the UK are AWFUL.

Yes a recent trip to PC World here in London was actually depressing, old machines, lack of tablets. Bring on the stores, staff them with friendly folks who care. RB

I went into an EE shop in Newcastle yesterday, and asked the sales assistant if I could see a physical Lumia 920. She bought out the device, and I played with it for a few minutes. The shocking thing was that the sales assistant did not know anything about the OS, and I was actually teaching her. She said that if anyone asks for Windows phones, she confesses to them that she knows nothing about the OS. This is just crazy. She even said that she then promotes the iPhone, which she has. How on earth is WP8 supposed to compete in the UK market, if the sales guys are not up to speed. Microsoft stores would be a great idea, albeit a couple of years late! I want to see a Surface, before I order it....

Just get a surface - you wont be disappointed - and neither will anyone else that sees it - with the lack of support from the retailers we all need to become our own windows evangalists and spread the word to all that will listen.

I was shown a HTC One X in a store the other day instead of a HTC 8X - kinda sucks when that happens. When I poited out the right phone I was actually met with hostility. What can you do? RB

Be hostile back. I walked into my local O2 store the week before the 8x was released. When i asked about it the shop assistant hadnt heard of it and when i pointed out it was a windows phone her response was "Why do you want a windows phone they are sh*t" (exact words by the way). Asked immediately to speak to the manager and explained to him the situation. Got an apology, got the assistant sacked and got a phone call from the store manager when he knew the delivery date of the 8X's

I have become so tired of bad store experiences that I just give up most of the time. Looks of contempt, scowling and general cant be bothered peppered with dire knowledge of products puts me off. Good on you for sorting that one out though!

Well the way i look at it some things are worth fighting for. Think the outcome may have been different if I didnt have my 3 year old girl in my arms. Might have let the swearing slide, might have also let it slide that staff should be helpful when the customer asks for something not ridicule them for their choices.

If your story is true, bravo, good sir.

That is so depressing. I have to say the EE staff ive encountered have been knowledgeable and friendly but crucially...the stores have not had the phones to sell me...

got my 920 from an EE shop in Plymouth a couple of weeks ago. Staff member was very good, I asked if they had any 920's instock he said white or black then sat me down and got his white 920 out. The Nokia rep had been in and the staff had been given 920's to play with, he took me through some of the features and was quite knowledgable. got a bargin free phone and charger on an upgrade only cost me an extra £2 a month and an increase in my data from 250mb to 1gb

I hope MS offers the same level of Customer support as Apple in these stores. I took my son's iPhone 5 into the local Apple store, as it developed a fault with the sleep/wake up button. No questions asked, I was given a replacement and walked out of the store within 5 minutes. I am no Apple fan, but their customer service is of the highest order.

Yes, its that kind of service around Microsoft products that is dreadfully lacking, they need to step in and improve the experience. We still have OEM's supplying machines with junk installed on it too. If MS owns more of the chain and sells its own devices much of this can be changed. RB

i would love to see a microsoft store in the uk, would make a nice change to the kind of tech stores we have here.

No word yet but India has a huge Windows using population so it should absolutely get a store or two. Cochin? Pune? Bombay? RB

Prob Bangalore & Chennai too

Hi. I sent this email to WP Central Tips, but no reply... "I called MS tech support yesterday about the dreaded issue with my Surface Touch keyboard. They were very helpful and are sending a replacement. However, whilst chatting we got onto the Surface Pro and the support member mentioned that there are plans to open a Windows Store in London in Jan to coincide with the Pro launch. I'd say this is not 100% confirmed but it does sound plausible..."

I hope so. Holding out for the Pro especially as my laptop is having issues.
Wasnt there a rumour that London was to get a store around Windows 8 launch before?

Please open a store, I fancy an RT based set top box.


Denmark, denmark, denmark. There's a whole bunch of Microsoft people here, and no one from Apple. Would be neat if the Microsoft Store came here before the Apple Store.

Hey Robert, MS already has stores opened outside of America. Canada just got a store in Toronto a couple weeks back. Canada is not a part of America!

Canada is a part of north america!

I did say "Americas" which is the collective term for the whole shebang from Canada to Argentina. Here, take a gander http://en.wikipedia.org/wiki/North_and_South_America

This is fantastic news if it's true. UK retailers are essentially rubbish and incredibly lazy about MS products. At this point, I can only envisage a Microsoft store being on London's Regent or Oxford Street, space permitting. To have any impact, it has to be in close proximity to the flagship Regent Street Apple store. It'll be years before you'll see them anywhere else more local.
Windows Central Newsletter
Thank you for signing up to Windows Central. You will receive a verification email shortly.
There was a problem. Please refresh the page and try again.