Steve Ballmer talks about building new hardware and experiences in letter to shareholders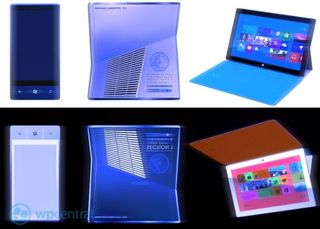 In his latest letter to shareholders, Steve Ballmer has reiterated the desires of the company to become a devices and services company, contradicting what Charlie Kindel, former Windows Phone General Manager, had to say about the hardware dream with the Surface.
With the coming release of Windows 8 and the subsequent decision for Microsoft to dive in and develop its own tablet, it's becoming clearer where this is taking them. A company that makes and delivers the entire stack. From cloud services to the device in your hand, this appears to be their vision.
Of course, Microsoft is no stranger to producing hardware but unlike mp3 players, consoles and peripherals they haven't ventured this far into computing devices before. The Surface tablet represents a radical departure for Microsoft and some clues to the gravity of this can be ascertained in the following quote:
That's a bold statement, the most important part being the fundamental shift in what technologies that will drive the biggest opportunity. Aside from their conventional business of Windows and Office, Microsoft are fully engaged in the cloud and building some amazing consumer experiences there but the other direction they are moving closer to is to devices. During his statement, he refers to Devices and Services no fewer than seven times, staying firmly on message throughout.
Whilst this letter makes sure to mention the close relationship with partners, there exists a heavy trend for how they will be doing things going forward. The emphasis on making their own hardware to complement their services is pretty clear (following quotes from Ballmer).
It is clear how proud Microsoft is of their Surface concept and how well that will highlight the coming Windows 8. In describing the coming Windows 8 devices, could Steven be describing anything other than their own tablet? If he is, he's certainly not referring to anything other than the WinRT devices they have worked closely with key OEMs to produce.
Not going it alone just yet..
It's easy to see why Microsoft wants to shift its focus to hardware and software, they have struggled for years to get OEMs to stop putting 'crapware' on their machines. They have stores now, albeit in the US at present but that will, in itself drive them to produce stock to market and promote within the four walls. They have Xbox devices and the coming tablet but there is one device missing, a phone. We have heard firmly that MS are developing a device, it's a rumor as old as the hills, if they only plan on selling such a device in their own stores then that alone makes some sense. It's only in its own store, with its own product that Microsoft can offer its clients that true end to end service.
Their key goals of interest here:
Developing new form factors that have increasingly natural ways to use them including touch, gestures and speech.
Firmly establishing one platform, Windows, across the PC, tablet, phone, server and cloud to drive a thriving ecosystem of developers, unify the cross-device user experience, and increase agility when bringing new advancements to market.
Making technology more intuitive and able to act on our behalf instead of at our command with machine learning.
Microsoft is in the midst of some radical transformation, devices and consumer focus will likely lead the charge by shaping the coming offerings from the software giant. Next year will likely see a new Xbox and with it a stronger push for that living room, not just games but as a general purpose content device. Microsoft have great partners producing Windows Phone but can a company that tags itself "devices and services" not offer the full range of devices to show of their software and service?
Do you think Microsoft has what it takes to deliver on becoming a devices and services company? Would you like to see Apple style shops going global? Should they make a Windows Phone?
Source: Microsoft
Get the Windows Central Newsletter
All the latest news, reviews, and guides for Windows and Xbox diehards.