Samsung officially unveil the ATIV tablet and convertibles for Windows 8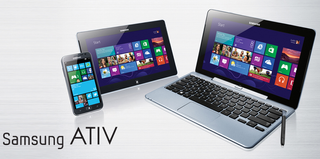 Samsung has just announced their range of Windows 8 devices. We have already touched on the ATIV S and Tab rumors earlier and now we know a whole lot more about what Samsung has in store. Samsung is no strangers to producing Windows PCs and looks like they are taking their duties very seriously with this latest line up.
The three devices we're most interested in are the ATIV Tab, Samsung's super thin WinRT device, the ATIV Smart PC Pro and ATIV Smart PC running the full fat version of Windows 8. Aside from the ATIV tab they will have the detachable keyboard that's looking to be the in thing with Windows 8 devices. These three new tablets join the ATIV S Windows Phone to complete the Samsung ATIV lineup.
ATIV is Vita Backwards, Vita means life, its deep..
ATIV TAB
Display 10.1" - 1366x768
1.5 GHz Dual Core CPU
5MP Rear Camera 1.9MP Front Camera
8.9mm thickness weighing in at 570g
There are no specs yet on battery performance, which seems normal the moment for the ARM based devices, we suspect that we'll know more around launch time. Drivers and OS are still in the early stages of development.
ATIV Smart PC
Next Gen Atom CPU
Display 11.9 - 1366x768
Battery life 13.5hours / 9.4 hours DVD playback time
9.9mm thick with keyboard 19.9mm with keyboard
Weight 750g without keyboard / 1.48kg with keyboard
Memory 2GB
Hard Disk 128GB SSD
ATIV Smart PC Pro
CPU Core i5
Display 11.6 Screen - 1920x1080
Battery 8 hours / DVD playback time 5hours
Thickness 11.89mm without keyboard / 21.89 with keyboard
Weight 884g without keyboard / 1.6KG with keyboard
Memory 4GB
Hard Disk 256GB SSD
Impressive specs on these devices, we can see a notable jump in thickness and weight with the more traditional Intel core i5 device. As mentioned before we have yet to see how battery performance is with the ARM based devices. Our guess is at release time these will be the most impressive for those looking for long battery times. The ATIV Tab is also the only one in the line-up to have tap and share NFC functionality. ATIV Smart PC and ATIV Smart PC Pro are equipped with the Samsung's S Pen – it's a WACOM digitizer with 1024 levels of pressure sensitivity. Users of apps such as OneNote will rejoice we're sure. Although Samsung are going to throw in a note taking app too.
Pricing and availability wasn't mentioned in Samsung's IFA presentation of the ATIV line on any of these new devices.
Do let us know what you think, won't you? We'd like to know if these tablets have you excited or your just going to grab a Surface instead..
Get the Windows Central Newsletter
All the latest news, reviews, and guides for Windows and Xbox diehards.