Samsung officially unveil the ATIV tablet and convertibles for Windows 8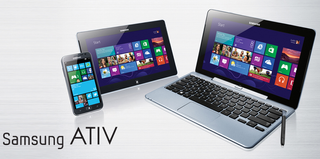 Samsung has just announced their range of Windows 8 devices. We have already touched on the ATIV S and Tab rumors earlier and now we know a whole lot more about what Samsung has in store. Samsung is no strangers to producing Windows PCs and looks like they are taking their duties very seriously with this latest line up.
The three devices we're most interested in are the ATIV Tab, Samsung's super thin WinRT device, the ATIV Smart PC Pro and ATIV Smart PC running the full fat version of Windows 8. Aside from the ATIV tab they will have the detachable keyboard that's looking to be the in thing with Windows 8 devices. These three new tablets join the ATIV S Windows Phone to complete the Samsung ATIV lineup.
ATIV is Vita Backwards, Vita means life, its deep..
ATIV TAB
Display 10.1" - 1366x768
1.5 GHz Dual Core CPU
5MP Rear Camera 1.9MP Front Camera
8.9mm thickness weighing in at 570g
There are no specs yet on battery performance, which seems normal the moment for the ARM based devices, we suspect that we'll know more around launch time. Drivers and OS are still in the early stages of development.
ATIV Smart PC
Next Gen Atom CPU
Display 11.9 - 1366x768
Battery life 13.5hours / 9.4 hours DVD playback time
9.9mm thick with keyboard 19.9mm with keyboard
Weight 750g without keyboard / 1.48kg with keyboard
Memory 2GB
Hard Disk 128GB SSD
ATIV Smart PC Pro
CPU Core i5
Display 11.6 Screen - 1920x1080
Battery 8 hours / DVD playback time 5hours
Thickness 11.89mm without keyboard / 21.89 with keyboard
Weight 884g without keyboard / 1.6KG with keyboard
Memory 4GB
Hard Disk 256GB SSD
Impressive specs on these devices, we can see a notable jump in thickness and weight with the more traditional Intel core i5 device. As mentioned before we have yet to see how battery performance is with the ARM based devices. Our guess is at release time these will be the most impressive for those looking for long battery times. The ATIV Tab is also the only one in the line-up to have tap and share NFC functionality. ATIV Smart PC and ATIV Smart PC Pro are equipped with the Samsung's S Pen – it's a WACOM digitizer with 1024 levels of pressure sensitivity. Users of apps such as OneNote will rejoice we're sure. Although Samsung are going to throw in a note taking app too.
Pricing and availability wasn't mentioned in Samsung's IFA presentation of the ATIV line on any of these new devices.
Do let us know what you think, won't you? We'd like to know if these tablets have you excited or your just going to grab a Surface instead..
Do these have optical drives? I'm looking at the spec line for DVD playback time when I ask...

No, they dont look to have optical drives, sure you can plug one in though... RB http://global.samsungtomorrow.com/?p=17971

I noticed that same thing...I really doubt you could put a CD drive into a device that is 1 cm thick and have room for all it's other parts needed to be a high quality computer. So it's curious as to why they used that term.

Probably the battery life with the CPU and GPU fully engaged watching a movie of DVD quality.

It only says that on the ones that docks to a keyboard. They could put whatever they want in the keyboard; extra battery; discrete graphics; optical drive. Otherwise they wouldn't have made a 1 cm thick keyboard.

Goodbye my OMNIA 7! Hello ATIV S!!!

Read the impressions of Engadget on the Win 8 keyboards, not well built. I'll be getting the Sony Duo 11 most likely.

I'm actually more impressed with the Samsung Series 5 and Series 7 "All in One" desktop computers at the moment. I have a fleet of desktops at work that I'm going to want to replace over the next year or two, and it's a very nice form factor that will present bigger screen sizes and smaller desk profiles for my users. The laptops are definitely impressive designs, but I can't see myself going for anything with an Atom processor. As for tablets, I'll be sticking with the Surface Pro until OEM's announce those model device specs.

But how much are they going to cost?? That's the big question

Quoting Engadget (Slate 5 and 7 are the U.S. names): Both tablets will arrive October 26th, the day Windows 8 starts shipping. The Series 7 will be available in one $1,119 configuration with 4GB of RAM, a 128GB SSD and the keyboard. The Series 5, meanwhile, will cost $649, and will include 2GB of RAM and a 64GB solid-state drive. If you like, you can purchase the keyboard for $100, or you can buy the two as a bundle for $749

Very interested in the ATIV Smart PC Pro, have to see how the S pen tech compares to Wacom though. Big wacom supporter so it will have to pretty awesome to get me to switch.

Anyone notice the similarities between the ATIV Smart PC Pro and a Macbook pro? ;)

Similarities between ATIV Smart Pc Pro and a Macbook Pro? The ATIV has a detachable screen tablet and detachable keyboard. Can you do that with Macbook Pro?

He obviously meant specs-wise, meaning the Samsung hybrid clearly has the upper hand.

..... Completely unimpressed... I like Samsung products but still Im going to take a surface over this.

I serioulsy hope Samsung adverizes this family of devices. Itll be such a shame if they did to this what they did with the Focus Line. This is theyre chance to create a brand name like Galaxy for Windows.

Fricken hot products. So better than apple products

I can finally see my future in the Windows 8 ecosystem. #stoked

Ativ is Vita spelled backward.
Vita means life
So... Ativ means the reverse of life... evil, death ? That sounds counter-productive even if they just want to avoid PSP Vita

That's what I thought too....
sidenote: it's PS Vita

I'm sticking with Nokia 4 get Samsung. They dump devices like yesterdays trash.

I was impressed with some of the lineup and not so impressed with others.
I was impressed with the Ativ Smart PC pro and the Ativa phone. Both looked nice and I think they'll do well.
The Ativ PC and the Ativ Tab I was less impressed with. It seems like Samsung just wanted volume of Windows 8 products. All they really needed was 3 products the Ativ Pro and the Ativ, the Ativ Tab but with a keyboard doc like the Ativ PC and the Ativ Phone.
The thing that doesn't make sense about the rest of he line up is the Ativ PC uses a Atom processor which Intel should just trash because its crap. The Series 9 doesn't have a touch screen but seems like it may be as powerful as the Ativ Pro so unless the Ativ Pro is much more expensive than the Series 9 I see it being a flop. And why did they just make a tablet without a keyboard? That was just lame.
So they had 2 good devices, The Ativa PC Pro and the Ativ phone. 2 poorly executed one, the Ativ PC and Ativ Tab that should have just been one gadted and one rubbish one that wasn't needed at all.


Windows 8 is an operating system produced by Microsoft for use on personal computers, including home and business desktops, laptops, tablets, and home theater PCs. It is part of the Windows NT family of operating systems and succeeds Windows 7.Comtek Phone Systems Newcastle
Windows Central Newsletter
Thank you for signing up to Windows Central. You will receive a verification email shortly.
There was a problem. Please refresh the page and try again.