Samsung trademarks Ativ S and Ativ Tab, hints at new family branding for Windows Phone 8?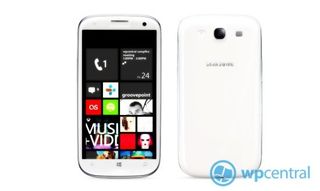 Word is already on the street that Samsung is looking to unveil Windows hardware at the closely approaching IFA (official website), which will be held in Berlin this week (yes, we have Mobile Nation's people there for coverage, no worries). This will more than likely include Windows 8 PCs and tablets, as well as a potential Windows Phone 8 (Apollo) device or two.
Through SamMobile we're now aware that Samsung has trademarked 'Ativ', which could be used as branding for future hardware families. Ativ Tab, being the most conspicuous, looks to be the potential name for Samsung's venture into Windows 8 tablets. There is a high probability this will become reality as we're not likely to see the manufacturer alter its Android arsenal. We hope to find out more information in the next few days at IFA.
As well as Ativ Tab, we've also got the slightly more vague Ativ S. If the former is to be used for Samsung's Windows 8 tablet range, then we would agree with Engadget's assumption that Ativ S could well be used for Windows Phone 8 hardware - specifically the Odyssey. We've previously touched on the Odyssey, which is rumoured to be one of two dual-core Samsung Windows Phone 8 devices, and how T-Mobile is set to sport the device once Apollo hardware launches (with LTE support).
With all that said, we're still yet to see if Samsung will indeed use the Ativ branding for its Windows 8 tablet or Windows Phone families. Time will surely tell, but we'd like to see the company group all Windows products under one umbrella, and Ativ has an intriguing ring to it. Take a look at our editorial on the potential hardware we're likely to see from Samsung this fall.
We'll of course be at IFA to bring the latest and greatest, so be sure to stay tuned to our homepage. What do you think of the potential branding? Let us know your thoughts in the comments.
via: Engadget
Rich Edmonds is Senior Editor of PC hardware at Windows Central, covering everything related to PC components and NAS. He's been involved in technology for more than a decade and knows a thing or two about the magic inside a PC chassis. You can follow him over on Twitter at @RichEdmonds.
It's Vita backwards, very imaginative.

Seriously? Ativ? How inspriational is that? It sounds like a pharmaceutical.


You wouldn't say that if it was Nokia

A medicine against appletude and lagdroidude :D

Mobile Nation's people there*

Odyssey is a better Name....

Sorry to disagree but "Odyssey" reminds me of either the poet Homer or Toyota's minivan. Samsung needs a better name here.

Maybe so but Odyssey at least sounds better than Ativ, not to mention that it's absolutely meaningless as a word!

Horrible name. If this is the best they could come up with then they should've just kept the Focus name or used eNohpi (jk on that last part)

Ativ? I'll take a grain of salt please.

It's sure sticking out as a name at least.

I like it... Im overwhelmed with all the news surrounding this release..

Why not just Omnia or Focus? ~Confused

I like the idea of a new family name for WP8. I would like to see Nokia come up with a name besides Lumia too.

I think they've worked way too hard to make the Lumia name a recognized one to change it.

Hate Ativ! If that's the best they can come up with, might as well retain Omnia or Focus!

Ativ ain't bad.. And seriously it is just a name.

It's always a good idea to name something a name that no one knows how to pronounce.

Does it mean something? Bing returns 0 results. I could see something else relating to Stars (like Galaxy)...but I do not mind moving away from buzz words onto made up words either! When you have alerts set up for news on Samsung Focus you get hits for their cameras all the time since their cameras all have focus too, very annoying.

Bring in the hardware that you use for the galaxy line to wp8 at the same time & I'll keep buying Samsung phones. The name don't matter. What matter is what's inside a great os with great hardware.

This! People keep saying they don't want hardware rehash from Samsung, but I just want the Android and WP8 version released at the same time. Although I understand that Samsung releases android handsets more often than WP ones, I wouldn't mind as many WP releases from Samsung as long as Nokia doesn't follow suit.

Seriously its just a name, at least we're getting something.

Where is the Alienware tablet???

I think I like it!.. It def gots something in it,,,ATiv...Active...Vita...( Vita means "life" in Italian)...In the end I guesss will just have to wait and see!

So Samsung's retiring the Omnia brand?

has to be the most confusing WORST name i've heard in many years. How do you even PRONOUNCE ATIV? BTW samsung even aped the Surface ad with their Win8 convertable device (the squares merging like the VaporMg liquid)

Wow people need to chill with the complaints over a name. Wouldn't be doing the same thing if Nokia used that name.

How do you know?

People can comment on the name if they want to; and it doesn't matter who the oem is.

Jaja "OEM doesn't matter"? How much you wanna bet

Thing is, Nokia isn't using a made up name... If Samsung is going to make something up then it should've been better...

The name sounds like a medicine for people who are fiber deficient (I.e. Lax...). Anyway, Samsung's at it again. It looks like a white Nokia Lumia 710 this time. On a good note, at least they're going with WP too.

Man I would love a galaxy s3 with WP8

Absolutely hate, hate this horrid Ativ name! The only way Samsung can make me forgive and forget this atrocious name is if they pair it with "to-die-for" hardware! Otherwise it's hello Nokia and HTC for me!

Ativ is absolutely gobbledygook to me that's why i hate it! But maybe it has a positive meaning or symbolism in Korean?!! They should tell us what it means!
Windows Central Newsletter
Thank you for signing up to Windows Central. You will receive a verification email shortly.
There was a problem. Please refresh the page and try again.