Mi Challenge Alarm for Windows Phone, a testy way to avoid nodding back to sleep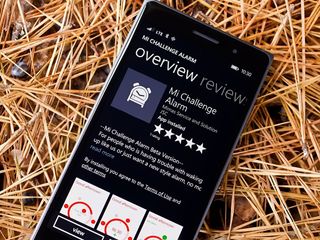 Mi Challenge Alarm is a uniquely designed alarm clock for your Windows Phone that hopes to make it difficult to constantly hit the snooze button or to sleep through your alarm. Being a challenge alarm, Mi will present you with a series of questions based off your music and image files. If you fail to answer one of the questions, the alarm will resume its annoying clammer.
Mi Challenge Alarm has a bit of appeal and is a nice addition to the growing alternatives to the native Windows Phone alarm. However, it is a little dependent on your music and photo libraries having plenty of material to choose from.
There really isn't much to the layout of Mi Challenge. The main page has your alarm clock anchored to the center of the screen. At the bottom right corner is a help button to pull up a series of tutorial screens on setting the alarm.
To set an alarm, just tap the "+" symbol beneath the current time to create a new alarm. You can set the time by tapping the plus or minus symbols next to the time or tap/hold the green circle and rotate it around the time wheel. Alarm times can only be set in five-minute increments.
You can name an alarm but currently the only options for repetition and alarm sounds is daily and the Nokia ringtone. You can opt to turn on or off the challenge feature though. If you need to delete an alarm, just tap/hold the individual alarm circle and drag it to the bottom left corner of the screen and a trash can will appear.
When the alarm sounds, you will have a notification window pop-up much like you would with the native Windows Phone alarm. However, to silence the alarm you will need to launch the app and answer a few questions.
The challenge feature will generate trivia questions based on your Windows Phone image and music files. It will show a picture from your image galleries and ask which folder it is stored in, what is the image size and other questions particular for that file. These questions can be challenging, especially when you are asked the image's pixel dimensions.
The music questions are a little trickier. Mi Challenge Alarm will play a song and ask who is the artist of a song or what album does the song belong. A generic image will appear that has no connection to the song. The tricky part of the music questions comes into play if your music library is limited. Some questions will have the same answer listed for several options and you have to guess which instance is the correct answer. This can get a little frustrating but on the plus side, it should wake you up more.
Mi Challenge Alarm will present you with three trivia questions. Answer all three correctly and you can turn off or snooze the alarm. Miss one of the three questions and the alarm resumes.
Overall Impression
Challenge alarms are a great way to insure you get up when the alarm sounds. It requires you to shake off the cobwebs and get your mind in gear. Mi Challenge Alarm is a nice option to consider. I like the simple layout and ease of setting an alarm. While the app has appeal it does need a little fine-tuning.
For starters, you need to be able to set the frequency and change the alarm sound. These options gives any alarm app the needed flexibility to fit more personal needs. Next up, the app needs more challenge options. A math option would be nice and the ability to choose either photos or music would be nice. I don't have many music files on my Windows Phone, which severely limits what the app can pull from for its challenges. In my case, having the ability to choose between music and image files would help avoid challenges with identical responses.
All in all, Mi Challenge Alarm is a nice start and has potential. At last check, the app is rated at 4 Stars in the Windows Phone Store, which is about right. If the app could be fine-tuned a little, you might see Mi Challenge rated a smidgen higher though.
George is the Reviews Editor at Windows Central, concentrating on Windows 10 PC and Mobile apps. He's been a supporter of the platform since the days of Windows CE and uses his current Windows 10 Mobile phone daily to keep up with life and enjoy a game during down time.
Ad free? Skimmed through article didn't pick up the word.

This would make me break my phone, I already set 3 alarms and hit snooze on the first two.

Alright, time to get rid of my 20 back-to-back alarms ;-)

You do not know the pain of an engineering student.

Lol I am an engineering student too. I have 5 alarms at the most

You must be the university topper then XD

I sometimes feel even those 20 arent enough

Is it from Xiaomi? If yes, no thank you.

Woo.. but Xiaomi is the nex best thing dowh

Sounds amazing .. Gonna try it definitely.. Thanks George for the post ..

Poor name choice. Makes me think it's associated with Mi Coach.and Adidas has lawyers looking for something to do today.

Actually, this idea is so stupid like the Facebook idea when trying to identify you by presenting to you a series of images from your Facebook friends whom you might not know everything about! The perfect alarm was one available only for Android which is called Alarmy (sleep if you can)! It stops when you get up and take a picture of a certain place you've already chosen when you're setting up the alarm like the sink for example :D I wish someone could port this idea to WindowsPhone.

Thank you :)! Downloading Alarmy as we speak. Going to try it out tonight. Posted via the Windows Central App for Android

Thought xaiomi making windows phone for a sec watching 'mi' lol..

Simple alarm is good rather to use this one. Alarm is alarm same thing doing waking u up at preferred time set by you. Then why to use this alarm and what for show off.

Haven't you realised already.... People don't ever "wake up at a preferred time set by you" ?! That's why we need apps like these :-P

Enough reading, I'm trying it out this morning.

Oh i need it....good....
Bye bye to my 10-15 alarms set every 5 mins..lol

Tricky alarm is much better imo!!

Might not download this. Address to the photo library... Na....
Windows Central Newsletter
Thank you for signing up to Windows Central. You will receive a verification email shortly.
There was a problem. Please refresh the page and try again.