Microsoft: 41 percent of current Windows 10 users installed it on a desktop PC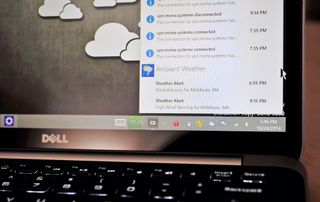 Microsoft released the 9860 build of its Windows 10 Technical Preview a few days ago and now the company is offering up some of the installation statistics it has gathered since its release. It's not a shock to learn that 41 percent of 9860 testers have installed the build on a desktop PC, since that is what this version of Windows 10 is targeting.
The stats were provided in a graph posted on the Twitter account of Gabriel Aul, the leader of Microsoft's Operating Systems Group's Data and Fundamentals Team. In addition to all those desktop users, 32 percent of 9860 testers are using it currently on a laptop and 22 percent have it installed on a virtual machine setup. If you are wondering where two-in-one devices like the Surface Pro 3 figure in these numbers, Aul posted a follow up Twitter message that stated, "This reporting puts 2-in-1s like SP3 in the 'Laptop' category."
Just two percent of testers are using it on a tablet and just one percent are accessing it on an All-in-One PC. The stats show that two percent of users are in the "other" category. We will leave it to you to speculate just what that means. What kind of device are you using with the Windows 10 Technical Preview?
Source: Gabriel Aul on Twitter
Get the Windows Central Newsletter
All the latest news, reviews, and guides for Windows and Xbox diehards.
Well, duh!!! How could it be anything else? This is very close to the actual PC device distribution today. Not to mention the horrible scare of losing all your data if you install on Surface... What's the surprise? MS with windows 8 overestimated people's ability to adapt, and pushed too much on the tablet direction based on market hype claiming the time of PC is over and that PC was dead.. Oh well, ...

The sad thing is, all they had to do was alllow people to turn Metro off in Windows 8 to start with.

Turn it off? How would you do that, it was the start menu. People just didn't realize it was way easier, refused to learn it, and followed the vocal minority opinions.

Minority opinion? Windows 8 was roundly rejected by enterprise, and I've yet to meet anyone in real life who didn't download Classic Shell or Start 8 to get rid of Metro. Your opinion is in the minorty, friend. Most people hate Metro. There's a reason the "Windows 10 Developer Preview For Enterprise" has the "enterprise" part on the end. They bought Windows 7 instead of 8.

Not even going to try to sort problems of installing that on my dell venue 8 pro they need to make it easier to upgrade lol

Most of the VMs are probably desktop too.

On laptop and it become my main OS

I'm using it on my "other" device....

I can't wait for the ARM version of W10 for RT tablets. W10 looks a lot more practical than W8.1. I also hope it will improve the original Surface's performance, because its pretty slow sometimes.

The original Surface is sometimes slow due to unfortunate hardware design. I would not expect itvto become much faster if at all. You could find Surface 2 at great prices and it I a very nice device. (Nobody can tell for sure Surface 3 would come out before "RT" version 10 is out at least in Beta)

MIne's running on a VM in a PC (Laptop)

Same...I don't see why would I install in anywhere else. Works just fine like this, and removal is easy as pie. It's not ready enough to become my main OS.

Many people dual boot, so you can use it as your main driver without the massive overhead of a VM. Then if you want to switch back you can do so easily.

That makes perfect sense to me.

yes, if you've got a good PC then intall it on a VM, makes things a lot easy. Installing it on your main system might be a bad idea since there are updates very often. Personally, I choose to have a stable os on my laptop. I've got a lot of things to do and I've learnt from my mistakes from installing Win 8 dev preview on my main system

I'm using it as my main OS on my PC and have zero issues so far. I use PhotoShop and play games on a regular basis. It didn't make sense to install it on my surface pro, so ill keep windows 8 there.

Yup running in Hyper-V to check out, not ready to use it as my main driver yet. Will give it a couple months yet.

Desktop PC for me :) My main system.

Currently sitting here with my phone like.. Nevermind

Desktop. 7 year old with vista originally

I can wait until spring of 2015.

Because it is not ready for surface yet , not as much touch screen friendly ..i am waiting for surface specific start screen

AMD Gaming PC for me working well

Installed it on my main PC(Hp Envy Touchsmart laptop)

Laptop, main. Also I'm Microsoft employee. :)

Dude.. that is a baddass sql chicken picture! lol Learning SQL Server administration this semester, such a great, convenient powerful tool! Select * from Windows, my friend lol

Ha thank you. Yeah SQL server is awesome and so is community. If you have any questions or need any help hit me up on Twitter (same username) or check my blog SQLchicken.com

Oh man thanks for the heads up!

but sql is going to dye... New DB's like MongoDB, etc are going popular

On my Laptop as dual boot alongside Win 8.1, but it is my daily 24/7 OS. Love it

I'm pretty sure VMs are much more than 22%, maybe many of them are incorrectly identified as desktops, or simply without an external internet connection.

Nope m I know guys and they just straight up upgraded:D cause actually that technical preview here ? It's even better the the win 8 one and it features like 60% of win 10 I guess . So its not a problem installing it on your desktop PC.
---
And no : Using a VM lots of drivers and setting are disabled . Ms is able to track that and they can totally see if its installed on a vm or not

I don't know anyone who's installed it outside a VM. It's a technical preview and at this point probably more alpha than beta. At least my own first VM install was never connected to the internet so MS wouldn't know anything about it. Technical previews are not meant to be used on production/primary PCs, it's made for enterprise IT departments to test compatibility. I've been testing Windows beta versions since Windows 98/Me/2000 and learnt that lesson the hard way. Sure, Windows 10 is more like 8.2 and not a major version upgrade (core is still 6.4), so most existing programs and drivers will work with it, but it's still a very early version.

I installed it on my main pc and not as a VM.it has been 100% percent stable so far.

Sure, stable, it's still alpha software.

On a Toshiba Satelite Pro 650 met 3Gb intern gegeugen. Microsoft Solitaire Collection start niet op met Xbox gebruiker. Dutch user.

Not bad. But I have't installed Windows 10 yet.

Desktop at work for me, using it as my daily driver. Dual booted so I don't have to run a resource-heavy VM, and so if I need to go back to 8.1 I can.

Desktop, and I'm going for laptop shortly!

On my desktops pc. Works Great on my pc whit i7. Installed on my best buy ever a pciexpressssd hd. 1500 mb read write.

The benefits of 2 high end pcs ? You Can fuck with The one You dont really use. Installed it on my older one and man this can't be just a presentation!? I only got it like an hour ago and it work so much better the windows 8.1 64bit !! Even assassins creed 4 runs smoother ! Origin ( belive ot or not ) is faster ! And all in all the I can say as a youtuber win10 is the right os for me :)) its amazing:)

On my notebook. My desktop, HTPC and my tablet will remain on win8.1 until final win10 release. I also have one extra machine (currently connected to my music keyboard) running win7 for midi purposes (this one will end its life on win7). I plan to also install it on my iMac using paralell desktop.

Cool wallpaper. Where is that from?

Oh, the one on the desktop. Sorry I should have been more specific.

Testing it on a MBP. So far so good, really like the new start menu!
Can't wait until the tablet version is ready to go so I can install it on my Dell Venue 8 Pro! Looking at pictures of tablets with Windows 10, it looks like they changed a the layout of the Start Screen a bit. Will be interesting to see how those changes work out as well. 'Continuum' also looks amazing! I hope it works with bluetooth/wireless keyboards and mice along with the wired ones.

Dual boot on a Mac. (Main computer is a W 8.1 laptop, and I didn't want to take the risk of issues on it.)

Oh man ur straight lol a UNIX foundation is best at dual boot configurations

The mac dual booted OSX and Windos 8.1 with no issues, and so far Windows 10 is working flawlessly. So I'm not sure what you think the issue would be.

Nothing? That is exactly what i said lol there is no issues to be expected

i installed Windows 10 TP on my HP with AMD Turion 2GHz chip, and they ran so much faster than the old Vista. only issue is the wifi keeping getting bump.

Main OS on my only laptop. Love living on the edge! :)

Speculate? No, please tell what "other" means.

Devices inside Microsoft that are ya know... shhhcrets wearables, embedded devices, PHONES, giant pixel screens, microwaves, ovens, the others...

well, a lot of the touch features aren't there yet. When that gets implemented, I will install it on my Venue

I installed in a VM just to poke around a little. I have so much desktop software I don't want to do anything that will make me have to reinstall everything. I'd put in on my Surface, but it's not ready for that until continuum is there. I find the start menu just as jarring as the start screen was at first. I expect to leave the desktop and I don't. It's weird; I'm not sure which mode I'll end up using in the long run.

Is mayonnaise a computer?

I'm running it on my notebook. #mainos

Nice variety of devices. Hopefully they are getting some good telemetry data and feedback.

Installed on a VM in a macbook pro...

So far one old ThinkPad laptop, a Surface Pro 3, my desktop i5 and client and server VMs.

I don't have a USB stick I lost it. Not sure how to get it running on my SP1

Everyone saying it's not ready for touch: Huh? I use it every day on my SP3, works better than 8.1 in my opinion.

Installed on my main laptop right on top of Windows 8.1 installation. I, too, like to live dangerously.

In a HyperV VM on Windows 8.1 but I'm not liking the start menu, just to used to they way it is now on 8.1 and find I'm way less productive with the default install. I've set it up with the start screen recently and find it better although I hate the inability to run modern apps in full screen but I'm sure options are coming.

Open your modern app>Top left of the "Tab" bar>Click the 3 dots>Click "Full Screen". To exit, Move to the top of the screen to reveal the Tab Bar>3 Dots>Exit Full Screen. It was never not a feature :)

Right but close the modern app and re open it and you have to do it again. I'm sure it's coming but for the moment there is no way to have all your modern apps open full screen as default.

Hyper-V VM only. Will wait for the consumer preview in early 2015 before I install it on my main laptop (and hopyfully also on my Surface 2).

how much you want to bet that almost all of those VMs are desktop units as well. That is what I am using, and it works pretty great. I would like to install bare-metal... but doing so in the midst of classes could prove disasterous. Something to look forward to during winter break.

Is it just me or is anyone else's "Smart Snap" not working? When snapping it simple acts as it did in Windows 8, even the same animation (Meaning it doesn't do the old "Choose what else to snap" and I can't snap more then two things... Odd...

I have it on both my desktop and my laptop, I absolutely log it

Installed Enterprise edition on work desktop. Working like a champ, mostly. Its nice to provide feedback and be a part of some process.

I've got a Win10 VM at home and at work. Win10 at this point is mostly about the desktop experience, so it just makes sense to put it on a desktop or laptop. My other computer is a 2-in-1 without the beef I'd want to run Win10 in a VM.

I am using it both on my Lenovo AIO PC & my yoga 2 13. It's working perfectly! No issues at all.

Does anybody know a program that lets you get the notification center in Windows 8??

1 desktop and 1 laptop and will install on my second desktop next month (delay only so my xbox music subscription will work)

My dell inspiron doesn't support this during install it says it has 64bit processor

I've installed it on my pc and I loved it! The "new start" looks amazing but unfortunately had to uninstall it because I've had a big problem - I was connected to internet but internet explorer or any other desktop app didn't work kept on giving an error saying I don't have a connection funny enough game (cloud riders) downloaded from Windows store worked perfectly fine and if I was copying files from one partition to other I've had about 25 "This PC" icons on my desktop and they always disappear after copying has finished.

To me the data confirms that windows 10 is more non touch oriented. Windows 10 is less designed for touch. That's why we have windows 8 starscreen and windows apps. The desktop environment works with mouse and keyboard. The windows 7 iconography and unchaged buttons and word sizes makes the windows 10 environment a fidgety experience. Perhaps something to get used to after a while, but is remains question if the data is showing a true good experience. I believe it doesn't. I notice on my surface I try to ignore the desktop because its a fidgety experience with all the tiny icons and buttons. Verything needs to be bigger, like the live tiles and midern UI elements.windows 10 is not a nice experience on the surface for me. It will remain a desktop oriented experience.

I use windows 10 Tech Preview in a dual boot setup on main PC. It's works very well for a pre Beta window OS. I predict it will be successful when it RTM's I have a non touch screen monitor, mouse and keyboard setup. in the final version I want it to keeps it's new start button with live tiles and also have a shortcut on the desktop to the windows 8/8.1 tile start screen so I can put my Tiles universal Apps as they are now called in groups like I do in Windows 8.1. if you use a lot of Universal tile Apps a person does need the windows 8 tiles start screen to sort and manage them. Windows 10 is great for mouse and keyboard users..

It should, it's just Windows 8, fixed. Like Windows 7 is Vista, fixed. Windows 10 is just Microsoft admitting that forcing a touch interface on a device that is not touch enabled was insanity, and the market let them know that.

Could also be: So people have a lo of spare touch screen devices laying around they don't put first? :)

I'm running Win10 on an old Core 2 Duo T6600 with absolutely no problems at all.
More importantly! Where is that cloud wallpaper in the picture from? It looks great!

On my surface pro 3. It's got Wi-Fi issues, but other than that it's been okay.

I am using it on a laptop and my girlfriend is using it on her PC I want to know if it can be loaded on a nexus 7 any ideas?

I'll wait until the commercial release and let others smooth out the bugs.

Installed it on my main laptop. Holding off on my surface pro until it gets' closer to the end product.

I'm honestly not impressed with it. Sure the start menu is cool...but that's it. I'm probably going back to windows 8.1 on my desktop.

In a partition; ThinkPad w/ C2D CPU

Not before VPN 720 problem get solved

Build preview is taking too much time....

Is Norton? Is compatible with Windows 10? Sorry my Spanish not is good

you always get some nugget installing windows 10 into a machine and using it as a main O.S please learn to use the virtual machines there are many, Things wrong with a build that's only a work in progress, ok if its a test machine, say an old laptop or an old machine you have stashed under the stairs or in the shed. common sense tells you, if in all honesty there is one of Murphy's law's, and it goes something like, if it goes wrong, it will go wrong, and you lose every time, not unless you are computer savvy and know how to slave hard drives and copy files out of the lost remnants of the dodgy o.s you just installed have fun :),