Microsoft accused of anticompetitive practices by Slack in EU complaint
Slack went on the offensive with a complaint of anticompetitive practices against Microsoft.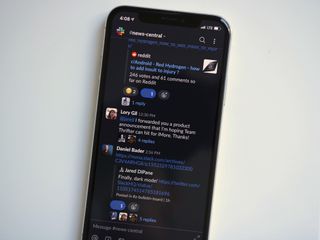 (Image credit: Windows Central)
Update, July 22 (1:00 pm ET): Microsoft responded with a statement that points toward Slack's lack of video-conferencing as a reason Slack "suffered."
What you need to know
Slack accused Microsoft of anticompetitive practices in an EU complaint.
Slack alleges that Microsoft's market dominance was abused to eliminate competition for Microsoft Teams.
Specifically, the complaint alleges that millions were forced to install Microsoft Teams without the ability to remove it.
Microsoft was accused of anticompetitive practices in an EU complaint by Slack according to a new report from CNBC. Slack alleges that Microsoft's market dominance was abused to eliminate competition for Microsoft Teams. Slack alleges that this was done by tying Microsoft Teams to the Office suite. Slack also claims that millions of people were forced to install Teams and didn't have the ability to remove it. The allegations are laid out in a new post from Slack.
A Microsoft spokesperson shared the following comment with us:
These allegations seem to indicate a change in stance by Slack, or create a dichotomy between statements from Slack's CEO and the company's recent allegations. Less than two months ago, Slack CEO Stewart Butterfield said in an interview with CNBC, "What we've seen over the past couple of months is that Teams is not a competitor to Slack."
Stewart specifically addressed Microsoft tying Teams to what was then called Office 365 in 2019, stating "If it's based on the bigger distribution, I don't think that's really a threat." The bigger distritubtion in the quote rfeferring to Office 365, as reported by CNBC.
Windows Central Newsletter
Get the best of Windows Central in in your inbox, every day!
News Writer and apps editor
Sean Endicott brings nearly a decade of experience covering Microsoft and Windows news to Windows Central. He joined our team in 2017 as an app reviewer and now heads up our day-to-day news coverage. If you have a news tip or an app to review, hit him up at sean.endicott@futurenet.com (opens in new tab).
Moral of the story - don't have a successful service because a less-successful one will take legal action. It's a pathetic world really

Sounds like sour grapes. Microsoft moved from Skype for Business to Teams. Has been a part of Microsoft 365 for a while now.

Slack is not wrong. Team is intrusive and annoying. Its been an issue with 365 for a year now. It installs itself back when you uninstall it. The application also spams you with bunch of random popups.

Absolutely not the case. I also use 365 every single day, across at least 3 PCs from lab to home. You can disable Teams if you want. In fact you can get rid of it completely. Do you really think Microsoft can get away with an 'intrusive' and 'annoying' app/service that they license to multimillion dollar companies and schools globally, that 'popups' like some cheap ad on a website??

I was going to do a seperate reply to the pop-up and the alleged intrusive behavior or Teams, but you stated pretty much what I was going to say.

No Microsoft 365 app does this.

Kadcidxa, Slack is wrong. Kaymd said it right. I get it -- Slack originally tried saying Teams was not a competitor to Slack in the hope customers would pay for both, and never really addressed all the shortcomings with Slack compared to Teams' rapid growth and new feature additions. Now, complaining and hoping some government or court jumps in and saves them for their lack of innovation is their best remaining business strategy.

Kadcidxa, you intentionally lie or have no idea what you are talking about
- Teams does not install itself. At least not on consumer subscription, that I have.
- It does not display annoying pop-up like behaviour.
- It can easily be uninstalled - As well as you can uninstall any non-containerized app(lication) in Windows.
- It does not re-install. You are the first person to ever claim this on a heavily trafficked Microsoft site, without substantial evidence other than your word. "Always look at the source, what do we know about the source? What is their track record?"
My answer to this is: 1 claim. 0 proof, which I deep highly untrustworthy.

Wasn't it Slack that said Teams was not a direct competitor?

Hah, yeah. Slack seems to be so hurt right now. I don't get who were "forced" to install Teams and who are so very unable to uninstall it. If this is all the case, it won't hold up. It's a b*tch move to move to legal action though, it's a waste of time, money and energy on both sides, especially if Slack will lose.

It's an argument they cannot win, not in today's climate, and not in a system that essentially thrives on merciless free market competition. And against an opponent that is very experienced in dealing with similar matters. They better invest their energy and resources on more profitable efforts before it gets too late.

This has always been a difficult thing to balance in a system that thrives on free market and competition.
It's quite inevitable. The stronger, cheaper, more efficient, more reach etc. - the overall better package ends up winning all. And consumers do not care, they want the best deal for the lowest price. It's not new in this game. Unfortunate for Slack's position, but they better pivot to something else or it may be over very soon. For example, Fitbit must have seen the writing on the wall against Apple and other giants seriously coming into the wearable game, so they pitched their tent with another giant Google, rather than cry and complain. It's survival.

That's kind of pathetic. I'm no lawyer but I don't think this is going to fly. It's not like the former secretary of defense accused his own boss, the current president, of abusing his power to hurt a company owned by a political opponent. I imagine that sort of thing might actually have traction in a European court.

So what happened to the Slack CEO's comment 'We are not worried about Microsoft Teams'

"Slack alleges that this was done by tying Microsoft Teams to the Office suite" that's one of the dumbest things I heard in a while

Well, it is similar to the logic that got MS in so much trouble with the EU a while back. Then, it was IE being tied to the OS. They're probably hoping to play on those parallels. I don't support that, but that's likely their thinking.

So let me get this straight, Slack have previously claimed that Teams is not a competitor but have now decided to go ahead with a complaint to the EU about alleged anti competitive practices by Microsoft regarding Teams🤨

And of course being the EU they'll side with Slack against a successful Microsoft.

You were expecting it to be anything other than that? 🤨

The EU is not an evil corporation lol, the companies they fined for anti competitive practices (e.g. Google) made sense (e.g. in google's case it was cross-selling/tying practice of their services with Android which oems could not compete with). This case with Teams and Office does not sound like cross-selling practice, considering Teams does not ship e.g. with Windows 10 and iirc you don't have to get Teams in order to get Office as a company.

Doesn't change the fact that the EU tend to have an anti-US bias when it comes to US companies.

Seems like in 2016 MSFT was willing to spend $8 Billion to buy Slack. Butterfeild should have sold and retired at the beach or golf course. From a 2016 article, "Now, Microsoft apparently wanted to buy Slack for $8 billion. According to the folks over at TechCrunch, Microsoft was looking to acquire Slack for $8 billion but the plans were cancelled when Bill Gates wanted the software giant to improve and expand the existing features of Skype. Of course, Microsoft already has a powerful ecosystem for businesses, the company owns Yammer, Skype for Business, Office 365 and OneDrive for Business — however, Slack is a platform that has a tonne of potential and it's undoubtedly one of the biggest competitors of Skype."
Windows Central Newsletter
Thank you for signing up to Windows Central. You will receive a verification email shortly.
There was a problem. Please refresh the page and try again.