Microsoft adds emoji character search support to Bing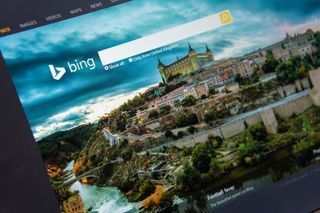 Microsoft has added a new feature to its Bing search service that will allow users in English speaking markets to search based on emoji characters for the first time.
Microsoft stated that the search is not limited to just finding out the meaning of a particular emoji. Bing can now also recognize when an emoji is being used in place of a work. For example, adding in the emoji symbols for "Bride" and "Shower" in Bing will now allow users to create search strings based on "Bridal Shower" rather than having to type out those two words.
The official Bing blog also points out some other users for the emoji search feature such as discovering the meaning of the "Konami code" just by using a few characters.
Source: Microsoft
Surprisingly we have it here in UK also! Normally is US only!

English speaking markets only. So also includes UK, Canada etc.

Haha fuck it, never an international feature, because it's better to launch it for 2-3 countries instead of launching it for everyone. And that's why everyone hates MSFT.

Nothing was making a calculated guess that Lumia denim rolls out tomorrow, since they usually get released on Tuesdays and since they said the end of October and its the last Tuesday in Oct.... Sighs, I'm just bored.

Not even such a bad guess. They have a couple of days left to fulfill their promise that the 1520/930 will get Denim at the end of October.

I didn't even know this was a thing. Thanks for getting my hopes up so that they can be dashed when it doesn't happen.:-)

Denim? Pff, I'd kill just to get Cyan at this point. Verizon sucks.

Denim? I don't even have Cyan yet, thanks to T-Mobile!

Anyone else noticed them doing the Android thing following the alphabet? B-lack C-yan D-enim...

This works in Cortana now

correction: work -> word? Anyway, very cool.

Yep, this needs to be corrected. +1 for observation.

I want to ask y Bing doesn't give good enough suggestions when I type. The works good on PC but the windows phone Bing app doesn't give good or localized suggestion except the maps.

How difficult is "translate" this using Bing Translator engine and offer this to the worldwide audience???

I want themes in Bing :-)

It's a search engine, not a way of life.

But it should have the appearance and feel of the rest of Microsoft products, no?

We need it as comment for their Facebook app

Too bad the keyboard in Cortana doesn't have emoji.

Work should be Word in the article.

Just checked Google does not alow this

It does with some extended characters, but not with Emoji it seems.

Gotta search with that pile of poo emoji

LOL Dude and you had to try it!

And is working in UK also! Something must be wrong or finally Microsoft is deployed something globally.

When I open cortana, and tap the text field to pop up the keyboard, there is no emoji button to enter emojis. When I enter bing.com in ie, it is taking me to cortana!! HOw in the world should I use this feature in phone directly? A work around is Go to google.com -> enter emoji->copy the emoji-> paste in cortana->Bing it! or open another browser and see it supports entering emoji in search field

Slowly one emoji at a time we are moving back to hieroglyphs as a form of communication - well except here where I can't post from the WP app unless it's plain text...

Something different I like that

WOW! This is why I love Microsoft... They don't hesitate in trying something new :D
Windows Central Newsletter
Get the best of Windows Central in in your inbox, every day!
Thank you for signing up to Windows Central. You will receive a verification email shortly.
There was a problem. Please refresh the page and try again.