Microsoft and Getty Images make nice, Bing and Cortana to use Getty's photos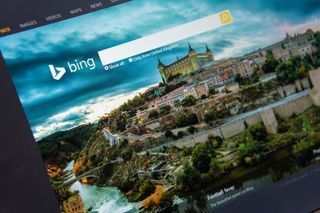 Microsoft and Getty Images have formed a new partnership that will allow Microsoft to use the catalog of photos from Getty in its products and services such as Bing and Cortana. The multi-year agreement is a nice conclusion to an image copyright issue that caused Getty to file a lawsuit against Microsoft in September 2014.
Getty launched the legal action after Microsoft released its Bing Image Widget, which allowed websites to place a panel on their pages that showed images found by Bing. Getty said that tool could bring up images that are owned by the company, in violation of their copyright. Microsoft removed the Bing Image Widget just a few days later.
Now it seems everything is cool between Microsoft and Getty, if the official press release is any indication:
Specific financial terms of the new partnership were not disclosed.
Source: Getty Images
So that means we can have bing wallpapers in the background along with Cortana?

Probably for the desktop version

Whick looks the same as the phone version

So that means not for windows phone na?

You do all know this has nothing to do with the bing desktop app or the wallpapers, its an app for websites to use not consumers.... The Bing wallpapers aren't random photos, each is bought and paid for, and the "random" photos here and the school safe search on bing images have catalogs of images to buzz through, one happened to be a copyrighted catolog

Hey! I tipped for this article!!!

Apparently, they heard the news before you tipped. Get over it.

Yup this was announced: https://twitter.com/tomwarren/status/577598909150818304

Thank god! That was and still is my biggest disappointment with Cortana, I miss my daily Bing wallpaper in Search.

Creatives rejoice! Or don't?

Gallery is sure smaller than Google.

So's your moms. Why are you here? I mean, on this Earth? Everyone that know me thinks I've got a Negative Personality Disorder, but you Negative Nellie's on the web make me look like friggin St. Nick! Go piss somewhere else. Better yet, don't Get off the web and go contemplate your navel.

See, you go to a doc first. Not because you're cursing, but because you can't handle the fact that Bing is still behind Google.
------------
Secondly, weeping kid even I can fuck your mom and open up your sister. Keep your disorders to yourself, and don't go pissing everywhere, telling your a sick hipster. Now screw fanboy.

Well done Aman! Give the A hole what he deserves.

Hey, don't irk a patient in treatment.

Negative personality disorder? Nah, you got something like negative parenting disorder. Your mamma should be so proud of you.

Alright, stop with the dudessss thing. :P

Getty has tons of professional high quality pictures.. The fact that Microsoft and Getty partner up is great news.

Good move I must say, better to have great and useful pictures rather than just stuff-in crap like Google's.

I'll take quality over quantity every time.

Bill Gates owns the other pic-company, Corbis.

Except my wife! Them's fightin' words! LOL

Actually, as bad as it is, human slave trafficking is still quite a large business, and many humans are bought and sold daily. It's really sad. It's not legal anywhere that I know of, but that doesn't stop people who don't care about laws.

And what's more, the ones suffering don't even know of their rights and think that this is their true destiny.
------------
Forget this issue, it is not bigger than mine....I need a Windows 10 FlagShip ASAP.
:P:P:P:P:P

Wow. That's selfish. I expect that more from the iPhone crowd. smh. Yeah, my issue is even bigger than yours. I need a new flagship AND someone to pay for it. LOL

How do you know I have an iPhone..?
Surely yours is much 'graver' issue.

Sounds great! Bing will get an even wider catalog of images.

lovely... great news i use bing desktop every day...

Sounds great! Every day I look forward to the new image of the day loaded on to my phone, desktop, and Bing page.

I agree. Love those images.

YES! Now Cortana can be updated with the new look that was teased: https://twitter.com/tomwarren/status/577598909150818304

Ms should have made an exclusivity deal with them, thus stopping google from using images ;)

Nice when the guys get along. Google needs to pay attention.

I'm glad. Bing images of the day are fun to see everyday. The more included, the better. Plus, I usually look at the source and additional wiki information.

So more importantly, I got multi year deal out of this for Bing and Cortana.

I'm not sure what this is about. Bing have been using Getty photos in the Image of the Day for ages. I've often thought it was a bit strange when Bill Gates half-owns Corbis images and you hardly ever see any Corbis pics. So what, exactly, is going to be different now?

Anyway Motor Mouth, I only read about it sometime rapidly. That Corbis and Bill Gate are deal together, that I dont know. But if at all he does look like verifiable news. It is left for both to solve the G7etty Photos. Personally, I don't belief it was so. As it is matter that can be solved by the two to solve.
Windows Central Newsletter
Thank you for signing up to Windows Central. You will receive a verification email shortly.
There was a problem. Please refresh the page and try again.