Microsoft announces company reorganisation with a large shuffle planned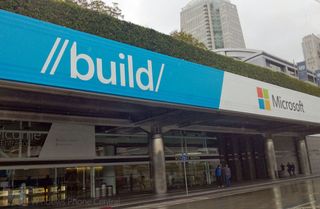 Microsoft today announced plans for reorganisation. We've previously touched on rumours and speculation that CEO Steve Ballmer was looking to restructure the company into one that focuses on devices and services. Ballmer fired out a letter to Microsoft employees, detailing what was happening and what the outlook is for Microsoft once these changes have been applied.
Bringing together its vision, Microsoft will be focusing on further improving and developing Windows 8 and Surface, Windows Phone and Xbox, as well as the numerous services and products Redmond has available. The changes are huge and will affect the company as a whole, reaching the end goal of a "One Microsoft."
Microsoft will now be organised by function and "optimised for speed and strategic alignment." The operating systems engineering group will be headed up by Terry Myerson, and will span across the Xbox, Windows Phone, PC and back-end systems. Julie Larson-Green will take responsibility for the devices and studios engineering group, overseeing hardware development.
The applications and services engineering group will see Qi Lu at the helm, broadening apps and services core technologies in productivity, communication, search as well as other information categories. Satya Nadella will take control of the cloud and enterprise engineering group, which will lead development of back-end technologies, including datacenter, database and specific technologies for enterprise IT scenarios and development tools.
The advanced strategy and research group will be led by Eric Rudder, while Tami Reller will take on all marketing. Mark Penn will be taking a broader view of marketing strategy and will work with Reller. COO Kevin Turner will continue leading worldwide sales, field marketing, services, support and stores, as well as IT, licensing and commercial operations. Tony Bates will focus on partnerships with the business development and evangelism group. He will work with OEMs, silicon vendors, Nokia and partners.
Amy Hood will centralise all product group finance organisations. Finally Brad Smith will continue as general counsel with responsibility for the company's legal and corporate affairs, while Lisa Brummel will lead the HR team and map it to the new organisation.
As well as the new changes, Steve Ballmer also noted numerous departures, including Kurt DelBene who will be retiring from Microsoft. The CEO continues to go into the success of Microsoft and how the company as a whole can continue to improve with multiple buzzwords utilised. He closes off with a simple "Let's go." We'll have to wait and see to determine whether or not the above restructuring will have made any difference.
Be sure to read the letter (opens in new tab) in its entirety for all the details.
Rich Edmonds is Senior Editor of PC hardware at Windows Central, covering everything related to PC components and NAS. He's been involved in technology for more than a decade and knows a thing or two about the magic inside a PC chassis. You can follow him over on Twitter at @RichEdmonds.
I would have to say, exciting!

I'm excited, we might not have to wait so long for new features of windows phone! :)

Easy to talk the talk. Now its time for MS to walk the walk.


They could always walk the walk, where others fell Microsoft just stumbled dropping a few bones while moving the closet... And ever since Vista its a mighty full closet... But just like good old Bill they just can't talk the talk.... Dont get me wrong I love Bill G but its Paul Alan that talked the talk... just like Jobs was apples talker and wozzy was the walker like Bill...

I think this is a great move in a world that expects updates and innovations much quicker. Read the whole thing, and Windows Phone is prominently featured in his letter. Well done, I look forward to the revamped Microsoft!

I would have liked more Julie in the the operating systems engineering group. but anyway, it sounds like this reorg will be fine. it will be nice to see how Windows ecosystem unifies and grows.

Me Julieeeee!!!! Props if you guess the movie this line is from.

Terry Myerson in charge of PC, Xbox, and WP??? Anybody sense Microsoft unity in the near future? "and what the outlook is for Microsoft" Hehe Outlook....Microsoft.... I see what you did there :-D

It would be more funny if they paused when they said "outlook"

I noticed it to...well written.

Well done Rich, came out with this in a few minutes of being released live.

This should have happened long back....
Still cant believe we have to wait till 2014 for WP 8.1...


He's retiring to start a Flock of Seagulls cover band.

I think you mean a Perry-era Journey cover band.

His haircut is one ounce of gel from FOS

I love the "cpt. obvious"-syle photo of Ballmer

Important stuff, I'm praying this large ship can get there act together and release more finished, more up to date products that take more use of a unified, unique MSFT experience making all MSFT products more pleasing then the competition. You should want to get a WP because you find MSFT enhancements that they don't offer the competition. Nuff said, lets go.

Who's in control of windows? Is windows dead?

No, Windows is an operating system. Terry Myerson has it, for all hardware platforms, not just for PC's.

Two words that define things to come with Microsoft: "Platform Consistency". A welcome announcement and something us Microsoft Partners have been begging for. We want the same experience across all of our Microsoft devices. First step? Get rid of the god-forsaken method of moving and removing live tiles in Windows 8. Make it "Press and Hold", just like on Windows Phone. Rinse, wash, repeat!
Windows Central Newsletter
Thank you for signing up to Windows Central. You will receive a verification email shortly.
There was a problem. Please refresh the page and try again.