Microsoft auctions off white Xbox One for a good cause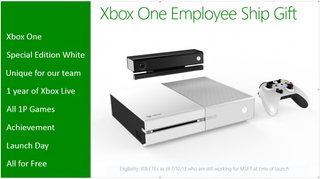 Back in August, we learned about a special edition white model of the Xbox One console that was going to be given to employees working in Microsoft's Interactive Entertainment Business division as part of a gift package. Now Microsoft is offering one lucky (and financially well-off) eBay bidder a chance to own the only white Xbox One unit to be offered to the general public. The auction will benefit the Wounded Warrior Project, a charity geared toward helping wounded service members and their families.
The auction, which is limited to bidders in the United States, includes the white Xbox One, complete with Kinect and controller, one year of Xbox Live, and a copy of each of the first party launch titles (Forza Motorsport 5, Ryse: Son of Rome, Dead Rising 3, Killer Instinct, Project Spark and Crimson Dragon). Not too shabby, right?
But if you want to own this piece of video gaming history, you'd better be prepared to get your check book ready. At the time of this post, the auction was up to $11,300.00 after 72 bids. There is still just over six days left to go on the auction. All bidders must contact the seller before their bid is accepted.
Should you be the generous wining bidder on this auction, you can expect delivery by the November 22 launch date of Xbox One. Microsoft was nice enough to pick up the tab on the shipping.
Source: eBay (opens in new tab)
Get the Windows Central Newsletter
All the latest news, reviews, and guides for Windows and Xbox diehards.
Guys. Let's pool together and buy this.

Shut up and take my money! Where do I sign up?

Imagine Kinect trying to recognize all of us in the room.

Sam, im curious how no one noticed that this guy has sold 3 items since it was created Dec 5th 2011... WhiteXbox1 name made that long ago? How did we not notice this??? I mean they sold stuff in that time...

I just looked this up and it seems you can change your eBay ID every 30 days. So I guess they change it for each item they sell because they are so rare.

Ok, that makes more sense. No idea you could change your handle ID...

They've changed a few times.... User ID Effective Date End Date
whitexbox1 Nov-11-13 Present
new.year_new.you Nov-26-12 Nov-11-13
espncharityauctions Dec-05-11 Nov-26-12




I want them to release that controller, the two tone looks so nice.

I'd prefer lumia color scheme. :)

Really... Can paint them any color with 2pack auto paint. 11k+ wow

Wow, and I thought $499 was pricey. I'll ogle from afar.

The white looks pretty, but I can't even afford a regular commercial Xbox One. I'll have to pass. However, should I one day win the lottery, I'll see about picking this up on the rebound. ;)