Microsoft Band units are back in stock at US brick-and-mortar Microsoft Stores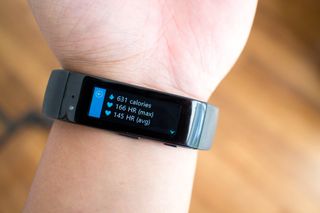 If you have been waiting for a chance to get your hands on the $199 Microsoft Band, you might be able to do just that. Microsoft has just announced that units of the fitness and notification wrist device are back in stock at all of the brick-and-mortar Microsoft Store locations in the US.
Keep in mind this announcement is just for the physical Microsoft Store locations. The online website is still showing the Microsoft Band as out of stock, and that's likely to stay that way until sometime in early 2015. However, if you live near a Microsoft Store, this might be your last shot at purchasing the Band before the holiday shopping season is over. Good luck.
Source: Microsoft Store (Twitter) Thanks to Paul for the tip!
They are out of them in Los Angeles at 8pm, I was ready to go pick up 2 of them, They no gots. O Well

I'm selling one in London to someone face to face if you are interested. Brand new and with receipt. It's large.
http://www.gumtree.com/p/other-fitness-gym-equipment/microsoft-band-bran...

I consider one if the Band/HealthVault were available in Canada.

You can buy it in the USA and make delevered to you.... I did that a month ago. I live in prov. of Quebec.

Not sure how you did that.

Yes #BringTheBandToCanada

I knew it was a publicity stunt

They said they'd only offer one supply of these as an advertisement to other companies. This was discussed already. and now they magically sell more... That's a publicity stunt.

Really? When and where did they say that?

The first articles on WPC. Idk why im being interrogated... Why would I lie? MS said the purpose of these was to show off the tech.

i don't think people think you are lieing, but you still could be wrong, right? Link to the article please and put this debate to rest.

Too lazy.... Feel free to look around if you like. It's not really that big of a deal anyways... Surprised nobody remembers. Humph.

Quick Google search found me this. MS is trying to show off what is possible to make money off other companies......
http://www.pcworld.com/article/2841887/microsoft-promotes-its-band-smart...

I kind of wish you didn't comment on here. You're just aggravating and lazy in your criticism.
Articulate yourself better from the get go and we may actually find value in what you are talking about.

They never said they were only making one run - they said they were limiting the release to the US for a while to get feedback. They also want to see if anyone is interested in licensing the sensors, which are two separate things.

Nobody truly knows what a business is doing except that business. Its only a guessing game for an outsider.

Yes: This is meant to show off the Microsoft Band platform. This wasn't meant to be a mainstream product, and they didn't really anticipate this much demand. Hence why they're impossible to find. Has nothing to do with being a publicity stunt... If that's was the case, they've made their point, and they would start making these things available. Not letting customers buy your product is never a good long term business strategy.

Finally someone paying attn before posting. You'll never truly know that business strategy. This company is huge and they very well know what they're doing.

Dude, seriously - give it up. You interpreted what was said a certain way - a way with which most of the other readers clearly disgree. Microsoft is trying to do TWO things, which you're conflating into one: to try a new product (the Band) and to use it as a reference platform for other hardware makers to get them into the HealthVault system. Microsoft already got burned trying this with the Surface product line. It took three tries (as it always does) to get it right and in the process, they had to burn a lot of unsellable stock. This time they took a more cautious route because jumping into the fitness wearables market is even more suicidal than the tablet market. To our surprise, they pulled an Apple and released a product with almost no public preknowledge - thus avoiding the endless 'why Microsoft sucks' articles that would have degraded the potential of the product - and to *their* surprise - it was a hit. People were lining up to buy a Band in some stores - that's never happened for a Microsoft product. Unfortunately, for them, this time they were caught being too conservative and they ran out of stock almost instantly. You can't just go to the plant and say 'make more!' and have them magically appear - and let's be honest, I'm sure the execs at Microsoft were also saying 'was this a fluke? should we make more?' Finally "This company is huge and they very well know what they're doing." Seriously? You really have NO idea how companies work, especially Microsoft. The bigger the company the less well it knows what's going on in all of its parts. You end up with silos carefully protecting their own interests by promoting them against other divisions. It wouldn't surprise me to find out that the upper executives at most of the divisions didn't even know this product was being made or why. I know you want to make this into a conspiracy - it's more fun that way - but in reality, the truth is probably far far less entertaining or complicated.

Ahh Microsoft KIN ??? Naaaa this time you can buy the product

MS didn't say so, but people goes so.

Availability with everything from MS is a constant pain... Of course its not only a MS problem, but it still sucks :/

Agreed. Part of the supposed story about Band is that Microsoft doesn't want to compete too much with partners. Whatever. Competition is part of the retail game. Besides, no other device fills the same niche Band does.

As I recall, they said the same thing about the original Surface products, but now it's a billion-dollar business for them.

On my way home through London there are 6 large billboards by the Imac cinema, fully lit with Microsof Surface Pro 3, where every you looked there was a billboard. Microsoft are going full steam ahead here with advisiting...just hoping it goes down in the sales.

Well the surface 2 32gb is either constantly out of stock due to demand or they have toned down prodution to almost a standstill (I am checking every other day).


That new Fitbit does a pretty good job of competing. Notifications, heart rate monitor, GPS and waterproof to 5atm...

The new ones aren't actually available yet are they? The ones with chest-strapless continuous HR?

Only the full sized Fitibt Surge includes GPS, and its $249.99....$50 more than Microsoft Band.

Is there someone in norway?

Yes, there are a few people in that town. You remind me of the movie "The Grand Seduction"

I call the local store daily. In a very frustrated voice, I am told, daily, that they don't have any. And you can't order it online. Microsoft is leaving money on the table but not being able to stock something that people actually want to buy.

I don't live near a store.

Got mine two weeks ago! Loving it

I wonder if this includes kiosks

The kiosk near me got some

Got mine at a kiosk on launch day so yes they do sell them there... Got the last one and I has to call ahead and deserve it... Not sure if they ever got more.

I called my kiosk and they just told me they have plenty.

Please buy me one, ship to Sweden and I will pay you for the work as well!

Portland Maine specialty store got 12 of each size yesterday, half of which were gone when I got there to get mine.

Just finished up a nice 45 min jog with my Band. Zips the data from the run data to Runkeeper and Myfitnesspal with with no action from me. I highly recommend this little device. Works great with my L830.

I was VERY lucky to have found mine. I went to the Los Angeles store right before Thanksgiving to return something and saw another customer buying one, so I went and grabbed one. I remember going through this calling to check stock when I got my red Lumia 920 I called every AT&T store within 30 minutes driving distance..every day. I hope that Microsoft can get a good supply of these made before the end of the holiday shopping season as I think they'd make great gifts. Mine is already a valuable tool in my life. :)

I'm actually looking forward to the 2015 one, Rumors suggest it'll be Xbox branded and integrated with Kinect. Hope it's a reality.

I have a band and love it as well and when they release an xb1 our surface band/watch, I'll purchase it too!!

Picked one up for the wife yesterday. Lots of people asking for it while I was there. Pretty sure they already sold out at my location.

Good luck to everyone in the hunt!!

Aliexpress.com is selling MS Bands. Worldwide shipping

i didnt find it on the site

YES!!! Scored one, going to pick up first thing in the morning. 2 hour drive to get it.

May thine efforts bring you great happiness, wisdom, and courage. Good luck!

Got two units yesterday, one for me, one to sell off when i get back to my country. It's awesome!! I'm sure the 2.0 will be much better and more widely accepted.

Yup 2.0 will going to rock.... Soon the market...

So will 10.0 What's your point??

Just bought one and my fiancée as well!!!!! Microsoft store in Bridgewater, N.J. they say they have a decent stock and we are able to easily get our right sizes. Can't wait to try it with my Kermit 830!

Great. Release some worldwide, please.

Sorry MS. Waited too long and got a fitbit charge. Works with my 635 flawlessly!

Just picked up mine from the Costa Mesa Store...I am Stoked!

This is the best one out there..... bought three and one for myself. Notifications, messages, heart rate,UV, and on and on..... used it twice at Starbucks...... need more of that.... very nice!

@Mike Muscarella:
So you used up your included Starbucks voucher and now you need further bands?
This is definitely an interesting moneysaving-strategy.

The local store had a ton of them on the shelf. I have been trying to get one for awhile and stopped in the store for a different item and they had just received a shipment. Both my wife and I bought one. Stop by and ask. The people at our store were wonderful. My local store is in Durham NC.

Need this in my life but not prepared to pay stupid ebay prices!

Will the usa bands work with uk phones? Bound to be some geographic or regional issues, right?

Lol they aren't region locked :).

These are locked to Earth. You'll be fine.

You mean I can't use it on my commute to Mars? Bloody useless.

i hoped i could use it to call the reapers, but since that i have to go with the normal way...

Had them at the MS Store in downtown San Francisco this morning. All three sizes available. Although I saw this article just as the mall was opening and swung by the store then right after they opened. In an additional tie-in with Starbucks, they had free Starbucks coffee and daisies/rolls/donuts in the back for customers, too.

Did you get one? :) Don't leave us hangin! ha ha

As soon as I got the text message from Microsoft saying they were back in stock I rushed out to Lenox mall in Atlanta and grabbed one. They said they had quite a few in stock but I wasn't taking any chances with all the eBay opportunists grabbing them in bulk and selling them on eBay for 2-4 times as much as they retail.

has someone experience with it? what do you use it for, what can it, is it worth $199?
i am think to buy one, because the price is not so much more than normal fitness gear...

I've had mine since the day before Thanksgiving. I really like it so far. I'm walking errands instead of driving because I want it to tell me that my steps goal has been achieved. I like the sleep data, though I don't realliy know what to make of it. I'll have a chat with my doctor friends. I use it as a timer when I do laundry. I **love** checking the band when texts and other messages come in. A lot of the time, I don't need to bother digging my phone out. I have used Cortana for a few things, but what I love most is controlling music when the phone is plugged in to the speaker. I've done a couple of the guided workouts and didn't even need the phone to do them. Yeah, I'm loving it and even use it for (gasp) knowing what time it is. :)

I bought mine today after seeing this article, and in the 6 hours I've had it, I am in love with it. While I haven't had the chance to try out the workout/fitness features just yet, I'm always checking my step and calorie count. I can't wait until tomorrow when I can get a chance to put it through it's paces and get that feeling of achievement for completing a goal. While I haven't had enough time to fully evaluate it, I'm certainly feel it will be worth $200. ALSO! $25 gift card is given out when you spend more than $75, so if you that drops the overall price too.

thank both of you for the answer :) i dont know if i can buy it from germany, but maybe i give it a try.

I'd suggest trying one on before you buy. Ive never worn anything more uncomfortable than the Microsoft Band. I returned mine a few weeks ago besides being uncomfortable the pulse polling was wildly inaccruate, the wrist clasp is very poorly done, and using clear plastic on the face rather than a scratch resistant glass was the clincher for me. I can't stand using those plastic screen protectors they always come out horrible. I'm going to try a fitbit Surge as soon as I can get my hands on one.

NONONONO THEY'RE NOT. STOP TELLING PPL THAT THEYRE GONNA COME INTO THE STORE THINKING WE HAVE THEM AND WE DON'T!!!

Don't know what you're talking about. Thanks to this article, I had my stepson run by the MS kiosk in Lexington, KY Fayette mall and get a medium and large. He said the clerk said they had plenty in stock.

Just went to Orlando and picked one up. It fits great and works like a charm so far.

Woooo just picked up the medium one at my Aventura Microsoft Store!!! Now I can finally control my house lights by my wrist via Insteon.... So cool.

Nice!! Congrats! Couldn't make it there today but wishing they've got some in stock tomorrow.

Just got mine on one of the Miami stores and I love it !!!!! if you are around this area I was told that they just got 25 units of each size

None at the Cincinnati store. Was there Sat afternoon and was told they are only filling backorders

Try the kiosk in theFayette mall in Lexington, KY. My stepson went by there yesterday afternoon and got a medium and large. He had to ask for them since they weren't in the display case.

I ordered first day and had it shipped to Japan. Love it!I do sometimes get email on my company account in Japanese and it doesn't handle double wide characters yet, but that can be handled with a firmware update if they go global. You can message people, dial your phone, start music from Cortana using the Band. Make reminders. Very cool. It is more than a fitness band. I did ask it to play The Beatles White Album and it gives me Louis Black's White Album. Still works for me! LOL

Brick and mortar..meaning physical I guess?

I got it king of Prussia store in pa.

Just noticing this now? They had some on thanksgiving which is when I got mine.

If you reserved it you deserved it.

Just called the only store on Long Island and they don't have them. Wtf?!?

What store did you call? Cause I was about to drive out there to get one

And how did you manage to call them? I've been trying to get people to tell me their availability and they wont give it to ne over the phone.. This process is so annoying

Just go to Ebay, that's where all 10 of these will end up.

I GOT MY BAND but I cant have it until Christmas :(

Same here, I got mine in the UK via ebay and I am not allowed to open / touch it before Christmas... This is cruel!

I'm in the UK and have one on its way at the moment thanks to www.bigapplebuddy.com. They buy from their local MS store. Worth taking a look if you want one...

Sweet. The old man in cupertino just secured my band, shipping to the uk in time for crimbo. :-)

I just returned mine - so maybe you can get it refurbished. It was just not that comfortable. I noticed it every second that I wore it. My fitbit while it has less features is MUCH more comfortable.

I got mine yesterday in the Knoxville TN store on my way back to Nashville. Fits great. Can't yet decide if I like it with the display on top or bottom of wrist. Bottom is more comfortable to read but less in the habit of doing. Still haven't hit all the features yet but the step counter is EXTREMELY accurate. Several times I looked at the counter, then took off counting steps (sometimes over 100) and it was spot on each time! Also, the sleep monitor was nice as I could see that I wasn't in deep sleep but for only half the time I was asleep. Here's hoping I like this much better than my Pebble and Nike Fuel Band....

I picked one up yesterday, but i'll say my experience with the MS store as of late hasn't been so great. I'll try to keep this short. Last week stopped in to get band, no mediums in stock (for wife not me). I ask to be on list, salesperson goes in back, comes back up says ok, you can be on the list, gives blank white paper to write info down, i do and ask isn't this kinda informal? He says yes but that's how they do it, i said ok and move on. Come back 15 minutes since i forgot to put size on said paper. Talk to a female this time (that i didn't particulary like), she says there is not list and i cannot call to see if in stock because they won't tell me. So i gotta drive to the mall over and over to get one? Come on. I say fine, give me the large you have in stock, she says you wanted a medium, i said i'll gift it then return it, which was met with discust but if you just put me on the list for the medium i wouldn't be doing this. So i see this article here, run to mall, walk in and say i need a medium, firs thing manager (or someone that seemed like a manager) are you on the list, i'm like wtf is there or is there not a list? I'm inform him that im pissed and move on to just buy the damn medium and return the large. Doesn't help either that the female i didn't like was incredibly high pressure on the screen protector and even worse on the insurance, her reply of "well it's only $xx.xx clearly insinuated i was cheap", Which i am not, just didn't want to pay $40 (i think) insurance for something only worth $200. So, i have the band, but my experience was not very good. Freehold Mall in NJ. Not going to name names, but i remember them.

I had a great experience at the MS Store in Scottsdale, AZ. Had all sizes in stock. Insurance/complete coverage was only $20. Screen protector was free along with the Starbucks $5 gift card. Wondering if the screen protector is even worth it. Any word on durability of the screen?

I'm selling one in London to someone face to face if you are interested. Brand new and with receipt. It's large.
http://www.gumtree.com/p/other-fitness-gym-equipment/microsoft-band-bran...

I can confirm the Houston Microsoft Store in the Galleria, as of last night, is stocked with all three sizes. Just went and picked one up yesterday evening (12/8) around 5pm with no trouble. Good luck!

Thanks for this update, after reading it I checked the local kiosk (which had been out since launch) and they had some. Just picked one up yesterday.

Wife got mine at the Scottsdale store last week. Sitting under the tree. Waiting........ waiting.......

Publicity stunt, global government tracking device, I don't care. I want one! I'm going to harrass my girl to call the MS store (10 minutes away) to see if they have then in stock so she cane get me one for xmas :)
Windows Central Newsletter
Get the best of Windows Central in in your inbox, every day!
Thank you for signing up to Windows Central. You will receive a verification email shortly.
There was a problem. Please refresh the page and try again.