Microsoft Band's future in doubt; efforts to get it running on Windows 10 reportedly canceled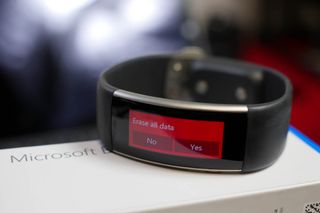 A new report casts doubt on the release of future versions of the Microsoft Band fitness wearable. It claims there will not be a new Band 3 released this year, or possibly ever, and efforts to get the Band to run Windows 10 have also reportedly been canceled.
According to ZDNet's sources:
In addition, our own sources have not heard any plans from Microsoft on launching a Band 3. An official statement from a Microsoft spokesperson to ZDNet is, as expected, very vague on the Band's future:
Microsoft is currently selling the Microsoft Band 2, which was launched in the fall of 2015, for $174.99 (opens in new tab) at its store site.
See at Microsoft Store (opens in new tab)
Windows Central Newsletter
Get the best of Windows Central in your inbox, every day!
All is well at Microsoft.

In one sense, all is well. MS in the consumer space is a sinking ship. The life rafts have already left and anyone left on board is going to go down with the boat. With XBone getting creamed by PS4 (a situation likely to get much, much worse now that the Pro version is out), Windows Phone canceled and Band canceled, it's not clear what's left for them in this arena. But they are going all-in on enterprise, rather like IBM did when MS drove them out of the consumer space. They will probably still be big and profitable for the foreseeable future. It's just that we consumers won't care anymore.

Sure, let's release Scorpio before it's ready so people like you can ***** that it was released way too early if things go wrong

Who said anything about Scorpio?!?

Probably the same source that told you Windows Phone was cancelled.

Would that source be reality? MS wrote off $7.6 billion of the $7.9 billion Nokia acquisition and then fired all 18,000 employees working on Windows Phones. Then they announced "No more Lumias ever" and now they're taking Windows Phones off of the shelves at MS Stores. How much more cancelled do you want? Do you want them to break into peoples houses and take back the phone's they've already sold?

so when they release the Surface Phone, will you promise to just go away?

I'll be pleasantly surprised if they even just announce it. I suspect it doesn't exist. Maybe next year we'll see something. Posted via the Windows Central App for Android

He asked if you'll STFU not if you'll be pleasantly surprised.

Did I say something to upset you? Is it a problem for you that MS is clearly exiting the consumer space to focus on enterprise? I mean, I'd love to see a viable competitor to iOS and Android, but at the end of the day, MS can do whatever they want. And clearly they don't want to be in the phone business, anymore. I'm a little saddened and more than a bit frustrated that I invested so much time and money into a failed product, but I don't go around asking people to "STFU" if they feel differently. MS doesn't owe me a new phone.

Nope not to upset me. I was translating. (and no, you didn't say that, go edit if you wanted to say that).

You weren't translating, you were genuinely mad. Because no, he didn't say that. He asked if he would go away not stfu. He can go edit if he wanted to say that.
I'd tell you to grow up but your dead meme of an avatar and fan boy tears over reality already screams that you should.
Have a nice day :)

If you really think I can get mad over a phone or that your comment can provoke me...kids these days...

You really showed you did. And your thumbs down vs my ups really shows the community saw that. Goodnight kid.

And I'm answering to someone that thinks thumbs downs and ups show something? Good night to you, I'm at work :P

"Is it a problem for you that MS is clearly exiting the consumer space to focus on enterprise?" But.. they're not? They still have a console out there, with a new one on the way, the Windows store etc.

I don't get it.. Why would MS be struggling to get W10 to run on the band? That doesn't make any sense, and would actually discredit the whole "W10 on every device" idea... Second, if it's a hardware compatibility issue that wouldn't make any sense either. They are designing the hardware, so why wouldn't they just design new internals that work with W10?.. Third, are we saying that other organizations can get W10 to run on small devices, and MS can't?... IDK, this story just doesn't make a whole lot of sense. What's really going on?
.......
It would make sense to think that MS is having trouble getting W10 to run on current hardware, and because of low sales (and ZERO return on investment) MS doesn't see it fit to go all the way back to the drawing board for a product that the general public isn't buying.. So, it's cancelled because It's simply not lucrative.. That story I could believe. But, it makes me sick that MS has trouble getting things to work. Physically, and in the market. I expect more from them. If Apple, and Samsung, can make it happen with new segments (although not very popular) MS should be able to as well. No excuses.

We are commenting on a rumor that could be as wrong as all the rumors till today (which said that they are announcing Band 3 in october). Moreover, I work for a big multinational enterprise that produces software and hardware, they do this everyday, I mean the "ok we have this hardware and this software, let's put toghether a small group and see if they can work together" thing happens very often. It doesn't mean they couldn't rework hardware and/or software to make them work together, it just means they have explored the cheap way and saw that it can't be done. Another source that works at MS confirmed some days ago that Band 3 is coming soon, but you know MS is made of hundreds of thousands people so every rumor you hear (positive or negative) doesn''t mean much....

Microsoft couldn't even get Windows 10 to run well on the Lumia 1020.... So what hope do they have of getting it to run on a Band?! This whole one OS fits all concept is good in theory - but it just doesn't seem to work in reality. Look how long it has taken them to get the 950 running decently...

Windows 10 embedded? Duh!

Win 10 for IoT runs well on the RPi3 (arm, dual core)....

We know! That's part of our point.

Windows 10 worked fine on the Lumia 1020 - what makes you think it didn't?? My Lumia 1020 ran Windows 10, now I upgraded to the 950 XL

I think you hit the nail on the head when you said, they are seeing low returns and that's why they dont see it viable to put more resources in order to get it to work and bring out the newer product. It's quite a shame really, because I love my band and was looking forward to what they bring to the table next. The problem with MS, is they are not marketing their products whatsoever, so much that most people dont know of their existence. Outside of the US and UK, MS has put zero effort into making their products available. Despite the success of Surface, many people STILL dont know of its existence, I had to order my band 2 from the US cuz even in a country like Belgium I couldn't find it. When people see my 950 they ask me is that the new Nokia Lumia? I cant help but feel the only reason the world actually knows what a Lumia is, was thanks to Nokia and not Microsoft, and that is mostly due to the effort Nokia put out in international markets. My 950 recently fell and screen broke, it has bern the most frustrating experience trying to get it repaired and even the local MS "care center" has been unable to help. I sent a massive email to several Microsoft email addresses in different countries, only to finally get a response today from an outsourcing company asking for my number so they can contact me. With MS putting zero effort internationally, it really is no surprise that they aren't succeeding with selling their products that we have come to love

Wow! People ask you about Lumia? That's amazing....
.....
Yes, as I've said, countless times,, MARKETING has always been the main thing that's held MS back.. Zune, WP, Band, it's like MS intentionally doesn't want people knowing about their $hitz..

Haha no they dont ask me about one they just specifically ask when they see my 950 or the photos I take with with it. Yes I do remember you for always pointing out their weakness in marketing their products and you are right but availability and support is also a big issue, cuz even if they market the hell out of their products, what's the point if they are hard to find or hard to find support etc. for. I remember when my 920's tray broke in Beirut, I was able to take my phone to a Nokia Care Center where they sorted it out in 10 mins because Nokia had made sure support was there for their products as well as spare parts ...on the other hand, the Microsoft Care center feels like a billboard; it's just there because it needs to be. So they really need to push their marketing as well as presence/availability in international markets.

Same for me. And the green mozo is also very appreciated.

Low sales are the result of neglible to non existent advertising either band. They build a decent to fairly good product (or some say great) and there's no tv advertising that Ive ever seen, the occasional ad in the best buy weekly ads, no ads that I've ever seen online. Thats not a good business model. And now the wearable market is shrinking supposedly which sompounding the problem. Its kind of like gtheir strategy for consumer smartphones. While I like my windows monile phones I'm also starting to look at Android as I think its a better fit for me than Apple.

Omg I'm literally rofling I love this guy

When the Surface tablets were first released, their inventory was written off due to lackluster sales, yet they're persevered and made a difference. As for Lumia, I'm on the fence on the Surface Phone rumours, but if they are true, winding down the Lumia brand would make sense. I always read that article exactly as that: that they were winding down the brand, not the mobile division entirely. They've mentioned for awhile that the Lumia wasn't quite the direction they were wanting to travel.

Well, let's not forget, Nadella di say that MS will make a phone for fans. This could be the rumored Surface phone, but I wouldn't hold my breath. I don't expect to hear or see anything closely resembling a Surface branded phone until sometime late 2017 or early to mid 2018. This isn't a direct quote, but I read an article stating that they will make a Surface branded phone, when they can bring something that no other phone can do...something truly unique. Now, I don't know what that thing will be, but I'm willing to bet that the technology needed to bring whatever ideas they have for a Surface phone to life, doesn't exist or is not quite ready for consumer use. In the meantime, I suggest that anyone looking to stay with Windows 10 Mobile, consider the HP Elite X3, Acer Primo, or the Lumia 950/XL. These device will be supported for some time to come. I can see OS updates supporting these devices for next 2-3 years. I'm on the fence, at this point. I've been with Windows Phone/Mobile, since the beginning. I know MS is planning on supporting the Mobile OS for some time, but that only means that we have to now rely on other OEMs to make good phones. The before mentioned phones are great options to work with, for now. As much as I want that HP Elite, the 950 XL would be a good upgrade to my 1520, without the huge cost. Now that the price has come down on the 950 XL, I may just do so. That will at least buy me a bit more time to decide whether or not to switch over to iOS, and kinda wait to see where Windows 10 Mobile in the next year or two.

You know a troll is here when they start using the Nokia cost excuse. Seen that far too often in other android or IOS fan infested sites like TheVerge.

I was in a MSFT store yesterday, they told me they have not been told to pull the Lumia's and send them back.
He say's there probably just gonna let the stock run out/ once out! That's it no more restock.
I also asked about my 950 on AT&T that they replaced Back in the spring, due to the Iris scanner wasn't working right, they replace it no questions asked.
I bought a 2YR extended warranty new replacement no matter what happens to it, and I asked if I need a replacement what happens then if the stores are out of stock for good and I need a replacement, he said they could probably order one.

Microsoft is "retrenching" in the wearable market.

Lmao keep those delicious fanboy tears coming

You are pathetic. I wish Microsoft the very best but my interest is such that I can switch platforms when it comes down to it. But to wish ill will upon others is reprehensible.

And who wished ill upon others exactly?

I fully support Xbox One: Enterprise Edition. Work is so boring. That would really spice things up.

COIP, xbox one EE only has monochorme graphics and all you can do is cubical games.

Yup. There needs to be an AD enabled Xbox One. Group Policy for the win.

Haha that sounds cool. They'd probably make it ugly and navy-blue like IMB's POS machines. Just so it fits in with the work environment.

Everytime you type a paragraph in Word, you get an achievement!

Because Sony is outselling them Life to Date doesn't mean Xbox has failed. It is outpacing the 360.... Being number 1 and being a failure are two different things.

That's true this could still turn around like it did for Sony with the PS3.

Sure I guess you could say it that way, but... That implies that it needs turned around. Xbox is doing quite well. Sure they would like to consistently be number 1 every month, but they are still selling a lot. And.. There has been mention of game attach rates being better on the one, which is where the money is. I have no source for that atm though.

They aren't #1. So yes, it does need to be turned around. You don't just settle for #2. This is the video game industry. BRUTAL OR BUST

Yes. This is game industry, unlike PC, people that have PS4 can also buy a Xbox One.

Tell me exactly what that has to do anything and how having a PC means you can't buy anything else? Were you even trying to make a point? Lmao

Windows Phone was canceled? That's news to me. Oh, you meant the Lumia Phone was canceled. Got it.

Yes. Sorry. I figured that was obvious. I recognize that non-MS Windows Phones technically still exist and that MS is, for now, continuing to release new versions of W10 for mobile, but for all intents and purposes, I think it is fair to say that Windows Phone is kaput. That said, is there a single announced new Windows Phone? Or will HP's entry mark the end for the foreseeable future? (Notably, the Elite X3 is targeted strictly at enterprise.) Posted via the Windows Central App for Android

I don't think there is a big problem with Microsoft killing Lumia line. It doesn't necessary mean that now W10m will be gone or is only directioned to the enterprise market. Think that Microsoft never made any PCs before surface (correct me if I'm wrong) and we "all" had Windows machines running on our homes as well as workplaces. Microsoft just needs to have the Surface Phone to guide OEMs as a "perfect" Windows Phone should be. OEMs will play a big part in W10m future.

I think they are leaving the x3 to set the example for OEMs this year. Maybe depending on how well that does will determine whether they target the enterprise strictly or consumer space with the Surface-Phone as well.

without the apps and without the consumer/developer interest, OEM's wont flock W10M. Yes surface reignited interest in 2in1s but still didnt entice developers to take windows store seriously. Many of the fanboys are confused here, surface phone will be launched with enterprise focus and for enthusiasts, will not be marketed to mass consumers, and as seen repeatedly they dont want to become a full fledged consumer device manufacturer, but if OEM's arent interested till now, they wont be later.

You mean those OEMs that would invest into a platform without any apps? Seriously, this 'retrench to business' doesn't even begin to make sense to me as people may just run BOTH the private fun stuff AND business on competing platforms IMHO. It did make some sense before MS let the market implode entirely, but now?

That's not what he said at all. Lumia was dead after the 950/650s. That was known for a long time. Lumia was Nokia's. MS was always going to kill it for its own phone designs. You're not really understanding certain things.

Actually no, it's not fair to say anything until it's official. Unsubstantiated claims mean absolutely nothing.

PS4 isn't creaming Xbox, it's won a few months but now Xbox is winning, also PS4 Pro isn't really gonna make substantial growth in there sales, everyone who has a PS4 won't buy the Pro since (as of now) it's just a small upgrade really. Very few games in 4k, hdr only available for hdr tvs and no 4k Blu-ray. Scorpio will make a difference since it will be a big upgrade and by then more games will be able to play in 4k. I believe Scorpio will use the same system as PC games. So probably all of them can be at 4k with HDR and 60fps. MS is still strong in consumer space, just not in this small things. Surface is big, Xbox is big, Windows is big. They're focusing on enterprise with Windows Mobile not everything they do.

Wait, you're saying Sony only won a FEW MONTHS? In which universe? The PS4 has outsold the Xbox One since they both launched and the Xbox has only won a few months including recently. Lets not try and project an apple style reality distortion field just because its Microsoft.....

are you saying then that xbone is a failure, because I think they are actually doing very well

I think the Xbox one is far from being a failure. They've sold more then enough to make it a success. I'm still not sold on Sony VR yet. I don't reckon the hardware including the Pro is powerful enough. I doubt Windows Mobile is dead, only the Lumia branding. No doubt it'll be incorporated in to the Surface branding. Win10M is just one part of a major OS across multiple hardware platforms. Interesting times ahead. Bring on Universal Apps and hopefully some serious pushing by MS on getting major apps from other platforms released on W10M.

I finally read a comment that actually understands the situation. Microsoft Windows 10 is out there on computers getting people acquainted with the OS. Surface is showing the manufacturers how to build tablets and computers for the current market. If a Surface Phone ever comes out, it should be an example of what a Windows Mobile device needs to be like. That's what is needed in the Mobile space. A Surface Phone for enterprise would be easy to use for anyone as people will already be used to Windows 10 on their computers by then. I'm game with Enterprise Mobile devices. That will set a Surface Phone apart from Galaxy or iPhone.

Windows is big? Windows 10 is nothing but a failed crap. Nothing but bugs everywhere...a cheap made product poorly tested by who knows what testers, since Satya ditched them away..so again what's big about windows? install numbers? yes...but does it matter when it fails to work properly? Damn AU managed to break most of the webcams... Posted via the Windows Central App for Android

Yet more people are using 10 then say osx or Linux. ..yup total failure... Posted via the Windows Central App for Android.. But waiting for the HP Elite so I can get rid of this junkie Galaxy S5...

Nice try. I'm not thrilled with MS pulling the plug on Lumia without giving any sort of statement that the company has a new line on the way, and that led me to buy a 7+. That said, W10 is hardly failed crap. I likeed W7 and W10 is a whole lot better. I wouldn't go within a country mile of an Android device. Enjoy yours.

Omg. That's a very sad comment. Good luck.

It is such crap that enterprise now has a viable upgrade option from xp? I think not. W10 is quite functional. We know that practically no OS release has ever been bug free. So stop selling something as trivial and common as bugs as uniquely Windows 10 and a death knell. Hyperbole just isn't applicable by any measure of personal anecdotes across any spectrum of realities. Let's get real.

What world do you live in Mari...?

I don't think XBone has won a single month, ever. Maybe in the US, but not overall. The gap is a persistent 2-1. Posted via the Windows Central App for Android

It doesn't mean the Xbox One is doing bad. Just because something isnt #1 in sales doesn't mean it's a failure. The fact is, the Xbox One is doing better than the Xbox 360 and has exceeded all expectations. It is Microsoft's best selling console ever. And with Scorpio on the horizon, there'll likely be a shift in preference towards the scorpio instead of the PS4 Pro.

If you honestly think that the Scorpio is going to be pushing 4K at 60 frames, you're delusional. Maybe indie titles will pull it off but not AAA. Remember it actually is possibly for the current console to output 1080p at 60 frames but they don't, why? Developers care more about effects than framerate/resolution, or they favour one over the other.

Consumer market drives business. MS being dominant in consumer space is why they are dominant in business now. If MS thinks they can cede consumer space to Google and Apple and hope to latch on to businesses, Satya is living in a fool's paradise. At least Ballmer was a fighter - WP didn't have market share, but he didn't give up. We need more of that attitude and not backing off from all fronts. Does not inspire confidance for your hardcore fans.

Ballmer also didn't give up when Surface lost billions and when the 360 also lost billions. Ballmer understood how important the consumer space is. Sure he made mistakes as all CEOs do. But MS is under far more threat these days from far more avenues then they ever were under him.

That's because Balmer was a salesman from early on at MS. He knows what it's like to beat the pavement and have to sell a product to people. Sometimes you swing and miss. Sometimes you get up to bat and crack one into the parking lot while all the competition is caught buying hotdogs and sh!tty beer. Has anyone postulated that maybe a grander retrenchment is going on that would require all hardware to be taken back to the drawing board and reimagined as not individual devices, but as a suite of devices in the Surface line? Similar design language, similar appeal. A phone that is stylistically similar to the surface and a wearable that is a higher quality, premium product. I have a Band 1 and love it but it doesn't scream premium by a long shot.

Patently False. MS dominated the office space (pun intended) waaay before droves of people ran out to buy Windows based computers.

At one point, Microsoft even dominated the mobile space with Windows Mobile phones and handheld PC's. No they weren't called smartphones back then per se, but before the iPhone came out, Microsoft and RIM (now Blackberry) dominated the mobile space.

Actually the Smartphone(tm) was a Windows device predating

yeh they once had 42% market share in U.S. and 23% worldwide. https://en.wikipedia.org/wiki/Windows_Mobile

Lol you mean Nokia with symbian

ya then make xbox one for enterprise...surface for enterprise,surface hub for enterprise,holo lens for enterprise,windows mobile dead,band dead, why leave xbox for consumers make them as enterprise device or cancel xbox one...

You need to put that thing down and stop smoking

Xbox is holding really well against PlayStation. And with all the dumb decisions Sony has been making recently... I still think the One S is by far the best value console of this generation. The PS4 Pro just feels unnecessary. It's adding more work for developers and consumers but it can't even bother fully supporting the 4K standard. The One S does more with less.

Xbox is doing just fine. The PS4 Pro is a joke.

The PS4 Pro is not a joke.
Jokes are funny. Posted via the Windows Central App for Android

For once I greatly agree with you. Sadly though, I do NOT wanna see Sony fail. The competition has been awesome for everyone that owns a console.

Ah, no it's not, it has VR etc..its sweet....sony is ADDING features to the playstation instead of stripping them like MS is doing

Microsoft has nothing to worry about with the PS4 Pro. Even Sony's own fans have received it quite negatively. When the Xbox One Scorpio is released, the PS4 Pro will be all but a joke.

Don't understand the downvotes. What you have said makes complete sense. Only a CEO change can bring Microsoft back to the consumer space.

I don't know about you, but in the gamer community everyone is panning the ps4 pro and calling it useless, even Ps4 fanboys. Also, x1s is out and is getting rave reviews.

What are you talking about PS4 creaming Xbox one, you sound so stupid as if the Xbox one is flopping like Nintendo U. Care you pull more wrong stats out your a**?!

They have a tendency of releasing something and then completely dropping the ball. I thought by now people should already get used to it.

Did you miss what the PS4 pro was? That thing is going to do poorly compared to the current PS4. Sure, Die hards will buy it, but overall, that thing will flop. You're also making 2 claims that are still very much false. Windows Phone was never cancelled, it was turned into something new, and you have 0 information on the Band that you can prove. Troll harder kid

Erm, some facts here please. Windows Phone is not cancelled, the Lumia line is cancelled and we have known about that since the 650 came out. Nothing about Band is confirmed as cancelled, did you actually read the article? PS4 Pro is hobbled compared to xBox One S for people who care about media as well as games so that is to be seen. Not to mention the fact that they were very 'loose' in their wording about it's 4K support. It's no wonder you are being down voted, try and gather some actual facts before you go off on one....

Next thing you know Panos will be on the streets and surface is dead. Welcome 2016 IBM Posted via the Windows Central App for Android

Strange, you don't seem to share the same universe as I do. Sure Windows Mobile is definitely licking it's wounds, but Windows/MS still dominates Desktop, Xbox it's still a major contender, HoloLens has a good chance, Windows tablets have made a come back and the Band is/was just getting started. MS also have a chance to enter IoT if they don't screw it up. Even Windows Mobile may well make a come back as the boundary between desktop and Mobile continues to blur, it works perfectly for my needs which are more about content creation and consumption as well as usability and reliability than lots of silly little narrow use apps.

yeah...it looks MS is trying to kill their hardware pretty heavly....hopefully they can manage the software side of things better.

A number of managers leaving in theese days... I'm continuosly pissed off by Microsoft dismising something Of course theese are not official statements, but let's see what happens at the next key note

agreed but I have had enough of Microsoft seeming to make such great headway on everybody else platform but their very own. i can get outlook on the apple watch but not my ms band 2. Come on ms when are you going to get your sh*t together, anyhow if redstone 2 is a bust I'm leaving the platform for good enough is enough. Not saying I want outlook on a watch but using it as an example

You do realize the watch and band are 2 totally separate things, right? The watch is meant to be a smart watch in full, with all the bells and whistles. The band is an activity tracker first, with a few extra features. It won't get outlook because it's not designed or meant to get outlook Posted via the Windows Central App for Android

So it is designed and meant to suck? Posted via the Windows Central App for Android

That's just idiotic. The band is designed closer to a fitbit than a smartwatch. Just because it doesn't do what you want it to doesn't mean it sucks. It's just designed to be useful Posted via the Windows Central App for Android

Minimally useful? Is that what makes Windows popular? Microsoft doesn't even know it's own users. Posted via the Windows Central App for Android

The band is extremely useful. Outlook on such a tiny screen cannot be even remotely useful. Stop being lazy and pull your phone out of your pocket. Posted via the Windows Central App for Android

Then they should have made the screen bigger. It was priced like a smartwatch but only had the function of a fitness band. It is minimally useful compared to other similarly priced wearables. Posted via the Windows Central App for Android

I was talking all smartwatches. I cannot see outlook being remotely useful on an apple watch or anything else with a 1-2" screen. The band offers many features, some of which are unique to the band. I think it's very competitively priced and offers a great feature set. If it doesn't fit what you want, then you aren't who MS is targeting. Doesn't make it useless. Posted via the Windows Central App for Android

You don't see how useful it is to be able to receive notifications and then read an email and even send a response without pulling out your phone? I use Outlook on my watch everyday. Posted via the Windows Central App for Android

Nope. Less of a hassle to pull my phone out and do it all on a big screen. I can't imagine how a watch could be more convenient than a phone for email, messaging, or anything of that nature. Posted via the Windows Central App for Android

It is more of a hassle having to pull your phone out just to read an email. That is easily done on the watch. You know whether you need to pull your phone out or if it is something you don't have to respond to. Sorry Microsoft doesn't offer you this option. Posted via the Windows Central App for Android

The band has the mail tile that allows you to do that, so Microsoft does give that option. But it's not an option I want or need from my smartwatch/fitness band Posted via the Windows Central App for Android

U do realize there is a mail tile on the band right so what's the difference between that and an outlook app being there. Not picking a fight but stating facts fitness or not the band also servers notifications and emails are apart of that I should be able to dismiss notifications on my band and have them be done on my lumia,but the only way that can happen is with what? That's right uwp outlook,WhatsApp and so on. So yes it does make sense to have outlook on a band in some shape or form

Why should he pull his lagdroid out of his pocket? To enjoy that laggy, unsecure and ugly experience? I would not

Minimally useful? Didn't apples product just catch up in terms of function for example GPS? Posted via the Windows Central App for Android.. But waiting for the HP Elite so I can get rid of this junkie Galaxy S5...

The Apple Watch does a hell of lot more than the band and now the price is similar. GPS isn't that important when you can pull that info off the phone. It just becomes a battery drain. Posted via the Windows Central App for Android

never said it suck pre order it the first day I'm saying I'm tired of always hear how they making great headway on other platform than their own

@bleached Have you ever got anything happy to say or are you just a bundle of negativity? This comes from reading your negative comments on every article for about two months. Seems like a blind hatred for a company. You're spending your time well aren't ya?

I've come to the conclusion he's either retarded or an out and out troll. Or both.

Actually have been a Microsoft fan since Windows 95. It is tough now seeing them make dumb decision after dumb decision. They did the Surface Pros right. I love my SP3. Windows 10 is quite good. Almost everything else they have done is really bad. Like obviously terrible decisions. What even is the point of the band? It wasn't a reference device, they don't have a platform available for OEMs. It was massively ugly like they haven't seen the other similar hardware available. Windows Phone was bad right from the start and when Windows Phone 7 flopped, they needed to change their approach. Instead they released the exact same thing. They didn't open it up for manufacturers or try a new UI or anything. They just released the exact same thing with a new kernel and were surprised when it failed again. Like the kernel was the issue with WP7. Now they are doing the exact same thing once again. They didn't change anything for W10M. I want to see Microsoft become successful again, but I am not going to cheerlead these obviously bad decisions. Posted via the Windows Central App for Android

You noticed that too, eh?

U do realize there is a mail tile on the band right just pointing that out

Of course I do, I own one. Doesn't mean it was designed with those functions in mind, just means MS developed a way to get basic functions like that to work. Posted via the Windows Central App for Android

Wearables at the moment is like Android - everyone makes one, so it's mostly a commodity product. Microsoft is better to spend time and money elsewhere.

Actually everyone doesn't make one.

I'm super disappointed with this news. I've been waiting fit the Band 3 so I could buy it. I got the band 1 and passed on the Band 2, but have been looking forward to the Band 3. I think if they slimmed it down a little more and added some storage for playing music without the phone it would be the perfect wearable.

you and me both. I got the 1, my parents got the 2, and I'm waiting for the 3. Really hoping this is just a rumour and they pull a rabbit out of the hat like they did last year with the surprise of the Surface Book. MS makes really quality stuff for consumers, they just don't market them at all. I have some friends that bought bands at the recommendations of sales people at Best Buy and absolutely loved them. No reason not to market the damn things!

I don't know what to say... :-(

someone should bring back ballmer!

I am Nadella's biggest critic. This guy is clueless.

Steve Ballmer was the only CEO who was truly passionate about Microsoft and Windows.

And yet, Nicrosoft's stock has more than doubled since Nadella took over. MS is on the right track whether you like the direction it's going or not.

And just like THAT, those stocks can break. There's something wrong about any company's core fanbase not agreeing with major decisions that the company is making. It's bad enough that MS has little love from the tech news/blogosphere but when they start alienating the core tech nerds and the stockholders get word of that, it's trouble. These things often move in tandem.

Couldn't have said it better. I myself was a huuuuuge MS fan. Had a Windows Phone (Focus Flash-Lumia 920), Surface 3, several Windows Desktop PCs in my house and an Xbox 360 along with an Xbox One. Nadella convinced me to go to Android when he put Windows Phone behind iOS and Android. I am hoping for a PS4 as it's VR capable. My PCs are all still windows (Apple isn't a choice) but I've just had enough of pouring Money Into MS products just to be thrown under the rug. I also have a band and was hoping to hold out to the Band 3 but looks like that isn't happening. Fitbit or Samsung here I come! Such a shame. Posted via the Windows Central App for Symbian

Are you really suggesting that if the Band and WM were shut down, MS's stock would crash? Their stock is through the roof because many of the things Nadella has done, and not for the "core tech nerds" Don't forget, there aren't many "core tech nerds" when you compare it to the amount of consumers that just want a computer to do what they need it to do (enterprise included in that)

Nadella was right about penetrating IOS and android and put their Office in their Stores. They're doing it right.

Thats what happens when you sell everyones personal data that you scrounge for free. you get 100% profits....Its not because he's magically "turned anything around".....

There really needs to be a Band 3 because the Band 2 has a design defect where the rubber splits, and it doesn't work properly on Windows 10! I would love to continue to be a Band user but my Band 2 is split open on both sides and the texting/cortana features don't work with my L950.

Just got mine replaced through warranty because of the rubber splitting. Was sent a new one two days after reporting. You should look into it.

I bought mine last February. It started splitting in June. Over the course of the next few months, I was denied a replacement three times through support both online and over the phone. The fourth time they acknowledged the defect and asked me to send it in. It came back to me a week later, in the same condition I sent it, with a note that said it was due to damage I caused and was not covered. Some kindly folks on Reddit suggested I take it into a store, as they've had better luck there than through support. I had a flight into Dallas scheduled a few weeks later and called the store there and explained everything to them. They told me to bring it in. I walked in, they swapped my large out for a medium (which fits better anyway), and I was out in gone in ten minutes. For anyone having the splitting issue, if there isn't a store near you, the drive may be worth it. The online support for them is a waste of time. Even if they acknowlege it, the exchange warehouse may not. EDIT: Added context.

Yeah, the rubber splitting thing happened to me last week. I got mine switched out during my lunch break. It's great that you can just walk into a Microsoft Store and switch it out on the spot with no questions asked (i.e. doesn't matter if you bought yours elsewhere), but not everyone is near a Microsoft Store, so in that case, you'd have to mail it in to get it replaced, which is a bit less convenient, considering this is a known design flaw (I asked someone in the Store and they said they see on average about 4 split rubber issues every day so they keep a lot of the devices in stock for just those occasions). As for the Cortana features on Windows 10, I've seen it work sometimes, but I think only before the phone needs a PIN to unlock it (so not particularly useful).

I've had two Band wherein the rubber started splitting. They denied to replace the first one, so I thought that maybe it was negligence on my part until the second one (which I purchased, smh) starting splitting just as the first on did, only worse. And surprisingly, they replaced the second one... *confused*. Anyway, after I got the second one, I never even opened the package. I simply sold it and purchased another wearable. I loved it, but it was manufactured quite poorly as two other friends of mine had the same exact issue with the band splitting. But... We must realize that a lot of things Microsoft does are study/knowledge based. They are collecting mountains of data from their ventures to support their biggest efforts and it pays off tremendously. It really costs them little to start a "project" and end it (once they have gotten what they needed from it). It's just business. And a mega-corporation like Microsoft can definitely do it.

They have already updated band 2 to correct this. There was an article a few months ago.

I am now on my 4th band 2...3 cracked bands so far, all replaced without any questions asked. The current one, 1 week old, feels slightly more robust and sturdy at the usual crack spot, lets hope this has indeed the rumoured improvement....

Yeah, I've taken the plunge on more than one piece of MS hardware that has suffered an ill fate. Sadly, it's often how MS terminates a product that really hurts. Support just ends and it's like the product never existed.

Let's shelve everything except for what's already successful - every stupid CEO ever

Good thing Surface found its legs before the regime change.

Was the band actually successful? Really?

That's the point. Under Nadella, only projects that already have traction stay. Those finding their footing are tossed. I kind of admired Ballmer's bravado

Goodbye baby. I'd hoped they would get it thinner but now it will be nonexistent...

It has got a whole lot thinner, its just that its so thin we cant C

That would be too bad. Hopefully it's just not going to run Windows 10. I like the device and, although it has flaws, was looking forward to a new version that fixed those issues and added new features (water proof, NFC payments, etc.)

Sorry to hear this, was hoping my Band 1 would hold out untl the Band 3 was (possibly) released. Anyone have recommendations/experiences with other fitness trackers that work with WM10?

Wife *loves* her Garmin Forerunner 235. I'll probably switch to that line when my band 2 dies. Was on sale for like $230 at the time

Don't bother with Misfit, Had 2 of those and their app has serious syncing problms, rendering it completely useless.
Garmin Vivoactive is a great watch, has notifications and GPS. They have a UWP app, but it too has some sync problems
I have Adidas FitSmart, it does only step tracking, hear rate monitoring, no notifications. The UWP app is gorgeous, intuitive, syncing works like a charm. Lasts about 6-7 days per charge, if I don't use the HRM for prolonged periods of time
I have not tried Fitbit, but people say the app works OK.
Still sticking with the Adidas. Their coached training plans and the best I've seen. Bar none.


give them 2 more years and they will cancel WM10 too :-)

Two years? you are giving them WAY to much credit. Give it till the end of the year!

WM10 doesn't exist but W10M does. If you are going to troll, at least order your letters and numbers correctly.

It's hard to believe Microsoft knows what It's doing anymore.

Cortana still doesn't work properly with Windows 10 mobile one year out. They never addressed the materials issue with the actual band (it degrades and tears after about 4 - 6 months of wear - they replace the band, but the new ones have the same issue). Every update seems to tank battery life a little more. I think they've been pulling resources from Band for a while now. This is sad, but not surprising.

The last Windows 10 Mobile update fixed the hectic battery drain issue on the Band 2, thankfully.

And Cortana now works great on Band 2. Band 1 after 10 was iffy. Lot of "Connecting" have not seen it on band 2 with AU.

Are you on production or insider preview? I'm on production and still constantly get 'Cannot connect to your phone.' Then I have to reboot both and it works for about a day, then goes back to 'Cannot connect.' I've tried toggling airplane mode, but only reboots fix it. And only temporarily.

I am on Insider Preview. Though, when I was on production I didn't notice an issue. But, I wasn't on production with my 950 for very long so many that isn't a good reference point.

I wonder if threre's a code change that's just not getting pushed to prod. Because it's absolutely still failing for me. I either get, as I mentioned, the 'cannot connect' or I get Connecting... and it just never goes away until I hit the action button. I've done all of the tricks. Reset both, added through Health. Reset both, added through BT. Reset both, added through Gadgets. All of them work for a day, roughly. And looking at the thread on the help forums, this is pretty common.

They decided to make an actual smartwatch? I just placed an order for the Vector Luna to wear most of the time and wear my Band 2 mainly when I play golf or actually work out. An actual smartwatch by Microsoft would be great though.

Will not happens with nadella...
This ceo is ******* off the entire world!

The Vector Luna watch is seriously the best smartwatch for W10M users. I've had one for two months now, and am loving it. Notifications work flawlessly, battery life is incredible, and it is stylish as all get out. With swappable bands, a durable casing, and an incredible battery life, what have you to lose? Good investment, my good sir. I know you will enjoy it.

I am looking forward to it. It hasn't shipped yet (supposedly coming direct from vector), but I got it for a steal at $260 shipped. (Black with black metal band).

Nice I've been looking at this watch and I am thinking about getting one soon. I have the 950xl with band 2 but would love a smart watch that looks great and works with the phone.

I can confirm that the Vector SW has no issues connecting and receiving notifications with Lumia 950XL, as that is what I'm using right now.

I also have a 950xl so you have the exact setup I am going for.

Sad news indeed. I very much enjoy using my band 2. It's been helpful on all accounts and I find it much more versatile than others. The only thing I would probably consider is the Vector watch

Aw, and here I was hoping to upgrade from Band 2 to a waterproof, NFC-payment capable Band 3. I honestly have no issue with the current OS running on the Band's firmware... Having it run Windows 10 IoT would be nice from a development standpoint, but I don't see that as a requirement. For payments, the device just needs NFC and a way to lock automatically when you take it off and unlock again when you put it on (using PIN or some biometric feature like heartbeat pattern). Not being able to swim or do any other water sports like kayaking with the current Band is a bit of a bummer too.

Pendulum swinging far too much the other way. Failed when they went head long into the consumer space, now going head long back to the enterprise space. An even balance must be struck. All of the recent news from Microsoft sadly has me questioning where I will hang my tech hat.

I know. Making decisions which make you wonder why are they doing this.

My thoughts exactly! I'm always asking myself what this 'retrechment to business only' actually means beyond the obvious marketing babble. As long as there are NO apps etc. to speak of, no consumer aspect AT ALL left, there still will be NO business. There just is no thing anymore as something solely business and enterprise. People want to use their phones, gadgets etc for both. Very sad indeed - especially from a European perspective, where Nokia managed to carve out a 12% niche in spite of microsofts total lack of any marketing efforts...
Now while Nadella's universal app strategy may still fail, he DID manage to universally piss me off and seriously disrupt my belief into their management. So when they finally will have alienated me enough to change platform I will do so universally: Office, OneDrive and everything MS will go with my phone...

Buy FitBit. Call it a day.

Tha Blaze is what I hoped Nokia or Microsoft would've released, but MS canceled that project after the buyout. Hopefully they scrap the Band and make Watch. Hopefully they get a beter naming system too.

I too considered Fitbit Blaze. But have you seen that charging contraption it comes with??? You have to pop the watch out of the wristband, put it in this folding frame, which closes around it like a book and charge it inside it. I guess they never heard of magnets?
If you tug, not only is the Blaze not falling out of the charger, it probably would rip a whole outlet and conduits right outta the wall!
What the heck are their designers smoking?

My main use for MS Band is as a smartwatch. Fitbit has very few smartwatch features compared to the MS Band.

Whelp.... that's depressing news.. i love my band 2, except for the 2 times i've had to return it for a warranty claim because the straps have torn overtime. Maybe they'll do a smart watch? Unlikely... *sigh* Somedays i wonder if i should just go Android now or wait it out..

I've found myself thinking the same more and more frequently of late. The writing is simply on the wall. its been easier to ignore in the past because we had all these things to look forward to (new devices, new versions of windows, promises from developers). But the Hope well is running pretty dry of late. With repo---... errr, rumors of the surface phone delay and demise of microsoft band.... there's absolutely nothing exciting about windows. Add to the fact that we're actually still hemmorhaging apps and features. I mean it's a sad thing that we get excited when we have an update to a settings page that adds no new functionality, while we see competing platforms become better and better... I just have no passion for the other guys; that's the thing. After my Lumia 950, I have to make a hard choice... Note 8 or just give in and go full Apple with their iphone 7S XL or whatever it is next year. *Sigh*

Yeah i was looking at some android phones at my local AT&T store the other day.. None of them really excite me like the 950 XL did. I love this little guy (well.. little XL guy) and how i can just swipe around with W10M.. i know you can get launchers and such on android to mess with the home screen a bit but just not the same. But with the removal of features like texting from PC to come back with skype to support other platforms, and even IF we got another microsoft wearable, it would work with Android anyway.. I still LOVE the PC version, but more and more i find that i probably need to make a jump now.

My 950 is still kicking. But next cycle I HAVE to make the jump. We are all rly just sticking around because of familiarity. The rest of the consumers can't be crazy... There are many good things about the competing platforms. We just have to be open to change and make the switch. Perhaps we can worry less about our phones and put our efforts into other things ... Like different hobbies. I think when we have working phones with full app support and no worries, what phone we have becomes less of a thing

Im waiting to see if a new Nexus (Or Pixel?) line will be released this month... i might jump on that.. Though specs are all rumored, i will grealy miss wireless charging. but im sure i can rig something up to get it to work if it's lacking. I hear Samsung is too much bloatware anyway which is one of the things i love about W10M.. there is a lot of MS apps on it but they aren't bloat random crap. That and with most of the apps available on Android already (and cortana) I can probably remake most of my Windows Phone over there anyway... my 950XL is still kicking and i love it.. battery life beats my iphone and android friends everyday.. but.. while i've moved on past apps.. it will be interesting to see what a world of apps will be like :P

Yes I feel like im totally blind to the world of apps. The other day I asked my gf to download grub hub to order our lazy asses some food, because my phone didn't have the app. And thats an awesome app. She used to chuckle and heckle me that my phone didn't have basic apps.. But now she just doesn't say anything because she's used to it. Still embarrassing though lol

Wireless charging kinda sucks now that I am used to rapid charging. It is easy to just place the phone on the charger, but it isn't worth how slow it is. Maybe the new fast wireless charger will be better. Posted via the Windows Central App for Android

Exactly what I did JF. I jumped from the titanic (ms), and moved to apple, the band is a childrens toy compared to the watch. It works so much better, and you can do so much more. Now with full GPS support, maps, etc all work great on the watch so when traveling to new cities and places you don't even need to take your phone out, just look at your watch, and go! Apple has this stuff down pat. Where as MS cannot even get basics right.

I'm waiting for the Nokia Android phone to see if Nokia is gonna put some of there apps on it like were on the Lumina, here maps etc. The camera should be a good one hopefully.
If it's not that great a phone it'll be apple 7plus or 7 edge

Isn't Here maps now available anywhere but Windows? Posted via the Windows Central App for Android

yes Bleached. I have it on my iphone and android tablet.

Unacceptable that a wearable device for fitness tears several times a year requiring it to be replaced. It was a beta dumped unsuspecting consumers, the materials were not tested and weren't functional. Utter trash, I went through 2 in 5 months, who has time to keep replacing bands every couple of months?

and they want market share..

Too bad, I never owned a band but I kinda thought it was cool. was hoping for a bigger one in the future or 2 different versions like a regular one for the sport people which was like band 2 and one more like an actual smart watch with a bigger screen and actual apps. Pretty much like the apple watch but with the windows 10 design language and apps.

I, for one, am shocked, SHOCKED that Microsoft would release something, get bored in 18 months and drop it. I've been saying this forever. Microsoft cars about three things Cloud Enterprise Cross-platform productivity apps I think that Satya flat out doesn't care about the consumer market. If something doesn't fit into one of those three buckets, it's at risk. Windows Mobile only exists (for now) because they think they might be able to gain some traction in Enterprises. Hell, I wouldn't be surprised to see Xbox sold, spun off or canned when the next generation consoles are due. Same with Bing.

With Scopio most likely being a PC, your prediction of the end of xBox console may not be that far off.

Been saying this from the release of 10 and how he's neuturing windows. But when I say it, i am a troll. Nothing trolling about the truth people. MS is down the crapper for consumer space. I just used a w10 computer to check somehting and it was down right horrible. Constant badgering to upgrade office, this or that....I think I was on the computer ( not mine), for 15 min and I had to cancell out notifications to "upgrade" stuff 6 times. JESUS. thats horrible.

You should be surprised if they sold off Bing considering all of the infastructure investment they put into it, Cortana being powered by it and the fact that the service is actually making a profit now.

1, the entire smartwatch market is down >30% y/y and turning out to be a gimmic. 2. The replacements for Band 2 have probably made the device unprofitable 3. The Band was limited release with no marketting behind it, the purpose of the device was simply to demonstrate the health platform for other OEMs to jump on board

Hmm the first point I agree with just like "smartphone" market currently also it's a shame that "exercise" is a fad now. Posted via the Windows Central App for Android (LG V10 or Nexus 5x)

Actually that part of the market (fitness bands) is doing well, however the overall smartwatch market is tanking. Apple is down >55% y/y

Point 2 never should have happened after the 1st gen Band build quality fiasco.

spoken like a true microsoft fanboy. The smartwatch is far from a fad, only on ms since there are no true smartwatches. the vector is a watch that gives notifications, you cannot communicate with your windows phone, in the way a true smartwatch does. If the smart watch is a fad, why are every other major phone makers releasing new ones all the time.?????/ Why is Garmin releasing a bunch of new ones, why is fit bit releasing a bunch of new ones. The only "fad" around here is windows 10/M.

The Band was marketed as a fitness device, not a smartwatch. Fitbit is doing very well in that market.

Well mostly just one watch is down - Apple Watch. But as it takes majority of the market, there you go :).

I don't think this was a demo for the OEM's as the band didn't run on windows 10

Well looks like I'm going to the Google camp again. Posted via the Windows Central App for Android (LG V10 or Nexus 5x)

So goodbye anything Microsoft and mobile... Why!!!! :( give me Surface phone please! Posted via the Windows Central App for Android

It sure seems like they are rapidly abandoning the consumer business

Well, they are on a hiding to nothing in consumer devices thanks to the other two, and a calamitous history with anything with mobile in it

Is it possible they dissolved the original group responsible for the band and moved the responsibility to Panay's Surface team?

Lol...the eternal optimist!

Dagnabit Nadella, you're keeping Panos busy with Surface Book, Surface Phone and now Surface Wristband.

So, Satya no consumer market? Are they going to spin off XBox Division Next? Such crap!

Without consumer market they will become an irrilevant company like ibm or rim

What huge bummer, my wife was using the band 2, bought a new galaxy gear as she had to go to android for apps, but the gear sucks compared to the band and she just switched back to the band. We went golfing a few weeks back and the golf on the band was amazing, so I was going to get one when the new came out, we both were. I was even thinking of grabbing the 2 in the meantime. I am disappointed. This story better be a lie, I want two band 3 on preorder now.

This is very disappointing that they would give up so easily. They could have easily given up on Surface but luckily they didn't. I think this is extremely premature. I love the Band 2, I did have to get it replaced because of the band tearing, but it looks great and it functions well. I hope the they don't also discontinue the Surface (not pro) line. I think there's a need for a new Surface 4, the Surface 3 is a good device.

Thats the MS...MO. Develop and drop! They have a long history of developing stuff just to trash it.

That is disappointing. I was hoping for waterproofing on band 3. My current second band 2 is now on the desk because of battery issues. I'm going to call in the warranty replacement and sell it hoping for a Band 3 that may never come. ☹

Wow, just when I was considering buying this thing for myself and wife forget it.

Whilst this is not confirming the demise of Band, I'm betting that's whats happening. Nadella wants to kill all hardware at microsoft and follow IBM into the Enterprise/Cloud only world. As a consumer company Microsoft is being killed from within.

Are there smartwatches that run with Windows 10 Mobile? I thought everything was Android and iOS. The Band wasn't really a choice for me, it was a lack of options.

Depends what you need one for. If notifications aren't an issue then Fitbit are pretty good. For stuff that offers notifications, check out the forum thread. Lots of useful info and how too's

Awww man I just got a band 2 the other day and its already the best gadget I've ever had. I hope they eventually release a band 3. The band 2 is so good that even my best friend who is a major apple fan boy got one and immediately preferred it over the iWatch thingy. When your product has that kind of pull on an Apple fan you really shouldn't go cancelling it!

Oh? So you enjoy having to charge it every few hours?

I don't have to charge mine every few hours. It lasts a day.

I charge it once a day for an hour....

my fitbit charge was supposed to last 7 days, From the box it survived 2 days in the begining and after a couple weeks it only survives 8 hours. I dont think im going to buy a smartwatch or fitnessband ever again.

They are junk! Both Bands have MAJOR durability issues. And, yes, I agree the battery is shocking. Why have a device that does most things when you have to turn most of them off to save large swathes of battery power.

Splitting major problem as I'm on my 5th split as of today but they are good about the replacement. Battery I've never had an issue with and I use it for a ton of stuff. I don't have email connected so maybe check that?

I've never had a single day where mine has died on me, I charge it every day while in the shower. So once again, you fail on your information.

You haven't had a month yet. The clasp will ruin the ratchet system's finish, no, really. The strap will start splitting and the battery will almost give up after a couple of months, with around 10 - 12 hours at best.

Ive had mine since day 1. I had to replace it back in April, and it just split yesterday again so i'll be replacing it Thursday at my Hololens demo. Thing is, I've never had the battery last less than a day and a half unless I was using the GPS for several hours straight while hiking. The ratchet system still looks good because I learned how NOT to scrape it everytime I adjust the band. But ya, that flaw with the band splitting and it not being replaceable? Ridiculous.
I still want a band 3 though.

I've had my Band 2 since mid-January, worn nearly every day since, and no sign of splitting yet. So I'm curious, am I just lucky or is it because of how I put the band on and take it off? I slide the band over my hand with my fingers and thumb close together, much like my wife does with a rigid bracelet, so I never really spread the straps open much. Maybe it's just because I had a Band 1 before it, which was much more rigid. Are you guys who are experiencing splitting doing something similar, or spreading the band open to go around your wrist like a standard watch band?

I think it's pushups mainly for me. If I forget to loosen it before doing them SPLIT another band gone. That's like a staple exercise they should've tested and tested this thing with. I think I have small wrist and have the medium band but maybe the clasp is just too tight.

Why does it matter when MS swaps it for a new one no questions asked? I don't care if it lasts a month before I have to change it or 12 months, what I care about is all the functionality it provides. Besides the band I have is with the updated strap so maybe it won't split so quickly. As for battery life, if it needs charging every 6 hours its not really a problem either since I have a desk job and use the computer a lot at home, what I'm using the band for is sleep tracking, guided workouts and step counting, since I don't jog or run outside I don't really use the GPS much which I'm guessing is what kills the battery most. All in all I'm very impressed and despite the problems other people have with it and I'm likely to have later it is still one of the best products MS has released, ever.

I've been very loyal since the Windows Phone 7 series. However, mobile reboots and constantly discontinuing products makes it very hard to have faith in Windows 10 Mobile. I feel as if MS is consciously pushing its loyal users away. Just doesn't seem like they care anymore.

In windows 10 if I'm being truthful.

Mobile reboots? Android up to N, iOS up to whatever, just so older devices cant run it.... Oh, hang on...cancel that as MS got slated for that, and that's allowed.

Considering iPhone 90% of them are updated to the new version, so your claim is invalid (and that in a large degree). Considering Android it is not like that, but latest versions of the apps still work on also 90% of the phones so it isn't still even remotely comparable to when Microsoft does a reboot.

Even on Android most phones, and almost every flagship gets at least 2 major updates. That is more than any Windows phone to date. Android has issues, and updates are certainly part of those issues, but that issue has not been solved by MS either.

Any android release from Froyo on has been more stable than windows 10 mobile. IOS...hell my Mother in laws iphone 4 is running 9.3.5.....the last update available. its not slated for ios 10, but hey thats a 7 generation old phone...not bad considering i was trying to get one generation upgrade for the 1020 and microsoft scrapped that like eevrything else.

Oh, if you could only see my surprised face.

I can see the sarcasm in that face!

I'm ok with the Band going away and Microsoft developing a smartwatch similar to what Nokia was working on before Microsoft canceled the project. The Band never had the look of a finished product. Both versions seemed like nice looking prototypes.

When are they going to fire Nutella, seriously? He is destroying MS just like Fiorina did with HP.

If you call doubling the stock value destroying MS then, yes, he's destroying MS.

So Elop was nokia's trojan horse and Nadella is Microsoft's trojan horse what a shame. Posted via the Windows Central App for Android (LG V10 or Nexus 5x)

Goodbye band. Hello Surface wrist thingy

that surface wrist thingy is just a strap to your black laptop bag on the way to your cubical. thats the only strap wrist thingy that MS is building.

MS own products don't work, no hope for others then.

Satya Nadella is actually being utterly terrible for Microsoft's consumer tech business in his obsession to move everything to the Cloud or subscription stuff. Just terrible.

If you think he's bad for consumers, you should try being an employee. I left right as he was taking charge and it was dark. He's all about next quarter and the profit takers...I mean investors... now.

So...Occamsmonkey, You were a MS employee? and its exactly how I have been portraying it....NICE! I have been right all along. Of course I have, I am not a spring chicken, been around the block, and successfully ran 2 companies to sell and make big profits from them. Yep. CALLED THIS ONE ALL DAY LONG....BUT HEY I KNOW NOTHING.

I said all this when he first took hold and most here said I had no clue what I was talking about in reference to him.

Missonsparta...I said the exact same thing. He has no clue. And I guess we are having the last laugh now. We were right all along. he's a nimrod.

HI effin brain is in the clouds!

Future Bill Gates is alligator rolling in his nitrogen filled cryo chamber.

Hysterical, one little half baked article comes out and the nay Sayers flock to bleat the sky is falling. My Band 1 was good, my Band 2 is great and my Band 3 will be fantastic. Seriously, sometimes these threads are just sad, especially when they are full of androobs.

It's more than that for me. I was a Windows Mobile 6.5 user, then WM 7, then 8 and now 10. Basically 3 reboots. Also owned a Surface RT which was scrapped and now my Band 2 will likely go I un- supported within a year. My 950 will not see a successor - the battery is terrible anyway. Don't even get me on the lack of apps or app update. My Amex app has never worked, the Delta app sucks and hasn't been updated in a year. The new XM app on W10 doesn't work for me either. I'm just frustrated with MS all together. Sadly I'm most likely gone in 6 months unless the Surface Phone overwhelms. Love my Surface 3 though!

Band 3? ha ha ha....You mad funny bro!

The Band 2 is far from great.

Band 3? Did you just get back from the future? How's WM doing? Is it still around or has it been cancelled? Please share your insights!

Good. The band is a joke. When it was first announced, I thought it was amazing... but then I tried it on in the store.... yikes. Then version 2, surely they would of fixed the clunky feeling but no.... that clasp, Wow! Horrid

the goiter under your wrist....They could surely figured that out...

Another good product being flushed. I love my Band. Maybe, just maybe, if they would have advertised the Band it would have done better. I know, crazy concept.

Before the years out the surface phone will be cancelled to if there was even gonna be one in the 1st place.

Yep. We have all lost faith in this lame duck CEO. The token non-American.

Worst CEO ever. He is doing same what Stephen elope had done to Nokia. Really shame on Nadella to behave like that.He is really a loser and cheater. Posted via the Windows Central App for Android

Bhagirath, He is doing what Jim Balsillie did with Blackberry.....thats even worse. He is hyper focused on one thing and the rest of the company is suffering greatly because of it.

2050. Grandad, what is Microsoft?
/They used to make beautiful beta software and devices back in their time.

While I understand the company's plan to have Windows 10 as a service and on everything they possibly can, I don't see an issue with the Band running its own firmware (from a consumer perspective). I would rather see the Band survive and improve than have it all thrown in the garbage simply because it doesn't run Windows 10. Oh well, I plan on getting the most out of my Band 2 for as long as it continues to work.

That's a brave statement. Lol ;-) One of those rare items where the support outlasts the device.

I see a lot of criticism against Satya Nadela and can't figure out why. As a CEO he pushed Windows Phone/Mobile that in Europe had around 10% market share to..., aaahh, let me see, oh to 0.1 % ?!! Great item to put in his resume.
Ok forget that one; how about Halolens; he did try to pretend that no one in Halolens team knew what it's good for, right? It was his vision that figure out such an incredibly advanced and genuinely new technology can have some uses /s. Cloud is safe because he gives credit to himself for that, but he's giving everything else away for free. At the end of his term, are we going to wonder if he was a trojan horse? Posted via the Windows Central App for Android

He wasn't talking about you.

No, he was talking about you. I'm well aware of that. But thanks for helping prove my point.

Ahhh. That's where he went wrong! He was pushing Halolens, when everyone else was working on Hololens. Got it. ;-)

what, let me guess, partners should fill the hardware void? lol as vague as that PR response is, thats what it seems to suggest

the "partners" tried, but windows 10/m will not allow them to do so. Hence the reason there are no wearables or connectable accessories for windows devices!

Good...grief... The sky is falling again. Frankly, I think they're still trying to fix the band 2. It has improved but for some of us the thing falls apart almost monthly. They need to get their durability issues fixed before they should even think about a new device. And if they can't? Then it does need to go away. Every time my band breaks, I go back to my pebble, and am struck with awe at the utterly amazing progress that *fans* have made getting it working in the unofficial realm. Perfect notification support, calendar sync, and even watchfaces with settings. It feels like the best is yet to come.

Version 3 was the one I was finally hoping to buy. I thought all the kinks would be worked out by then

Wow. Microsoft abandoning a line? Say it isn't so...

Oh come on guys... Band/smart watches are a niche product... Only few people actually buy them compared to smart phone users... And don't tell me that you can't run without knowing your heart rate...

I can't run without knowing my heart rate.

Well, you can f*** yourself, MS. I have had enough. I have been a loyal user for some much time, I really wanted to get something good from you; but it seems the Company hates itself and the consumers. It's amazing.

Blimey, calm down. If you had a band you could see your misreported heart rate!! ;-)

Unless they're getting ready to announce a Windows wearable platform with 3rd party hardware support then I have serious problems with this. The MS Band is a great fitness band, possibly the best overall, but Windows is in serious need of a smartwatch platform that can work with any device. I honestly don't know who they believe will continue using Windows if they don't start competing heavily in things like mobile pay, wearables and IoT.

I think they need a third party to build them. Their efforts are a joke. They aren't fit for wearing normally, let alone for fitness. The build quality is horrific. Did they actually do any testing on these for durability????

man i miss ballmer if he done what this guy doing then there wont be surface devices....if he stopped with vista/8 failure there wont be windows 7/10...if apple stopped after failure of many projects there wont be iphone....what d hell is wrong with CEO....i think one day apple will buy microsoft under satya...same as nokia sold for microsoft under elop(trojan horse planted by microsoft) this is what nokia fans used to say in early days which came true eventually..

Will Microsoft push their Health platform forward by including other smartwatches or fitness trackers to be compatible with Microsoft Health app (other than their very unique Band) ? Will it be interesting to buy a Microsoft Band 2 at the end of 2016 ?

Band 2 is junk!! The actual functions and design of the item are pretty good. Build quality is p*ss poor. It will probably arrive with sharp edges by the display, the ratchet for the clasp will probably have marks on it... And that's before you use it! There is a 99% chance you will learn the returns address label verbatim. In use you will wonder if there is a battery in there as I found battery life very poor. Sometimes I got a whole day!! If I was lucky!! The strap WILL split. The ratchet system where the clasp fits will scratch and scuff ridiculously. How the hell did they allow that through?? You have to take the damned thing off to charge it, and that damages the finish!!! WTF?? Avoid like the plague. Have a look on the forums and you will see what I mean!!

I know but on french forums like MonWindowsPhone.com for example, people buying the Band 2 since a couple of months ago doesn't suffer from the wrist problem. The problem of edges and marks aren't really said on Amazon.co.uk & MSStore.co.uk and the battery life is 2 days (never more then 2 days but more than 1 day since the latest firmware update) when you use it normally (no Cortana each 10 seconds, checking your stuff when necessary but not when nothing arrive and use it for its purpose (fitness)). So, will it be interesting to buy it at the end of 2016 ?

Ah, by the way, if you think the Band 2 isn't interesting at all, what other smartwatches or fitness trackers are compatible with Microsoft Health app AND offer same functionalities than the Band ? If it has more functionalities like, for example, for swimming person, it will be interesting for me.

No need to install the fitbit app ? Is it compatible with Microsoft Health (all informations gived by the Surge can be imported) ? I prefer to use only one app for all what touch trackers.

I've never ever cared about the Band. All I care about is a simple wearable that vibrates on a new notification from the Action Center. Just that. No, that doesn't fit into Microsoft's business strategy.

What you ask is the Pokemon Go tracker like... Very simple, easy and at nearly no cost.

Why I made the switch to Apple. I wanted to be more productive, now I have the apps I need to do so and a watch that I can depend on that gets updates. My Band 1 still sits there with no updates, can't even get basic music playback controls, and a Lumia 920 with no official update to W10, and a Lumia 900 that was released 2 months before the Apollo annoucement just to find out it was EOL, then taking out a useful tablet interface in favor of a gimped tablet interface. Not sure, but I think Microsoft has a track record for burning products and their consumers.

At the prices apple charge, you ought to feel burnt there as well.

Are Apple's prices that much different than Microsoft's? The biggest difference is the Apple product will receive support and actually work. Posted via the Windows Central App for Android

Apple's products aren't even priced that differently from the competition when launched, they just hold their value better (because a) people still want them, and b) that is the strategy Apple went with and c) there is no direct competition, if you want iOS/whateverOS you need to go Apple).


Worth every penny! devices that are awesome to use, everything works as it should and its smooth and stable. I just updated to IOS10 and its fully functional, smooth, fast and stable. unlike updateing phones to windows 10 mobile where everything freezes, locks, is missing features that are going to be added "soon".....the price of my apple products are just fine. don't tell them but I would be happy to pay twice as much because they work so well! Unlike my windows devices where i sold them off for pittance.

Yeah, because nearly $400 for a device which it's sole unique features don't even work on Windows 10 is a fantastic investment, right?

Let's try retrenching Nadela next time.

This might throw me over the edge. Might be time to weigh my options between iOS and Android. I still think Windows desktop and Xbox are better than the competition, but everything else is losing it. We'll see how my bonus and tax refund are and decide then.

Axmantim, Come towards the light! you can do it, walk through the door, oppps, I mean open the window and crawl through. Enjoying the fruit on the trees over herre and im sure you would too!

How long will they be "Exploring" the wearables space? Seems like they've been exploring to long already. Time to **** or get off the pot. Listen to your customers, come out with a device, and actually advertise it instead of hoping it catches on without a lot of effort.

Apple wins. Can't beat them

Except many have, and still do.

Its news like this that makes my heart sink.

Another product group where Windows is not present; phones and wearables

After my experiences with both band 1 & 2, they are junk!! I had 4 band 1, all with battery cover disintegration along with some kind of 'paint' on the HR and charging port. Exchange, wear, return, exchange etc... They swapped for band 2. Another piece of junk. On third one now and the strap has split again!!! Then my boy is on his 3rd band 1, same issues, and the wife has just received her second band 2 exchange. Utter rubbish. Wife and son will be going refund route as, along with my issues, I went through global escalations, and they were brilliant, the product?? Not so. Hopefully they are dropping because they are afflicted with design flaws. Gone to Fitbit now, and no nickel rash, no splitting straps, no issues. I miss the notifications, but at least it hasn't self destructed!!

Hey Satya... "Embrace, Extend, Extinguish" wasn't meant to be applied to your own products. Posted via the Windows Central App for Android

I'm now finding it difficult to convince myself to invest in any Microsoft platform other than buying a computer with windows on it. They just go into markets (OneDrive unlimited storage, health, mobile phones) and change their mind leaving me invested in something that no longer exists. It's happened one too many times. Such a shame, but they're burning consumers over and over again with their lack of vision.... Or at least by changing their minds constantly. A Posted via the Windows Central App for Android

It's simple. There's no money to be made with these. MS is losing tons of money on these. Not enough customers. Too much expense for a niche gadget. Even if these things were perfect and flawless in every way possible they wouldn't sell enough of them to earn profits. The Android and Apple users are too entrenched (invested) with their respective eco-systems that they will not jump ship and buy a MS Band. The same is happening with the phone side of the equation. MS knows they cannot and will not go head to head with iOS and Android. That race is over. There's no need to get upset.

Jeez. This rumored October event better blow the lid off with new hardware. I enjoy my L950, Surface Book, and gen 1 MS Band and... killing two out of three aint good. :( Really hope I don't have to go to android out of the need for reliability (for support), but Microsoft seems to be doing their best to kill all goodwill. It sure seems that goodwill is drying up quickly, so... success?

Bland basic beige boxes in the rumored october event. They blend in with the decor of cubicals!

You confused them with Apple. The same basic aluminum rectangle for the past fifteen years.

No buddy, I don't. Apples devices are far from boring. They are built with quality, and not cheap plastic crap like all the new microsoft junk. flexy fuzzy keybord covers? wtf is that. At least use a material that has strength and does not wear after 2 months to look like a total P.O.S. And OEM stuff is bland boring boxes...Yes the Mac Pro is an aluminum rectangle, the imac is an aluminum rectangle (that every other AIO wants to emulate.

This really isn't that surprising. I love the concept behind the Bands but the execution has been lackluster. While the Band 2 was an improvement over the Band 1, that isn't saying much. I am still using a Band 1 and I almost got a Band 2 until I started seeing people with Band 2's having the same kind of issues I was having with my Band and Windows 10 Mobile. For Band 1 I'm okay with that since it was designed for Windows Phone 8.1, but for the Band 2 that is completely unacceptable. I am still hoping for a waterproof Band 3 that actually works with Windows 10 and I am willing to wait for the rumored Spring 2017 hardware event for it, but if it doesn't happen then I guess I'm going with Fitbit.

Whelp. Maybe they'll make Surface Watch instead?

Ethan, you made a funny! ha ha. The surface watch is as close as the surface phone is in becoming a real product. and thats not remotely close to ever happening.

Microsoft will not go far by ignoring the consumer market. If their board believes in all the crap Satya is doing, I wonder myself what the hell have they been smoking? Posted via the Windows Central App for Android

Quite the opposite. The consumer market has ignored MS and the board knows it. MS will not throw good money away to engage in battles with Apple and Android. I bet you a million bucks the board has data and analysis that shows Windows consumer products would only sell this much in this market and sell that much in that market and the numbers are dismal. MS has to get into areas in which they can earn profits by competing (cloud, enterprise, etc.). The consumer space is not included. They is why MS wants OEMs to take the [consumer] baton.

MS can't compete if it doesn't advertise and support its products. Every great thing that MS dropped had zero visibility to the general public. I made a tweet to MS inquiring about why they dont advertise the Band 2 about eight months ago. Their response was "check out these YouTube videos."
Sad.

My heart is broken...like the rubber straps on every band 2 ever made.

Band was never good. Perhaps 3rd iteration would have been better (MS tradition).

What tradition is that? XB1 was a step back from the 360, in terms of relative power and commitment to development.

What does that even mean? Like seriously. Relative power? you can literally twist that to mean anything at all. Commitment to development? Did they not put an entire new OS on it? Did they not continuously add new features(and continue to do so)?

The 360, when launched, it carried hardware that was pretty high-end by PC standards. The XB1 launched in 2013 with 2011 parts that weren't even impressive by 2011 standards. The XB1 hardware, compared to a PC, is just abysmal. The 360 wasn't like that. My statement was that the 360 isn't stronger than the XB1, but if you put both in the context of their repsective releases (relative), the 360 carried stronger hardware (power). As for the rest, it's all a matter of opinoin. "new OS" doesn't mean "better OS," as some still don't like the UI of the XB1. I's 2016, and we JUST got background music, something that the 360 had 11 rears ago, when it launched. Oh, and that background music requires you to play with Microsoft's online services; you can't play off of a PMP or HDD or rip a CD to the console, like you could in 2005. Instead, the background music of today comes as a clear attempt to get you to pay MS for the trouble of not taking features away. They also axed several game studios and projects, they've all but murdered the Kinect they kept saying "is Xbox One," they took out gesture-based navigation, they're about to shut down Xbox Fitness, and they TRIED to gut the "Xbox," voice commands to force everyone to have their speech data mined by Cortana to use that Kinect they told us was essential to the console. So, yeah, they add stuff to the console, but they're also missing things from the past generation, and even 2 generations ago, and they're taking things out. Basically, I look at Xbox One a lot like I look at Groove Music--being decent now isn't a big win, simply because you made something that was a total mess at the start (how Xbox Music was gutted of features with WP8.1, how Xbox terribly conveyed Kinect and needed to majorly overhaul several things over the first year as it fell miles behind the PS4).

100% correct keith. Data mining is all MS is interested in now!

Lol, really? They never made it available in most parts of the world anyway...

The Surface Band with solve all Microsofts health band problems. Just like the Surface Phone will solve all the mobile issues it has.

I am still using the first one... it works great and has not fallen apart unlike my wife's three fit bits. Oh and works fine on 10 android and ios. Samsung gear or Apple watch doesn't. Posted via the Windows Central App for Android.. But waiting for the HP Elite so I can get rid of this junkie Galaxy S5...

Anecdotal. My sister had both her Band AND her Band 2 break. My mom's Band was OK, but her Band 2 broke. In the case of my sister's Band 2, MS told my sister to drive 2 hours to get it replaced at the nearest MS Store, and then the manager tried to argue with her that it wasn't allowed (my sister had done exactly this with her first Band, no problem), before finally relenting. However, my sister's FitBit One didn't break.

Well I love the band 2, design is lighter and less clunky than my normal watch...and lighter...and my battery does well over a day...if the straps weren't so rubbish it would be perfect, I'm on my 3rd now and hope I get a 4th before they run out and my warranty is up...not sure what I'd get instead...

Microsoft has not shown any hardware (first or third party) that shows the potential of Windows 10 IoT, and by extension has not shown the potential of universal apps on wearables. That does not look promising. Posted via the Windows Central App for Android

Could say the same for W10M, thanks to build quality issues and general lack of design aesthetics with the W10M family (650. 950, 950 XL).

So, to recap: Nokia is dead (Elop didn't stay, basically every employee from the acquisition fired) Pureview is dead (imaging chief left) Lumia is dead (no more of those coming) Band is dead Kinect is dead (games not in development, Fitness shutting down in 2 months, UI nav already stripped) Most game development is dead (only Halo, Gears, Forza, and Minecraft remain) All we get to keep is data mining (Cortana) and overpriced (W10 EE, Office 365, Groove) services.

Hit the nail again Keith! well said brother!

Groove will be the next to shut down. Nobody knows about it. MS doesn't advertise it. It is written in the cards.

I just bought a Band 2 to replace my Band 1. I don't know of any other fitness trackers that have guided work outs. If there is one, please list.

Shame, it's an excellent device that I have come very close to purchasing on more than one occasion. The problem is that for most people, it's a nice to have just like any other wearable at this stage. If there's a Band 3 and it's running Windows 10 then the likelihood of me buying it, along with anyone else who has a Windows 10 PC, tablet, phone and Xbox, will increase dramatically. Stick with it Microsoft!

Folks, there WILL be a "NextGen" Microsoft Band. It's not "aBANDoned" (I know, I'm not clever) however the way it plays out WILL be a little different than what previous October plans looked like. #ChinsUp

This isn't Twitter. Giving us nothing but baseless speculation as fact with a hashtag means nothing.

So what exactly did the previous October plans look like?

I don't get it. It's an awesome product, and another one MS does not care as much as they should. Like Kinect, Windows mobile, and probably Hololens in a few years. Disappointing.

Oh, HOLOLENS they care about, it has business applications out the yin yang. However, you will never ever be able to purchase one at a store, or for personal use.

I will be very disappointed if this is true. I need a fitness tracker for some time now, but I didn't buy any as I was waiting for a Band 3 running Windows Phone 10 on October. Now I will have to buy a Fitbit.

Definitely get a Fitbit, they are better.

Yes, even though you cannot do everything with the fit bit, the basics work with windoh's 10.

I couldn't care less about this news, my Band was an absolute ripoff for what it is and the Bluetooth functionality has never worked properly and the battery doesn't even last a day any more and this is straight after replacing my first Band (which had the same problems) because of the thing splitting. I am definitely going to ditch it and go with a top level Fitbit. 379 dollars is an absolute joke for this thing, Microsoft need to actually make a premium device if they want to charge a premium price.

Didn't stop them with the $450 Lumia 830 and its budget-level SoC, or with the inflated price tag of the Lumia 950 on AT&T ($50 more than the unlocked version, simply for being on AT&T).

First mobile now wearables... So that's two platforms down for the universal app platform argument. I was really excited to start to see some exciting apps come to the platform but im starting to lose faith that Microsoft even cares about the consumer segment anymore.

First mobile now wearables... So that's two platforms down for the universal app platform argument. I was really excited to start to see some exciting apps come to the platform but im starting to lose faith that Microsoft even cares about the consumer segment anymore.

Probably they look at the cost of all the faulty rubber replacements and don't see the benefit of a Band3. Terrible news if true. My Band2 is fantastic and many of my friends got one after seeing what it can do. Microsoft needs to push innovation in hardware and stop cancelling products and instead market them properly.

If that first sentence were true, then it would mean that Microsoft knows it is incapable of building a quality piece of hardware. That it would be unable to make a wrist strap that isn't trash would be pretty pathetic, because that's probably the EASIEST part of the design for the competition.

I really love my band 2, but I like ti refresh periodically. As long as ut doesn't split again I am good on 6th band 2. It works perfectly for my running, biking, workouts, and basketball. I can respond to wife and kids during these events as well. Don't get me wrong I support MS but others don't and if band leaves I may look other places. I work in a primarily Windows shop and the Windows 10 (phone) integration is great but they have to differentiate soon.

What if they are planning on releasing a new product? They are clearly invested in the wearable space and know they can't just pull out. Just like they are with mobile. The band hasn't been successful. It's clear that the market is going towards more powerful devices, like the Apple Watch. What if Microsoft was planning on launching a watch under Panos' direction. Keep in mind, the band was always half hearted. They literally announced it at 7pm the night of the World Series. Microsoft is going to invest where there is growth. Why keep investing in a market that Fitbit has already won? Go after the market that isn't established yet. Just like they did with tablet. Create a watch that makes us more productive, not just something that looks nice. Apple has yet to provide a good selling point for the Apple watch. But the market has voiced that they are very interested in such a device. They just know that the Apple watch isn't productive. It's just a glorified notification. I just believe that this is a market that Microsoft can really bring value. Who's the biggest watch wearing market? Businessman. This is their market.

Ha ha....apple watch not productive? You can do EVERYTHING that the band 3 can, plus 1000000000000 times more. MS has nothing productive in their mobile lineup......that is a great joke Tylo5.

Love the negative votes for the truth!

Interestingly...the Microsoft Health app is rebranded as Microsoft Band... Why would there do that it they are going to shelve the product

For several reasons why the renaming means possible shelving, have a look at the much newer article on WC about that renaming.

I was so looking forward to a Band 3, as i just bought a Lumia 950XL. IT would be so awesome to upgrade from my gear fit from Samsung. As i'm still using my Note4 but soon will be switching carriers and phones.

Honestly, you should try the Band 2. It's very good.

Re-reading this, im no longer that upset. Okay, so the Band 3 or whatever the next Microsoft Wearable is will not run Windows 10 IoT. Okay. Plenty of other options, including firmware as-presently done.

Except the alternative sounds delayed or canceled as well. That's not good.

Windows Mobile is next. Set your dates, start researching for alternatives.

The connection to my phone is what I use Band 2 for most. I get notices of incoming calls, even when my phone is not in the same room. Calendar, email and messages hit my Band before I see then anywhere else. I change the wallpaper often for a fun screen and colors. When with wired headset I can see my music and other media playing and change volume or tracks without opening my phone.

In how many countries did they actually release the Band 2?
Exactly.
There are tons of fitness bands on the market, almost all of them better than the Microsoft Band. And the best ones even support Windows Phone.
This was more than expected Posted via the Windows Central App for Android

Which ones do you think are better? Im genuinely curious.

Fitbit, Garmin.....At this point the timex triathalon ironman watch is a better fitness tracker than the band.

I love my Microsoft Band 2 when it works and isn't broken.... My problem is, I still haven't managed to keep one more than 90 days without it either going dead and nit charging, or splitting. So far I've had 5 of them and will be sending another back tomorrow.... Horrible design flaws.... I would have given the band 3 a try....

I had the same issue with my first Band 2 after 5/6 months. I've had my second one (no problems) for 2/3 months. So far so good.

Such hullabaloo over non-news. Windows 10 Mobile is not dead, yet. As long as there are OEMs that build for it. Lumia is dead but no one, surely, is surprised? Surface Phone.. Maybe will come to fruition, maybe won't. What difference does it make? None of recent events should be surprising or taken as a slant towards anyone personally. Xbox One is hardly a failure. Not #1, sure, but hardly a failure.

As soon as MS sells out of lumia stock, They are shutting down w10m. That may take 2 -3 years now, come to think of it....since they have like 5-6000 in stock and sell probably one per month. Nah, you guys are good for a while with the constant waiting and coming soon™ promises.

It's inexcusable that MS made no effort to promote/advertise this device.

It wasn't supposed to be a real product initially and if they can't get UWP apps to run on it maybe it doesn't make sense anymore. With all of the hardware issues they had with the Band 2 I wouldn't be surprised if they just killed it off. Too bad many of the 3rd party options don't support WP

Band 2 is a very good device. I don't have any doubts regarding its future, but I have serious doubts on Microsoft's intentions. Microsoft want Band 2 to perform better, but it don't want to sell it outside U.S. and some other selected markets. It shows how choosy Microsoft is. They are ready to sell Band 2 for $175 in the U.S. But they are not ready to sell it in India for ₹12,000. If this is your strategy Mr, Nadella, then you are not going to sell even an underwear.

People ask me about my band 2 all the time. They never heard of it because as far as I can tell, MS didn't lift a finger to advertise it. Another half assed effort to introduce a solid product.

I understand why MS didn't advertise its Lumia line, but im shocked they never tried to do anything with the Band. It's best in class, as far as im concerned, and would've appealed to a wide audience.

Undertakers are putting in overtime at Redmond. Firing entire teams and departments at a time. Next we'll be reading how a bump in earnings at Microsoft and all will be forgotten and forgiven...again. What's probably happening is MS is planning to OUTSOURCE parts of its hardware division. So we will probably see the Band, Surface phone, Xbox or some name like it come from BLU, Xiaomi or some other no name vendor.

I agree with MAd4beef, wait until the Microsoft October event, It's almost here.

Honestly, I'm halfway expecting Band 3 AND the Surface Phone to be announced... We'll see, tho.

I really like my Band2. The Lumia line is finished. But maybe a new mobile device will return from MS - maybe some sort of mobile computer like phone and mobile computer you can put on your wrist, running W10. I can live without a 'smart watch' - was not that much of a game changer for me. And there will be other brands. A mobile...well that is a different story. I like the MS ecosystem. I don't want to move to iOS or Android. Nokia - come back (with a magically perfect OS)!

Nokia are coming back with a magically perfect os from the box....its called ANDROID!

I am a glutton for disappointment. I owned every generation of Zune, had a number of Windows Mobile devices, was a devoted Verizon Windows Phone user, and am on my second Band - all abandoned by Microsoft. I love my Band and especially the new Explore tile (I hike, often.) No one else has anything similar. * Sigh *

I love the Explore function too! Such an underrated device.

It's as if Microsoft has stopped trying anymore.

They stopped trying when they cancelled windows phone 8 and windows 8....Now its just a data mining OS...

I don't have the Band and now it looks like I never will, so no loss for me. What is very bothersome IMO is that there are no third party fitness devices natively supporting Health app and/or running Windows IoT, not a single rumor even? That is very disconcerting and makes me question the future of their Health platform overall. Even their own Healthvault is still barely chugging along with an outdated WP8 app, not touched in years. I'm seriously considering other options to track my health data, not just fitness activities.


what other devices integrates with microsoft health?

I don't personally like the design of the band things. I wanted MS to release a more traditional type smart watch. But still I hope they don't just abandon the watch thing altogether.

I love my Band 2 and was really looking forward to a Band 3 because I expect that the battery in the Band 2 is probably only good for 2 years. Microsoft needs to start making a serious effort to promote and sell its excellent products, instead of killing them off.

No Surface Phone and now the MS band so it is Good night and good bye Microsoft.

Ugghhh! I love the Band 2 but I should probably just get a refund. Just realized today I split the straps of my 5th one!!!! :( Here I thought I got the new one that has strong straps. Luckily the replacement is easy as going to the store. I'm seriously thinking about just saying either screw it and ask for a refund or just heatshrinking it together. As a huge fan of the band I'm not sure what else to replace it with. Looks like I have some reviews to sift through.

You have got to be kidding me! I love my band but the strap only lasts 6 weeks before I have to take it back for a new one. I've had 5! It's not sustainable, I was holding out for a fix. Now I'm to be abandoned with NO fitness wearables compatible with MS Health, what's it for if there's no wearable!?!?. All that data, all that training, basically goes into an archive I can't transfer to the service my new fitness wearable uses. Again, what is MS Health for if it's not connected to ANYTHING!!!! I'm an idiot. A Mug. A fool! I've had: Windows RT - abandoned, Windows phone - abandoned Windows 8.1 - abandoned, Microsoft band - abandoned I think I might be done with this.... Seriously.

You have iOS and Android to choose from.

ditto...I jumped off the titanic. you should too. Life is MUCH better having everything at your finger tips instead of always waiting for that solid OS release, or that app that might come.....or that wearable that claims functionality, only to say no, MS won't let us access stuff needed. MS is a JOKE.....a total JOKE.

I feel your pain man. I too am on my 5th and just found out the other day I split that one. I really thought I had the newer one that had a stronger band. I think my initial Band 2 lasted longer than any of the replacements which is the sad thing.

It doesn't need W10, it will never run UWP. It is still the best wearable out there.

Try to make MS managers understand that. It seemed they set themselves some unrealistic goal with the band.

still the best wearable out there......REaLLY.....a timex ironman is a better wearable......Not to mention anything running android wear, or APPLEs watch that is friggin awesome compared to this goiter laden, obviously faulty piece of garbage.

At this point it's better to be an isheep than a wsheep. isheeps are being taking care off.

If Microsoft can't get Windows to work on something substantial like a band, it does not give confidence that Windows will be competitive on smaller devices for IoT. If Microsoft does not wish to participate in bolstering Windows in the mobile ecosystem, why would other brands join a shrinking system? If Microsoft is withdrawing from the comsumer space, how could members of the corporate world recommend something for their corporations which they don't use on a daily basis, or not embrace a brand for their workplace which they are more confident with as a consumer? Microsoft must realize that those who use iPhones tend to gravitate towards Macs, as on so many campuses. The corporate cloud-first vision needs the consumer mobile-first vision as a prop. Microsoft stood a chance with Salesforce because many consumer users are already familiar with Outlook. Retreating from the consumer space will shrink their corporate reach in the long run. Not being supportive in one sector (Windows 10 mobile for only a small number of handsets, abandoning many users in 8.1 or even 7) can be construed as not likely to be reliable in another. A Windows Central that only caters to the corporate type---because the consumer type is no more---will not attract too many advertisers either. :(

So will they bring back the previous Microsoft Health app??

Why would they walk away from the Band? It has some real potential.

Oh no! Please dont kill the last MS device that I can afford and the one that I also like very much!

OMG! The worst news of the year. I was hoping that Band would take part in Surface division someday and bring out possible (smart) features than just being a fitness wearable. 2 incarnations are all for nothing? Have to ask, does the Band running in failure mode in the market?! So far so good with band (it was heading in the right direction), how hard is it going to be to make it run Windows 10? Seriously, ppl love what msft does, no matter how costly it gets and in the end msft just decides to close everything ppl love and whatever that's not giving them a calculated profit. If msft is all about consumers, they should reconsider this. After all, Health app would look like a head without the body.

the surface is soon not going to be taking part in the surface division.

Gj once again Microsoft. Never fails to disappoint me.

If lumia is being retired and replaced by surface phone. Then why not retire band and replace with surface watch and a surface fit. Surface for prosumer, Xbox for gamers. HoloLens is the tricky one unless it gets renamed as the Surface Hololens.

my band I and band II both broke after 6 months, the rubber design is a disaster (eventually it will crack) and the Microsoft support is even worse. at the moment I'm using a fitbit blaze and while it doesn't has as many possibilities as the Microsoft band it has a superior design with removable straps (alot cheap 3th party ones available) My Microsoft bands were just a good try but eventually they couldn't make their expectations true

Lumia is NOT being replaced by surface phone...thats the thing. Surface phone is vaporware made up by dreaming fanboys.

I think what everyone needs to remember, is that, MS IS NOT a product and production company. They are a software and service company. WP, the Band, and Surface PCs were all 'produced' by MS to showcase what MS software and services could do in the hopes that their OEM partners would pick up the ball and run with it.

I don't know what my next phone should be? I like Lumia, which has dead

I don't know what my next phone should be? I like Lumia, which has dead

With this decision, the ability and backing of Win10 IoT is also in doubt. If IoT is in doubt, no projects will be started, hence no data from the maker universe of the next three billion devices. No data from those devices, and your AI and bots and whatever fall flat on their asses. With them falling flat, what is left of the cloud and mobile era? I guess, Nadella needs to seriously revisit his strategy. This company has not introduced a #1 product for more or less a decade, and it gets worse. How does he want to fix this?

Microsoft for Consumers will soon be gone. Time to move on guys. It's the reality. Posted via the Windows Central App for Android

It's funny - I was just at a health industry event where everyone was telling me about how terrible the battery life on their FitBits are (less than a day) and how many times their bands have snapped. And they were amazed at how good the MS Band seemed in comparison! I hope MS will continue making Band - it offers a killer featureset at a good price, and the converged smartwatch/tracker is where the industry is going. Their failure is that they don't market it. :(

Sign the online petition for the band to go on!
The band is so much better than the iWatch and has a lot more potential ! https://www.change.org/p/microsoft-do-not-cancel-the-microsoft-band MS is abandoning ship on their excellent hardware products! This is not the technical team that MS should fire but the Marketing guys... Apple marketing team can make their customers dream and believe almost anything (so long it involves throwing cash at Apple)!
With their current UK TV campaign, they can even make them believe that the ipad Pro is a computer that can replace your laptop (sound familiar)!
Apple has invented (not) "cut and paste" on mobile devices!
Despite Steve Jobs claiming that Pen interface is not good. Now Apple has invented the magical stylus!
Next year, with the iPhone 8, they will certainly claim that they created the most amazing and magical technology ever, the iris scanner, which can change your life in a blink of an eye. Apple engineer put some magic (gold) dust in their products! The poor sales don't result from poor technical product but from a very poor consumer marketing strategy for mobile and wearable devices...
For many consumers, MS is merely a company for Entreprise ONLY, not for the general public like Apple! hence no need to bother looking at MS products!
The same goes for app developer who don't even bother developing apps for Win10 mobile !
Many don't even know that they can port their iOS and Android app to UWP with the MS Bridge etc... Many consumer don't even know that MS has consumer products and believe they only do PC and Server OS for Entreprise. MS... stop firing excellent engineers (who will go to Apple and Google anyway) and change you Marketing team instead!
Come on Microsoft Marketing create your consumer brand and make us dream!!! Tony.

but they don't want to boost the sale of band 2. then they will band 3

"but they don't want to boost the sale of band 2. then they will band 3" What? English please.

as a consumer i am done with microsoft. They left me high and dry with Windows RT, they shoved a kinect down my throat and then did nothing with it, they promised and promised with WP and after years of let downs they ran away and abandoned us. Window 10 shoved down my throat and no help with my broken laptop despite repeatedly asking. MS band 2 , paid full price only to find it fails at most of its tasks and feel like i am wearing a pipboy. As a consumer i am done, time after time they under deliver, and fail to provide real interaction despite the monies spent. They have portions of the company that are trying and portions that just dont care. I can do much better and spend a lot less by just avoiding them,.... Who would buy into Halo lens with the way they have treated every other consumer release....

FWIW, I just signed a petition asking MS to keep the Band alive: https://www.change.org/p/microsoft-do-not-cancel-the-microsoft-band?recruiter=11604504&utm_source=share_petition&utm_medium=email&utm_campaign=share_email_responsive

Yep, shared in this thread a few posts above, but can't hurt to share again...

Two days after this proclamation of doom, Microsoft renames Microsoft Health app to Microsoft Band app.

And??? For several reasons why the renaming still means a possible shelving, see the much newer article on WC about the renaming. Especially the comments (use default sort & sort by rating), some of which hypothesise quite respectably.

absolutely an awesome device...hey does anyone have keyboard issue after the update on band 2? I cannot reply anything!

They have a long track record of abandoning devices early in their life cycle and then not delivering on promises. I hope they are not abandoning the band because I bought both generations of it.

Nooooo! I love my Microsoft Band!!!!!!!

I wanted to not believe this, but WC is top notch with making sure what they report is accurate. I recently got all my money back for two Band 2s because of the rubber bands getting those rips. I was really hoping for a Band 3.

As an owner of Band 1, I like the external aesthetics of the Band 2. The firmware is no different in most areas, not in all from what I gather. Still not enough to give up the money for an updated outer shell. What I would like to see is more development into apps that run independently on the Band. Sure, the fitness pieces are genius. That's beyond doubt. I would like to see more apps, less notification sources. Widen the availability and function. Still a Band fan.

I went through two Band 2's in just 3 months (bands kept breaking)...I switched to a Fitbit Surge...now I have a rash on my arm that hurts like hell...but my local microsoft store in SLC is awesome with support and they are refunding me the Fitbit Surge even though I've had it for 5 months. They are stellar! Hoping that MS has something up its sleeves with both Band 3 and Suface phone...as it is now, I had to switch to galaxy s6edge+ bc T-mobile didn't have a single windows phone when I left AT&T with my HTC M One 8. To make matters worse, I bought the HP Elite X3; but now that I've been using Android for a year...the app-less windows store doesn't support my life (no smart home control app for nest or myQ etc, no chase bank, and now even myfitness pal has been dropped...) Add to that the issues with the phone stability and I think I'm going to return it and get the Note7 once the non-exploding version is available LOL!

Pretty sure there's at least 1 very good quality 3rd-party Nest app, coulda swore there was a review @WC recently, didn't pay attention as I have zero interest in thermostats, as I don't live in a place where it gets particularly cold/hot. No idea what myQ is, or if there's something just as good for W10M, Chase bank, no idea if there's an official app, if they have a quality mobile_optimised site that may be an option, banking apps aren't extremely complex, the lower level logic doesn't

need

an app to work well.

Add to that the issues with the phone stability

I do hope you've read some of the latest posts at WC about the X3...