Microsoft to begin Windows 10 Creators Update sign-off process this week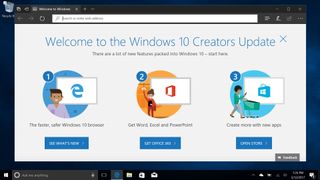 After several months of development, the Windows 10 Creators Update is just about ready for prime-time. This coming week, Microsoft is expected to begin its internal sign-off process, in which the company will compile RTM (Release To Manufacturing) candidates and then select a release candidate for Insiders to test before deeming it good enough for the public.
Sources familiar with the matter say Insiders will likely receive the release candidate for the Creators Update next week, and if said build meets all of Microsoft's quality assurance criteria, will be the build that eventually rolls out to the public. Microsoft is targeting April 11th as the release day for select devices running the Anniversary Update, with all other devices expected to get the update before May.
This is the same process Microsoft used last time with the Anniversary Update rollout. To avoid mass upgrade issues, the company rolls out feature updates in waves, first targeting a selection of whitelisted devices, and then eventually opening the floodgates to everyone once it's clear that there aren't any major upgrade issues taking place.
It's unlikely that Xbox or Windows 10 Mobile will receive the update on the same day, however. It's looking like the Windows 10 Mobile Creators Update will rollout a few weeks later, as will Xbox once the update is ready there too. April 11th is the current plan for the desktop release, but as always that date could change.
Once the release build is selected as such, Microsoft will continue squashing bugs up until launch. As with all major Windows releases, Microsoft will issue a number of 'Zero Day Patches' for the build that will tackle any last minute bugs that are still popping up for Insiders. These patches will show up much like any other patch via Windows Update, and will rollout as one big cumulative update for the public once the Creators Update is available.
For Insiders, you won't have to do anything to get the final build. Microsoft will roll it out much like any other Insider Preview build to the Insider rings, and you will also receive any Zero Day Patches via the Insider Program too. It'll probably take a few days before Microsoft are confident that the release candidate Insiders receive is good enough for the public, at which point Insiders will be able to leave the Insider Program on the Creators Update build if they so choose.
If you are planning to stay on the Insider Program, you can expect to see the first Redstone 3 preview build arrive sometime in late-April. It's a great time to be a Windows fan, with the Creators Update fast approaching and the Redstone 3 preview kicking off very soon, there's lots to be excited about over the next few weeks!
Zac Bowden is a Senior Editor at Windows Central. Bringing you exclusive coverage into the world of Windows 10 on PCs, tablets, phones, and more. Also an avid collector of rare Microsoft prototype devices! Keep in touch on Twitter: @zacbowden.
Can't wait to see what's in store for mobile later this year.

Me too. Redstone 3 is planned for later this year right? Hopefully that has a lot more features for mobile since Creators Update doesn't

If Redstone 3 won't have much new for mobile, then I'm sure Redstone 4 definitely would. (y)

Is Redstone 3 confirmed for Mobile? I mean, recently Microsoft officially annouced that 'Creators Update' is planned to roll out for mobile devices (which was expected after several builds pushed for Insiders), but nothing has been said about Redstone 3, as far as I know. There are a few things that make me believe that they will release RS3. For example, I find curious the fact that Alcatel is bringing Idol 4S to Europe and HP is developing a new Elite x3 which leads me to think those OEM's know that Microsoft will keep working on Mobile. Also, I think they need to keep the current mobile OS because of enterprise and their Windows 10 original goal. On the other hand, I think there is a chance that Microsoft could just stop pushing builds for public and only develop it internally for future projects, abandoning all the current windows phones. I wouldn't be surprised at all. Windows 10 on ARM and so on. Despite of Microsoft said multiple times they need to keep developing the mobile OS (for eventual future projects), I don't think that means they have necessarialy to release it to public, does it? What I am trying to understand is if Microsoft is really commited to mobile as they say and they won't abandon the current platform any time soon. So, why do you expect Redstone 3 to come for current Windows Phones?

One of the problems that may occur, is that if Microsoft implements W10 on ARM I don't see how it can run on current low to mid range hardware. If this is indeed right, then Windows Phone users will be left with only one choice..... Buy the new W10 Mobile devices, and they will surely not be cheap. This will end current insider program..... And W10 Mobile as we currently have it.

Exactly. I just bought a Lumia 650 on past week and was afraid of something like that to happen. While RS2 will probably have 3 years of support (Cumulative Updates for bug fixes and security patches) it would be very sad to no longer get feature updates after RS2.

According to Microsoft's lifecycle policy, RS1 is only supported through October 2018. Considering that the update became available to the non-Insider public in August 2016, that equates to a little over 2 years of support. TH2 is supposedly supported through January 2018. (But it's appears to have been about 9 months since phones stuck on TH2, such as the Acer Liquid Jade Primo, actually received an updated build.) It had been available to the general public since November 2015 for people who bought a Lumia 550 or 950 on launch day, again adding up to a little more than 2 years of theoretical suport. I'd expect to see a similar support timeframe for RS2.

Well, the Jade Primo from Acer doesn't get the RS1 because Acer doesn't care, as far as I know. They say RS1 is unstable on that phone... it seems an excuse for me. I don't think we can blame Microsoft here. But you are right, +2 years should be the expected support time. Thanks for the correction :)

Can't update from 15046 to either 15048 in the Slow ring or 15055 in the Fast ring without the upgrade failing and rolling back. See a problem there? NOT READY FOR PRIMETIME!!!!!

Hate all you want. If they proceed as things are, there will be a HUGE outcry from those affected!

You are at 15046. The current build is 15055. You are 3 builds behind. If there is a general upgrade problem, you would have seen people crying all over the place here. Do you see that?

There has been known issues for upgrades rolling back. you should follow the instruction MS has provided.
One of them was disabling IP6v... search the windows insiders blog for more info. Regards,

I've tried all that. 15055 build notes say the rollback at 71% issue has been fixed. It has not. I've filed reports on Insider Hub and know I'm not the only one affected as others on answers.microsoft.com are reporting.

You tried download the iso

I did a clean install of 15046 from ISO last week after updating issues since 14986. 15055 official ISO isn't available yet. Just tried and failed from Fast ring again after removing USB thumb drive and removing laptop from docking station.

Having the same exact problem. Had to do a clean install with the last ISO, because of rollback problems, and still can't update the traditional way. So I'm waiting for the next ISO to try again. And I've tirelessly researched this issue and have tried the various fixes, to no avail.

I jump out from insider, make to much problems. USB cable and make your phone back to original. Windows recovery program on you computer, It's easy and reliable.

I don't see it as a problem. One of the things about Insider Builds, that is different from production builds, is these interim updates. "Primetime" users are still on the Anniversary Update, so their experience will be moving from 14393 to 15xxx or whatever final build is deemed ready for release as the Creators Update. Your inability to update from one test build to another is a concern, but wouldn't affect the general scenario Microsoft is looking for. Try rolling back to AU, then put yourself in the Insider Programme again and it should work.

You agreed to the T&C's for the insider programme. That means you chose to accept these situations. If you have to wipe and start over, then that's what you have to do. If you are subscribed to the Insider programme on your daily machine/mobile, then maybe consider using a different device. ​Don't hate the process. This is software development. Things can and will go wrong. So if you are not comfortable with that, then leave the programme!

just upgrade using an iso!

So is there a pool on what the final build number will be? I'm thinking 15060.


Do they need to jump that high. Can't they go 14500 to stop conflicts Ie update process not seeing :15xxx and thinking its to send down insider update :)

They do need to jump that high because that's how build numbers work. You forget that there was an even larger jump from TH2 (10586) to RS1 (14393).

Looks like I was pretty close. 15058 has ditched the watermark on the desktop which indicates that it'll most likely be the RTM build.

I would just be happy if they could get the camera and photos apps to work consistently. Lost a video from the wedding I was at this weekend, because, who knows? and anotjher one was all static in the audio for no apparent reason. SMH. "Hey, let's put great optics in our device, and ruin it with a s#!t camera and photos app!"

I mean, if the phone wasn't on a stable version of the OS, it's not their fault. Otherwise maybe it was a problem with the micro SD card, if you used one.

"stable version of the OS"
pardon me but when it comes to w10 there isn't such a thing, you can choose the level of buggyness but not a bugfree build

I haven't run in to many problems with the 950, since I guess he's refering to either 950 or 950 xl with the great optics. Although I got mine after the anniversary update and haven't dealt with the early bugs.

I found HDR is the issue. Turn that off and all is good.

Oh my my! I can't wait! Much Love!😍💗💗💗

Cool news - on my 950 15055 is already really snappy and fast. Much much better than RS1 ever was. Will be switching from Fast Ring to Release Preview once RS2 hits and will wait for RS3 to be a bit more stable.

I have problem with reboots or when device became unresponsive when I try to turn screen on several times in a day on L950XL. I'm ok with it in Fast Ring, but not in RTM :'(

The word is that Microsoft will ditch Windows 10 mobile for Windows 10 on ARM. In the near future, that is. So all this should sugarcoat the pain for the moment...

Got a citation for that claim?

I am not claiming anything.

You say "The word is...", so there's your claim

I am pretty sure it's not like that.

While speculation, that has been a point of discussion here. Especially with the reduced market share of Windows Phone, it could be logical to move to a Windows on Arm solution, with mobile features like placing phone calls enabled. Higher end processes (e.g., 835) would support the full Continuum effect and be able to run Win32 apps. Lower end processors, maybe, would run the same Windows, but not support Win32 apps or a Continuum-like experience. If the OS goes this way, then effectively all existing Windows Phones (or maybe just any below the Elite X3 or maybe just those that don't currently support Continuum) might end up as "low end" in that they would probably not support the update to a full Windows on Arm with support for Win32 apps. But they may continue to run new Windows 10 apps that are designed to work in the mobile UI. This all seems reasonable, but at this point, it's all just speculation, at least as far as I know.

Yes, it is only reasonable, in terms of the UWP too.

I hope so. I love my L640

There is nothing concrete about what you are saying. My personal opinion is that Windows on ARM will power PRO-phones or cheap laptops, while W10M will continue to exist for less powerfull ARM devices.

Great.now turn for mobiles(RS3)

To Lumia 650 insiders, how it goes so far? Have you seen any difference from the Anniversary? Can't wait though!!! 😃

My lumia 650 is faster than before, but the battery life is really short

From previous marked dates, ms will probably release public release after Half of April or probably in May...

What's the difference between a new build number and patches (or Cumulative Updates as they are known)? For example, the latests builds we have seen don't bring new features, or OneCore improvements or any other sub system improvements (at least, they didn't mentioned anything). It has been all about bug fixes. Aren't cumulative updates also about security and bug fixes only? So, what's the big difference between new build and patches on this stage?

The cumulative updates via patches are a way to not increase the build number but still release updates I think. For example, Windows 10 is currently at build 14393 for non-Insiders. However, if someone were to look at the build number on their PC in the Settings app, they would probably see 14393.### instead. The "###" part is the cumulative update number.

14393.726 for release preview insiders, .693 for everyone else. A new cumulative update will hopefully arrive tomorrow after last month's patch Tuesday release was cancelled

I m using Lumia 730 and my internal storage left is less than 300 mb out of 8gb storage, which is mostly consists of microsofts inbuilt apps which we cannot move or even uninstall.
whether I can download the creators update?
If not, what should I do?
Whether Microsoft is doing some provisions for low internal storage mobile users to download and install such updates. Plz help otherwise my phone ll be scrap after few months

Try to Reset. That's very weird... my phone has 4GB of internal storage, system uses about 2,1GB. 300MB won't be enough to update.

I have this issue every update, having to remove non built in apps. Again reported it and get shot down as its not a bug.

They really need to double down on Apps and Features. Still no Contact Groups in People App, and no Tags in Photo App, and no decent replacement for Windows Movie Maker. I struggle to tell people what the big improvements they will be getting with big "Creators Update". 3D Paint? Yes I know there is more but, the more needs to happen with the apps and devices. Looking forward to "cellular PC's" this fall. This could be the next big thing if they don't' blow it. Some would say abandoning mobile was blowing it, but I'm ready for Version 2 of Microsoft's stab at mobile this fall.

Can't wait! being on Release Preview insider ity should come to my PC about a week before public release - I got Anniversary update on July 29th last year

The only question I want answered right now is when can i buy the Surface Pro 5? Wasn't it said the Surface Book 2 and Surface Pro 5 will launch at an event with the release of the Creators Update?

Haven't seen any info about SP5, SB2 this spring. I would expect to see new hardware somewhere in November, like earlier.

I hope you're wrong. New Surface hardware was slated for a Spring release.

Maybe I've missed article, do you have link? I hope that I'm wrong too.
As I remember previously we've seen Surface (not Pro) in Spring, and major device announcements were in November last two years.

How's the latest slow ring build anyways?

It is interesting and sad to see features like Night Light and Continue where you left on PC, but not on Mobile. Continue browser session on Mobile is more expected than annoying notifications on PC when SP3 goes to sleep. Even more important when Reading list and Bookmarks aren't synced to Mobile for more than 10mins.
I hope that will be added a bit later thought Cortana backend update, but chances are that only in summer Insider builds :'(
Also no signs of shown 3D scanner for Mobile.
Will waiting for RS3 "Catching Up" update xD

Word on mobile has continue where you left off, not sure if its cross-platform though ( didn't see pc pop up with message).

Feature is named "Pick up where I left off" in Cortina's Notebook. PC and SP3 have notifications about Edge tabs and some apps on other device when it was turned off. This might extremely useful as way to share tabs between PC and Mobile

The latest insiders builds have been pretty buggy to me. I find apps will often have closed randomly when my Surface Pro wakes from sleep, and the new transparency effects in the UI have made the start menu and action centre extremely choppy. They had better not release in this state.

Sleep and hibernate have not worked tidy for me since windows 10 started, my laptop takes much longer to wake than from off,

It is very sad that Lumia 950xl/950 is not supporting with Dual sim standby 4G service. One is 4G then other is 2G only but not 3G. That's why one sim slot fully useless.please Microsoft do something with this please.

I bought lumia 630 after checking its specs on whatmobile, Where mentioned its dual sim, but shopkeeper sold me single sim. within the same model, there're both single and dual sim options available, how it possible. Anyway I start using my cell phone, but most of basic functions are not available in windows mobile, That's why I sold it @ very cheap price. I think, Microsoft should not create windows mobile anymore as Windows 10 is free for mobile and premium for PC with all functions, So it may be used only for PC such as people like it, where Microsoft provide its license very costly for activation. Recently I also bought oem license from ODosta Store at very cheap cost, which is working well too.
Windows Central Newsletter
Get the best of Windows Central in in your inbox, every day!
Thank you for signing up to Windows Central. You will receive a verification email shortly.
There was a problem. Please refresh the page and try again.