Microsoft bots will help you order pizza, book hotels from Skype
At Build 2016, Microsoft demonstrated how Skype users will soon be able to leverage virtual assistants like Cortana to get organized.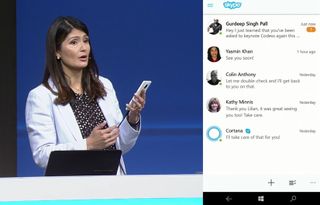 Demonstrating Skype on a Lumia 950 XL, Principle Group Manager Lilian Rincon showed how companies will be able to leverage the all-new Skype Bot SDK to allow the platform's 300 million users to book hotels, order pizza, and much more via conversations within Skype itself.
Skype conversational bots will begin arriving today on updated iOS, Android and Windows versions of the communication platform, reflecting Satya Nadella's vision to "open up" Skype. Microsoft showed how their own virtual assistant, Cortana, will be ever-present in future versions, allowing users to access all sorts of services using natural language right within the chat window.
Cortana will highlight key terms in your conversations and begin privately messaging you to inquire whether or not you need assistance. To accomplish more complicated tasks, Cortana will communicate with other bots to co-ordinate and deliver the results you're looking for.
Microsoft announced a new open source Bot Framework to enable developers and companies to create all sorts of conversational bots. Microsoft also showed how those bots can easily connect with other services outside of Microsoft's own platform, including Slack, via their new Bot developer center.
Additionally, Skype will automatically provide transcripts of video messages in your native language thanks to Skype Translate, and will allow companies and brands to create video bots to add further personalization to the service experience.
Microsoft's Skype Bot SDK (opens in new tab) and open Bot Framework previews are now live, with global hackathons coming in May to stir innovation.
For all the latest information from this year's Build, keep an eye on our all-access topic page.
Windows Central Newsletter
Get the best of Windows Central in in your inbox, every day!
Jez Corden a Managing Editor at Windows Central, focusing primarily on all things Xbox and gaming. Jez is known for breaking exclusive news and analysis as relates to the Microsoft ecosystem while being powered by caffeine. Follow on Twitter @JezCorden and listen to his Xbox Two podcast, all about, you guessed it, Xbox!
This whole demo was so so cool, easily the most applauded part of today's presentation

Is anybody still using Skype? Oh, you do Sir? Are you using a telephone with a dial?

This demo really blew my mind. It really showcased how powerful cortana can be in the right context. Amazing.

Let's hope it's a reality, not just another fantasy. Cortana could be so much better, if it was able to work across devices correctly m.

Cortana would be helpful me as I'm learning R TOOL.

One of the best part of today's presentation, was this the feature they were talking about? Which would have us freaking out? :P

Probably at the end, as last announcement...

When does this Skype app is gonna be live ? Love this new UI and big emojis ☺

Its live now on mobile and desktop, but guess which mobile platform didnt get a new updated app?

The lady who stays at Westin "bot" - Posted via W10 app

this demo was amazing, it is showing the future

I think the loudest applause was to Saqib Sheikh's app/idea. The blind software programmer who's app will help recognize items around him as he walks and have bot/Cortana tell him what he is looking at. - Posted via W10 app

It is important to note that Microsoft Bot Framework is open and works on SMS and other chat apps, this is not just for skype.

Cortana commands other bots and becomes Ultron, Oh yeah,,,, this is what i waiting for I am Iron Man or might be Terminator

Skype? Do you mean that app which is the shame of MS for ages? Add landscape mode finally for example instead of pizza, hotel... orders. This app has to be flag ship. Not crap which is for a long time...

A bit surprising that Skype only has 300 million active users nowadays while for example WhatsApp has over 1 billion. Just shows that Microsoft really missed an opportunity.

WhatsApp is used in India and China a lot. Where as Skype very less. That's the reason why numbers are not too high

And its blocked in the Middle east unlike whatsapp

Skypenet is born.....will become self aware at the launch of Windows 10 Anniversary edition, next up....T1000s posting apocalyptic warnings on Twitter and Microsoft wondering why they cannot shut them down. Mobile first - get Skypenet onto as many devices physically in the proximity of humans as possible. Cloud first - get as many bots into the cloud, so it will make it impossible to destroy Skypenet and Cortana will say, from the lock screen, "All your computing are belong to us!" /s

I had to order some Dominos after watching this. +Lumia 929

They need to leverage cortana name for marketing. Bot is too genetic

Conversational bots are HUGE on WeChat. Millions of people in China uses WeChat to request rides, takeaways, or even buy plane tickets. They might still be stuck in the command stage, not entirely conversational, but it's good to see Microsoft taking this approach. I really look forward to all messaging platforms integrating with Windows 10 a lot better. C'mon, I need Cortana to make reminders whenever I talk to someone on ANY messaging platform, not just SMS or on the phone.

"Interact with your favorite characters" ... Mega man is coming to life! (The battle network one) L950

What a childish and nonsensical feature. I already despise getting stuck going through "press 1 to..." on the phone, using virtual scripts. I certainly don't want to be subject to the same thing using Skype. I'll drop a business quicker than lightning.

Don't get hot and bothered about all this, in a few months they will turn around and say it wont work with Skype, six months later they will change their minds again, the mismanagement of Skype has to be one of the classic disasters of our time, and I would guess at least half of those 300 million only use their accounts to complain to Skype that there is no way to close an account.
Windows Central Newsletter
Thank you for signing up to Windows Central. You will receive a verification email shortly.
There was a problem. Please refresh the page and try again.