Microsoft acquires Echo Lockscreen creators Double Labs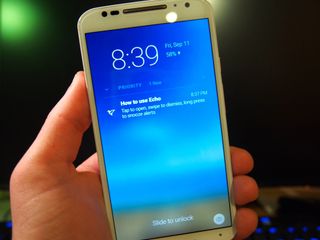 Microsoft has confirmed the company has bought Double Labs, a startup based in Palo Alto, California that created the popular Android app Echo Notification Lockscreen. Microsoft has already released a similar app for Android, Next Lock Screen.
Business Insider spoke with Microsoft's Chief Experience Officer Julie Larson-Green about the purchase. She stated that it was part of the company's plan to help develop new products that help people increase their productivity.
The specific financial terms of the deal were not disclosed.
Source: Business Insider
Windows Central Newsletter
Get the best of Windows Central in your inbox, every day!
Windows 10 for Phones is going to be beautiful.

Well if t's continuously after iOS and Android, there won't be any windows phone users left for it to be beautiful for, thereby eliminating the need for windows 10 mobile altogether. Without a flagship to match the beautiful OS you're speaking of there wont be a need either.

Hi, maybe you haven't heard, flagships are going to be announced next month.

But they won't be launched until the WM10 OS is finalised, so that's academic. I'm hoping for the best and I'm as quick to correct people about their false impressions of what a test build is for, but at the same time it only does harm to pretend that matters are going to be settled as soon as next month. They can announce the phones whenever they like, but ultimately an announcement of a future phone is no use to the people who are currently dissatisfied.

Paul Thurrott said the flagships will probably ship with an unfinished version of Windows 10.

Sounds just like Windows 10 on the desktop.....

You say that like it's a negative when it is actually what makes Windows 10 so great.

Maybe that'll work out, but what a gamble! Mail is so far from functioning properly, and I mean operationally rather than features-wise. It's embarrassing for anyone to look over my shoulder and see that I'm waiting endlessly for a single mailbox to sync, or even an email to open.

Mail and OneNote are probably the worst apps right now. I doubt W10M will be ready for launch in November.

Both of those apps are not part of W10M. They are included, but they are updated as separate apps. That's very different than earlier versions of WP. Also they are universal apps so more then likely that team has been focusing on the desktop bugs first.

Use Outlook on Office 365. It's blazing fast and has no issues that I've noticed on W10.

I find calendar portion is useless now for those users who never claimed a hotmail address as it now requires mail sync to be turned on & ical/ics are no where to be seen

The annoying thing is the app constantly telling you to Fix your Account. I and a few others I know seem to get that if there's a short term loss of data connectivity. It also needs to support S/MIME like the 8.1 client does if it's going to be ready for enterprise at launch. I worry they are not going to notice this. It doesn't have many up votes in the feedback app,but that doesn't mean its not important

Can you cite your source?

Took the words right out of my screen.

What those plastic things? With Apple and Samsung defining high-end phones as being made from aluminum and consumers buying into that belief, those plastic 950 & 950xl rendered phones will be looked upon as cheap crap. Don't get me wrong, I wish the best, but when consumers have spoken, Tech companies should listen. Samsung listened, why can't Microsoft?

According to rumours, they have, but they're not leading with their metal phone (which is said to be something for next Spring).

OMG55, the tech writers spoke. Sales of Samsung were less impressive after they caved to the demands of tech writers and ditched SD and removable batteries for a metal shell.

Samsung's mobile device numbers were already dropping be for they ditched SD cards and removable batteries. They still make huge profits off their smartphone business anyway.

No they don't they make huge losses on their phones

Their huge profits have dropped to 15% of their sales...Apple leads now with nearly 90%...read abt it a few days back...(adds up to more than 100 cause everyone else Is making negative)

Well people don't care about that. I work at a bowling alley part time, I phone watch and you want to know what are the most popular phones I see on a daily basis? S6 and the iPhone 6. Then an occasional LG phone. All the kids that work there have iPhones or s6's lol. To people who care about specs that matters but to the average consumer they don't care about the battery or sd card missing. Posted via the Windows Central App for Android

much rather have polycarbonate than alluminum.... have you not seen the difference after a a few drops?

Carbon fiber or graphene would be preferred 8)

I'd prefer Adamantiun or Vibratium.

I'd prefer Unobtainuim myself.

This. Polycarbonate is hardly cheap plastic. Come to Japan and I'll show you 1000 cheap plastic phones. I'll be sitting tight with my 930 for at least another 8 months, but Microsoft has finally heard the call for high level phones to have decent memory and expandable storage.

I just got a used 930 about a month ago as an upgrade to my 1020. I'll be keeping that for as long as it takes for it to either break, or something comes out that I really can't do without. Glad to see removable batteries and SD cards coming to the high end devices too

I have a metal/poly phone... the 830. It sucks.
It's jagged and uncomfortable. Also, it heats up and the metal can be hot, even just from sunlight. The 810 gets hot = hot ass phone.
My completely poly 822 was the toughest smartphone I've ever had. I'll take another one of those over the Samsung and iPhones that I've broken.

Every person that has seen my 830 has undeniably, as much as they don't like Windows Phone, say it's the sexiest designed phone they've seen. My friend with an iPhone each time he sees it has to comment on it. As for jagged, not really sure how but I love the boxy feel of it. Squares are definitely something I like on this phone and it doesn't feel uncomfortable for me at all. I actually wish it were 5.2 inch or 5.5 and i'd be happy! As for heating, I have noticed this only when I was on vacation and the weather outside was 40 degrees celsius and I was constantly on it and the sun was beaming on it... And most of the heat was emitting from the screen for metal sides, although the metal sides were pretty darn hot. But back home this doesnt happen. Havent had it heat up on me for the past 3 weeks now like that time.

apart from inside the Windows community. I've heard only positive things about the L950s. It's only here that I hear the bitching and whining.

What are you talking about? The 3% dont event want it why would the 97% like it? They have their beautiful iPhones and Galaxy phones already.

Because unlike the 3% they have better things to do than bitch about a phone. Most non windows phone users' opinions I've asked think they look nice they just dislike the lack of apps

Make that 1,5% iirc poll was pretty much 50/50 ok that issue. I for one like the design

@OMG55: Why cant MS listen? Man talk some sense, Samsung took years to turn that around. You can't just slap metal on something that's at the end of the pipeline...either reset or build a new one and at least that's coming in May... plus its the renders, the first thing popping up in everyone's mind is a 630 or a 640...the 925 looked hideous in the leaks...! And yet now everyone wants a similar design...wait for the real thing and judge it...

I remember everyone complaining about the 1020, 925 and the 1520 even because they all had "hideous camera humps" and where pegged as very ugly in renders.

Yes, not a lot of love for that hump but when the phone dropped, people snapped it up. I, myself wasn't crazy about the 1520 when I saw it online. When I got one, I was hooked. I hope to get this one to run Win 10 Mobile but too much of the OS is broken for this device to be worth using.


I miss that hump after switching to a 930 from a 1020...But the 930 is currently in for a repair because of screen lift issues interfering with the ambient light sensor. The 1020 is very old now, at a party a month ago it still got recognised "Is that the phone with the ridiculous camera?"

We need copper phones, not aluminum. Why? Because heat dispersion and premium look.

Aluminum is good at heat dispersion, though not as good as copper. However, Aluminum doesn't conduct electricity, and copper does. Bad for a phone. Polished 18/8 Stainless Steel would be awesome. Not as light, but much tougher and much prettier. It looks like polished silver, but very hard. A brushed titanium would be a nice change as well, though more expensive.

And Samsung sales have gone down.

I agree, it should for Windows first, then it's okay if after few month it comes to another OS. Just like they make tomb raider exclusive for xbox one. Xbox first then another.

@OMG55, There will be users albeit probably not many to make difference. As for some us neither ios or android is an option. Personally I'm going to stick to my 920 until I decide whether to get the 950XL or 950. I couldn't care less if the 950XL goes toe to toe with new iphone on a personal level. If it does what I need it to, then that suits me just fine. On the flipside, it would obviously be nice to beat the android and ios fanboys 'n girls with facts not conjecture when they initiate the childish argument "my phone is better than yours".

W10M needs dramatic improvements or you will loose both arguments in the foreseeable future. Hope is all we have at the moment, and that is growing dim as stagnation continues indefinitely

@OMG55, exactly in what ways are those flagships more functional than a Windows Phone in a way that it would enhance the way that I run my business?

That's the problem of kicking out Nokia out of the picture. If Nokia was still there as an OEM, we would have got a number of flagships. And that would have been best for windows platform. Just look at 1520. What a device it was. It was 10 tones better than iPhone 6 plus.

You do realize that the 950 and 950 xl are both Nokia designs, right?

Yes Nokia designs probably not intended for flagship use. The cancelled McLaren was a Nokia design as well and that was surely designed for a flagship. Microsoft most likely decided to use these designs for flagships for whatever reason.

Alot of people thought the 1520 and 925 were ugly because of the camera humps

Personally, I dont need a flagship. My 1520 does everything I need. I just want to put the new OS on it, for universal apps. Too bad they cant just whore out more 1520's for a cheaper price. The Hulk and Red versions for $200 off contract. Compatible with ATT, Tmobile and Cricket. I do understand your point though, that the general public needs a new flagship, and fast.

Wgt even make that comment? October is just weeks away.

You don't half pull everything down in every comment you make. The fact it's all rubbish is the most annoying part though.

HaHaHaHaHa...... "But by handling it as a separate app first, Larson-Green says, it means that they won't accidentally ship a half-baked or just user-unfriendly feature"

LOL. Zune called and wants a refund for Xbox Music...

It's beautiful yes but IOS and android beat it immensely

Ah I love this! Hope it gets on W10 Mobile in time for release.
Whatever happened to Spotlight???

When MSFT acquired Sunrise calendar, I was hoping for its awesomeness to make it across to Outlook calendar, but what came if it? Outlook calendar is still the worst calendar experience on both mobile and desktop. So, there you have it

@Jazmac:
Who said that their knowledge and skills will benefit Windows 10?! So far we have not heard anything about lockscreen functions in Windows 10, which is a ducking disgrace, because it means Microsoft wasted Rudy's work for LiveLockscreen.
For me this means once again: All [the fans] for Microsoft and Microsoft for Android!

This is why never should read comments... People just love to complain...

Which is why there should be no more of these wide open Technical Previews anymore for Windows Phones. MSDN could get in and those paying 99 dollars could get in.


But they acquired this for making an android and ios app. Not for wp.

They need to bring the Live Lock Screen back❕❕❕❕

This could be going somewhere for windows phone...

@I_Love_looking_at_windows:
Said who?!
We have not heard anything about lockscreen features in Windows 10, which is one of my major gripes, after the news broke that it's already feature-locked.
This is what I really hate Microsoft for:
Promising us gorgeous features like LiveLockscreen and then abandoning them without further notice.

The release version is feature locked. It will be updated after that hopefully.

A brand new laggy lockscreen for Windows 10 Mobile?

Why do you think it means lag? The good news is, if it makes your phone lag, you won't have to use it. I doubt it'll lag on any of my Windows Phones though.

Well I hope they bring more lock screen option to win10m, not just current pin or Windows hello. A pattern locksscreen like Android would be cool

I would hope this would be built into WM as "our" lock screen, and only an app on competitor phones.

Have you tried the Lockscreen BETA app?

Wrong. Try again.
New lock screen apps for Android.

I think the new flagship Android phones don't lag like they used to once before. Those days are far behind. The reason? Stock Android. Only recently have OEMs started making phones with almost stock experiences.

What I meant was 3rd party lockscreen apps on Windows Phone are so laggy.

I don't know what phone you use but my HTC One M8 running Windows 10 TP doesn't lag anywhere running anything. Besides, you can't speak for all Windows Phones. As I said, my phone has no lag.


Might be true for Nexus and maybe even the OnePlus One but that's far from the truth. My experience with the Note 4 (pretty new for an Android phone) has been...lets call it unpleasant. Regular use and the installation of apps means even this powerful phone is slow to run. Everytime a picture is taken, the phone gets overloaded and freezes momentarily. This manifests clearly if you were listening to music and clicked a picture. The music would "pause" for a few seconds while the picture is processed. Definitely not impressive. The fundamental problem with Android is the way it handles resources. Apps are allowed to run rampant in the background and they kill the resources. I realize similar scenarios can be found on iOS and Windows but they have far less of these because of the way they handle apps. The point is, Android is still the same system. Additional resources mask this shortcoming for a while but age and a combination of shoddy apps expose this later on in life. That's not to say it is bad...it is just the price you pay for having more "advanced" multitasking on your phone. If that's what you prefer, then that's okay.

Hope its come without 'beta' tag. :)

Another lockscreen. We already have Spotlight still in Beta or whatever form it is.

@corey_blackstock:
Laggyness is to be expected if it's only an app and not "baked into" the OS itself.
Where would the problem be with integrating it into the OS? People that don't like the feature could simply ignore it.

New Windows 10 Mobile lockscreen?

New app for android from Microsoft?

Hmmm let's see later what is all this about

Yes lets be patient, but for how long rather how many days/ years!

I would love some lockscreen photo frame apps for W10 tablets. How come it is all about phones? I have screens all over my house (don't forget offices too) that are upright and not in my pocket that could feed me information all day. Utilize those...

they want to make a better android launcher+lockscreen now? cool

Oh man, back to back. I immediately thought the same thing.

@EspHack:
We should've gotten used to by now that Nadella's Microsoft is all about pleasing the Android and iOS crowds and giving a pi*s about Windows users...

I bet they're going to make some even better lock screen apps for Android. Exciting for them!

Yeah! At the moment, W10M doesn't even have that Live Lockscreen anymore. Where is it???

And Spotlight is crap for PC/tablets!!

Yay! They're improving their Android/ios apps even further! WP? What's that???

Remind me one more time what happened when they bought Acompli and Sunshine calendar (I think). Didn't they just all end up on Windows Mobile as outlook stuff? They tried making Live Lockscreen. They failed dismally. So they got someone who does it better. Like they did with mail and calendar.

Well, if you think Mail in Win10 is better...

Now if Live Lockscreen were just baked on the OS instead of being app-like Lockscreen they did on WP8.1. Maybe new and flexible Lockscreen may come on Redstone or not yet.

It would be a pain to update, the butchered the hub model for the app model. Although they could have still had a hub model and have them as act as separate yet interlinked store apps...

OMG, this is wonderful news. I can't wait to see how they'll use this to make an even cooler lockscreen for their android launcher. But seriously, will we get some new lockscreen when w10 mobile gets released or do we have to wait yet another year to bring more features to the os. Cause so far everybody has a rich lockscreen experience with rich and actionable notifications. Think about it, ios,android, blackberry and hell Nokia did actionable notifications in their products since 2011 with Meego, then Symbian, Asha os. Now that MS bought the D&S division that still makes and sells Asha devices in some parts of the worlds, i expected them to bring that feature to windows phone/mobile too. One thing is for cetain, the windows phone lockscreen needs to change, more functionality needed or at the very least a desigh overhaul. I'm tired of the same position of the date and time. It's been 5 years with no change

The font size changed in 5 years. That's the only change I noticed. Lol

Julie Larson returns from the dead!

I will continue to come and read the news and lurk but i am tired of all the doom and gloom...if windows for phone dies then i will move on but right now i am excited for what lies ahead.

Try to do something nice with it!

And 950/950XL not going to be Ms falgship

well, at last some positive news about the WM10 lockscreen...

Great! I'm sure they'll make some nice iOS and Android lock screens!

Claim for Windows Phone! Who cares iOS or Android! Well I do love Android, but Apple!

Interesting, they have live lock screen and tetra lock screen. Why not combine them. I guess they want to combine all three or have Echo solely focus on lock screens?

+830 I hope they continue to Improve It/Combine features and make It better than scrapping It for something else.. I LOVE Tetra, It's the reason I rolled Back to 8.1, It has all the Info I need, PLUS it has SensorCore support.

Hope music playback controls on lock screen comes before this does

Need slide to unlock and power off phone. The sliding of lockscreen from bottom to top and top to bottom to unlock and switch off the phone is too cumbersome.

With all kind of acquisitions Windows 10M will rock!

To make lockscreens for Android...

Well, they but start-up apps like these, and add the best features to their Android and iOS apps. Nothing to see here. Move on..

I really hope we will get something like this for windows. I like that feature on iOS. Please Microsoft Don't mess this up!

I use Tetra Lockscreen by Microsoft Garage, with the Bing image changing each day. I don't know what all the photo is trying to show, but it seems I already have a better looking lock screen with more features and notifications. What am I missing?

"Double Labs, a startup based in Palo Alto, California that created the popular Android app Echo Notification Lockscreen. Microsoft has already released a similar app for Android, Next Lock Screen." So this company made an Android app, so Microsoft made them...after making a competing app on Android. Neither made it for Windows Phone?

When you're the OS maker, "yet" shouldn't apply to catching up to YOUR OWN apps on the platforms competing with your own.

And yet.....coming soon ©

Bring more changes in WP10

Cant wait until Google and Android start repaying the favors and developing for Windows Phone!

Project Astoria will help

No, we wiil lose the download option...

Are these type of companies good for investments in the long run. I mean for a lock screen they have acquired a company and such work can be done by developers of the Microsoft garage project. We can understand if Microsoft acquires a company related to its cloud and enterprise business but what made them buy this company?

Could be patented code and this will also be used for Office.....it's a wait and see what they do with situation.

Yeah some things are confidential.

Hope they launched beta version soon :p

Bring tetra lockscreen to W10! It made the lockscreen look hot as hell.

I can imagine.. Its bits and chunks right now but Windows 10 mobile will find its wholeness as all the acquisitions say "Lets Volt In" or "Join altogether to form a Mighty Zord" lets just wait.

A house full of Windows Phone hate. I hope this is the last time MS attempts an experiment like this technical preview program.

It just attracts way too many impatient cry babies who feel they are entitled to weekly updates and 5-star hotel service in general. They are loud and drown out the sane voice and influence other kids into the same negative mindset. They make the whole community look like just a bunch of twelve year olds.

Just saw a review about this lock screen and i gotta say, I don't like it!!! I don't need a notification list on my lockscreen to let 'anyone' what i'm up or who i'm talking to. But since this will be an app, the thoughts to have options are still good ain't they???

Just let me put two time zones on the lock screen and I will be happy. That's all I have wanted for ages.

Bring tetralockscreen like features in windows 10 mobile, that app is awesome

Why can't Microsoft just make a launcher with Windows phone start screen for Android?

They cannot do that. Maybe thats another plan just in case windows mobile still won't succeed.

Another 3rd party developers had already been made it.

After some month window phone will be go to android...

I like WP and want it to succeed. But somehow my daughter's LG android seems more beautiful. I don't think it performs better than my Lumia, but it beats Lumia for the looks. It's like comparing a sleek formula one car with a trusty reliable tractor in a city. One is too delicate but great looking while the other gets the job done but without any glamour.

Please, what's more glamorous than arriving at a party driving a tractor?

ahahahahhaa... so freaking true... :) Posted via the Windows Central App for Android

It seems that either writing apps for windows phone is not as easy as advertised or there simply aren't enough people in the WP team at MS.

Actionable notifications, anyone remeber that?

Don't need to remember. It's there in W10, on phone stock apps like messaging works and you can action directly from the notification. Other apps like WhatsApp and Twitter need to rewrite their apps to utilise this functionality.

windows 10 for phone i like this

I hope we will get an iOs like lockscreen or even something better.

Congrats to Microsoft. They did almost a complete 180 since they announced Windows 10, and I really like how the company handles their stuff now. They finally started tearing down the silo walls and tapping their own potential. The fact that they seem to make more acquisitions and that they're handling these way better than previous ones (Skype comes to mind) is also a refreshing change from years past.

+ killing Lumia apps, Photosynth etc. etc. Good times ahead.

I have mixed feelings about the app coming to windows 10 mobile. On the one hand it seems like an enrichment to the windows phone 10 experience. Have your appointments right there on the lockscreen, favorite apps and delve right into actions right from the lockscreen. On the other hand it feels counterproductive with compromised security, because compared many app icons on android that just serve as a kind of desktop shortcut to the app windows 10 has the more multifunctional live tiles. So the windows phone and windows 10 mobile startscreen already feels like a kind of homescreen and lockscreen in one. What I like about windows phone is that the lockscreen can be used as a glance screen. I get the impression if you want the functionality why not ask for larger live tiles and turn off the lockscreen with password. After all if one could access favortie apps without logging in, others could also use your favorite apps. That would be no different from having your windows phone or windows 10 mobile device have no lockscreen password. And windows phone already has kids corner. The lockscreen app feels like a way to make yet another startscreen. Maybe this could be a clue that microsoft is developing multiple desktop startscreens for windows 10 mobile where a taskviewer shows the multiple desktops. Some will be unlocked some will be password protected. This way you would not need a lockscreen anymore but just scroll the multiple desktop caroussel when you turn on your windows 10 mobile device.

Microsoft should launch an app for windows phone 8.1 as well. I am sure they wont have problem with that. Just wanna increase the list for w10 mobile.

It could be that just adding an app could make the lockscreen experience feel half baked. Ik reminds me of microsofts recent aquirement of acompli to give us outlook mail and calender. That also feels like a half baked experience.

I'm just gonna get an iPhone 6 as a second phone then retain my Lumia 930 till Microsoft is ready with Windows 10 mobile. Only thing I fear is iPhone taking over from Lumia 930. Everyone knows we've been very patient with Microsoft but if all the news we are hearing of late for W10M being not ready at launch then Apple will keep sucking users from Microsoft. *sigh*

I really thought Microsoft was the best.I just don't get why they bill gates and yet can't achieve anything. Anyone knows why they're such in a hurry. I've never seen companies release OS that is not complete. Y'all should be careful because if Microsoft doesn't speed things up. Windows phones will be eliminated got good and android and IOS will take over

How I wish I could set a startscreen with pictures changing morning, afternoon, night automatically with a set timer. But if this thing make it out of U.S. which no lock screen app from MSFT that is useful have ... I guess that's good too.

I wish we can get a different lock screen in Windows 10 mobile, I really think it needs a change. :)

Your wishes are awesome but Ms should make our wishes come true

Nadella really is going all in with Android. iOS version not out of question either.

10536 build for phone is available for download only few insiders

This might improve the lock screen. I think they will embed the features of this company's product into the core of w10

I love lumia phones but MS shud do something better on the lock screen, rather than reflect the background wen the phone is on sleep mode..

What do you mean reflect the background? I can make any image my lock screen on my Lumia 930. I'm just confused by what you said.

Hell no to alluminium and that wierd glass stuff iphone has. My mate has an s6 and its really bland. Also its picks up scratches quick. And I your a person who has a case, then the look of the phone is pointless as you dont see the alluminium.

IF THEY TAKE AWAY LIVE LOCKSCREEN(and make amazing weather HD lickscreen not work) I WILL BURN MICROSOFT TO THE GROUND!!!!!

Oh look! It's Julie Larson-Green! I'll admit I've missed her throughout the Windows 10 period, we never really follow up what happens to people once they're not right on the front lines of Windows or Xbox, wonder what she's been working on over in the Experience department?

It's going to be as great as Sunrise Calendar on Windows Phone! Oh, wait...

It's look like iOS lockscreen

Time travel to future for perfect windows phone.... well once you reach you find that Android and iOS are still five years ahead!!!!!

That joke is getting boring. I don't get it, why don't people walk away ?! Just leave. No ?

ya its boring...and you bothered to coment on it....that much boring...

My contribution to a better community and maybe your life. I mean, you, nor anyone, need to use a Windows Phone, there are options, as you clearly stated. Enough is enough, me thinks.

One negative I know of personally is that if you get arrested in Maricopa county and you have a phone that doesn't have a removable battery, the phone gets impounded. (no, I didn't get arrested, my Icon is safe). Your talking 24 -48 hours without your phone, and if it doesn't work like it did before, good luck. Just a word of caution for all of us without removable batteries...don't get arrested, don't do drugs, and if you get the urge to hit someone, walk away.

I'll be the first to admit that I've never used this app so I can't really comment on that aspect of this story but I'm a little perplexed as to why Microsoft didn't just use the money to make two of their existing apps better, specifically Tetra Lockscreen and Picturesque. I use both of these apps (on different phones) and love them both. Oh well, I guess I'll just wait and see what happens.

I hope this Lockscreen will be in our Windows phone 10...feeewwwww Finally Microsoft do something about our boring lockscreen present in windows phone 8.1

First Microsoft should improve the Live Lockscreen BETA and Tetra lock screen apps for windows phone..... Then think of Android and other platforms....