Relationship Status: Microsoft is committed to Indian Railways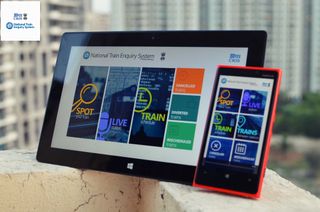 Indian Railways, the state-owned enterprise operated by the Government of India through the Ministry of Railways, is one of the world's largest railway networks and transports over 25 million passengers daily.
Last year, Microsoft India pulled off a major exclusive with the launch of the official IRCTC app that still is only available for Windows Phone and Windows devices and gets a lot of envy from our friends on Android or iOS.
Apparently, the two enterprises continue with their romance. Earlier this month, the Centre for Railway Information Systems (CRIS) launched the official National Train Enquiry System for Windows 8 devices. The app has now made it to the Windows Phone Store as well. CRIS is an autonomous organization under the Ministry of Railways and develops and manages the Information Technology applications of the Indian Railways.
The National Train Enquiry System (NTES) is railways' back-end system which provides information to the public about train schedules on a near real time basis through various interfaces like nationwide unique rail enquiry number 139, website, enquiry counters and display boards at stations.
The official NTES app provides complete schedule of a train with all stoppages enroute, scheduled arrival/departure at the station, distance, and day count. Using the 'Trains between stations' query, you can find a list of trains available between any two stations.
The 'Spot your Train' feature offers information about a train's current location and expected time of arrival and departure at a particular station. You can also look up the cancelled, diverted, or rescheduled trains.
It's quite an impressive app – both in function and form. It has a very neat and beautiful user interface, and the user experience is seamless and intuitive.
Download the official NTES app for Windows Phone 8 devices from the Windows Phone Store or for Windows 8 devices from the Windows Store. It's a great app if you are taking a trip by train, and a must-pin to your Start screen if you frequently travel by trains in India. Give it a whirl, and let us know how you like it.
I do not have all the details on the market in India, but from my perspective it seems as though Windows Phone is doing well there. That is excellent. It is a mistake for those in the US to focus on the US market. To be doing well in one of the world's most populated countries is a very good thing. I tend to think that being in a particular OS's ecosystem creates a stickiness, that is one tends towards staying in that ecosystem. It is also important to remember that not everyone has transitioned from feature phones to smartphones yet, and so it is important to see if one can get such people into one's ecosystem as soon as possible. That's one reason why the Lumia 5xx has been so important. I wish though that a mature version of Windows Phone 8.1 was what had been shipped on all of those Lumia 5xx's instead of WP 8. Sometimes first impressions count a lot, and it becomes a battle to correct the first impression. In like fashion MS has been battling bad first impressions of Windows 8 and that issue will likely impact the release of Windows 9 as well.

Yeah mostly from the tech lovers who love Microsoft technology and nokia

Well Lumia 520 has been greatly popular here. It's not just windows but even new entry firms like micromax and lava etc are getting love from people. It's a huge market. Microsoft can further promote the phone by just showing them that windows has everything. A lot of people here have misconception that windows is inferior to android or iOS. This view has to be changed.

and now we have the "chicken and the egg" Microsoft is pretty good at messing things up and they were certainly fairly late with the pivot from Windows Mobile to their Windows Phone series, and then a pretty slow rollout of features... How does a niche product get "everything" if developers really want to write for the bigger markets? There's an upper limit to the number of ecosystems that can or will be supported by developers, and Windows Phone is scatching at the door to be number three...

The main problem among my friends due to which they don't pick wp is that they cant download games for free in it. MS cant do anything about that. Otherwise wp is popular enough here. But i hate the fact that very few bing services are available here.

I certainly hope that Microsoft is aware of the importance of India to WP and is working on that issue now. One would think with news like this about Indian Railways, that they are aware and working on the issue.

Maybe you or one of my Indian friends can shed light on this...Why can't they download free games? Is this because it requires a Credit card on file? If that's the case I can see that's a HUGE problem but also I can see that there should be an easy remedy for this. Aside from the obvious to remove that limitation in India, users should be allowed to add paypal, prepaid cards etc. Seems like a no-brainer but I'm sure MS has not done it due to some sort of limitation and I HOPE they fix it. I am so glad that India has so much great support and love from WP and that Developers are writing these Apps. I'm in the good 'ole US of A so I don't see your issues but I can understand why it's frustrating.

Were they to add operator billing...it will be a great boon... Its not that people don't wanna spend... Its that plastic money is mostly popular with urban India... Operator billing is the key... Its hugely popular in Nokia's Symbian app store

Where you say that feature phone users should be brought to one's ecosystem in the beginning, i totally agree ! I used to have a simple nokia phone (2700 classic) till 6 months ago, my dad bought me a 520, though i had always been fascinated by android. This 520 was my first smartphone, and i got hooked into the world of MS. I'm planning to buy a 930 possibly, and i cant even think of going to lagdroid now.

I had a couple of Android phones and one of them was so sketchy it really gave me a bad impression of the OS at that time. Plus I've been a Windows boy for so long I've always wanted to try Windows Phone. I can't generalize from my experience too much as I am biased towards Microsoft. That said I have found Windows Phone to be WAY more stable than Android. I just wished that MS had put a lot more effort into getting somewhere close to feature parity QUICKLY. Now with 8.1 we've taken a big step forward, but there's still a lot of work left to do. I have a 920 and I love it. The 930 looks like a GREAT phone, with one glaring omission from my perspective as it lacks a SD Card Slot. My next Windows Phone is going to be very similar to the 930 in overall size and display size, but it WILL have a SD Card slot... I am happy that you are happy with Windows Phone.

The so-called bad first impressions of Windows 8 were perpetrated by the anti-Microsoft Tech blogs and tech "journalists". I do agree they were late to recognize and react to the whole mobile business (tablet and phone), but I for one am glad they have not rushed out "missing" features in an attempt to catch up to the competition. I'd rather it be a rigourous, disciplined development approach producing a quality product rather than spitting out buggy code just to match feature to feature as quickly as possible.

While I agree there's a significant number of tech blogs and journalists who have no love for Microsoft, however I don't think that one can "lie out of whole cloth" for long successfully. I installed the preview version prior to release of Windows 8 and messed with it for a couple of hours and just downright HATED the experience and then didn't touch it for probably a month or more. However because I am a Windows kind of guy, that did not prevent me from buying three copies at the reduced price when it was made available. I think Microsoft did a horrible job of introducing users to the new OS. I had the commitment to perservere, but I know multiple people who also had a problematic introduction and never used it again. I'm now running 8.1 on all my computers so I do not represent an anti-MS or anti-Windows 8 perspective. However I think there were a number of decisions made that in the end represented hubris more than it did an appreciation for the variability of desires of the typical user. This failure, and I have no qualms about calling it a failure, to listen to their customers is going to continue to dog Windows 8. The problem is that Windows 9 will lilkely still have Metro/Modern UI Live Tiles (as I think it should), but for a number of people they will have associated that "brand name face" with their feelings about Windows 8. It is really true, sometimes you really only have one chance to get it right. To some degree I think it is a false dilemma to say that one can either get it right, or do it quickly (especially for a company with the size, experience and deep pockets that Microsoft has).

The only reason windows phone booms in India is because of the 520.

720 has done well too in India Posted via the WPC App for Android!

Hey that's not why just look at how cute Microsoft and the railway company look in that picture, it's adorable :P

great app, i will definitely use it..

And now 525. I'm surprised to see how 1 GB ram can make this phone faster and smoother than 520. It's the best deal available below 10k price point.

635 dual sim will rock with 8.1. Ppl here needs dual sim phones.

Correction: 630 dual sim. 635 is the LTE variant with single sim for US/UK markets.

Why is it important which Windows Phone is selling well ANYWHERE? It really isn't. It's really only important that it be a Windows Phone and that the user is overall pretty happy with the phone. If they liked the phone and the OS, then their next phone will likely be more mid-market to high end. I'm sorry to say, but for WP's position right now as an underdog the phrase "beggars can't be choosers" is pretty accurate.

I was happy with my very first smartphone, a yellow Nokia Lumia 620. I didn't even give a thought about it using a Windows OS. I simply loved how bright my phone was, the colorful live tiles, the photos captured by it and the mere fact that I was the only one in my area, at that time, to have a colorful Nokia phone. It was really more of an expression of who I am. To break out from the monotony of black and white samesungs and metalic apples. A year after that, they released the 1520. And man, I didn't give my support to my parents (they willingly agreed) for one month so I can gratify myself with a yellow Nokia Lumia 1520. Hey, we need to pay ourselves in a BIG way at least twice a year. :) Now, while going to the office or to the mall, I'm seeing more and more Saudis (I'm an expat working in Saudi Arabia by the way) holding a yellow 1020 or Filipinos playing games using their 520s, 620s, 625s and 720s. A year ago, I hardly found anyone who shared my appreciation for Nokia and Windows OS. Now, things have started to change.

+920 I am happy you enjoyed your experience with your 620 and wanted to get the 1520. It's great news that you are seeing a lot of Lumia's in Saudi Arabia. Windows Phone is not doing super well in the US, it's pretty much got some of its lowest market percentages here, but at least in the short term I am not terribly concerned about that. All I really care about is that Windows Phone increases it's market share no matter where. If that increase is largely overseas that's still fine, it will just take more time for that success to trickle back to the US.... I like the 1520, but it's too big for me. I wish they'd shrink it down slightly which is pretty much the 930. However, and this is a huge big issue for me, the 930 does not have the SD Card slot the 1520 does...

That's the beauty of Windows phone :-) From 520 to 1520, you will get the complete experience of windows phone :-D so most probably 520s will convert to 7xx later :-)

...by in large true, but the addition of a Notification Center and most importantly for the 8gb 520, the ability to move apps and such to the SD card is critical. Sometimes you only get one shot to make a good impression with people...

one more useful app !! great !! After 8.1 preview my 920 is looking like a brand new phone, even after more than one year of purchase !

wow! the other irctc app was nice too! I didn't know this was exclusive, time to rub this on my android/ios fanboy friends. awesome!!

Can this app he helpful to Mumbaikars who travel by train coz IM fed up with m indicator developer. He has never updated his app yet.

Highly informative app. Thanks for sharing

More hands are flashing Windows Phone in my town in India!

India apparently isn't in the hands of that fruit company. Unlike my country, the country of cheese, chocolate and *cough* fruit.

I am not in the industry so I am not paid to analyze these trends, but to my understanding of Apple market shares, their highest is in the US. So while I am unaware of exactly what is going on in Switzerland, I tend to expect that Apple has a foothold in the "up market" category and in certain segments of the trend seeking... Apple will continue to dominate "mind share" due to the strength of their ecosystem, however if they do not do well in markets like India or China their long term dominance is up for question (not doubtful, but up for question).

I wonder if Satya will use these when he goes home to visit family and friends.

He's rich he will get a flight pr travel by any posh car for local traveling.

He can book a first class ticket for commute ;-)

Unfortunately those who have changed their phone's region to US for the love of Cortana won't get this app. I tried to download it through my laptop but it said this app isn't available in your market. Well once Nokia brings in the much awaited GDR3 update with Cortana maybe then can give it a whirl. But as of now I am too happy with Cortana to part ways

Try changing region to India. Download the app and then revert the region to us?

Umm... GDR3 is available in all the phones right??? You mean to say 8.1? :-)

I think they meant one of the GDRs for 8.1 as Cortana will be rolled out to regions over time as they complete the region specific tweaks...

Change region to India, download app and change back. You'll get back Cortana exactly the way you set it up. I also downloaded the India election 2014 app by Microsoft (Abhishek, may be you should cover that as well; sorry if I missed it in case you have already) by changing back to India. Once in a week, may be you can make it a habit to change regions once a week, check for region specific app updates and change back to the US for Cortana fun.

Can't download it showing not available for your phone iam usin wp8.1dev preview with us as region to get Cortana ,is the app region locked or do not support wp8.1

I'm using 8.1, and I'm able to install the app,I think the problem may be with your region settings

You need to change region first

It seems that the app is not available for WP8.1 I am getting "app is not available for your device"

you might have changed the region to us for cortana just like me and many others...will have to change back to india to get the app.. but i fear cortana will go away..
Will it come back if we change it to us again after installing the app though???

Excellent work by Indian Railways and MS. I am a frequent traveller by trains and such apps come in very handy for me. More over its the official app so really great !!

Lumia 520,720,710 and 610 are hugely popular in India....no love for 620 :'(

Y no love the app is for everyone. If your in US region change your region back to India and download it and get back to US region for using Cortana

I thought he was talking about the UNPOPULARITY of the phone (Lumia 620), unlike 520, 720, 625 and not UNAVAILABILITY of the app...
(710,610,510 ain't that popular though!)

I cant install it on my Lumia 520 is this because I have 8.1 installed

Change your region to India :-) you will get love from IRCTC :-D

Check your region. This app is available for 8.1 also. All WP 8 apps can be installed in WP 8.1

yo hoooooo........thanx Abhishek for this tremendous news.....desperately needed this app

app not available
This might be because the app isnt available in your country or region, it was removed from the store by the publisher,or its exclusive to a different mobile provider. what the hell is this... anyone getting the same?

Change regions, download and change back. You can refer to my reply to Chandan Hati above.

Omg .! Can't download this much needed app just because my store is set to USA (for Cortana purposes) .. Is there a workaround?

hehehehehahaha....grt caption abhishek:)

Good to see another useful exclusive app on Windows Phone 8.

Well written and captioned article Abhishek. I already had that app. Thanks!

i am not able to download 8.1 on my 720.even i have already logged in using 'preview for dev' app..my setting menu doesn't show any update..can anybody help me

YOU HAVE NOT SIGNED UP FOR APP STUDIO FREE DEVELOPER ACCOUNT...search it over net or when u first open the preview app u vl c a link called learn more..click it and u ll land on the page showing options hw to sign up,the third vl b a free one click on it and on the next page sign in and enter ur name...u r done!!nw run the preview again n enroll!!

Nice app...wish they would update the m-indicator..!!!

Pity that this app isnt available for all of us 8.1 users who are in India but switched our region to the US to get Lady Cortona!

Ppl with Cortana, does the store say that this app is not available for you? Just wanna confirm if it is coz of the region thing

Its just about since the app released and its already sitting with over 600 reviews and a 5* ratring which shows how beautifully the app is designed !

These greats move Microsoft help governments in any different countries to make their services popular

Also launch this app for windows 7.8 version phones.. Lumia 710

I personally hate the IRCTC app due to the below reasons 1) It does not allow you to login until 12 Noon stealing your chance of booking Tatkal tickets on the go. 2) It does not sync your bookings made via website and the app. It makes it difficult for me to get the PNR number of my booked tickets and check the ticket status So it is equivalent to people in Android / iPhone not having the app.

Latest app version is not working properly on my Lumia 925. Anybody there with same problem
Windows Central Newsletter
Get the best of Windows Central in in your inbox, every day!
Thank you for signing up to Windows Central. You will receive a verification email shortly.
There was a problem. Please refresh the page and try again.