Microsoft confirms plan to rebuild Edge browser using Chromium on Windows 10
Edge UWP is no more, as Microsoft commits to rebuilding it from the ground up as a desktop app, this time powered by Chromium.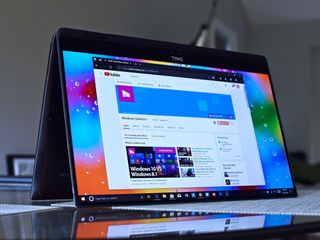 Microsoft today confirmed plans to rebuild its Edge browser using Chromium, in a move designed to improve web performance and app availability across platforms. Windows Central reported earlier about the shift in strategy and now it is official.
Rebuilding a web browser from the ground up is no small feat, but Microsoft says it is committed to providing the best web browsing experience on Windows. A developer preview of this new version of Edge should be ready in the coming months, which will provide us with our first look at Microsoft's new browser. Those who are interested in the Edge preview version can sign up here to be notified.
Microsoft is not just slipping the Blink rendering engine of Chromium into the existing app on Windows 10; it is building the entire browser again using Chromium. It's doing this for two reasons, the first of which is that it allows the company to bring the app to older versions of Windows such as Windows 7, Windows 8, and even Mac. Second, it will enable the app to be updated independently from the OS, which is something Insiders have been calling for since Edge's inception in 2015.
Microsoft Edge and Chromium: Your questions, answered
This also means that many of Edge's existing features will have to be rebuilt for the new version, which Microsoft says it is committed to doing. However, not all features may make the cut, as the company is looking into which features make sense for its new web browser. However, we believe that everything that makes Edge unique, such as its focus on inking, providing an excellent reading and PDF experience, will still be there in the new Edge.
It will still be called Edge
Microsoft is sticking with the Edge branding with its new browser, and most users will notice very little change when this new version of Edge is ready to replace the existing version as the default browser on Windows 10. It's likely we'll see the UI change a bit, some old features get removed, and some new features show up, but the number one benefit for moving to Chromium is that web pages will render better using Chromium's Blink rendering engine.
Microsoft is going to start partaking much more in the development of Chromium, as Chromium is an open-source project. Up until now, Google has been the only major player contributing code to the Chromium project, but now Microsoft is in the game and is ready to commit code to improve Chromium. For example, Microsoft knows that Chrome isn't as good as the current Edge at touch scrolling, so it's going to work on improving that experience in Chromium so that the new Edge doesn't miss out on that smooth scrolling experience.
Microsoft's Corporate Vice President of Windows, Joe Belfiore, said the following:
It's no longer a UWP app
To fans, the biggest news might come from the fact that the new Chromium version of Edge won't be a Universal Windows Platform (UWP) app. Microsoft tells us it's a standard Win32 desktop app, and we're hoping that will tap into Fluent Design APIs for things like Acrylic and Reveal effects throughout its UI. There's a reason Microsoft didn't opt to go with UWP, and it's because Microsoft is prioritizing bringing Edge to other platforms over making it exclusive to Windows 10.
Building Edge as a Win32 program allows Microsoft to also bring it to Windows 7 and Windows 8, which opens up a vast new market for potential Edge users. Right now, on desktops Edge is limited to Windows 10, which is on around half of all Windows PCs. Bringing it to Windows 7 essentially puts it on the other 50 percent, making it available to about 500 million more users.
Microsoft wants Edge to be taken seriously, and bringing it to new platforms in addition to rebuilding it using a technology most people love, should help shift its reputation. Of course, the new Edge will still tie into your Microsoft account and sync your passwords, bookmarks, and other data across devices.
A massive shift for Edge
While Google started Chromium, Microsoft is free to take Chromium and "make it their own." Google forks its own version of Chromium and adds all the Google-ly services and functions into it. Microsoft is essentially going to do the same using its own services and functions.
This is a massive shift for Edge and Windows 10, and one that's going to divide fans and developers for months to come. However, once the new version of Edge is ready, I think most people will be happy with this change. It means web pages will render better, Edge will be updated with new features and changes much faster, and Microsoft can bring Edge to the other half of Windows users.
There's still lots that Microsoft needs to work out with the new version of Edge, and I'm sure we'll be hearing about those plans in the near future. What are your thoughts on the news? Let us know in the comments.
Get the Windows Central Newsletter
All the latest news, reviews, and guides for Windows and Xbox diehards.