Windows Phone 8.1 Update 2 confirmed for select existing smartphones
Microsoft has confirmed Windows Phone 8.1 Update 2 "GDR2" for select handsets, including the Lumia 735 and Lumia 830. Availability is currently unknown, but it's in the works.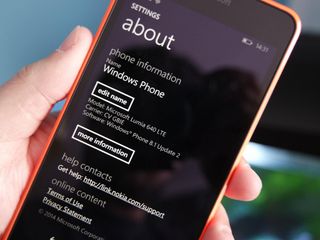 In order to be able to enjoy Windows Phone 8.1 Update 2 you need to be rocking either the Lumia 640 or the Lumia 640 XL as these are the only Windows Phones with access to that particular release. Microsoft today shared details on Update 2 during a Q&A session at the UK launch of these two smartphones, stating that the update will come to select devices in certain markets.
The company did note that both the Lumia 735 and Lumia 830 would receive Update 2. It's not known when or where the update will be rolling out, not to mention which handsets will receive that version of Windows Phone 8.1. All we know is the update is planned for some Lumia 735 and Lumia 830 handsets.
The remote kill-switch laws were highlighted in the response during the session, which signifies the possibility that Windows Phones in the US will receive Update 2. Though again, it's not known as to which networks would roll out the update or if any Windows Phones aside from the Lumia 735, 830 and 640 would receive Update 2.
We'll hopefully have more details in the near future.
Rich Edmonds is Senior Editor of PC hardware at Windows Central, covering everything related to PC components and NAS. He's been involved in technology for more than a decade and knows a thing or two about the magic inside a PC chassis. You can follow him over on Twitter at @RichEdmonds.
And of course not the 930...

Because 930 gets the full Windows 10 experience. It's not that hard to see the pattern, is it?

huh? that makes no sense... the 735 and 830 (and all other phones on 8.1) will also get Windows 10...

Also I wouldn't be too worried about 81-update 2 since Joe Belfiore also said the Lumia 520 will get Windows 10 (Mobile) so that means all phones with 512MB of RAM or better will get Windows 10. Of course low end phones won't get all the features Windows 10 (Mobile) will give users with a high end device like the 930 I'm just hoping carriers will be aware that their customers are expecting to get Windows 10 on their devices as soon as it is launched, just like in the iPhone and iOS ecosystem.

No offense mate but do you know when Windows10 will come to 930? I am telling you that is for sure not this year. And no I dont want to use Insider program to have a buggy OS. So I think Update 2 would have been a better choice.

Windows 10 is coming late summer/early fall to all wp8.1 phones.. the lates possibility is early winter I'd say

citation needed there... Windows 10 will be released late summer... but there is no indication when updates will actually be released for EXISTING devices

can't you download it through the developer program once it is release? you have to wait for carrier approval for firmware, but the you can get around the carrier for the OS.

Or that Windows 10 for phones will be ready at the same time. MS has already confirmed Win10 for phones will be a different SKU.

At WinHEC Microsoft outlined Project Milkeyway, which is intended to speed up the release process so that all supported devices recieve Windows 10 within 4 - 6 weeks of being launched.

Microsoft said that all Windows Phone 8.1 devices will get Windows 10 in a maximum of six weeks after it is released. Sorry, I don't remember where I read it, probably in this site.

Oh c'mon are u that blind for God's sake? Have you forgotten how long it took for Icon to receive Denim? And now are you telling me with such confidence this bullshit story? I am pretty sure that the existent flagships like Icon/930/M8 will see Windows10 in 2016.

Did you miss the entire part of WinHEC called "Project Milkyway" where Microsoft will from now on do all of the OS testing (since the carriers are taking too long) and all the carriers have to do is make sure their apps work. The days of taking 6 months to update an OS are gone.

I would've gone with memory loss instead of blindness since you followed up with "have you forgotten...".
I think we all agree that the official/unofficial way to get around carrier delays is Windows Insider/developer preview. If you choose to wait that's your call but I say 2015

And you believe in this? Some devices doesn't have Denim yet, almost 4 months after the realese...

I know it takes a while. But be grateful that you'll get it eventually. And not get stuck 4 versions behind like some lagdroids.

That's because project milkeyway is for windows 10! Not windows phone 8.1, and PM hasn't even been implemented yet

Nope. W10 is going to be launched in summer and the roll out will commence after that. So launch in September. Roll out starts in December and by the time all the existing phones get it - we are looking at next June. Yes, June 2016. No way are we going to see W10 on all phones before that. Especially on Lumia 930 and Icon.

Sorry mate. I think project milky way will mean release in September and rollout in October

That would be amazing to say the least, but you're clearly dead wrong unless you prove otherwise.

Cannot be completely wrong. Microsoft treats us as new wine needing vintaging. So we will be older for sure.

930? You mean the unloved, stepchild flagship i bought?

Tell me about it. My 925 isn't getting much love either, in fact, none of the flagships are. Microsoft better hurry up on that new flagship after windows 10 or else i have to jump to android.

Yeah, like you'll get updates on Android /s

How on earth would you know this for certain?

just like every other windows phone 8.1 devices

The 930 is in a league of its own because of the processing power it has

..its kinda sharing the seat with the 1520..

can u update the lumia 1520 to windows phone 8.1 update 2 ??

I wish Microsoft could Love 930 as the users but they didn't

Will anyone here talk about L830 as well, please ?

who needs that with win10 just around the corner? ;)

Hahahaha "just around the corner"
Hahahaha
Man, Windows 10 mobile will take almost 1 year from know to be deployed to everyone...

through carriers, yes. you can get it faster through the developer program.

W10 is a new OS, not just a minor paintjob like 8.1. Firmware will be very important here to provide updated drivers, which is not provided with the Preview for Developers. Without new firmware, one can expect subpar camera, battery and possibly BT/Wifi performance. It is still very important that MS get this through the carriers as quickly as possible.

If your current phone has either Cyan or Denim firmware already installed, it will NOT require a firmware update to run Windows 10. This is why Microsoft is providing the W10 Tech Preview, to test the phones to ensure this is the case. So far, no phones seem to require a firmware update to run W10. Lumia 930 and Icon are not getting the latest version of W10 Tech Preview because of a bug with device scaling, but not firmware problem. Microsoft says they are working on this for the next W10 Tech Preview release. Another thing to remember is that W10 is NOT W8.1. It is a whole new operating system designed to work on a multitude of devices. It "adapts" itself to whatever device it is being installed on. Therefore, it will download whatever drivers/software/etc. needed to operate correctly on that device during the installation process. Carriers will have NO sayso in this update availability as it will be distributed directly from Microsoft. The only thing the carriers need to worry about is getting their own apps to work on the phones and Microsoft is offering assistance to any carrier that requests it.

This "new OS" talk is rubbish. They clearly forked Windows Phone 8.1, not any of the W10 builds.

We can only hope for Win10 to reach us by the end of summer ... I especially had luck with devices that got update the last.

But dude for security reason we need to have that update ...a particular very important security update is that

the resale on WPs isn't very high. i don't think you have to worry about anyone trying to steal it. this security feature isn't that important.

Not everyone wants an android clone OS to replace the WP we actually chose from the start.

BOOM! You are correct!! I am certainly in the camp of not really looking forward to W10 from what I've seen so far.

Correct, I think it will be only some small firmware updates, due features are brought through win10

Seriously I was thinking the same.
Just before the release of the TP I used to get excited for every WP update whether small or big. Since the installation of win 10 tp I'm just like ok...hmmm...another 8.1 update.. :p

Yes, particularly the kill switch feature. It might be in Windows 10 too, I believe blog italia mentioned. Despite this, select mobile companies provide their clients with such support I'm afraid, independently of phone OS capabilities.

That corner is 'coming soon' :P

Thanks a lot Microsoft!!!! After seeing all those ugly W10 Screenshots, I consider not to update. But Update 2 would be really great!

I dont agree with you about w10 is ugly

A lot of the UI elements are nice, but another lot of those are beyond ugly.

Same here. I don't want Windows 10, I want 8.1 Update 2.

Me too, low-end phone would be slow with a lot of enhancements that I don't really need.

No they wont. Windows 10, just like windows phone is designed to run on low end devices first, then it is put on high and devices. Just like we don't really have too much fuss running wp8.1 on a Lumia 520, we shouldn't have any fuss with windows 10 on a Lumia 520 either

I remember the time when WP8 is run smoothly and flawlessly on Lumia 620, now WP8.1 bring the action center etc, now we have a lot of "resuming..." screen, sometimes it show even when unlocking the screen.
I doubt that with multi row shortcut, actionable notification, real time syncing and many new feature, that will run smoothly on low end device. Except they give us option to turn it on or off.

I agree with you about the piunts you mentioned. But perhaps they wont bring all those features to low end devices, because they said that lower end phones wont get all the features of the high end phones on Windows 10 because of hardware limitations (slower cpu, 512mb ram etc) so you're right, they might be slower id they had all the features, but MS said that they will have limited features, so not to destroy the awesome user experience

You should turn on kids' corner to end the resuming screens.

You guys are quite weird not wanting 10 with all its improvement. Smh

I don't know.. It kinda... uglyy

All what improvements? Improvements or changes? I want to see everything before I decide to install on my 1520.

Yeah I don't get that either.

The UI of current tp version might be inconsistent and ugly (seriously...?!) but the os is definitely promising...after installing the tp version I was actually cursing myself but later I couldn't switch back to 8.1...despite of instability (somewhat) the os is just amazing... U would get bored with your phone if you try win 10 and switch back to 8.1

THIS. There will be inconsistencies as MS tries to add features and all. UI polishing will be at the end, but expect them to update UI one step at a time. Duh

Agree! Add the cursor-pointer tool to the keyboard of 8.1 GDR2, release it to Dev preview and I would likely be happy to forego W10 until getting a new phone with it pre-installed. As is, I'm just hoping W10 isn't as bad as the previews and leaked shots we've been seeing.

W10 is not ugly, its much better than wp8.1

I'm starting to question alot of the negative feedback about W10, I often wonder how much is android or IOS users just spreading fud.

I disagree. And so do many others. It IS ugly.

Opinions are like armpits, everybody has one. And mine is that from what I've seen of W10 for phones, it fell out of the ugly tree and hit every branch on the way down

Yeah! W10 looks fugly but update 2 would be very welcome, particularly if they include NFC payments and Cortana improvements...

730 too dude...dont worry...when they mean the 735 its actually the 730 for the rest of the markets...glad that Microsoft just did away with this 5 at the end naming strategy for the lte versions

Thank god. I actually got nervous ;P

If you are very excited and want something new to try then make sure you install win 10 tp tomorrow ( if you're ok with few freezes) ;)

Sure, my 830 that still doesn't have the full Denim.

Same for my 635. Funny thing is I can put the Win 10 preview on it.

Strange huh? Microsoft my 635 is still waiting.

That's not microsofts problem. Its your stupid carriers problem

You're right that's my bad how could I forget about that.

Just so my previous comment isn't misread, I didn't mean to call you stupid, I meant to call your carrier stupid for not testing the update quickly enough

This has been the biggest diasappointment with the 830 since it launched.

Yes, I want my Lumia Camera 5.0!

Hi. I already have lumia camera 5 on my L830. I just installed the latest firmware using the firmware of Malaysia L830. Just look for how to install new firmware online. It works.

*This... I bug ATT everyday on fb and twitter.. Even called them a couple times... My next step is walking into the store and demanding a refund for the fraudulent misleading sale of this phone.. Microsoft's hands aren't completely clean in all of this!

Are we gonna see a finger print scanner on the next windows phone flagship or are we gonna wait two years more for such innovation? I'm just getting bored with windows phone. Hello from Russia.:))

Finger print scanner...realsense 3d camera...as well maybe...they are showing off all those biometric features...so they got to put it somewhere

Fingerprint scanner? ....pass! not needed

It is really helpful when you don't want people around you to know your unlock password

This. It can be useful. Plus it will be an option, you won't be forced to use it.

Does it work with fake Denim or needs proper Denim? #ATT #FAIL

Um no Lumia 1520 I guess? :/

1520 should receive it, at least. Damn it. I think they should use the settings app from grd2 and put it w10. Same UI but at least the grd2 settings are reminiscent of the current ui

No, settings app is universal. What you see for PCs will be for Phones. This is the main focus of 10 - streamlined experience.

My Lumia 925 is starting to feel old and lonely.

Ok, don't worry, this feeling is going to last just 24hs! ; )

Your 925 is right ...dual core in the age of quads

You just insulted my 920... ;)

I knew I picked a good model 830 is great for updates and win phone 10 preview.

Not if you're in the U S..... Still waiting on ATT to release the damn Denim update that the phone was advertised with... Feel ripped off for buying this phone, shame on Microsoft & ATT!

The USA Telecom carrier problems would stop being a problem once the customers stop being slaves to the telecom carriers and start buying unlocked, full priced phones like the rest of the World.

Those who followed this advice in the US still got the shaft with the 830. The US unlocked 830 direct from Microsoft also still does not have Denim.

Tweet @ATTSupport and tell them you want denim.

Shame on att only. Microsoft has done its nit, just att not lulling its weight

Yeah! 830 is the first preference for Microsoft these days for supported handsets. At least..for now..
I had this slight confusion to buy 930 or 830...I chose em right this time.

Eh em, preview for developers? Microsoft seems to not support programs like this long term.... It's a shame really. They build momentum but can never carry it. (See windows phone market share and flagship releases.)

windows 10 isn't finished yet, pfd is for finished os versions

Isn't pfd itself practically finished? Serious question.

That's what we thought about WP8.1 updates too... There hasn't been anything said about PfD being done.

Ok, but latest Denim is coming outside pfd. I know you prob. know it, just mentioning.

Not sure what you mean, but firmware updates have never been provided in PfD.

Yep, you're right! But the WP 8.10.14219 version provided by the PfD program was Denim. The 14226 however, one can only access as of today if outside PfD. Well, I believe we better wait to see how it goes.

So? This has nothing to do with W10. I too was wondering about the Preview for Developers program when I read this article. Hopefully Update 2 will be released there, there's nothing that says it won't. But yeah, Microsoft has a history of abandoning projects like that....

Another swerve by MS. Left hand says one thing and right hand says something else

Nice move...makes sense since these devices have very much in common

I think i made a mistake buying Lumia 930.

Same here, apparently flagship buyers do not deserve the same customer service

No. You just have to fuckin chill and wait idiot.

Did you buy a 930 big boy?

Yes, I got it 2 months back. It is a beast but I am missing win 10 and gdr 2

Yup... The reason I am disappointed because, I bought 930 so that I will get updates early as it is a flagship phone. I can wait... :(.

This is a tech preview, not the official update. Impatience leads to destruction. Do you really want to try out am unstable OS on your phone?

Lumia 830 is really a lucky phone...and am too really lucky

I m just bored of these rumours. By the end of summer I will probably switch back to android.. Cant afford Iphone.

Yeah, like you will get updates on Android /s 70% Android devices don't get updated, even once.

But what about Lumia 825?

What about the 635? Anyone know? I can always go back to my 830, but I love this little phone!

You like the 635 better than 830? Are you crazy?

Doesn't really matter much, getting the lumia640 xl the next month......:D

Awesome! Good for you! :)

I don't know why microsoft is making gdr2 when they're working on windows 10.!
They should've released 10 till July.
There's no point of gdr2.

Because part of it is the kill switch required by the U.S. Microsoft has to offer it to phones currently being sold there for starters.

I hope it's also to fix the problem with the navigation buttons not being as responsive after the Denim update.

Update 2 is dead to me, it's all about windows 10 now

Only Microsoft branded phones shall get it

don't know about the 735, but the 830 was still Nokia branded

Windows 10 will be out before the update is even pushed out is my guess especially if it has to go through carrier approval.

There will be a GDR2 update for nearly all handset, this is not everyone who will or want to install WP10 anyway nobody will have a real and stable version of WP10 this year !!!

I don't think anyone cares about this update with windows 10 on the horizon

I have a feeling, Lumia 930 will be the flagship that Lumia 900 was. Ignored like a plagued bitch.

That's what happens when there are virtually no sales in the US. The US is not WP's biggest market, but it probably is for flagships.

I haven't received any sort of update in a while now ... I don't know if my phone even exists in the market .... Would someone help me out ..... L620

The last update was when I got the mobile data in notification area all my frnds without using the dev preview have higher firmware then mine although I am on dev programme

You received the last update for the preview users ( I believe it's 8.10.14219 ), they didn't release update 2 to preview... and some phones that received the "official" update (with Denim) have a higher version... check the Microsoft site if you carrier released the oficial update for you phone: http://www.microsoft.com/en/mobile/support/software-update/wp8-software-update/ If the version in this site is higher than yours try to remove the flag in preview app

My OS version is: 8.10.14219.341 Firmware revision number: 3058.50000.1425.0001. I recieved the last update in december after which i have had no luck. i have tried removing the flag stuff but still no luck. The status of L620 in my country is: Lumia 620
Country variant
Denim
8.10.14219.341
3058.50000.1425.0001 but still software release remains as CYAN

There is a bug that sometimes causes it to say cyan when you have denim. The best way to know is see if you have the denim only features. In the case of the 620 I don't think there are any so you wouldn't be able to tell anyway. You probably already have denim. The version number is more important than the name anyway. Go to the forums if you have more questions.

thanks just wanted to know a friend of mine uses l730. that phone recently got an update but the mobile data doesnt appear in notification centre as yet.

I wonder if this is why US 830s haven't received full Denim yet? Maybe they're just jumping straight to Update 2.

I was thinking the same thing when I read this article, makes sense since it seems like multiple models of the 830 did not get official denim yet.

I also wonder if the new US kill switch laws have anything to do with it. The 1520 won't be sold anymore, but perhaps they're planning on keeping the 830 around long enough that it'll have to be compatible with the law. That seems a reasonable reason why US varients (esp. the US CV unlocked RM-985) don't have it yet.

Guess the means ill have to wait 2 years for the AT&t 830 to get windows 10 cuz update 2 wont come till next year