Microsoft considering to add firmware to Insider program for Lumia 950, 950 XL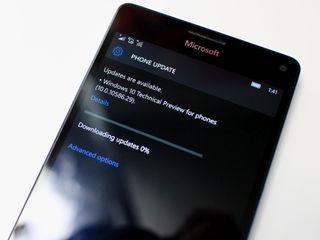 Beginning around two weeks ago, Microsoft started to push out a significant firmware update for the new Lumia 950 and Lumia 950 XL. Being the first for this device as an over-the-air update, Microsoft is collecting telemetry on the update to ensure that there are no issues. This process is, at least, one of the reasons for the rolling nature of the update and why not all devices are currently getting it.
In the US, the unlocked dual-SIM Lumia 950 XL began getting this update on Wednesday. However, once again, there are discrepancies as not everyone sees the upgrade (including our phones). The explanation here, however, is different.
If you are on the Insider Program for phone and build 10586.36 you will not get the update, at least not yet. An option is to unregister from the program, back up the device, hard-reset and then get the update, but for most people that is not exactly a convenient option.
The reason for why some see it and others do not is Microsoft just has not put the new firmware on the Insider servers. The news comes via Jason, the Program Manager on the Windows Insider team, who acknowledged the current limitation on Twitter:
In response to an inquiry about the plans to eventually put the firmware on the Insider servers, Jason responded with "Working through the discussions." However, the outcome of those discussions is not yet known.
Although disappointing, the tweets do reveal a few interesting bits about the Windows Update process.
Firmware is separate from the Insider program but grouped with non-Insider OS builds
Microsoft is considering letting those on the Insider program also get firmware updates, possibly even before they officially roll out
At least, in theory, Microsoft could give Insiders firmware for their Lumia 950 and Lumia 950 XL. Presumably, there are potential complications with such a plan as flashing firmware can be riskier than just updating the OS. Then again, for those who sign up for the Insider program risk is certainly in the cards and expected.
The bad news, however, is that if you want that new firmware for the unlocked dual-SIM Lumia 950 XL, a hard-reset is in your future. The good news, at least according to Jason's tweet, is that update should be on the Insider servers sometime soon: "I don't expect it will be on the Insider servers this week…"
To cut Microsoft a little slack here all of these programs, updates, and different build tracks are new, and they do need to proceed cautiously. Potentially "bricking" many phones is also not the desired outcome. For now, we'll have to wait until Microsoft sorts it all out. At the very least, these are still good problems for Windows 10 and Windows 10 Mobile to have when compared to updates in the past.
As to the 01078.00027.15506 firmware update, many users in our forums are reporting a positive experience with less sudden overheating, better battery life, and improved OS performance. Finally, for those on AT&T with the Lumia 950, it does not appear to matter if you are Insider or not as that phone's update (along with some other regions for unlocked variants) is still not live anywhere. Presumably, AT&T needs to approve the update first for their Lumia 950.
Source: Twitter; Thanks, jlangner_bama1, for the tip
Windows Central Newsletter
Get the best of Windows Central in in your inbox, every day!
Daniel Rubino is the Editor-in-chief of Windows Central, head reviewer, podcast co-host, and analyst. He has been covering Microsoft since 2007 when this site was called WMExperts (and later Windows Phone Central). His interests include Windows, laptops, next-gen computing, and for some reason, watches. Before all this tech stuff, he worked on a Ph.D. in linguistics, watched people sleep (for medical purposes!), and ran the projectors at movie theaters because it was fun.
Yeah, I just did a reset. If you do a backup, resetting the phone is pretty painless.

You must not use your phone much. For me it takes 5+ hours to restore and re-download all the apps and get things configured again. Then there is the complete loss of game progress data, loss of text message history which may, or may not, get restored over time. (Or in some cases gets restored multiple times causing many duplicate texts to show up in the history.)

Or in my case I cannot download speech languages since I reset to get new firmware on Tuesday!! (DE unlocked single sim xl) So now I can't use Cortana or quiet hours or anything else I found useful, dont really want a hard reset again as 1 it takes too long, 2 I don't know for sure it will fix the issue.

Rejoin insider and it will work. Just need to point to insider servers

Text message history is always synced on all my phones, even ones just on WiFi. Never heard of anyone having issues with it.

Lucky you. I have had lots of issues with it, and from reading the forums here many other people have as well.

Best solution is to use contacts+message backup app (in Extras) to backup your sms before a reset. after the reset, delete all the synced sms by "select all", then restore the sms through the contacts+messages backup app. The auto sync method does a poor job at retaining the name of message senders, especially if the sender is not an actual phone number.

Too bad the Contacts+Message Backup app crashes when backing up my text messages on my old phone so that isn't an option. (That and the old phone hasn't been getting the new text messages, so I would be missing months of history.)

For your first reason, simply uncheck the contacts option. Backup sms only and it won't crash. (worked for me).
For the 2nd reason, apply the same method to backup your recent sms.
You can always restore more than one backup

Wha part of "the Contacts+Message Backup app crashes when backing up my text messages on my old phone" did you not understand? Yeah, and since most of the messages have synced to my new phone, in some cases 10+ times, restoring yet another backup would duplicate them even more times. No thanks, it is already a big enough mess.

Yeah, the text message mess is a pretty common, known bug.

Exactly @MP3Mike. If you play games and buy add-ons, you lose all of that as well.

Truly, I can't count how many times I have to re-sign in to all my accounts just to get stuff and yeah, the games...like why can't they save my progress if I'm using my facebook account to do all this other stuff? =\

I wish they continue working on the older phones as well. My 1520 still has many annoying issues. Makes me real nervous to buy a new Microsoft phone. How long will they support it before they reinvent themselves again with a whole new generation of Windows?

When does he "literally" say that it's not coming soon? You're not seriously expecting them to push out firmware on a weekend are you? Holy sh*t, people are dense.

The phone was absolute junk with very frequent reboots... I couldn't wait, I backed up and flashed the phone using WDRT and got the new firmware. Been much better now. Phone still reboots when switching keyboards and typing in WhatsApp... Quite frustrating... I don't think I'll rejoin the Windows Insider program even if they make it available...

I restarted my XL from scratch to see if I could help the battery and heat problem. I was coming off the back of a 925 and had heard that cross-pollenating phone backups was not a good thing. I got the f/w update when I did this. Battery improved too.

Yeah, as adventurous as I am, I don't really want to do that....

...and testing it out on non-insiders. As is said, everyone is an MS beta tester now. Even after 6 months, I feel like that about Win 10 on my Dell Venue Pro 11. Not reliable, battery drains much faster, and does very wonky things nearly every day. My other Venue Pro with 8.1 performs flawlessly.

I agree. Just got a new maxed out Dell XPS 15 about a month ago because W10 ruined my SP3. W10 is still holding back the XPS. Random glitches everywhere. It's getting really annoying. Thinking of going back to Mac.

At least in this situation, the case is the opposite. The firmware is official and non-beta (was tested internally), but it is the Insiders (OS beta testers) who now cannot get the official update. The whole 'cart before the horse' metaphor seems apropos.

That does make sense. This is the one area that I am not oppsed to carrier testing though. More eyes the better. But, yes, insiders need a way...

my misinterpretation, you are right

My guess would be that the new firmware has been tested with the current official OS release but not the latest Insider build.

Daniel, You don't need to leave/unregister from the Insider program, you just have to hard reset or use WDRT and you are good to go. Leaving the Inisider program just ends up reseting your Insider since x date. (Hopefully having done that won't impact my possible selection for special programs/perks.)

True, just using Microsoft's guidance on the issue.

What about 520 and other window phones \window 10 updates..??

yes, what about lumia 810!

No news about windows 10 mobile progress.. Just lost somewhere.. No hope till march or april

Seriously, the 810 question again? Does that even have 8.1? Posted via the Windows Central App for Android

Not officially. Had to use Preview for Developers program to get 8.1, which is needed to get 10 through Insider Preview. Not even sure if that program is still active to get 8.1 on an 810 that still has 8.0. Windows device recovery takes it back to the official t-mobile 8.0 version of the OS, so users need to make sure they have a way to get to 8.1 if they use recovery to reset.

Don't you have to have Lumia Black at minimum to get the Preview app..? =[

All I know is that I updated two 810s. It was possible. I'm just not sure if the Preview for Developers program is still active after all this time, considering that was for WP 8.1. My 810 with 8.1 currently says Lumia Amber. From there I was able to get the other one to go to W10M. I can't check to see what firmware version that one is on now because that phone died about a month ago.

With this kinda pace, we won't get it in two months from now. We might get it on summer..

In a post specifically about the 950? Away with you.

If you want to beat iOS you have to do better.

i think the updates on firmware and the insiders build are better on WM10 that on iOS, i always read a lot of complains over twitter when they got updates. All the complains over the windows forums are related that they dont got the update early, but not that the new update doesnt work

Other an 'actual' developers, folks on iOS generally understand they DO get an update once a year, and the get it in short order after it is officialy announced. It is never a wonder if I get it, or when I get it or will my carrier support it. Only thing to complain about is glitches in the new version, or botched updates. Those happen to any OS update. I'm not here to defend iOS, but it is a different environment. They've been updating the same OS since 2007. In 2007 MS released Windows Mobile 6. Since then we have had Windows Phone 7, Windows Phone 8, Windows 10 Mobile, three distinct mobile OS reboots. Any wonder they can't get any traction. P.S. IMHO Android has just about caught up to WM6. Think where MS could have been.

iOS has had 7 major updates since release. Despite not being reboots, any apps don't support previous iOS versions, so same difference in a sense. I think I'd rather reboots than yearly minor updates that'd take any other decent software development team just weeks to work through. Having said that, with reboots, should keep the same features as the previous build, otherwise it is just treading water, which they have been doing up to now.

Well, their goal is not to beat iOS but provide Windows users options...like since I will never have an iAnything, its necessary for MS to provide a device and OS for me. =[

Do it, do it. Though my 950XL is running without issues, its still nice to have FW to make it better :-).

ANY news ANYWHERE about firmware updates to other phones for win 10 mobile? Because honestly on my 920 and 930 they run much slower and drain battery enormously.if we just get the OS update (again,question,when?), the experience is a joke.and please,resizing of the pictures in outlook when aded as an attachment is a MUST...

It's terrible performance and many layout problems on a 521 also. However, a tip learned here about closing Edge completely through the task switcher to improve standby battery drain worked. Just doing that has tripled my standby time.

Off topic: Is anyone getting mail notifications for someone replying to your comment in articles on w10m? Is it broken? Any fix?
Had used forums earlier but no one replied.. :/

Actually, no I'm not. Never did.

It has been broken for months now. Hang fire tow the W10M app comes out.

My AT&T 950 is unusable. It's now sitting on the desk with several retired Windows phones. Until they fix it, I've had to resort to using my 640 as my daily driver and with the IP installed, it works better and has better battery life .

My AT&T is extremely usable, it is sitting on my desk right now. If your phone is unusable, you should fix it yourself as it being "unusable" isn't normal and if you have serval retired Windows phones, you should know this and know how to resolve the issues that you may be having.

I'll wait....just not in the mood to reload ALL my apps on my 950XL....If there's even a slight chance of bricking my phone, I will definitely wait.

Dang, so this probably means I'll have to reset my 640 if the official release of W10M comes along with a firmware update.

Likely a good idea anyway, for better performance. That is, if they ever de-bug w10m.

I don't have any complaints regardign performance on my L640.

Well someone slipped up somewhere or this information isn't completely accurate. I have a Dual SIM 950 XL in the US on the Insider program running OS build 10.0.10586.36 with Firmware revision number 01078.00027.15506.02005. I received the update on Wednesday when Windows Central posted that it was being released in the US and Canada.

By chance did you do a hard reset after you upgraded to 10586.36? If so that removes the phone from the Insider program and points you back at the production update servers. You would have to reinstall Windows Insider and re-enroll to get back in the Insider program.)

You're right, I did do a hard reset after I upgraded. Mine was one of the ones that wouldn't get .29 or .36 without a hard reset. I also did a reset after applying .36 in case there were any issues and I never signed back into the Insider program. I thought I did, but that turns out to not be the case.

Strange. I did a hard reset a few days prior to the firmware release. Never left the insider program. On .36. Recieved the update right away. Also, When I was on .29, I did a hard reset. I did not open the insider app and re-join the program afterwards. But I did recieve the .36 update. So, I am unsure if a hard reset removes you from the insider program or not. And if not, I recieved the firmware update while on the Insider program.

Yes, a hard reset removes your phone from the Insider program. There is no need to actually leave the Insider program itself.

Received the firmware since Wednesday, 950 XL no insider, in Mexico with TELCEL operator. No hard reset was needed.

yo tengo el 950XL con insider en Telcel, y aun no recibo nada. Me da flojera darle hard reset pero si lo quiero debo hacerlo. De pura casualidad no tenias problemas con el audio en tus llamadas? a mi me estuvo dando muchos problemas el equipo

Ningún problema, esta funcionando excelentemente.

I don't care about getting firmware early by being part of the insider program, I just don't want to get it later because I'm part of the program. Being in the program shouldn't preclude me from getting the same firmware the general public is getting at that moment, and I shouldn't have to reset my phone back to stock to get the firmware, before then upgrading back to the latest insider windows build again.

So if I have an AT&T 950, pay it off and unlock it, will I still be restricted to what AT&T does or will I start getting the OTA pushes from MS?

You are still at the mercy of AT&T for firmware at least.

So if you want to be on a deserted island, buy a Microsoft "Flagship" phone and join the Insider Program. First came the Lumia 929 Icon from Dud carrier Verizon who dropped it within months and then ignored it. Next came the Lumia 950 / 950 XL - and a firmware update on 12/22. Finally on the 5tth or 6th of January it started rolling out in Microsoft's home country. But Not to Insiders. Worse there was no communication from Microsoft. After hours of hitting update and checking for info online it was the user community that suggested that for .36 a HARD reset would be necessary. It sure would be nice if Microsoft would stop treating the Insiders like mushrooms.

No thanks. I don't want prerelease anything on my daily device

Then none of this applies to you anyway, since this problem only happens to people in the insider program.

True, thankfully only my 920 and 950 are on the Insider Program. I'm probably going to sell them and their cases. I don't really need to be in the program, but it was nice before I had the 950 XL

There are two 950XL's in our home using AT&T. Mine is in the Insiders program. My wife's XL is not. Neither of us were seeing the update. I reset mine to see if it would work and it lit right up. I did not unenroll from the Insider program. It applied on .36 with no issue. My wife's XL still hasn't received it. I don't think this is an Insider issue.

Guess MS doesn't understand how their system works.

That would be nice! I'm still waiting on AT&T to release a firmware update to my 950..smh!

Yeah keep them coming these phones need all the help they can get. I barely manage a days use if battery (light usage) with brightness on low, Cortana off, Hello off. There went the key features of this phone... and the battery still suck compared to my l1520

Yeah, I'm a Fast Ring Insider to get things last. Thanks

thurott and foley have been saying it for some time now to pull the trigger and just do it but they wont any time soon

Daniel with all the respect. I don't like this article at all. You should blame(sorry for my English, maybe its not the right word) Microsoft sometimes, don't you think?
Microsoft has just forget the mobile insiders ones again and this time without reason. This is a firmware update need it for stability and there is not technical reason not to ship it to insiders. Their solution to reset the phone is not acceptable because as you know the backup does not backup ALL. Also its a time consuming process that can be avoid from their site just coping the firmware to the insiders servers. So your article is soft and it should be more criticism. Also, the windows insider app on the mobile should have an option to leave the insider servers without hard reseting the device like on the pc. If we want this platform to success we should be more critics when Microsoft does a bad job and this time microsoft has done a very bad job communicating and giving a solution. Thank you

No need for anyone here to assign 'blame'. MS has accepted responsibility for the situation and is discussing how to proceed now and in the future. I am much more encouraged by the timely application of the updates to carrier devices with carrier blessing, than concerned about glitches in a process that came from a 'developer program' designed to backdoor updates to regular folks. The Insider program is a great way for MS to get some valuable feedback from dedicated enthousiasts. If you are not willing to contend with shaky software, update processes, potential resets, don't be part of it. MS doesn't owe Insiders anything but thanks for participation.

I agree, WC should be holding Microsoft to account on behalf of us readers, sometimes it feels like you are just shrugging your shoulders "that's the way it is" instead of chasing down the people at MS & challenging them about these issues & their proposed solutions...

More than two weeks on and I still haven't gotten the firmware update on my 950XL. I'm in the Netherlands and not in the insider program. Do I just need to be patient or is the another reason?

I got the update running on .36, i have got the FW around 2 weeks ago. Im in the EU btw.
Os: 10.0.10586.36 FW:01078.00026.15506.02024

Why can't beta users crying to get official firmware ? just reset and do it, you're already an insider

Sounds like I would appreciate such an update for my Lumia 1520 too, as it is still fast on battery consumption and heating up.

I'm on the Unlocked Dual SIM 950 XL on 10586.36, in the USA, and in the insider program, and I got the 01078.00027.15506.02005 firmware update. Both of my SIMs are T-Mobile.
If the article is true, perhaps my phone's ability to download and install a fluke. When the update was released on Wednesday 1/6/2016, my phone immediately downloaded it and scheduled an update.
Maybe this is intentional behavior for a small subset of phones and/or insiders. I wouldn't put it past MS to push different iterations of Windows or configurations to test different builds, settings, or deployment strategies. They did it in the win10 TP for PC, quite publically.

Hi, Daniel....My 950XL, after updated to OS 10.0.10586.29, Firmware 01078.00027.15506.02005, the native call recording is gone, any idea?

Just use the Recovery tool. It did the trick for my Lumia 950.

What's wrong with them? The official version late than flagship,this is very disappointing for those who always WANT to support Lumia by followed Nokia previously.
If the bold guy does not able to do good jobs, please ha e another one to replace.

Funny how they release the firmware update to NON-insiders, but don't have the braincells to even consider giving it to insiders as well until now... In addition to that, they've made it impossible to get out of the insider program without doing a hard reset. They already forced a lot of people to opt into the insider program after a hard reset when they screwed up the .29 rollout so not everyone could get it. Now they force us to do another hard reset just to get a firmware update.
Wanna bet that next OS update will require yet another hard reset to actually work?

950XL Combination of new firmware with OS Build 10586.63 has very problematic WiFi performance issues. Numerous networks tested with similar devices show that 950XL with firmware and OS are getting only 10% - 20% of WiFi performance throughput. If anyone has new firmware and .63 build look up @gabeaul and @northfacehiker on Twitter...
Windows Central Newsletter
Thank you for signing up to Windows Central. You will receive a verification email shortly.
There was a problem. Please refresh the page and try again.