Microsoft is pushing firmware update for the unlocked Lumia 950 XL in the U.S. and Canada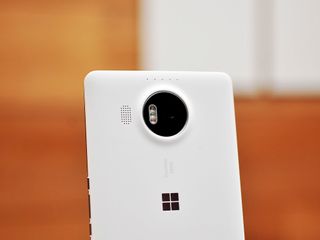 While Microsoft has yet to post a new update for Windows 10 Mobile, the company is currently rolling out a firmware update for one of its new smartphones, the 5.7-inch Lumia 950 XL in the U.S. and Canada. This is the same firmware release that was rolled out in other parts of the world a few weeks ago.
According to our tipsters, the new firmware version number for the Lumia 950 XL is 01078.00027.15506.02005, with the hardware revision number of 4.0.3.1. Microsoft previously revealed what's included in this firmware update:
Stability and performance improvements.
Improvements for SD memory card support.
Improvements for automatic display brightness settings.
Fix for a camera problem that was causing noisy images in low-light conditions for some users.
Fix for a 4K video problem that was causing stripes to show up while playing back recorded videos for some users.
Thanks to everyone for the tips!
Windows Central Newsletter
Get the best of Windows Central in in your inbox, every day!
Led Notification firmware? "coming soon"

When has that EVER been claimed?

Dude, that only goes for phones that actually have a led, like the M8. Thats up to the hardware manufacturer.

Every windows phone with backlit capacitive buttons has 3 leds, the one behind the windows logo is independent.

the OS has support for it, if the OEM adds a notification LED. Not every phone has a notification LED.

My 735 has one.. I was thinking If my midrange phone has one.. Than the new flagship must have it for sure.

my 920, 830, and 950 don't. The 735 seems like it was the odd one out of them all.

That's technically not true, on the right side of the 950 the red light is an IR LED that allows the IRIS scanner to work which is built into the FCC. This was tested on XDA by covering the FCC while trying to do Windows Hello, it doesn't work. Anyway, they could flash the red IR LED for notifications if they wanted to. What's funny is there seems to be a bug right now that kind of does this. If you get a missed call, and the screen comes on, if you let it timeout you will notice that the the red IR LED does not turn off. This new firmware may have actually fixed that.

@...junk This is probably the worst leap of logic I have seen in this thread so far!

The real question is: Is VVM now working on AT&T with Dual Sim? That will be the day I get excited as I can buy a phone!

VVM is just broken with Dual SIM. The people who have had success have had single SIM devices.

You're making it sound like people in the US have a chocie between single SIM and dual SIM. MS never specified you were getting the dual SIM variant when I preordered, only to get something that is clealy missing a standard feature in today's typical use. It's almost deceptive advertising, if you ask me. Mine is packed and ready to go back.

I don't think they ever really advertised VVM on the 950 XL, so... I'm not saying I don't miss the feature, but that also might be in-part AT&T's fault for not allowing an unlocked device to access VVM, seeing as the OS should have no problems supporting it.

Dual sim on any phone = no VVM.

"I don't think they ever advertised VVM on the 950XL so..." Lol, give me a break. It's a standard feature that everyone expects. They also didn't advertise non-visual voicemail. But everyone assumes the phone will do the normal little things, right???

If you are worried about features, why are you using Windows Phone? Posted via the Windows Central App for Android

Oh no, they gave me more than what I wanted. My wallet is too full of $100s, women (or men, if that is your thing) keep hitting on me, my Ferrari is too fast, and I have two SIMs. Whatever shall I do?

YouMail and ISeeVM work wonderfully for VVM on a dual SIM unlocked 950 XL. Better than the original AT&T VVM experience.

I'd also like vvm to be supported natively, but using YouMail is a quite nice alternative.

Thus far still no carrier VVM on Dual SIM. They need that fixed... Does anyone know if there is a North American Country Variant (carrier unlocked) that is single SIM? Either 950 or 950XL.

http://windows.microsoft.com/en-us/windows-10/visual-voicemail-mobile?li...(be40b64767a258f57c034a76210af7ea)(256380)(2459594)(TnL5HPStwNw-1TfsssO7oAXXbIFKlMfXEQ)() Will not work. it's a feature! :)

YouMail is much better than your standard vmm. I wouldn't go back, even if it was supported on dual sim phones. Vmm won't allow me to setup individual voicemail greetings per contact. Youmail will. ISeeVM is the windows phone equivalent app.

http://windows.microsoft.com/en-us/windows-10/visual-voicemail-mobile?li...(be40b64767a258f57c034a76210af7ea)(256380)(2459594)(TnL5HPStwNw-1TfsssO7oAXXbIFKlMfXEQ)() it specifically says here that VMM doesn't work on Dual Sim.

You know, the thing apparently EVERYONE expects from a smart phone /s

Led notifications are only good for phones which don't have the great glance screen

My X is fixed, awesome!
Edit: My Y is broken, F U MS! .... That's what I'm waiting for.

I just want the random restarts fixed. :v

Turn off windows hello that's what fixed my phone as well as the wife's phone

Get a new one. It was a bug in the first couple of batches.

Not sure about that. When I got my 950 XL, it systematically rebooted during a phone call, I was unable to even complete one single call without a reboot during conversation. I ask for return and had the replacement shipment already confirmed by Amazon when the MS software update became available. Since then no more unwanted reboot. So I cancelled the replacement by Amazon.

It fixed the Tabs in Edge. Can now close them all at once and
don't automatically add new tabs

It just hit my XL. Note I didn't receive the previous firmware update.

Didn't get the last update and this one isn't showing up yet either =/

Im installing it now as well on my unlocked 950xl in the US. hopefully the random restarts are done and bluetooth works like it did on my 8.1 devices.

Getting this update on my 950 XL here in the US! Horray!

I'm not, oddly. I'm on .36 though (Insider Preview), maybe that's why?

Not available to the insiders currently.

You know this for fact or just spouting BS. What source?

he is correct, see tweet reply from jason (northfacehiker): https://twitter.com/NorthFaceHiker/status/684845166906085377 they are checking why its not available on the insider server... so it looks like they expected it would be

Hook up to wdrt... That'll give the update and get back to .11 or .29 but not available for .36 straight... Had same problem.

Will this be the same as restarting a phone? (wiping it clean) or will it just install without wiping?

I'll wait, tried of wiping my phone haha.

No wipe, same as a regular update, just runs the gears and takes about 20 minutes. This made a big difference for me, finally auto backlight seems to work. It may only be placebo effect, but it seems some areas are definitely more responsive now, like in text messaging.

I have just installed it on my 950XL running on T-mobile USA with insider build .36

Let the "I don't see the update" begin in 3, 2, 1....

Well if people add their country of origin to such posts, its kind of useful to see who's getting it immediately and who isn't.

I don't see rhe update! 950XL (NAM) using on ATT, Build.36. Tried over the air and WDRT.

I read that it won't be available for those in the Insider program just yet. So, no dice on .36...for now.

I did a hard reset on .36 and after the restore I got the update!

Nothing for the 950, though.

You don't have one do you ScubaDog? Correct me if I'm wrong but didn;t you return yours?

950 and XL seem to have differing bugs. Eg, the XL doesn't have the odd heating bug of the 950. I think only the XL has jittery 4k on some of it's devices.

I'm still waiting for the firmware update on the 950 US unlocked. I really want that camera fix, because I am currently not impressed with the photos. There is way too much noise, even in good lighting conditions. The autofocus isn't that great either. The fact that the Galaxy S7 is coming out in around a month likely means the 950 camera will become a joke. Rumored specs for the S7 are 12MP, f/1.7, and 1/2" sensor. MS needs to step up their game, but maybe the mobile division just doesn't get enough money for R&D.

Can you post some of your shots with too much noise? I'm not getting anything like that with my 950. I did see some comparison photos where the 950 shots had more noise than the Galaxy it was being compared too, but that was because the gain was bumped up to get more detail from the darker areas of the image. On the galaxy, it was just black with no detail, but less noise. In no way, will the 950 be a joke compared to the S7.

Hmm, I wonder if manual control will work better. I'm not a photographer so I don't really know how to use the manual settings. I have an idea of what each setting means, but I don't know how to change it to make it better than the auto settings. Is there a thread or something where people post pictures? I barely know how to post photos on Facebook, which is pretty sad considering I'm still in my early twenties. I hope you're right about the S7, because I would feel slightly depressed if my new Lumia camera is beaten 2 months after launch. I've always wanted to compare it to the galaxy s6, but none of my family members have one that I can borrow.

Manual control is almost always better than automatic control. I can't think of any tutorials I've looked at recently off the top of my head but pretty much any manual phone camera tutorial should work as the camera principles tend to stay the same regardless of the phone. For example, many people set the ISO to 400 for most pictures. Controlling shutter speed is important. Fast for shots with lots of light and slower for low light. The fractions you see in shutter speed are measured in seconds. For example, 1/4 shutter speed is a fourth of a second whereas 1/1000 (which you might use on a very sunny day) is a thousandth of a second. You have to play around a bit but once you learn how to manually control your pictures, it's hard to go back to automatic.

A joke? I doubt that. Why us everything that has an issue now "a joke" or "useless". Those terms have less meaning with each hyperbolic rant that uses them.

They are specifically blocking yours because of all your complaining.

I just downloaded/installed from ATT this morning. Running .29 (non insider).

ATT? Do you mean an unlocked device on ATT?

I wish i could just buy one of these bad boys, not available anywhere! :'(

Have you tried walking into your local MS store? That's what I did right after Christmas, and walked out with one.

I called in first and confirmed that they had them in stock. Only one guy seemed to know they had them back there as I had to hunt down the one I spoke to on the phone. We walked out with three 950's.

My 950 is also saying a MICROSOFTMDG Update is available for download... US dual sim unlocked 950 with AT&T sim, for those wondering

Mine too. Downloading now! :)

My 950xl on Tmo says same thing

Same. US unlocked dual sim 950 but using t-mobile says the update is available

Anyone who is an insider getting the firmware for 950 dual SIM unlocked in US?

USA. Got it on 950XL unlocked non-insider

Nothing showing on unlocked 950 XL here in the UK.

Just popped up 11:14 am west coast of US. Edit: It's not updated in US, but already has in UK.

My bad, I did indeed miss that part in the news story content. It was since edited into the main headline :) It could eventually end up here though! Unless its a specific update just for US/Canada?

Didn't the UK get this before Christmas?

Just after Christmas, but the firmware was xxxx.xxxx.xxxx.02000. This one is slightly newer.

I know I certainly didn't get it in UK. Quite surprised.

So far things are going well after the update. My phone no longer reboots when I'm trying to install apps onto my SD card. The phone was doing ok before the SD card went in. Now with this update I'm able to use the phone again! It took about 10-15 minutes to update the phone and it rebooted once post install and I had to reboot it again when unlocked the phone due to a change to the SIM settings. I wish they would tell you what the update fixes. I have a 950 XL Dual SIM Unlocked using the AT&T service in Chicago, IL.

I had to turn off windows hello as that was making my phone reboot. Will test again with new firmware

I'm in north Florida and I dont have it yet on my 950 XL DS WI .36 on ATT. Those who got the update, please mention location, thanks!

i got it about 2 hours ago in clearwater, FL .. on 950xl T-Mobile from MS store

I already got the version 01078.00027.15506.02011 with the same hardware version from the previous update . Shouldnt it be 02015 or something ?

So this must correct whatever those retailers who stopped selling this device said their customers were reporting as issues. OR, it's totally coincidental that a week after being dropped by two retailers for unspecified issues, the XL gets an firmware update.

You could be adding 2 + 2 and getting 400, or be completely right. However its been noted that Amazon's recent "withdrawing" sales of the 950 XL can be triggered by very flaky reasons, so I wouldn't read too much into it.

My xl checks to often for updates. Can't something be done with this? For who wanders, nope, no update here. But well i talking about Germany. Ps. I would like to see some updates where i have better battery consumption while in use, and overall stability and freaqing speed improvements, shell we?

Update for unlocked 950 (not XL) in US downloading on my phone.

lets see how long it takes att to approve the firmware update for their locked lumia 950.

if the 830 is used as a reference.... 5 months :) in all seriousness.... hopefully soon.

FYI - this is a firmware update , not the Windows 10 Mobile OS update... different :)

Nothing yet here. 950 XL Dual SIM on AT&T in NJ on .36 Insider.

I used the windows devices recovery tool to update my 950XL in the Netherlands. Worked like a charm and the phone runs much better now.

Unlocked 950 dual SIM in Canada here. Update is in progress.

I have a US 950XL dual sim, but I'm in Canada and I don't have the update showing at all... I'm on OS .36

Hi, are you in the Insider program?

My canadian non insider 950xl now updated! still on .29... can't wait for .36

Really? I'm in Toronto on my unlocked 950XL and nothing is available for me. I''m updated to .36 on the OS and enrolled to slow ring. Not sure if that means anything.

You won't recieve it as an insider...

So I need to opt out temporarily?

You need to hard reset. I used the wdrt without de-enrolling in the insider prog and am 1% dling the fw update now. In Oakville, ont.

What? I need to hard reset to get a recommended/important update for my phone? This makes no sense. I did a hard reset in the first week because I learned I can't restore a back up from my old 1520. That was annoying enough. Then I was forced to do my second hard reset 3 weeks ago after learning that I couldn't get the insider updates without doing a hard reset. And now I have to hard reset again to get this firmware update? I may as well just hard reset on a weekly basis to ensure my phone is running normally. I'd rather sell my phone than do hard resets once a month for system updates.

Why can't you restore a backup from your 1520?

You selling? I'm thinking of buying one.
Let's Make a Deal.

I don't think you need to hard reset. Just think it is a matter of timing. Wait for the update to come through. Or force it now with a hard reset.

Im on slow ring after .36. I got it an hour or so ago.

You positive? Everyone says that's not possible.

I'm on .36
I did a hard reset the other day, but still on .36.
I may not have joined the slow ring again, i cant remember, but if that is the only problem, then leave the insider program.

Updating right now in South Florida. YAY! :)

Installed it a week ago with the Windows Device Recovery Tool on my unlocked 950XL DS (france)

Is it the same one?
Lumia 950 xl. Single sim. France

Anyone with the unlocked dual-sim 950xl and build 36 on Windows Insider see the update yet?

Nope not as of 14;32 Eastern Time.

Nothing here yet either. 950XL DS running 10586.36 on AT&T in Arizona, US.

nothing here on the east coast...

also receiving the update - will download and update once i am on wifi and at home.. not risking it while im at work... 950XL Dual Sim, unlocked, bought directly from microsoft store US. carrier is ATT but shouldnt matter as its an unlocked 950XL anyway, running 10586.29 not on preview

Made mistake of buying MS unlocked dual sim version of 950 for my wife. She's not exactly a power user and has been very unforgiving with the issues she has had. MS should never have released to the general public with it in the state it is. Resellers are smart to pull it. Randomly crashes and restarts. Plagued by WiFi issues. Large feature gaps in core apps and functionality. And yet, this firmware supposedly doesn't fix any of the major issues she's experiencing. Severely disappointed in MS. N00b business choices.

You should formate it and start everything from scratch. Normaly, this happens from old recovery files....

I have all these issues and I've done 2 hard resets.

Not a power user...large feature gaps in core apps and functionality????
Resellers are not pulling it. Just clickbait journalists and windows haters want to believe it.

It's possible that there's an issue with yours. Mine has been pretty stable.

In Ohio on insider. No firmware showing yet! Excited and patiently waiting!

I think i got this update about 2 weeks ago on my L950 in the Netherlands

I have this running on my second review unit 950xl and it is working a charm. I have been lushing it hard today with no issues at all. Happy now

Jersey, .29, getting the firmware update now! 950XL (unlocked, and on AT&T)

Nothing yet.
Unlocked 950xl dual sim
T-mobile
Build .29
Central FL, USA

You get an update, you get an update...

How about battery life no improvement?

As I had noted earlier I was downloading. Now it has been downloaded and installed. Phone: 950XL Unlocked on T-Mobile (bought from MS Online pre-order, received Nov.) Location: South Florida, USA Build: .29

No sign yet. Unlocked 950xl on ATT East Coast US.

Unlocked Lumia 950 XL in US (Texas). No update yet.

i just finished my update 5' ago (Dallas, TX)

Well that has me worried. Still nothing.

does it fix the weird robotic sounds on my 950XL calls? sometimes i got a really loud BEEP noice and my ear gets hurt :/ I dont know if its a problem related to my hardware

I received the notification after manually checking but it says im roaming and it will automatically try the download later. im at work downtown from my home. interesting. Indianapolis here

Nope. Still not receiving any updates on my unlocked 950 XL on AT&T. Old OS build, Old firmware :(

Installing the update now. 950XL on AT&T in the US (California). Not Insider and on .29 build.

Have not seen it yet. On Build 10586.36. It took Insider Preview to go from 10586.0 to 10586.29 to 10586.36. Hope it comes to Insider phones. Has anyone got it in that scenario? Hope it is just a rollout wave delay.

You won't get it on insider... You will have to use recovery tool. Will install the firmware update to you and will return the phone build back to .11 from there you will be able to go to .29. As far as i can tell, this is the same firmware that rolled out for Europe a while ago, so if you already have that one, don't bother.

Wrong.
Sent from my updated XL on .36

These problems all sound familiar on my 950. How about a firmware update for us also MSFT

Looks like those on build 29 non WI are getting the firmware update. I'm on build 36 WI and still not seeing it in North FL.

Same here in Manitoba Canada

Does anybody know if this fixes the absolutely horrible battery life when Windows Hello is enabled?

Disable Edge from running in the background, it helped me a lot

Applying the update now on my 950XL in California. I use Cricket Wireless if that matters. My XL has been largely trouble free. I've had a 64GB Samsung super quick memory card installed since day one.

Finally got hey Cortana in Canada on my 950 xl! Yisssss

Why is everyone on .36 still reporting they haven't gotten the update? Duh. Of course not. They announced that no one running .36 Preview Build, can get it. They said that when they rolled the update out, originally, in EMEA.

Do you have the source for this one. I would like to read it. Thanks!

Me too. Hadnt heard that one. Just rechecked the original post as well as the thread in the msft forum. No mention of this.

I saw a Tweet from Jason, working with Gabe, that said it is because once you are on an Insider build you are pointed to different update servers and the firmware hasn't been loaded on the Insiders update server. So your only option is to WDRT to the current firmware and then go back onto the Insider program. (Since you can't actually leave the Insiders program short of wiping your phone.)

So, it's only a copy to insiders server problem? If this is true, how bad is Microsoft doing it.. Shi....

Assuming that the Insiders update server is even configured to support firmware updates... Sounds like very poor planning to me.

So if this is the case (also missed this detail), will this come eventually to those on the .36 insider OS? If I have to hard reset a 3rd time just to get an update I'll lose my mind.

Guess the people who are not in EMEA didn't get the message.I never seen it, but I am in the US so I guess that is why. It doesn't make any sense though why the people running the insider preview are not getting it.

Update not showing in San Jose ca 950xl

Got the update on my 950 as well.

Nothing here in central Fl yet. Running .36 as an insider on 950XL, dual sim on AT&T. AT&T rep set my sim up with a 950 code, wonder if that is the problem. Couldn't get LTE when I switched from my 1520.

Gone back to 930.... 950xl is rubbish. Over it MS. You turned nokia into ****

Sold my 930 to get the 950. Don't miss it at all.

I'm still not getting it.

Still haven't got this firmware update for my 950 XL here in France!

I'm now getting it after trying over my LTE connection and it telling me I have to wait for WIFI. I get home and I start getting 0x80246002 errors. I manually checked for the update about 3 times and then I shut my phone down and back on again and I'm finally getting the download. Unlocked 950Xl purchased from B&H Photo, on .29 no insider app installed on the AT&T network in Indiana

Strange I have the 01078.00027.15506.02017 LOOL

Mines updated, but is showing .02000

Unlocked 950XL, ATT, Baltimore, MD, Tried Insider and Non Insider. Still no update yet.

Nothing available for me, even through the Windows Device Recovery Tool. 950 Dual Sim Unlocked (from MS Store) - Toronto Canada - Running .36 as Insider


I have to 950XL also form Toronto on koodo... I got it.... If you're an insider you won't get it

But the recovery tool isn't supposed to care if you're insider or not, it just wipes the phone.

I'm just saying what I read the the fourms... Everyone is having your same problem as you

Did you actually wipe your phone?

I have to 950XL also form Toronto on Koodo... I got it....

US insider on .36 and no joy on my 950 XL. Well, base on a comment @ukoerper made to my query to Gabe Aul on Twitter - it took a hard reset. I gave it a try and after the hard reset / restore, I'm updating the firmware.

From what I read on twiter from NorthFaceHiker you won't get the update if you are an insider. You'll have to do a hard reset, get the firmware update and install WI again to go back to the program. He also commented that discussions are on the way to see if they can add the firmware to the insiders program to eliminate the need for the hard reset. What I haven't seen yet is the status of the AT&T locked 950.

I hard reset my phone yesterday so I'm going to wait until they have it available for the Insiders.

Still not showing for Canadian 950XL

Still nothing 950xl on att. Ugh

I´m from Mexico, have an unlocked 950XL, Software version is 10586.36 no insider (had the .29 build, enrolled to the insider program, update to .36 build and then performed a hard reset) and i have received the firmware update. I´m gonna do a hard reset and see how it works in my phone. Very happy with this piece of beautiful art. Pd. How is my english?

Tu Ingles is bueno :-) Posted via the Windows Central App for Android on my Frost Nexus 6P

Hopefully a new insider build with a new firmware coming soon to insiders :)

still nothing, montreal Canada, my groove apps on my lumia 950 XL won't update my playlist anymore... I don't think this firware update will fix mt bug but I hope...

Where is this update have yet to see it

So from what I read on these comments, should we just opt out off the insider program for good so we don't run into all these troubles? Can't even get firmware update without hard reset? That's insane

Got mine at lunch time today and installed immediately. Lumia 950 xl unlocked on T-Mobile network in Chicago

Funny insiders Aka beta testers didn't get the firmware first. Something is wrong with their qa lifecycle. Lol

Got the update in Canada! Took about 20 minutes, on TELUS mobility. All my apps are on a 128GB Lexar 1000x microSDXC card and some apps are not working! Saying pending ..... Reset the phone 3 times then waited for about an hour then bam! Now all working! People have some patience and give about an hour or so after the update because I believe it's still updating in the background on your data. Has anyone else have had some similar situation?

Downgraded to version .29 using WDRT. After setting the phone up, I got the firmware update. Unfortunately, that was at 7pm US Central time. IT'S STILL DOWNLOADING!!!!!!! At 59% right now. This is ridiculous

Got my update in Canada just checking for the update in the settings. No reset required.

Fast ring Insider 950 XL in Canada on .36
No update yet. Odd beta testers don't get the new firmware before or at the same time as non-insiders. Anyone else experience random display lighting up when on wireless charger and phone battery is charged to 100%? Really annoying at night getting woken up by a spastic phone display. Make it hard to use my tylt wireless charger.

Unlocked Lumia 950 XL Dual Sim Grenada -Caribbean, (bought from MS online preorder). Got the update last night. Had to opt out of the insider program, and do a hard reset first. Big downside to this update.

When this Window 10 coming to mobile. I am waiting since more than one year. I think Apple and Android released 2-3 updates within this period.

After trying all day yesterday, this morning I took my 950xl out of the insider program (fast ring), used WDRT to reset, did not restore from a backup, and checked the updates. Finally getting MICROSOFTDMG & 10586.29, but taking a while to download. Portland, OR, AT&T.

I commented above that WDRT wasn't showing the update in Toronto Canada, while I was on the insider 36 build. My expectation was that a hard reset wouldn't affect what firmware the WDRT offers to install. I was wrong. If you are in the insider program you have to do a hard reset in order to see the update, regardless of what the recovery tool says! After the reset you'll still be on 36 so there's nothing to lose, with a recent backup you'll be up and running rather quickly.

I am sure all will be right soon, as I just put the return label on my 950XL. I will keep using my 1020.

Strangely enough I have firmware 01078.00027.1550602012 but hardware 4.0.1.1. 950XL purchased from Expanys in the UK just after Christmas Day
Windows Central Newsletter
Thank you for signing up to Windows Central. You will receive a verification email shortly.
There was a problem. Please refresh the page and try again.