Microsoft Cortana 3.2 for Android brings new home screen UI and To-Do integration
A new Cortana update is rolling out on Android with a new home screen UI and more.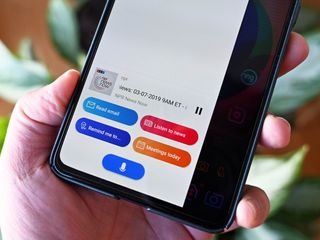 Microsoft is now rolling out a new update for Cortana on Android that introduces a new home screen UI that follows the same design aesthetic that was first introduced with the apps overhaul last year. In addition to the new home screen UI, Cortana now supports To-Do integration for reminders, just like on Windows 10.
Version 3.2 is now rolling out on the Google Play Store, and if you use the Cortana home screen UI already, you'll notice a big update. You now have quick access to now playing, as well as four buttons: read email, listen to news, reminders, and meetings today.
There's also an overview of all of your reminders easily accessible from the home screen UI, that you can tick off when completed. At a time where it feels like Microsoft is slowly abandoning Cortana, it's strange to see these periodic updates that prove Microsoft is still building out its assistant. Let's hope we see some major updates to Cortana on Windows 10 soon.
Thanks for the tip, @KrisPetrin!
Zac Bowden is a Senior Editor at Windows Central. Bringing you exclusive coverage into the world of Windows 10 on PCs, tablets, phones, and more. Also an avid collector of rare Microsoft prototype devices! Keep in touch on Twitter: @zacbowden.
When in France ? Really ? It was available on Windows mobile 10 phones years ago, so how come it's not released yet here !

when in anywhere else outside US and some english speakers countries.. that's sad, Cortana went to limbo

You can download it from APKMirror and install it on your phone even if it is not available in your region. That's how I got in Greece. In English of course.

Very cool. It's always good to see new features. Hopefully they can convince Samsung to let them replace Bixby with Cortana some day :)

I'm probably in the minority with my opinion but I actually like Bixby. I like how it is embedded within the phones settings much more than the other assistants.

It's not on my non-Samsung though 😏

Still, it cannot help me across plattforms.

New Galaxy S10s let you map anything as a double-tap to the Bixby button, so it's progress.

Doesn't let you map competing assistants, unfortunately.

Finally To-Do support on mobile.

It was already built into Microsoft Launcher.

It's not the same experience. In Microsoft Launcher it was impossible to get reminders with a sound, there was just a banner. That's not the case with Cortana, so I have Microsoft Launcher as my default launcher but Cortana as my default assistant.

I love MS Launcher but the To-Do integration is not good. I rely on the app and the widget (not the one built into the Launcher).

Is always listening or auto-prompting for texts on bluetooth a thing yet? Then no thanks. And don't give me BS about access permissions. They need to find a way to do it. W10M Cortana was great. Until it's that good, I might as well just use Google Assistant.

I agree, Cortana was great on W10 Mobile. I would argue that it's still better than current assistants in some ways. Cortana just worked. It didn't require your in car stereo to have Appl play or Google whatever and you didn't have to download additional apps to get certain features to work. It always impressed people, when they would hear Cortana inform me of a text or call and give me to answer, deny or reply with text. It was the thing I loved most about Cortana.

We have Cortana turned on all the time on all devices. 100% hands-free use of Cortana is an absolute requirement for me. Cortana still cannot be accessed on Android unless it's unlocked and the Launcher app is the "active" app. No such requirement exists on Windows phones.

Oh, how I miss the texting over Bluetooth with Cortana in the car. That is one of many thing I miss from Windows 10 Mobile, since switching to Android a couple years ago.

I was very disappointed when I lost that feature moving from WP10 to Android and I actually switch back for long car journeys.

i believe if u set cortana on the lock screen it should wake with hey cortana. if it doesnt check the permissions to unlock or record sound even when sleeping are enabled.

I was going to ask this very question. I'm probably going to ditch my HP X3 towards the end of the year for an android phone and hands-free Bluetooth testing is one of the things I will miss the most.

Hands-free bluetooth? Anyone? Bueller?

Hahaha! Bueller? anyone? Bueller?

I think they are continuing to evolve Cortana for Windows Lite. If it shows any traction there, they could start promoting it as a product again.

A digital assistant is a need of Microsoft for the future.
And for the assistant to grow it needs a phone with full access to it's resources. It will be interesting to see what happens next.

What does MS wants to do with Cortana. Has anyone seen any app with so much difference between it phone and PC counterpart.
If things goes on like that even those who use it will throw it away.

Cortana is great on android but does anyone know how to stop Google from switching it off and attempting to force me to use Google assist. I set up either launcher or Cortana as my assistant of choice but by the next day it stops working and I get the message asking me to allow Google assist to access my data so it can work better...

Is Cortana a good assist in english language? I just try to test in portugues and it sucks. I still need google assist to see the news and traffic.
Windows Central Newsletter
Thank you for signing up to Windows Central. You will receive a verification email shortly.
There was a problem. Please refresh the page and try again.