Microsoft debuts Xbox 'Project Scarlett' at E3 2019, coming holiday 2020
Project Scarlett looks to be an absolute powerhouse, if Microsoft's reveal proves out.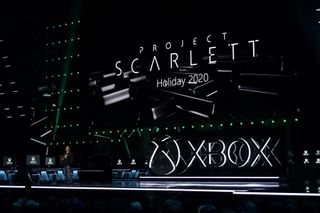 (Image credit: Windows Central)
Microsoft capped off its E3 2019 press conference by revealing its next-gen console, codenamed "Project Scarlett." And if everything Microsoft promised in the reveal bears out, it looks like it's going to be an absolute powerhouse.
Project Scarlett features a new processor built on AMD's Navi GPU and Ryzen CPU architecture. According to Microsoft, the console is shaping up to be around four times more powerful than the Xbox One X. The company also said the console will be able to deliver framerates of up to 120 FPS and resolutions up to 8K with support for variable refresh rates.
Microsoft also said that Project Scarlett will deliver ray tracing, making lighting and environments appear more real than ever. Like Sony's PlayStation 5, Project Scarlett will also switch to using a Solid State Drive (SSD) instead of the usual mechanical hard drive, which should bring massive performance gains when it comes to loading times. The company says it's even experimenting with using the SSD as virtual RAM to speed things up even more.
Project Scarlett is expected to launch holiday 2020 alongside one of the most anticipated games of the upcoming generation, Halo Infinite. The console will also support backward compatibility just like its current-gen brethren, allowing you to play games across four generations.
Xbox
(opens in new tab)
Main
Excellent and affordable Xbox accessories
Up your Xbox experience with one (or all) of these budget accessories, all of which are approved by the gamers of Windows Central.
PowerA Play & Charge Kit for Xbox One (opens in new tab) ($15 at Amazon)
This charging kit keeps your Xbox One wireless controllers juiced up, and it offers batteries for two controllers. At just $15, this is hands-down our favorite budget charging companion.
ElecGear 4 Port USB Xbox One S Hub (opens in new tab) ($19 at Amazon)
This brilliant little USB splitter hub attaches perfectly to the side of your Xbox One S console. It's ideal for use with chargers, controllers, headsets, and more.
Controller Gear stand (opens in new tab) ($13 at Amazon)
Proudly display your Xbox gamepads with this stylish and functional stand. The licensed design is minimalist and black, and it has a hidden storage compartment, making the price of $13 a real steal.
Windows Central Newsletter
Get the best of Windows Central in in your inbox, every day!
Dan Thorp-Lancaster is the former Editor-in-Chief of Windows Central. He began working with Windows Central, Android Central, and iMore as a news writer in 2014 and is obsessed with tech of all sorts. You can follow Dan on Twitter @DthorpL and Instagram @heyitsdtl.
Similar to the PS5 I doubt many games are going to hit 8K, it'll be video.

Yeah, I'm hoping for just solid framerates at 4K, which looks amazing enough. I'm concerned with the SSD and the size for this 'no loading screens' future. Will USB C ports be fast enough for the external storage necessary for these new graphics packages?

I asked on Twitter but no response yet... What does "holiday 2020" mean? In the civilized world we have holidays throughout the year, some I guessing this is a US term and probably either of summer holidays or Christmas holidays?

"Holiday" almost always means Christmas timeframe. Plus Xbox likes November, so I'd be expecting it for November-ish 2020.

Holiday means the 'holiday season' in the US, which is mid November (Thanksgiving) till the end of the year. Basically US Black Friday time look for it to ship.

By "Holidays"(when unqualified by "summer" etc) in the U.S. they mean the period from Thanksgiving (always 4th Thursday in November) to New Years. Many hype based consumer products launch just before the beginning of this period because lots of people buy gifts for others (statistically it is the highest retail sales season), and of course you always want to get your kid the latest thing, right? So, these products will generally launch in the time a few weeks before "Black Friday" when the frenzy begins.

Question, while I know there 8K monitors and Freesync monitors, are there any 8K TV with Freesync that will be affordable? Also, given the extra work that will need to go into making 8K content that is not simply video, games will have to get more expensive. Looking forward to the next gen.

Will it finally have pass through audio on the app's side?

Big thing I noticed is the whole design concept has incorporated using the SSD as virtual ram. If Sony haven't done this also, it's a big advantage to Xbox. It's not like Sony can just update with software if they haven't. It would need a complete redesign from a motherboard level. And SSD level. Also 12 dies of ram. This screams 24 GB GDDR6. 2x2. The One X had 12 GB GDDR5. It's an absolute beast. I been reading some posts from PC guys in other threads. And they are convinced the Zen 2, Navi 20 and Virtual Ram setup will be an absolute mother of a console. Bravo MS Bravo. I couldn't believe Halo Infinite was game engine with in game assets. It looked unbelievable with the Ray Tracing. These shadows were so deep and had so much volume. The lighting as well. The smoke, details on everything. Animations and facial animations were so so good. Huge step up from this Gen. Last week I saw death Stranding. And I was impressed. Now Death Stranding looks a Gen old. Halo is back with a bang. Presentation and story look incredible., Launch title people. Hell yes.

we don't totally know if it's a powerhouse. all we know is it will have a cpu, some ram and an ssd

Here's the thing. We know it's Zen 2. Which is a humongous upgrade over Jaguar in Xbox One/PS4. GDDR6 is very fast ram. And we see in the trailer there is 12 dies of ram around the SOC. Unless they have kept it the same as One X and gone with 12gb. The more accurate bet is they are 12 dies of 2 GB each. Giving 24 GB ram for next Gen. On top of that the Navi GPU (20 most likely as they said it could do Ray Tracing at the hardware level) outperforms a 2070GTX across the board. As shown at the AMD E3 2019 presentation. It's gonna be an absolute beast.

Looks nice. I imagine it will be a while before a significant number of games take advantage of the extra power though. It will be interesting to see if developers continue to support the Xbox One X or if there are Scarlett exclusive games. We already know Halo Infinite is coming out about that time, and Forza Motorsport 8 has been kicked down the road to about the same time. Hopefully they will play on the One X or it is going to be a very expensive couple of months for me.

As I understood it. Phil announced Halo Infinite as a next Gen launch title only. I think honestly the CPU in the One X and PS4 Pro ( they are the same architecture) will hold back the game design to much. Cross Gen games which are available on both won't nearly be as good as next Gen only titles.

Project Scarlett will be a beast
Windows Central Newsletter
Thank you for signing up to Windows Central. You will receive a verification email shortly.
There was a problem. Please refresh the page and try again.