Microsoft ditches three map software products in favor of Bing Maps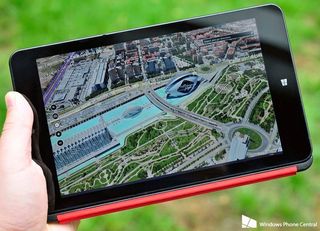 Microsoft has announced that it will stop developing three of its long running commercial map software products, MapPoint, Streets & Trips and AutoRoute, in favor of its Bing Maps service.
Microsoft has posted up a brief history of those older mapping products, which began with a small group of UK-based programmers working on AutoRoute in their spare time to offer computer road mapping help in their native country. Those programmers then formed their own company, NextBase Limited, and released AutoRoute in 1989. The result was a massive hit with Microsoft stating, "In fact, at one time NextBase Limited estimated almost half of the computers in the UK were running a copy."
After expanding AutoRoute to include maps in other countries, Microsoft bought NextBase Limited in 1994. The first version of MapPoint, which lets companies combine business and mapping data, was released in 1999 and was based on NextBase's software. In 2000 Microsoft renamed AutoRoute as Streets & Trips for the US market, while retaining the AutoRoute brand for the European version.
In announcing the retirement of these products, Microsoft stated:
Microsoft's Bing Maps is now the major mapping software service for the company. For the past several months, Microsoft has released a version of the Bing Maps app for Windows 8.1 users that offers photo realistic 3D maps of a number of cities, along with other features.
How do you feel about Microsoft retiring these long time mapping software products?
If they are sure they can develop a good standard service with Bing then is ok

they need to drop Here and just continue with Bing Maps. I've never liked Here and its inability to find things near me is so frustrating. I'll take Bing Maps or Google Maps any day over Here.

Here works better than Bing in New Zealand... though they both have low quality satellite imagery and no street views even for largest cities, Auckland and Wellington. But Here Drive is absolutely brilliant, down to accurate speed limits and offline maps for complete country. If they own Here, they should merge them somehow. Get best of both services into one unified effort. I don't care if they call it Here or Bing or BinHere, as long as it has all the good elements from both.

Streets & Tips wow I forgot about that product. I got that program still with the USB plug in for the satellite

I had that, too, before my phone had GPS. It was great software for its day, but now my phone handles all of that in a more convenient package. Having the passenger sit with the laptop the entire trip was its main drawback, but, again, great for its day! RIP...

Couldn't agree more. It was my go to solution as well untill I got the pocket PC with CoPilot navigation.

Why not combine all the three products into Bing maps? Since Bing is really lacking outside the US, its hard to tell if they have or haven't done so already.

Wow, i never know about this

Off topic microsoft India tweeted
Windows phone 8.1 will be rolling this summer.

Um I have 8.1 today.. Omg...

From first two weeks of July to now Summer....
Seems SNALIER

Summer wt.......ms :angry:

Lol. SkyDrive, live mesh, live sync. 3 ways Microsoft stored files online. Now more than 3 maps. Lol. Come on coherency is needed!

You request coherency after an article in which they announce it by terminating the redundancies? sdrawkcab ebyam

Streets and Trips has been around for years. A Streets and Trips WP app might have worked though since its been around longer than Bing and google maps and has its history to draw from.

Should buy also Here Service from Nokia.

They tried Nokia wouldn't sell it

Nokia shouldn't sell it so MS wouldn't destroy it too.

It was part of the original plan to buy the whole Nokia, but not anymore as someone disagreed. Remember this info for future use please.

I know all of that, I meant they should, but not everything you want you can have.

I'm not surprised they discontinued the programs, but I'm sorry to see them go. There are lots of good driving navigation alternatives, but the biggest loss for me is the trip planning features. I use Streets & Trips to plan routes, stops, and costs. I hope they add those features to Bing.

my sentiments exactly Eric

Developing it outside U.S. will take a lot of time. I have used Bing maps. I found it just okay for local use etc. Microsoft should have bought here maps division too

It was part of the original plan to buy the whole Nokia, but not anymore as someone disagreed. Remember this info for future use please.

It's been a long time since I connected a USB GPS receiver to that old Toshiba Tecra and loaded up Streets and Trips to find my way around a bad traffic accident on I-90 northwest of Mauston, WI. Goodbye, old friend.

They better be merging all bing and nokia services sooner than later

S&T used to have the best POI database ever. It was so good, that I kept "upgrading" (actually just buying again) the S&T every year and use it to plan my trips ahead of time, and using it during travel to find around what I was interested in. The route planning tool, the search around a travel path - are the most useful featires. No GPS device/app beats this even now. But now the GPS are good too (not ultimate) and I more and more rely on WP8's Here Map and Internet search to find POIs. If they import all the S&T database back into Bing Map (and link via Here Maps) - that'd be a step in right direction. Would be sad to see the POI database of S&T jsut being dumped in transition... :( Ideally the S&T's best features added to Here Maps - that'd made an excellent reincarnation of the S&T in this modern age!

> Ideally the S&T's best features added to Here Maps - that'd made an excellent reincarnation of the S&T in this > modern age! Agreed, and the Surface tablets should have GPS as well to make for a complete system for long trips.

Isn't it "Streets and Trips", not "Streets and Tips"?

I'm not surprised, but very disappointed. MapPoint contained census data (albeit not updated to the 2010 census, so I knew the end was coming) and other demographic data that enables businesses to take Excel data and map it for presentations. Not a big market, but an important niche product. Just last week, I used it for a client who needed states shaded according to legislative status. There is a Bing Maps add-in for Excel that can put a map pin on various cities, but it can't do what I needed to do. MapPoint also allowed sales departments to identify sales regions, target markets according to demographics stored in a database, etc. They had a product there that was unique and affordable. But then, they are good at killing products like that...

I just want to be able to calibrate my bing maps. It is off by almost 100 yards every time.

They've still been producing Streets & Tips this whole time??? I thought that went the way of Encarta...

For better or worse, I'm using Here almost 100% on the phone. Finding things seems to be getting better, not anywhere near as good as Bing Maps, but it's integrated and Here Drive is decent. Lots of potential though.

Never heard of the other 3 services before.

I will miss Streets and Trips on my desktop for route planning and printing (yes, I still print maps) map info. Bing Maps for W8.1 has a long way to go to catch up. GPS on your phone is nice, but don't tell me that GPS navigation has never sent you the wrong way or took you completely out of the way to reach a destination. I disagree with navigation commands often and having that printed map on the passenger seat helps me to get to where I'm going.

LOL, Jimski. I love HereDrive+, but when I disagree with the navigation, I pass by turns I'm told to take. Fortunately, it doesn't tell me to take a U-turn (although with Cortana on board, it might start scolding me for going the wrong way), it reroutes and tells me to turn that direction at every intersection afterward. It also nags me if I exceed the speed limit. My daughter thinks that's funny. One thing I like about Bing Maps is the options to use different modes of transportation -- car, bus, or walking. Living in Southern California, Bing always wants to put me on the freeways if I'm driving. Yeah, right. There are times of day when surface streets are so much faster. Setting it to walking forces Bing Maps to reroute me via surface streets.

So there is Bing Maps, Maps and Nokia Here Maps. What do we do with all of those fun apps? :-)

What device is in the picture?

It looks like the Lenovo ThinkPad 8...

The Here Suite (Maps, Drive, Transit) needs to get the boot too.
Bing Maps needs to handle everything under one roof.

HERE is still owned by Nokia, not Microsoft. Microsoft only bought the Mobile division and the use of Nokia patents and services for the near future.
It was part of the original plan to buy the whole Nokia, but not anymore as someone disagreed. Remember this info for future use please.

Did anyone argue on that? Windows Phone Maping solution is currently stands on Here Software/App and UX by Nokia. The platform needs a first party, feuture-full Mapping Solution, Made by Microsoft, meaning the Software and the UX, mapping data will still be coming from Nokia's Here.

Sorry, sometimes I'm a bit dim, can't understand what you written.

Why do you keep saying "Remember this info for future use please"? It seems so demanding and inconsiderate.

Apologies. I will rephrase my suggestion more well-mannered next time.

No problem, It just felt very stand off-ish...as if you were saying "Dangit, people...we have gone over this a thousand times! Get it through your thick skulls!" Which is where I think you might be getting a little bit of hostility back in the responses. :)

My problem is the products they are doing away with have features that Bing Maps STILL does not have. For example, the ability to put together dozens of stops and have Streets and Trips calculate the most optimal route. Used that back in 2004 when I was house hunting and it was great. The ability to get not only traffic updates but construction updates and to allow routes AROUND construction and not just look at traffic delays. Nokia Maps, Nokia Drive and Transit all suck and need an update. If this is the impetus to make changes great, if not it sucks. As a whole, Microsoft is WAY behind in mapping and navigation and since they provide no competition, many of the 3rd party apps are way behind as well.

I could not agree more. I use S&T route planning feature to plan stops etc.for long distance multi-week trips. I save the map with the various detaled pushpins chock full of information and save it to whatever device I will have with me on which I installed S&T. It is a great overview that I can refer to in areas where I have no cell or internet access. For navigation, I use a Garmin Nuvi and for real-time location and traffic use HERE on my phone, assuming I am not in a Verizon hole. I installed the recommended Bing Maps app on a tablet I will bring on a trip to Alaska and although it does much that S&T doesn't do, it doesn't do a fraction of the features I find most useful in S&T. Just to see I disconnected from the internet and it became totally useless. I have used Delorme Street Atlas, but have found S&T more useful. I will use it until I no longer can. Once again Microsoft has shown total contempt for the end-user and made a decision based on some warped perception of their customer base. (Gee...everyone will want to use touch screen so we will do away with the normal desktop, start menu etc...that worked well.)

As long as they do the same thing they did with hotmail & bring outlook features to it then I think it will be worthwhile

This company need to learn how to merge products instead of just moving onto other things when something doesn't work I.e Zune and Xbox

I will miss MapPoint. I used its USB GPS transmitter and route optimization tool when I was self employed years ago for multi state client visits. I could plan out my day, stops and even get cost estimates. I used its milage in my Quicken and tax returns. I have defected to iOS after being underwhelmed by WP8, and I don't see much that will take its place when I plan road trips now. Hopefully WP 8.1 will be better when I return in the fall. -SAB

There's a ton of things MapPoint does well that I think people will be using the product still for years.. the data will get more dated and it may become harder to install on future versions of windows. We'll see. Also, I see there's now a product for getting your data out of MapPoint - MPExporter - and publishing to various formats including KML and SVG.

http://www.mpexporter.com/

Does anyone know a good trip planning program like S&T that works offline and has up-to-date routing and POIs? DeLorme Street Atlas USA Plus looks good, but has anyone used it?

Here is heaps better than Bing in Australia. Bing might be better in other countries but it isn't here

Doesn't Here use the same maps as Bing? So you're referring to the program, right?

Here maps is brilliant here in Europe! I can't complain about it.
Everywhere I go on vacation it's great with all the offline data, it never lets me get lost! It's all up to date and can find every points of interest with it. Even mom and pops and other small shops!
Try using Bing maps around here, it's useless!

Do you guys submit feedback when using Bing maps to get then to update the info? The one thing I 100% agree with Microsoft doing right now is uservoice and other feedback on their services.

I've submitted feedback 2 or 3 times about a particular issue that's driving me nuts... In Bing Travel, they highlight local destinations I can visit, including Disneyland (7 miles away) and Yosemite National Park (400+ miles away). And searching for lodging near Yosemite National Park results in suggesting you stay in Laguna Beach (again, 400+ miles from Yosemite). Bing Maps is the problem here. There's a neightborhood park in Orange County named, you guessed it, Yosemite Park. Asking for driving directions from Laguna Beach to Yosemite National Park takes you on a 9 mile, 14 minute trip to the neighborhood park. LOL Don't they use Lat/Long to determine proximity? Be careful, kids. There's a Newark in California as well as New Jersey. They're only about 2,900 miles apart.
Windows Central Newsletter
Thank you for signing up to Windows Central. You will receive a verification email shortly.
There was a problem. Please refresh the page and try again.