Microsoft "Flattered" by Apple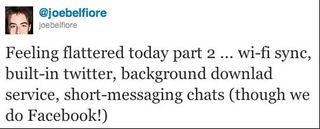 Joe Belfiore posted another interesting pair of tweets late yesterday, reminding people that quite a few of the features that Apple is including in iOS 5 are already available or announced in Microsoft Products, either Windows Phone 7 or Windows 8. He tweeted one yesterday, mentioning just the camera button.
Today, he took it a bit further, and listed off several items that Apple has seemingly taken from Windows phone 7, or Windows 8. In Apple's defense, the Windows 8 thumb keyboard was announced last week, but the rest… You can decide.
Slide on past the break to see how the similarities break down.
Source: WinRumors
Improved Notifications: iOS is adding notifications that cover the top few pixels of your screen, and are dismissed by swiping them off to the side. It's a staple of Windows Phone 7.
Thumb Keyboard: Last week, Microsoft showed off their thumb keyboard in Windows 8. Apple showed off their version yesterday. Apple's seems a bit slicker, in that you push a button to open the thumb keyboard in Windows 8, and sort of tear the keyboard in half in iOS.
Social Media, baked right in!: Apple has shown off their Twitter integration. Microsoft already has Facebook integration, and is adding Twitter integration in Mango. Microsoft probably has it right here, but many iOS faithful will be excited to no longer have to deal with memories of the dickbar.
Background downloads: Apple showed off a BITS (Background Intelligent Transfer Service, the Windows update download mechanism) style background download service for iOS, and will be using it to push out magazines and newspapers automatically. Microsoft has a similar service, and is releasing the API's with Mango.
Messaging: Apple is introducing iMessage with iOS 5. It will use data (either Wifi or 3g) to push SMS style messages, similar to Blackberry IM. It will only work with iOS devices. Although Mango will not have a custom IM solution, it will leverage Lync, Facebook IM, and Live Messenger, which will offer similar options, but without the iOS restriction.
Automatic Photo Upload:iOS 5 will allow you to automatically upload pictures to the iCloud service. Windows Phone 7 will already allow you to upload to your SkyDrive, or Facebook. There is no word on uploading photos to a service from the iPhone camera app.
Wifi sync: iOS will now allow you to sync your device to your computer without a sync cable, something we Zune and Windows Phone users have been doing for years.
So, is this flattering being the best compliment or just a bunch of good ideas crossing platforms?
Windows Central Newsletter
Get the best of Windows Central in in your inbox, every day!
Apple just completely ripped off UI and design ideas from the likes of Blackberry, WebOS, Windows Phone 7 and Android, across the board.Innovation my fat ****

Get off twitter and go work on getting mango released.

As much as I love starting fights against Apple, I have to agree with this. All of Joe's trash talking will be null if Microsoft can't deliver the update to ALL users come this fall. I don't care which company came up with the ideas first, just give them to me when you promised.

While I agree with you, what these digs do is stir up controversy. People will ask: wait who DID do WHAT first? People will read articles such as these and Microsoft and WP7 will get some press out of this. Its not a bad thing. Besides, I seriously doubt Joe actually does any of the Mango development himself :) so lets be reasonable. I trust that the WP7 executive team and Ballmer is doing their damnest to make sure this succeeds - even if hiccups are expected along the way. BTW it doesn't hurt that Microsoft get some recognition where its due especially when it compares to Apple - which has pretty strong and pretty visible (read: positive) brand.Ultimately, these feature fights are better for everyone regardless of your preference.

Read somewhere that MS created the split keyboard 5 years ago hmmm I'll have to find it.

yeah go check out Microsoft ergonomic keyboard. I would even believe Microsoft Hardware got that patented. it's either apple is paying some royalties or we're about to see a lot of law suites flying their way.I wonder what RIM has to say about apple's rip

Well on the virtual side, there was this from almost 2 years ago.http://thetechnopath.com/microsoft-patent-futuristic-virtual-multitouch-...

There is nothing innovative about Apple Products. All it is is the Brand name. Slap the Apple name to a pile of **** and people will buy it. that is all it is.

everyone gets better software in fall YAY!

See why can't everyone thing like that. No matter what ecosystem we go to we all just want it to work well for us. This Apple stuff is really exciting for Apple product users. So what if another ecosystem had it already. They had to wait for somethings just like we had to for things they had that we didn't. All-in-all, everyone is going to have better software in fall :)

It's not even the fact that they just steal a idea from everybody else and label it innovative. What really pisses me off is that the main stream media reports it as new and revolutionary.

I agree, that is the only issue I have with it. Though to be fair it isn't that Apple is the ones claiming it.

To be fair, Apple claims it just as often as the mainstream media.Remember when they introduced Facetime and claimed to be the first at doing voice-chatting on a cellphone? I bet Nokia was pissing themselves with laughter over that claim.

Maybe the 'first' claim Apple had, was they were the first to do video-chat over wifi-only :P

And between iPhone 4's only :-)

By doing the same thing if one get better result, then that also considered as innovation. What Apple doing in iPhone for last 4 years as such is nothing new in terms of functionality, even my 2006 phone had all including 3G video chat. But it presented the same thing in a better package and able to get the customer's trust. And i won't hesitate to call this innovation. As we are exposed to multiple platform, we always find something missing in our own phone and we started complaining about that and expect same improvement ASAP. So what is coming on ios5 is really matching to the expectation of all iPhone users and by this they are insuring that those don't switch to wp7 or android. Once all updates are available in market, the selection criteria will come down to - metro ui vs widgets vs cool h/w. Let's see who wins.

Couldn't have said it better myself. In Tampa i heard two different radio shows and our local FOX news go on and on about how smart and innovating Crapple is for coming up with this technology and that they must be the smartest people on the face of the planet....Unbelieveable...Microsft needs to advertise Mesh...When MSFT was showing all the 'To the Cloud' commercials, they never once said anything about Live Mesh...That should be advertised up front.

If its a software onscreen thumb keyboard for Win8....they actually had prototypes of that running years ago....on a tablet XP ! (Acer or Asus I believe.....)

My bad....Samsung.....http://www.mp3car.com/attachments/input-devices/26626d1141951924-steerin...

Let's just hope they hit the date though, Mango needs to be released around the same time as iOS5, they really can't afford to slip.

I would say before iOS 5 is released. And they need to make carriers step on the gas and get them deployed.

you can't rip someone's OS off in a month in smartphone world. they were most likely developing it at the same time. either way iphone just got better with ios 5. lets just hope joe gets mango out before ios5 comes out

IMO the real innovators/thinkers are those who have gone outside the box (i.e jailbroken/rooted their devices) to develop the initial ideas, which are then taken by companies and claim that it's their idea and it's new.

The big thing he is that iOS 5 brings NOTHING new that MS has to worry about. Once Mango hits WP7 MS will have "catched up" to iOS and by extention Android in 1 year! Late to the game my **** like I've said many times, it's easier and quicker to "catch up" than it is to "stay ahead", Apple just showed it's out of ideas really and while these do help iPhone users nothing in there isn't in WP7 now or coming with mango. The platforms will be on par very quick and I don't think people understand this fully yet.

In nearly all of these Apple is better than WP7, though it pains me to say it.Improved Notifications - you can't get back to them in WP7, nor do they accumulate very usefully on the lock screen... there is no Notification Center and there *should* be... notifications in WP7 suck (they're as useless as current Apple implementation, though marginally less intrusive)... so other than 'copying' by choosing the top (rather than bottom) of the screen, Apple's new system is superior.Thumb Keyboard - I don't get the hype about the WP7 keyboard.. of them all (Android stock, iOS stock), I am least accurate on the WP7 keyboard... and it doesn't correct things very smartly either.Social Media, baked right in! - except no notifications of new status updates in WP7... so not very useful unless you like visiting your contacts screen every half hour and waiting for it to update on your prompt.Automatic Photo Upload - and I expect iCloud will have a far more user-friendly and beautiful interface than anything on any of the Windows Live sites. Skydrive etc. are all but unusable because of the web interface.Wifi sync - but only if your WP7 (or Apple) phone is plugged into the mains... via a cable... so you may as well plug it in to your computer to both sync and charge...

What about the live tiles that accumulate the notifications very nicely?

Fair point, but I don't want a live tile for every single app I want notifications from, and, more importantly, there is no detail to the notifications on the live tile. For example, I wish they'd give us a double-width email live tile with the senders of the latest 2 or 3 emails, or a snippet of the latest. Same for SMS. As for Facebook and Twitter notifications, these are limited to direct mentions or messages, not a cumulative count of new status updates. I find the notification system in WP7 to be very poor.

PS split keyboard will not catch on... they are impossible to use (why do you think the majority of desktop keyboards haven't switched to the split layout).

Engadget has picked up this story as well. The comments are BRUTAL! http://www.engadget.com/2011/06/07/microsofts-joe-belfiore-kicks-off-ios...Personally, I love WP7 but think us WP7 supporters/fans shouldn't talk smack until we see a significant increase in sales. Otherwise, it will be the same result in an argument supporting WP7 as the best phone OS as supporting LeBron James as the best NBA player ever. Until LeBron gets 6 rings or more, there is no argument. Just like until WP7 gets at least a double digit marketshare percentage (probably more to be honest), there is no argument.
Windows Central Newsletter
Thank you for signing up to Windows Central. You will receive a verification email shortly.
There was a problem. Please refresh the page and try again.