Microsoft FY18 Q3 earnings: $26.8 billion in revenue with Surface surge, cloud growth
Revenues for Microsoft's third quarter hit $26.8 backed once again by solid cloud growth.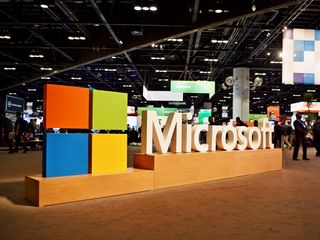 (Image credit: Windows Central)
Microsoft today released its earnings report for FY18 Q3 (opens in new tab), showing revenues of $26.8 billion and $7.4 billion in net income. That's up from the same period a year ago, during which Microsoft brought in $23.2 billion in revenue and $5.5 billion in net income.
Here are the highlights from this quarter's release:
Revenue was $26.8 billion and increased 16%
Operating income was $8.3 billion and increased 23%
Net income was $7.4 billion and increased 35%
Diluted earnings per share was $0.95 and increased 36%
This quarter's earnings are boosted largely by growth in Microsoft's cloud and commercial services, as has become a trend over the past several quarters. Office commercial products and cloud services revenue was up 14 percent, while Office consumer products and cloud services revenue rose by 12 percent. LinkedIn even saw quite a surge, showing a 37 percent increase in revenue. Meanwhile, server products and cloud services revenue as part of Microsoft's Intelligent Cloud business surged 20 percent.
In terms of the More Personal Computing category, which encompasses Windows OEM revenue, Surface, gaming and more, things were on the up as well. Windows OEM revenue rose by four percent, while Windows commercial products and cloud services were up 21 percent. Surface revenue surged by 32 percent, while gaming ralso saw a pretty significant bump of 18 percent, driven by software and services growth. Here are the highlights:
Windows OEM revenue increased 4% (up 4% in constant currency) driven by OEM Pro revenue growth of 11%
Windows commercial products and cloud services revenue increased 21% (up 17% in constant currency) driven by an increased volume of multi-year agreements and the mix of products that carry higher in-quarter revenue recognition
Gaming revenue increased 18% (up 16% in constant currency) driven by Xbox software and services revenue growth of 24% (up 21% in constant currency) mainly from third party title strength
Surface revenue increased 32% (up 27% in constant currency) against a prior year comparable impacted by product end-of-life-cycle dynamics
Search advertising revenue excluding traffic acquisition costs increased 16% (up 14% in constant currency) driven by higher revenue per search and search volume
As usual, Microsoft will hold a conference call and webcast at 2:30 p.m. PT / 5:30 p.m. ET on its investor site (opens in new tab) to discuss the earnings.
Windows Central Newsletter
Get the best of Windows Central in your inbox, every day!
Dan Thorp-Lancaster is the former Editor-in-Chief of Windows Central. He began working with Windows Central, Android Central, and iMore as a news writer in 2014 and is obsessed with tech of all sorts. You can follow Dan on Twitter @DthorpL and Instagram @heyitsdtl.
it starts in the 3 calendar quarter. July-September.

The Financial Year starts on July 1st.

Companies are allowed to choose their fiscal year. Companies choose to do this to better match the seasonal aspects of sales and expenses. MSFT chose to end their fiscal year on June 30. I assume we can all guess why June 30. Unfortunately, this decision was made when the company was formed in 1975. So the original reason may not apply. Plus I do not know if they changed their fiscal year later down the road.

Good to see gaming growing. The media and fanboyism makes it seem like Xbox is failing. But reality is xbox is a healthy business for MS. Also glad to see MS reporting increased spending in gaming. Hopefully this is strong indication of increased investment in 1st party studios and original content

Yeah, the complete opposite. Not only is MS doing well in gaming and investing in it, they have a long-term plan that focuses on cloud gaming, something for which Sony is going to have a hard time competing with. Data farms are not cheap when you have to rent 'em vs. use your own. MS is very bullish on gaming.

That's true, but concerning Surface you guys need to take a closer look. Revenue was up YOY by 32 % as you've said, but it was down in Q3 2017 by 26 %. Total revenue was at 1.09 billion US Dollars so up compared to Q3 2017, but on the same level as Q3 2016 for instance.

I disagree with your last statement. This involves transfer pricing. Why would one division of MSFT give another division a price break? However, you are correct in that hosting games on the cloud supported by windows may be a far better experience than what Sony could distribute. You are also talking the difference between SAAS, IAAS, and PAAS. Renting space in a data center is a commodity business (or becoming one). While SAAS (software as a service) is more profitable. Think of Office 365 subscription. And PAAS (platform as a service) is still evolving. Think of Azure helping the enterprise run a hybrid system. Clearly, MSFT has a broad expertise is connecting many gamers from all corners of the world into a game via the cloud. Also what about VR? There are just too many advantages for MSFT over Sony. However, will game developers want to deliver games on the Xbox platform.

"This involves transfer pricing. Why would one division of MSFT give another division a price break?"
Who needs the break?
I think of it like this: if I have $5 in my left hand and pay the right hand $5 for its services.. who has that money in the end? Me.
Its a business expense AND income for MS. Perfect.

Sony is probably going to end up acquired or merged anyways - or worst case forging a special deal w/ Amazon or Google. I don't see that (lack of cloud infrastructure) being a huge problem looking at it that way. MS has initiative but there's still time and playing field is going to change.

"Search advertising revenue excluding traffic acquisition costs increased 16% (up 14% in constant currency) driven by higher revenue per search and search volume" MS is quietly building a nice business with Bing/Search.

That's great news actually. 3 days ago I read about Google income and 85% of revenue comes from advertising, this puts Microsoft in a much better position than Google, since it depends on services like youtube and search to keep money coming in.
On other side Microsoft has a very wide/diverse departments from which their income grows every quarter including (hardware (Surface/Holo Lens), hardware (Xbox), software (Cloud Azure+Office 365), Bing Cortana and lets not forget Windows which is the best desktop OS.

Microsoft is the most diversified tech company in the world. Google is 85% search, Apple is 85% iPhone, Amazon is 85% retail, Facebook is 85% social media. (editors note: 85% is used to point out the dominance of one part of their business in comparison to the company as a whole, not as a factual number for each) Their is no company like Microsoft. Windows, Office, Cloud, Gaming are all huge parts on their own of Microsoft if one goes trough a rough patch the other pillars will keep the house standing. If Google ever loses its market dominance in search, or Apples iPhone loses its spark both companies are in a world of pain. Put it like this: what if Bing and Windows Phone both did a little better then they did. What if they just could have carved out their own segment of the market (I know Bing is kinda doing that now, but that's something that took far too long), Microsoft would have been a unstoppable powerhouse! 20% in mobile would have rocked the tech industry, it's disappointing that Satya didn't put Microsoft massive cash reserve behind Windows Phone after acquiring Nokia's hardware division. If they pushed the momentum with good software, hardware and actually pushed the platform with a multi billion dollar global marketing initiative? They could have got that 10% in the EU 5 and the 5% globally to 20% and 12% if they just had a little faith in their own product!!!

Nice to see my favorite technology company is better everyday.
In 2018 smartphone market has been reduced in China which keeps companies like Lenovo, ZTE and Hisense in a bad financial situation for coming years, which says that smartphones reached their peak about 2 years ago and are now a declining market.
On other side, PC market has stabilised and 2 in 1 are a growing market.
Can't wait to see what Windows ARM will bring to OEMs in 2018-2019.
Great job Microsoft!

As usual strong earnings results. Xbox live users up 13% yoy. Whenever Microsoft reports earnings, the stock either dips slightly or stays flat and then in the following days, it increases. https://news.alphastreet.com/microsoft-reports-blowout-earnings/

Yeah, it jumped to almost $98 share in after-hours trading.

Cloud and Office results have been expected. But i'm really surprised with Surface, thought they were close to a 'positive zero'.
And Bing? Really? Someone actually uses that thing?
And yeah, good news for gamers as well though i prefer PC gaming and MS is sadly lacking there.

I use Bing and I've bought 2 surface books.

Mmm, you are not implying that you bought 2 surface books with Bing rewards right? 😂😂

I also use bing by default, gets me free rewards. Oh and Google is banned in the world's most populated country. When I visited shanghai last month, anything by Google is banned. Bing worked.

Hopefully one day they will bring the Bing rewards system also to non - US regions.... It will positively impact the Bing usage.

It's available in Germany for quiet a while

I have used Bing pretty much exclusively for several years, for some time before they started offering Rewards here in Australia. I don't usually compare to Google so I'm not sure whether I'm getting the best results I could but I've never really considered what I am getting to be lacking in any way. On a number of occasions that I have used Google, I found that the results were inferior to those provided by Bing. I'm a .NET developer so it might be that Microsoft does a better job of searching for their own technologies but I wouldn't switch back to Google even if I wasn't getting Rewards.

Glad to see gaming growing. I love Xbox!

$7.4 billion net income and not a penny to spend to keep W10M going..

Who heck cares that ship has sailed.

I care because it's still the best phone OS out there. The other two blow.

"scdkad" I wholeheartedly join you in the "I Care" department. I think MSFT will be ready for the next new thing that is phone related... I can wait

That's why they are making money, by dropping a money losing product line.

I'm sure it was really dragging down the entire company losing 100's of millions a year. Whatever dude. It's being supported unit the end of 2019-what's that costing them?

In fact they lost billions over the years with Windows phone /mobile.
But I really wished they'd supported it till Andromeda release for Business partners. Just one new phone and some small updates to the OS, especially continuum.

They are spending gobs of money porting MSFT services to iOS and Android. Sure I would like to see more development into W10M. But my 950 works just fine. I guess I can squeeze another year out of the device.

"They are spending gobs of money porting MSFT services to iOS and Android" You are correct, but this keeps them connected from services point of view by meeting people where they are at. If MSFT mobile or phone ever happens, it will be much earlier to get these loads of customers redirected to them.

Hopefully next year we may see revenue of WMR!

Great but we still want a phone.

Even Windows grew, not expected. Some days you get a fumble recovery in the endzone for a touchdown. Tablets must have died.

Although looking bored, Azure is obviously the future of Microsoft.

Excellent news! Keep going Microsoft!

"driven by Xbox software and services revenue growth of 24% (up 21% in constant currency) mainly from third party title strength" You can thank Fortnite for that.

and PUBG (as it is still available only on XBOX for console)

I am dog gone tired of all this growth brouhaha by Satya, I propose we fire him ASAP.
Please don't ask me why....
Just joining the #MetooNoPhone folks in spite of making a killing for investors.
Keep up the good vision my man Satya.