Microsoft has 'no plans' to release more first-party games on Nintendo Switch or PlayStation 4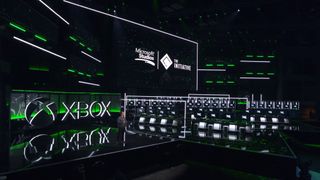 (Image credit: Microsoft)
What you need to know
Microsoft has acquired a lot of studios in recent years.
A lot of first-party games like The Outer Worlds are also coming to Nintendo Switch and PlayStation 4.
The company has "no plans" to bring additional first-party titles to other consoles.
Existing commitments like Minecraft will still be supported.
Over the past few years, Microsoft has acquired a lot of studios in order to boost its first-party lineup. However, as is the case with any acquisition, past commitments have to be honored. Titles like Pillars of Eternity II: Deadfire, The Outer Worlds, and others are still coming to Nintendo Switch and PlayStation 4 alongside Xbox One.
Apart from that, Microsoft and Nintendo have been working closely together. Cuphead and now Ori and the Blind Forest are both parts of the Nintendo Switch catalog. While both of these games aren't first-party titles, there has been speculation that Microsoft is planning on bringing first-party games to other platforms.
In a recent report by GamesIndustry, the outlet managed to get a statement from Microsoft which revealed that the company has no plans on bringing first-party games to other platforms. The team just had to honor existing commitments like Minecraft, The Outer Worlds, and more. You can read the statement below.
While Nintendo Switch and PlayStation 4 owners may be disappointed with this answer because Microsoft now owns franchises like Psychonauts, The Outer Worlds, and Pillars of Eternity; Microsoft already has access to hundreds of millions of consumers who use Windows 10. The fact that every Microsoft Exclusive will release on PC opens up each title to countless gamers. PC is by far the biggest platform to be on.
It's unclear if this will always be the case because the gaming industry is a volatile place. Competition is about to get even fiercer with companies like Google and possibly Amazon coming out with their own game streaming services. Only time will tell if this policy holds because anything can happen a decade from now.
Best of the best
(opens in new tab)
Three-month subscription

Xbox Game Pass gives you access to over 200 games for one monthly fee. Xbox Game Pass Ultimate also adds Xbox Live Gold to the package so you can play online with your friends.
Jump into digital
(opens in new tab)
Xbox One S: All-Digital Edition
Ditch the discs

Secure your Xbox One S All-Digital Edition, Microsoft's new and ambitious disc-less console. It's the cheapest Xbox One ever made, bundled with a trio of downloadable games.
Xbox accessories you'll love
Every one of these quality accessories is guaranteed to enhance your Xbox experience.
PowerA Enhanced Wired Controller for Xbox One (opens in new tab) ($20 at Amazon)
PowerA's take on the Xbox One controller is an attractive pickup for budget-conscious gamers that nails all the basics.
Talon PDP Xbox media remote (opens in new tab) ($20 at Amazon)
The Talon PDP Xbox media remote is great for watching shows on your console.
Xbox One S vertical stand (opens in new tab) ($10 at Amazon)
Stand your console upright with this accessory.
Asher Madan handles gaming news for Windows Central. Before joining Windows Central in 2017, Asher worked for a number of different gaming outlets. He has a background in medical science and is passionate about all forms of entertainment, cooking, and antiquing.
"Microsoft has 'no plans' to release more first-party games on Nintendo Switch or PlayStation 4", but Minecraft Dungeons still is coming for these platforms. So shame. They could nice exclusive game in the Minecraft universe. "Titles like Pillars of Eternity II: Deadfire, The Outer Worlds, and others are still coming to Nintendo Switch and PlayStation 4 alongside Xbox One."
Titles like these are coming to PS4 or Switch because THEY ARE NOT first party game. They were released, announced, developed before Microsoft even started talk with every acquired studios.
Studios are by now first party teams, but their latest games are still third party being published by different companies.

Sounds like Baumer is back!

I just don't get what the strategy of MS in regards to first party line-ups is. The success of PS4 and Switch has proven that the most important differentiator is exclusive games, mainly achieved by first-party games. The Epic Store exclusivity push with 3rd party games is showing this as well.
But while MS is now heavily investing into first-party content they don't seem to be fully committed to keeping it exclusive to the Xbox ecosystem (including both console and PC).
Why should the gamers invest in the Xbox ecosystem if they get the MS first party content also elsewhere, while at the same time this does not apply to Sony's and Nintendo's first party content which remains exclusive to their ecosystems?
So a gamer that wants to be able to play everything needs only a PS4, a Switch and a PC (with Steam and Epic Games Store) but not really Xbox anymore.
I don't understand what the strategy of Microsoft is here.

Ever heard of dominating when being everywhere? It's not that hard. Someone else's success can make you alot of business and $. Why stick to your own Platform when you can have different communities that can enjoy your games as well. Microsoft isn't the only one, Sony is doing it too as they dropped their first game on EGS.

Tbh the gaming world is moving and looking like exclusives could be a thing of the past in some ways. For xcloud and psplus to be a successful they need to open them up to tother devices. (pc mac, TV sets ect) and by doing this you gain more £ as you have a wider audience. For me microsoft are pushing the Xbox and pc as the premium way to play there games but cloud will add to that option for people who don't own/want a xbox. Intresting times but of all the big boys out there microsoft know 3rd party is what can drive them the most and why pc owns the market.

Same strategic as always, to broaden their software (ecosystem) reach.
The more a user (and his/her friends or families) investing (time and money e.g. building game lib, game saves, making friends, etc)in an ecosystem the harder a user can leave.
e.g. like Facebook, pretty much impossible to kill. Heard of lifehack? Every Ultimate conversion will cost MS $300. That's quite a huge advertisement spending. MS is launching xCloud soon. So, my guess is, they don't need those native solutions on other platforms anymore.
Wiser to save the native solution for WinClassic and WCOS (includes Xbox and other future form factors and HW architectures).
* kahawai i-frame and delta mode is only possible if native solution is available.
* Why not get a PC? Game performances better, has lesser bugs on a console than PC, because everyone on the planet pretty much use the same combination of HW, driver and OS.
* Do you think Steam / EpicStore can bring its win32 games to WCOS? You'd need to urge devs to support appx. So, spend a $60 to obtain a copy from MsStore can give you,
1. Best gaming experience on Xboxes.
2. Forward compatibility + MS might mipmap tampering games again to support 8K/16K in the future.
3. Some tittle supports XPA, you can run them on an Alienware or a Surface.
* I recently converted my sub to Ultimate, and I bought a m3-8100y 7inch win10 tablet (with a gamepad add-on) to utilize my GamePass for PC. It's a pretty good temporary on-the-go solution.
* Looking forward to Snapdragon 8cx + LTE later this year!
4. you can share your copies with multiple family members and they can run it on whichever device they prefer.
5. xCloud, an add-on feature for Xbox users. It enables you to run games on anything incapable (e..g a low specs PC) or incompatible (e..g a smart phone).
* XPA is your BFF if you don't have an unlimited 4G/5G plan. ps: Stadia won't work when you are on a bullet train, on a plane or in some restaurant's basement. tbh, there are places, Sony and Nintendo just can't enter.