Microsoft highlights praise the Nokia Lumia 920 has received in latest advert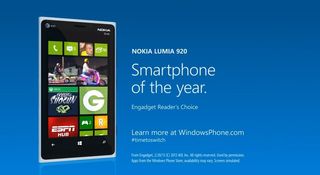 What's an effective way to advertise and promote Windows Phone? To highlight awards and praise its leading flagship handset receives, of course. This is exactly what Microsoft has done with its latest advertisement. The company has highlighted quotes from various media sources that have reviewed the Nokia Lumia 920, including Engadget and CNET.
It's an effective advert that gets straight to the point as to why you should at least look at the platform and this Windows Phone in particular. Unfortunately, Windows Phone Central wasn't quoted in the footage, but it's still worth watching.
Source: YouTube
Rich Edmonds is Senior Editor of PC hardware at Windows Central, covering everything related to PC components and NAS. He's been involved in technology for more than a decade and knows a thing or two about the magic inside a PC chassis. You can follow him over on Twitter at @RichEdmonds.
Boo Hoo they should have quoted someone from WPC

Laaaaaame (I really love my L920 though)

Oh wait... I thought Microsoft didn't adverise Windows Phone?

;-)

What about best camera? :/

Exactly. Why not actually show the features? What happened to showing the kids updating the dad's OneNote shopping list as he's criss-crossing through the grocery store?

Because this ad is all about what tech media had to say, in one- or two-word quotes.

should have left out some of those 80s buzz words.........hip.........really...........

I don't see why not, hip is still...hip ;)

That just blew my mind, man.

"Revolutionary, marvelous, extraordinary."

80's? More like 70's and earlier. According to Wikipedia it was popular on the 1930's and 1940's :P My parents used to say it, and therefore it was very unpopular for us growing up in the 80's. That's also why I cringe when I see hipsters these days wearing fashion I thought were horrible the first time around :P

I know that it is now (again) hip to use the word "hip", but it still sounds kind if lame.

Guess you're no longer hip if you don't know hip is hip again.

Well, it's understandable that they don't quote WPC, as the general public might assume it's always going to side with MS products. Be like citing cultofmac in an apple commercial.

does anyone know what that espn hub tile is that appears near the end of the ad? The official espn scorecenter app just says 'espn scorecenter' on it.

the windows phone espn app for all phones not the one exclusive to nokia.

Not to contradict the other response, but it looks like it's the Nokia-exclusive "Hub" one. When they updated the Hub app, I tried it again, but eventually switched back to the Scorecenter one available for all WP phones. The Hub wasn't working well with the live tile (it just didn't update much or at all) and it doesn't have ESPN login, the latter being a pain while talking to their support team because I had to uninstall and re-add my favorite teams each time.

I really like the design in the revamped Hub app, but the Scorecenter tile ultimately won the battle so I have the non-exclusive Scorecenter app...like the common man. In other words, you're not missing much IMHO if you don't have a Nokia device.

Yeah, its the Nokia ESPN Hub app. You can actually see the word "Hub" under ESPN.
About Scorecenter though, does anybody receive notifications even when you have the turned off in the app, or have trouble with the live tile updating consistently? I am having both. The live tile for my team (Braves) often stops updating mid-game and doesn't update again until the next game. I've been going back and forth with ESPN customer support for 3 or 4 weeks now with no resolution.

I had the same live tile problem a while back, before trying the Hub app again. Scorecenter just started working okay for me again and has since. It will update during the game and after.

I will say you're lucky to even have a back and forth with their customer support. When I emailed them (from the app...so it said WP8 in the subject) about the Hub app, they responded once about the Windows 8 app with some generic uninstall/reinstall instructions. When I wrote back to explain it was for WP8 and I tried the same steps, I never heard back.

Off topic but could we please have a way to flag comments from our WPCentral app. I came across some disgusting language today in Hindi on a previous post. Wp community is growing and like all growing platforms is losing a little bit of its bonhomie.

Since there's no mechanism to "like" this, I'll respond that I agree. WPC needs a like/flag aspect to the comments. It'd cut down on "THIS" or "+1" comments as well as keep the stupid stuff in check. I think I know which post you're referring to as well.

Now that's what im talking about fuck you Samdung and crapple XD!

Really?? My 12 year old occasionally reads this site. One can make a point without using profanity.

What if cybermoose is a 12 year old :)

Im 24 just merely showing a little enthusiasm don't condescend on me lighten up dude don't take things so seriously take what i say with a pinch of salt ;p

Is Samdung such a bad word?

Just a mocking soppy insult to android i barely see it as bad trivial if anything not worth getting the hump about if you ask me XD

LOL, just joking dude :) Samdung or crapple is not an offensive word unless you are a Galaxy or iphone fanboy.

Good man indeed pretty sure they would blow a fuse at banter ish names like that

IDK care if you consider this condescending or not, but comments like that rationalized like that are why many here look at you like a snot-nosed, immature brat.

I don't care what people think of me that's what you call a waist of time if you take things seriously you don't even know me as stated take what i say with a pinch of salt just because you cant handle a few taboo words :)

I just want to know why it took Microsoft five months to make and broadcast this ad. I'm not saying that the 920 is outdated, but after having it for seven months, I'm already jonesing for the EOS.

Agree. Seems like this ad should have been out a long time ago.

Nice ad but shouldn't have mentioned the rivals. Let the awards do the talking...

Yeah, definitely not a iOS 7 knockoff.. Lol.. Now, the others are late to the party.

This isn't new I've seen it on Hulu for the past month or so. But I really like it! Also, does anyone else think that this ad makes the 920 look kind of thin? :p

Cool ad....grabs attention....they should spend $$$ to use this on TV.

The guy in the video sounds like the joker in the Normandy
( mass effect)

Love it! It is very vibrant! And, I like that in the Photos/Pictures Hub, they have a pic of that neon scooter we see in the Lumia 928 commercial :)

And the girl on the swing taking pics with her VZW L928.

Nice. I think it makes the point quite nicely.

I just want the dust out of my ffc! Adore the phone, though.

Based off my experience yesterday I dont know how windows phone makes any traction in the market at all. I am FINALLY able to upgrade so I can FINALLY get my Lumia 920 and walked into my local cell phone providers store and after searching for 10 - 15 mins decided they didnt have any windows phone on display then at the very very back corner between to register stands by the back stock door their theyr were in the very very back corner. Such a shame. If all or most stores treat windows phones like this no wonder a lot of people never heard of windows phone.

Are you in north Brunswick NJ? :-)

I am proud I voted for the 920 in that pool!

Gotta love a handset that was launched in Nov. of last year still the coolest of the bunch IMO. Kudos to Nokia/ATT for giving us yellow, cyan & red. Love that my yellow 920 stands out in a crowd and is built like a tank and takes amazing pics/video! Excited for EOS/Elvis but this bad boy is still kicking!
Windows Central Newsletter
Get the best of Windows Central in in your inbox, every day!
Thank you for signing up to Windows Central. You will receive a verification email shortly.
There was a problem. Please refresh the page and try again.