Microsoft HoloLens developer kit coming Q1 2016 for $3,000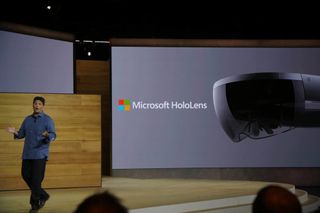 As part of its HoloLens announcements at its Windows 10 devices event, Microsoft announced a developer kit for the augmented reality headset. Meant for gaming, the kit will arrive in Q1 2016.
Microsoft is taking developer applications for the kit starting today, but it won't be cheap. Developers will need to shell out $3,000 for one of the kits.
You can stay tuned to out liveblog for more from Microsoft's Windows 10 devices event.
Windows Central Newsletter
Get the best of Windows Central in in your inbox, every day!
Unreasonable pricing if they make this for non-dev purchases. I really hope they don't apply this pricing to that. Posted via the Windows Central App for Android

What is "Unreasonable" compared to? The commodity augmented reality unit on the market today? Sure, it's pricey, but it's not yet being billed to consumers. And while Oculus and others are really just a display device (to my knowledge), with all of the controllers etc, there's no processing done. Posted via the Windows Central App for Android

Unreasonable as many people will not be able to afford it. Posted via the Windows Central App for Android

It's a dev kit. Limited hardware run. Expensive. This isn't for kids to play Minecraft on yet.

Yeah that's what I was trying to say by "non-dev" purchases.

Also, by the time it IS ready for consumption in the market, they'll have reiterated it at least twice and we won't be "looking through a mailslot" to enjoy the Lens... ;p

You know, for what it is, that's not too bad. Obviously a consumer version will have to come down (a lot). But for the medical field (one of their expected large customers) 3k is a drop in the bucket of their budgets.

Yeah mass production will drop the price alot. These early kits are understandably expensive

Why is it intended for gaming specifically? Posted via the Windows Central App for Android

Accounting, Nadella said that Mojang was bought solely to market HoloLens.

It's not, thats just what alot of the demos are to show it off. The initial video they released for it shows multiple applications. Drafting/medical/remote instruction when paired with a Surface over the internet. Will be great someday.

Not a bad price actually, only 5 x feature phone :)

LOL $3K, you can keep it for that; no wonder Microsoft scrapped a consumer version in the near future.

When you look at it as a stand alone, in development device, that is awesome. But lets hope that that price does not reflect the retail price.
Windows Central Newsletter
Thank you for signing up to Windows Central. You will receive a verification email shortly.
There was a problem. Please refresh the page and try again.