Microsoft all set to launch the Lumia 540 in India on May 14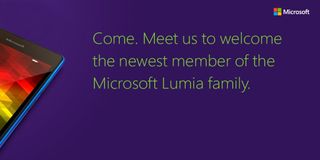 In a low key announcement last month, Microsoft announced the Lumia 540 Dual SIM for the Middle East, Africa, and Asia Pacific markets. Yet another budget device, the Lumia 540 is expected to be launch in India tomorrow, with Microsoft sending out invites for a press event in New Delhi.
The Lumia 540 features a 5-inch 720p display and is powered by a Snapdragon 200 processor with 1 GB RAM. The decent specifications are rounded off by 8GB internal storage, an 8MP shooter at the back and a 5MP front shooter:
Lumia 540 Dual SIM Specifications
Windows Phone 8.1 with Lumia Denim | Windows 10 ready
5-inch HD (1280 x 720, 16:9), 294 PPI
1.2 GHz quad-core Qualcomm Snapdragon 200 CPU
1GB RAM, 8GB storage, microSD up to 128 GB
8 MP auto focus camera with LED flash
5 MP wide-angle camera at the front
2200 mAh removable battery
Dimensions: 144 x 73.69 x 9.35 mm
Weight: 152g
In terms of specifications, the Lumia 540 is not too dissimilar from the Lumia 640, although there's a 5MP front camera instead of the 1MP offering on the latter. The Lumia 540 was announced with a price of $150, and we'll see what that translates to in India. We'll be there at the launch event, and will bring you all the details from the ground. Until then, what do you think of the device and the expected price?
Windows Central Newsletter
Get the best of Windows Central in in your inbox, every day!
I'm sick of this nonsense news

I'm sick of you're attitude. And this nonsense news.

I'm sick of people complaining. And this nonsense news.

Man 535 just got f***ed .!! Microsoft launches are overlapping each other .!! 535 comes out afterwards 640 cones up at almost same price and later on 540 also jumps in :/. WTH are they upto .!! Man atleast keep a synced range according to price bracket and lumias out in stores .!! And its time to get some mid range stuff to India .!!!

I'm confused by all these numbers. What's what and who's who!

Microsoft, please try to understand that there is a reason why Lumia 7xx series are better than 6xx and why Lumia 6xx are better than 5xx. So please stop confusing the people and follow this order.

i've heard of data sense, wi-fi sense, storage sense..
but what is non sense? :|

Except for people with a sixth sense.

I'm sick AND tired of morons like you, ruining and embarrassing this community. Go step on a Lego.

whoa! Dude, don't you think that's a bit too harsh of a punishment?

Hey.. hello... Any I messaged you using the windows central community forums. I was wondering when will the windows10 sdk will get released? please do reply my message :)

Sounds like you're from the 50 cent red army...

I have a sick sense. I see sick people.

Everything is just the same except for the processor when compared to L730 and yet so cheap...

Well, l730 has Zeiss optics.

L730 has Snapdragon 400, a clearblack display and ziess lens and also a generation gap.

730 has a OLED HD screen+Zeiss optics+ motion data sensor +400 series processor+NFC + NOKIA BRANDING WITH BETTER LOOKS !!!

I love Nokia.. but Microsoft has MORE BRAND POWER than Nokia .. Also,,, 540 does have HD screen..

but size 4.7' not enough ,if it s 5' it will be great,its horizontal screen size smaller compared to 625

And wireless charging. Posted via the Windows Central App for Android

And 640 has full HD recording while 540 8mp shooter nd 5mp front shooter both have 480p recording !!!

I'm told there are 12 monkeys.

Hahahahahahahhaha XD no bullshit

But there's monkey, just look at the phone screen while turned off

The more the merrier... Even though these numbers are beginning to confuse alot of us.

Confuse you, maybe
Definitely not me

They're not mind blowing devices anyway. All the same with tiny tweaks.

More options for people, especially those where the 1MP front shooter from the 640 was not enough and the 640XL was too expensive and too big.

Haha! This is the best article I've seen in a long time. :)

Yeah, the funniest comment section, lol!

Well the processor's are different and the Rear Camera is capabale of Shooting HD Videos where as 540 cant(not sure) 640 has Gorilla Glass 3 while 540 doesnt... Still dont understand their naming and why MS is releasing these ones as they already have many Low/MID end... Well my view...same 640 with 5MP Front Camera is a huge HIT anywhere...of course with the same price...

L540 both front and rear camera can shoot HD video

Snapdragon 200 is not capable to shoot HD videos.

I'm starting to think that the SD200 is only good on feature phones. I can't even imagine how would an Android phone would work on this kind of hardware.

At least these are quad cores

No, L540 both cameras are 480pixels only. Not HD. Front camera resolution: FWVGA (848 x 480)
Main camera video: FWVGA (848 x 480) .
Check MS website if u have doubts.
Ty

Difference from 535: Hi-res screen, better back camera, no Gorilla Glass 3 protection.

Bigger battery too, 2200 instead of 1905 mah!

They should give a deep discount to 535 users who are facing touch issues. They will win more customers.

Also they will lose more money

Only for 535 users not all.

Point to be noticed sir. Hahaha.

What's the difference between 535 & 540??

The 535 have touch screen issues

Battery, display, back camera

Better have continuum. Stupid though. 1 whole gb of ram. That's bad for the 5xx

Won't have Continuum. That's for the newer hardware that'll come with Windows 10.

Fu*k this low budget sh*t...We need mid rangers and flagships c'mon Microsoft

You won't see high ends or mid range phones until windows 10 ready

Indeed, 840 and 940/940XL will come around September when W10 for phones will be launched

I don't think high end Microsoft phone can bring profit coz most of the people just think "if it is such expensive, why don't we just go for iPhone/S6/M9"

Easy on the "*" dude. No need to get carried away.

Yep we need wide range flagships,successor of 1020,1520,940 with features that are not in any other OS devices... But not until sexy Windows 10... :) :)

These cheap plastics are just to stall for these few quarters so MS doesn't lose tons of money. And fanboys are soaking this up like sponges!

i hope mid and high end phones won't have soft keys i will ignore any phone with soft keys even if its high end

Yeah me to I bought Lumia 620 back in 2012 and for further upgrades I've always choose phones with hardware keys, LED, FFC and camera button.

Haven't yet found a true upgrade to L620. Still using it as a spare phone.

I hope It doesn't have plastic, which makes the phone heavy. Needs some kind of advance display like Apple's Retina. New design- lighter and thinner. I can only dream though. We'll probably see some bulky and heavy shit.

Doubtful. Chunky Lumias are a thing of the past IMO.

Advanced display like apples retina? Retina just means a screen with a pixel density of 326 ppi or more.

Your saying Apple's Retina display is just a gimmick?

not a gimmick, but the name means nothing lol absolutely nothing at all. they could just say the phone screen is 720p but they go and use Retina.... usual apple stuff.

It's works though. The tech journys soak it in like a sponge.

The only way Microsoft will win this war is via "Affordable Phablets". This is one ignored segment. People want big screens. This is what may save WP.

Certain markets do seem to like big screens, and I would like to have bought a 640 XL but it is to hard for the average guy to carry one around in a pocket because of their size. So I eventually conceded and bought standard 640. So the market doesn't really support Phablets. The high end devices are both rumoured to exceed 5" scenes though.

I'm going to say it once again "Microsoft is making phone like packages"

When in Dominican Republic?

Hey Microsoft,You guys should issue a stack of Online Tokens exclusively for L535 Users lol.Go to any Nokia Care Centre near by and get a shining new L540 at +25/+30 % Of MRP under the Exchange offer.I own L535 and tired of it's pesky and iffy touch screen.:|

No difference between l540 and l640 just the sreen and the processor ... Rest al are the same in my view ....

HD camera vs 480pxl camera?

Why are they releasing so many same same phones with little little difference.......

Hahaha nice pun!
As Microsoft stated earlier, they're currently targeting the emerging markets and you know, only the budget devices sell well in those markets. Their first priority is to gain OS market share. People wanted more choices in the budget segment, and there we have it now. But yeah, I do think we really have enough of it by now.

The emerging markets, especially India are soaking these cheap plastics up like sponges. They love 'em. So there's nothing we can do with the bombardment.

#editor the info about dimensions of phone was changed few days back it is now 8.6mm thick and not 9.35mm as mentioned by editor here!!! clear black display was also being mentioned just a few days back...before that no such info was present on ms website. first of all, snapdragon 200??? still !! No Gorilla Glass, how is it supposed to be an upgrade from L535????

If you buy a L535 now you're dumb. The chance of having a bad touch screen is pretty high

It has HD display compared to 535, it has bigger battery and better camera

Not 8mp camera 5mp on back pls correct it...

I'm sure it's going to come 30 more low end phones before an high end

I'd honestly forgotten that the 540 was a thing. I'm sure its a fine phone, but since I know its not coming to the US, it just isn't on my radar.

Iraq, Iran, Istanbul, indo...

Indonesia, Iran and Iraq cannot be clubbed with Istanbul !! Any other cities or nations starting with I Irkutsk, Isfahan, Idlib, Irbil...

Just release the lumia 740

When without corruption taxes in India?

520,25,30,35,40 Wtf.. I'm losing count MS..

We'll have to ask Elop...

I think it will end with Lumia 599

520 still selling in india..:)

So many phones low end to say, with little or no difference, am really getting confused

It may cost upto 12000 - 13000

I like how they are filling the market with products, but releasing so many in such a short time, that too at the same price with a new model killing the old one every next month makes it look like MS is just shooting bullets in the air instead of aiming and shooting.

Studip iditotic Ms......senselesss Microsoft

This is what Samsung did and get succeed.

Except that they marketed the launches really well. From T.V. ads to newspaper to metro station boards to public displays, every possible place.
If there's anything I love about Samsung, it's their approach towards marketing, to make a failed product look successful and make it really successful later on.

Ok great, but bring on the high ends now please!

Well the Comment section here sure can be closed down. Got to start ignoring it and just read news these days.

A lot of 535s are gonna be exchanged!

All the stats of the new Microsoft Lumias confuses me. A LOT.

India can only afford cheapy cheapy phones. THAT'S THE TRUTH! We who have tons of money can only wait for another flagship which I doubt will arrive soon.

I'm definitely not from India. I've been there for business trip but would never go back again can't stand the smell and surroundings.

I know that you're not from India. So, are you rich enough to afford as many flagships as the whole country would buy(cheapy phones)? And by doing so, you can increase the WP share?

Well that can be possible. If your crap of a company sent you to inspect the garbage bins of India.

I didn't dude. Everyone gets the mail.

Is it? I didn't know bro. :) Then why do we have a toggle that says, "send a mail when someone replies on my comment" or something? Lame.

Have got 67 Mails from the WC Comments Section, while I have only commented 3-4 times in the past 2 days.

If it priced 8000 rs in India,it will sell well.

Don't compare those with Microsoft. If you wana compare, compare MS with HTC,lg, Sony, Samsung

Sorry, but Lenovo is nowhere near to HTC/LG/Sony/Motorola in terms of quality. I'd rather put it on par with cheap Samsung phones. The phone hardware sucks as hell. Two of my friends got the A6000, both are blessed with variety of hardware issues.
I've a Lenovo laptop, love it though. Over 2 yo, still works like day 1.

Seriously?
Micromax is shit.

Anything more than 9000 rs don't make any sense,since Lumia 640 available for 10000 rs.

That why 640 is flipkart exclusive, 540 is not

I dont know, but yea I love reading the comments.

Way better than the articles, that's for sure. (+820)

Insane device. No HD video recording .Unbelievable

Fuck ol...best game changer micromax canvas laptab is here...

Man I just bought a 640 :(

640 is much better thn 540

One more joke please troll

Fan boy.stop asking for jokes and justifying yourself that others are troll.think for a second.at the price of 640(13000₹) I would expect snapdragon 410 not a 400.

If you wanna buy that phone at that price, buy it else shut the hell up. As simple as that. :)

640 is 12k not 13k. And could you give me in-depth difference in 400 and 400, without googling?

64bit vs 32bit.adruino 306 vs 305

First, learn to spell Adreno and then speak. And again, difference between 305 and 306? Don't go with numbers and speak untill you exactly know what they are. -_-

My bad currently i am working with adruino projects so I just spelled it.so is the company gonna fall with my mistake? so would you not consider the no of bits taken by cpu and go on which has greater frequency?

It's never you or me. It's about a majority. Common people don't see these little details.

I was so down for this until I saw it had no flash! Same as 640 but higher spec front facing camera but no flash, and thinner? But more expensive?
The whole dang numbering system done gone out the window. They could come out with a Lumia 340 and it be a flagship at this point haha

Compared with Samsung, lg, HTC, its not costly

Go and buy that shit but don't compare them with Microsoft.

Microsoft mobile is in developing stage.. It wil take some days to give better specs with better price...

LOL! better at what, hanging? Heating? Poor battery backup? Why don't anybody see the cashback offers on windows device. The inbuilt apps are really useful!

Worthwhile phone except clear black...

lớp học chứng chỉ kế toán trưởng dịch vụ kế toán thuế

Even the low budget phones got better camera than my L1320. >.<

Me too but bro its,not carl zeiss. XL has carl Zeiss but lacks pure view that's why waiting for a flagship phone.

But I hope your L1320 wouldn't have given any trouble like over heating or buggy or battery problem or performance issues like other phones do. Also camera performs well in macro as well as day light for HD video recording too. That's what I feel good about my L1320. . It may be old, but not weaker! :)

I feel disappointed with this news, its bad news for 535 user or low end phone owner -_-

Now I don't know buying this is better or 640.

Buy Lumia 540, if you are selfie lover or else buy Lumia 640 because snapdragon 400 is far better than snapdragon 200, also clear black display in Lumia 640

+clear black +HD recording

I have a Lumia 730 with me right now. I'd rather skip all these budget phones and wait for the 730's successor, or better yet, the 940.

MS you cannot afford to piss off existing customers by releasing many cheap phones that have the same features and still expect us to grow the ecosystem

Nothing beats the Lumia 730 in features, price, design, performance. Been to many retailers out here in it sells out in just a couple of days, could not get the colours I needed,I had to order online

I believe only 730 is the true successor of 720. Other x30 series phones are not.

830 is a good successor for the 820, much better phone. If the 735 successor doesn't have Zeiss-like quality optics, I will go for the 840 or 940

This low end phones are cheaper than premium deodorants in India and many to choose to buy the phones. Lol!

Cheap and outdated specs....SD 200 is very old.. really going to be a failure model... No one going to buy

Ok so now that Ms has all the budget phones it needs ....let the high-ends come out all this bs about having to wait for win 10 for new phones to come out....this or the 640 aren't win10.....

We need a comparision chart to all these affordable phones right away.Its confusing to choose and hard to differentiate the specs.

Are they giving these things away in cornflake boxes over there?

Lol no. And these low rangers are hard to find anywhere... All I ever see are 730s and 535s. Never saw 530 430 anywhere till now. I have a hard time believing they sell well. MS should target mid range and high end now.

I so want to get rid of my Nokia Lumia 530! ;_;
Cant't wait for Windows 10 phones to launch!

But my 730 hv issue with double tap to wake up

Another low class
Microsoft pls pls pls

things are overlapping. i wish msft wud post an infographic on the lumia line and their spec differences

The comments sction will tell you that people dont bother about such news, but make the most of making the effort to come here :)

Waiting for new flagship till launch makes sense...as by that time hardware requirements will be finalized..... ND will have all features such as continum. Let MS first bring in all mid rangers... Then a big bang! But one thing I m disappointed from Microsoft.. Almost all devices have same design and looks.. It needs a refresh! Something like L735, L930, L1320...L1020... enough of round edges devices

What about new releases in the 7,8, & 9 series Lumia's. I guess they'll be Windows 10 ones later in the year.

Now why the heck I bought 730 then... Damn!

Cause it's better, duh! Lol

Microsoft can I get a 4.7 spd 615 1
GB ram

Comments are more interesting than Article
ha ha ha xD

4's 5's 6's 7's 8's 9's 10's 13's 15's

I'm ready for 11 12 and 14. That's for damn Sure.

India gets everything! Which they should, highest market share. Go India!

The announcement rendering shows a smaller surface area on the phone around the "Microsoft" logo... False advertisement? Then the actual renderings show a bigger one. See how much further down the time, wifi and reception area is from "Microsoft"? Much further.

Ok, so... Total list of Lumias:
----
435, 510, 520/521, 525, 530, 532, 535, 540, 610, 620, 625, 630/635, 638, 640, 640XL, 710, 720, 730/735, 800, 810, 820, 830, 900, 910, 920/928, 925, 929/930/Icon, 1020, 1320, 1520, 2520.
---
Phew! Tell me if I've missed out any. Also, I did this without consulting the net. Achievement unlocked!

People will never buy this product Lumia 640 is of almost the same price.

,WoW folks has microsoft Gone Crazyanother mid/low end smart phone at a time smart phone sales are down ! well at least this smart phones has a720 HD 5 inch screen going for it so some people will buy Microsoft could you put the 940/940xl high end Windows 10 ready smart phones on the market place a lot of people want to upgrade fro their their Nokia Lumia 920, 925, 928. give us a break do not wait for windows 10 mobile to be readyfor smart phones and tablets

This is awesome news. I wonder how the Lumia 535 owners will be feeling now.

Looks thiiiinnerr Edit: Maybe microsoft want to give a new spec standard of low-end phones that come with 440, 540, 640, etc.

C'mon Microsoft, don't stop until you release Lumia 599....

There should be a section, link or whatever with a big table comparing all the specs from all the Lumias since it has become imposible to tell what phone is "better".

9.35 mm? On Microsoft 's website it's 8.6 mm.

And we'll get those finger emojis too.
Windows Central Newsletter
Thank you for signing up to Windows Central. You will receive a verification email shortly.
There was a problem. Please refresh the page and try again.