Microsoft brings Insteon home automation to Windows and Windows Phone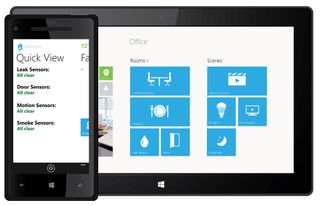 Insteon, the company best known for its home automation and control technology, have today announced enhanced versions of its app will be made available for both Windows 8.1 and Windows Phone later this summer – June 1st to be exact. Not only will the company be officially supporting Microsoft's platforms, but Insteon products will be sold at Microsoft Stores and on the Microsoft Store website.
With these upcoming apps installed, consumers will be able to utilize purchased Insteon hardware to transform their humble abode into a fully connected home. The apps will enable users to set up lighting scenes, schedule lights, monitor homes via cameras and even receiving instant notifications as to when doors and/or windows are opened and closed. Insteon really does make it easy for real life to turn into The Sims.
There's an added bonus for Windows and Windows Phone consumers, however. The two new apps for Microsoft platforms will come with exclusive features not available on other operating systems. Insteon CEO Joe Dada provided a short demo of the Windows app in action.
The exclusive feature list is as follows:
Visitor Mode – provides restricted access to children or guests in your home
Live Tiles – get status on multiple devices directly on your Windows 8.1 Start screen (not currently available on Windows Phone 8)
Enhanced Camera Support – view multiple cameras at once, view full-screen, and camera support without the need of an Insteon Hub
Multi-House Support – enables you to control multiple homes or businesses from a single account
Dashboard View – a quick and organized view of the status of your home
Microsoft Stores will stock a Starter Kit, Home Kit and Business Kit -- and five standalone devices, including the Insteon Leak Sensor, Open/Close Sensor, LED Bulb, On/Off Module and Wireless Wi-Fi Camera. Prices will range from $29.99 to $79.99, with kits starting at $199. If you've been looking at ways to add automation to the home, Microsoft and Insteon will soon be able to provide ample customization options.
Source: Press Release, via: CE Pro; thanks, Andrea B, for the tip!
INSTEON introducing smart home control and monitoring app for Windows Phone 8 and Windows 8.1
IRVINE, Calif. – March 15, 2014 – INSTEON, creators of the world's best-selling home automation and control technology, today announced that an enhanced version of its INSTEON app will be available for Windows 8.1 and Windows Phone 8 devices as of June 1, 2014. The app comes with exclusive new features, making home automation even easier for everyone, from the ultra-techie to the average homeowner. Quickly following the release of the INSTEON app for Windows PCs, tablets and phones, INSTEON connected home devices will come to Microsoft retail stores.
The INSTEON family of devices turns any home into a connected home. INSTEON users are able to set up lighting scenes, schedule lights to automatically turn on and off, and monitor their homes via wireless cameras from any mobile device. INSTEON kits and modules allow users to receive instant notification alerts when doors and windows are opened or closed, or when there is a water leak in the home. INSTEON provides all of this and more via a free app with no monthly fees.
Windows-exclusive INSTEON app features
In addition to taking full advantage of the bold design and dynamic interface experience Windows 8.1 provides, INSTEON has included new features to this app release that are exclusive to the Windows platform, including:
Visitor Mode – provides restricted access to children or guests in your home
Live Tiles – get status on multiple devices directly on your Windows 8.1 Start screen (not currently available on Windows Phone 8)
Enhanced Camera Support – view multiple cameras at once, view full-screen, and camera support without the need of an INSTEON Hub
Multi-House Support – enables you to control multiple homes or businesses from a single account
Dashboard View – a quick and organized view of the status of your home
"The Windows 8.1 platform provided INSTEON with an unparalleled opportunity to develop a beautiful and easy-to-use connected home experience. The Live Tile architecture is especially well-suited for home automation," said Joe Dada, CEO, INSTEON. "Users are going to love controlling their INSTEON-connected home from their Windows devices."
INSTEON devices to be available in Microsoft stores across the nation
Starting June 1, 2014, INSTEON connected home products will be available for purchase on https://www.windowscentral.com/e?link=https%3A%2F%2Fclick.linksynergy.com%2Fdeeplink%3Fid%3DkXQk6%252AivFEQ%26mid%3D24542%26u1%3DUUwpUdUnU22696%26murl%3Dhttps%253A%252F%252Fwww.microsoft.com%252Fen-us%252Fstore%252Fb%252Fhome%253Frtc%253D1&token=H4Y0RxO6 and by early July they will be available in most Microsoft Stores across the U.S., marking Microsoft's retail entry into the connected home market.
"Windows PCs, tablets and phones are supported by a rich app ecosystem that offers a variety of quality apps that take advantage of the platform's unique features and design such as Live Tiles," said Todd Brix, general manager, Windows Apps and Store, Microsoft Corp. "The unique camera and control features in the INSTEON app really come to life on both Windows and Windows Phone."
Microsoft Stores, in a continuing effort to provide choice, value and service for its customers, will offer a range of INSTEON products, including three unique kits -- a Starter Kit, Home Kit and Business Kit -- and five standalone devices, including the INSTEON Leak Sensor, Open/Close Sensor, LED Bulb, On/Off Module and Wireless Wi-Fi Camera. Prices will range from $29.99 to $79.99, with kits starting at $199.
"Microsoft understands the many benefits of home automation technology, and we look forward to providing the highest-quality experience for their customers now and in the years to come," said Dada.
INSTEON's reliable dual-band technology uses both the existing wires (power line) in the home and radio-frequency (RF) communication instead of relying on spotty Wi-Fi connections and routers, which dictate where smart devices must be placed to work properly. By making every networked device talk to each other via RF and the power line, INSTEON eliminates the need for custom wiring and ensures that every device is always connected. Adding remote control and automation to everything from home monitoring to lighting, INSTEON's dual-band network and devices allow users to manage the home or office in more variations than any other home automation technology.
Get the Windows Central Newsletter
All the latest news, reviews, and guides for Windows and Xbox diehards.
Rich Edmonds was formerly a Senior Editor of PC hardware at Windows Central, covering everything related to PC components and NAS. He's been involved in technology for more than a decade and knows a thing or two about the magic inside a PC chassis. You can follow him on Twitter at @RichEdmonds.
Wow, awesome...I will switch from UPB to Insteon if that happens first!

This is great news coming from Microsoft :D I can control everything in your home from my smartphone .

Yes!!! Just bought the insteon kit a week ago. Hoping they would make an app in the future.

You're so lucky! Go get a lottery ticket STAT!

This is great news I am already using Insteon all over my house and controlling it from WIndows Phone and Windows 8 today. Even Cortana has commands that work. So I will very interested to see an offcicially supported app released and what it can do. Hopefully it hits the Xbox One as well.

Yeah it was up and working day one Cortana released since the app I used to control my Insteon devices (Snap Switch) already had voice commands.

Xbox One is hopefully on the radar, they potentially could do more sophisticated/complex things since Xbox would remain on the same network.

It's that type of fututre that makes me not buy into the gloom and doom of a kinectless Xbox. The more compelling reasons people have to get one, then the more people will want one. And me using voice commands to control my lights couldn't be more compelling for my lazy lifestyle.

I knew you and RS would really like this news. I thought of both of you as I was reading this article. Love your show.

Excellent! Windows 8 and Windows Phone are setup to be excellent for home,automation! Hope they add Cortana and Xbox 360/One support to it soon as well!

Yes. Cortana being able to control this through the cloud will be awesome

I am not too sure, but wouldn't it be a security risk to have door knobs etc controlled over the cloud?

You can make custom commands for her to get the system to perform certain actions. I don't think you will really use her to open a door much anyway.

Rip google now. Siri I know he's resting

I want. In the process of automating my home

This is excellent news coming from Microsoft and Insteon, I can't wait to see the Xbox One App!

Whoa......! Looks like my next home improvement project....

Awesome! I've been shopping for cameras and Home Automation add ons and now I know which vendor has my business. Wink ,wink, nudge, nudge. Know what I mean?

Get the insteon kit from somewhere else. The starter kit retails for $119 in other stores. seems like microsoft will sell it for $199. Also your better off getting foscam cameras. the insteon one is a rebranded foscam. the foscam ones are cheaper and still work with the hub. I know I am using foscam cameras with the insteon hub.

I am trying to connect my Foscam to the Insteon hub but it's not connecting - how did you do it?

The cool thing is that I think Insteon will be the first home automation hub to support windows phone.

Mi casa verde works well with the grasshopper app.

Agreed. I really don't see any reason I should change. Mi Casa verde and the Z-wave protocol have been working great. I have two thermastats, 3 door locks, 10 lights, and 4 wifi cameras. My next project will be the garage door and alarm system. Zwave stuff is cheap and very robust.

Can you give some advice to someone looking to do the same and also incorporate whole house audio? I have done some looking around but have struggled to find a relatively easy solution. I have read a bit on casa verde but question whether its user friendly enough for my family.

That is third party though. Also Insteon starter kits are cheaper.

can the camera record? will it have some sort of storage or DVR service?

I'd love to use this box and the Windows apps, but no IR and Conditional Triggers support is a deal breaker. If they ever add those features, I'd dump my Java-based ISY in a second. Edit: There are other ways to support IR so just give me Conditional Triggers

IMO, they should've used the Xbox One as the hub and maybe they still can.

This is huge! Thanks to both parties that made this happen. My entire house has Insteon but since I've converted to Windows Phone 8.1 and Windows tablets, I lost a lot of automation functionality. I love my Windows devices, so this announcement really made my day. This has so much potential. MS made a great move here and I hope they continue to work closely together. Xbox One support? Control your home with Cortana? Yes please!

Brilliant move by MS judging by the comments. Don't really have any home automation and plus it is still a small market in the UK. Have yet to see adverts from third parties.

Wonder if they still work with X-10 based devices (they used to be part and work with all X-10 based devices), I use some appliance modules to turn on my Coin Op arcade machines(I have 5 full size orginal coin op video games) and a few other small devices in my home. It would be pretty cool to pull out my phone and turn on devices in my home...

This is just the app that sets up the insteon hub. everything still controls x10 devices.

Crestron & Lutron - wake up and do the same!!!

The nice thing is, they even have it on their website. Many give lip service but keep things a secret on the web. These guys did not.

I hope that prices for insteon hardware is coming down soon. They are way overpriced compared to some competeing solutions.

Can anyone tell me would this system link to other brands of camera like Tenvis WiFi camera?

At the end of the video did anyone catch that Nest will be supported by this app soon? That's fantastic news since Nest themselve apparently have shown no interest in building WP App; and doubt that it will ever happen now that they are under Google's regime.

You can use the Roost app on WP8 to control the Nest.

Now this is something to get excited about! Forget about wearables; only a few people really want them, and they are only going to buy one or two per person. Home automation and monitoring however... that is a HUGE untapped market that people are simply waiting for proper support for. Between lights, security cameras, door locks, HVAC, water heaters, etc. there are a lot of potential devices to move to.

I think this is great news. I've been looking at home automation for some time but this news makes a purchase a certainty. One question given that Insteon uses the electrical system of the house. I already use the Powerline devices to connect my Xbox One, and previously my Xbox 360, to my home network. This works great. Would adding an Insteon network to the same electrical system cause issues with the Powerline devices or vice versa. It doesn't seem to me like it should, but.......

Insteon's new products work over powerline and RF (dual band). They shouldn't cause issues with your current powerline devices but buy a module and test.

Been using mControl with Windows, WP, and XB360 for a couple of years now. I'm excited to see where this development will lead...

very good. Does Insteon also support internationally with their products?

For international compatibility, INSTEON Dimmer Module is available in several versions to match local electrical requirements. • France 2632-422 • Germany 2632-432 • United Kingdom 2632-442 • Australia / New Zealand 2632-522

what i like most the guy stated MS went to them and helped create thr App ( hint, hint, Google) and made is even better app than its competition Apple or Google. i need to know is this the first time an app on windows/phone has more and exclusive features than the other OS's?

Yeah, this speaks volumes about today's Microsoft.

I am so going to get that. By the end of the year, my house will be as automated as it can be...

I really like this. I too think the Win8 interface is perfect for something like this. Can't wait to get mine.

This is a really smart move by MS.

Not to be too pedantic, but June 1 is still Spring, so "later this summer" is not really right.

I'll be onboard immediately!

Anyone know if you can use your SmartLinc or do you have to have a Hub?

Was delayed until June 3rd. According to their website now.

Broken in Windows 10 Mobile. Frustrating, after I invested in their mediocre hardware due to their Windows support.