Microsoft Job post hints at bringing Windows Phone and Kinect to cars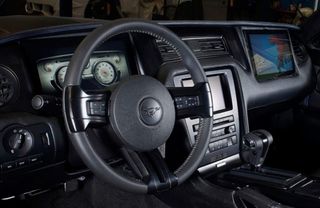 Microsoft's Connected Car team may be looking to bring many aspects of the Project Detroit car to consumers. Project Detroit was a suped-up Ford Mustang packed with the technological horse-power of Windows Phone and Kinect. It's audio, security and lighting systems could all be controlled through a Windows Phone.
According to the job posting, Microsoft is looking for someone to help integrate not only Windows Phone and Kinect with automotive technology, but also Windows 8, Bing, Azure and TellMe. The result would be a fully-interactive vehicular experience:
While Microsoft already offers its Windows Embedded technology in such products as Ford's Sync and Kia's UVO, along with many others, this goes above and beyond.
It looks as though the posting may have disappeared from the website, but you can read it in its entirety below.
Source: Microsoft (opens in new tab); Via: IStartedSomething
hmmm, kinect.... cars?.... wake up Sir, you are sleeping function? lol accident ratio down 10% thanks to MS! lol ;) ether way , good potential here for sure!!

I dunno, do you commute? Driving in a straight line on a flat road seems to be a harrowing experience for most people, based on the shenanigans I see on a daily basis. I can't see how more distractions can possibly be a good thing for that 50% of drivers who are below average, or even some of the ones who are above.

i agree. i passed my advanced driving test just to get my insurance policy down and i would class myself as a good driver only within what i was taught and from habit and experience like most. but if i had any more destractions i would be scared i would have an accident and ive only got my ipod plugged into my car radio. ive got enough to concentrate on!

lol true that , lots of bad drivers out there :P its like when the Bluetooth law came out , accident ratios went up for the first few months cause people where trying to figure out how they worked whiled driving, hehehe

yea, theyre a bugger those foriegn instruction manuals unless...

Sounds interesting, though my concern is the potential for cars to be "hacked"...

I see the opposite; if you are sleepy turning your face down Kinect can beep, if you drop something Kinect could light a bit that specific zone for you to get distracted less time, etc. You could get alarms for any improper circumstance, unlike today, and it could amplify ergonometric design for opening the windows, turning on air conditioning, lights, etc. with just a thumb up without getting your hands off of the steering wheel. Lots of possibilities. Then again, hackable, that's more of a concern, anyway, W7 has been rock solid!

oh well, since all the existing MS Auto stuff is based on a CE kernel we'll all have to buy new cars to get the new MS Auto features.

Oh well or you can keep driving an out dated hooty! Its same as old cars that once used carberators, they're now fuel injected. Technology will move forward with or without you!

Dont worry, maybe your 3 month old flagship smartcar wont get any new features, but it will surely get customizable start tiles!

I doubt current HW would be powerful enough even if the stayed with CE. It's funny though, after the WP8 announcement I was wondering if CE was basically dead since only their car stuff uses it for consumer products. Guess this answers that question :p

What an ignorant comment. You really don't have a clue

My only problem is the F word. Ford. Doesn't Microsoft, itself a victim of brand bashing(by applephiles) understand some of us won't by a Ford regardless of how cool the mustang is. Sync up my Chevy Sonic.

I'd buy a real mustang over a ford mustang any day. You'll still save a buttload of money on maintenance. :D

I'd don't know. Horses are rather expensive to feed and care for :)

Agreed. Unless they include BMW they can count me out.

I felt that way until I test drove the 2012 Focus. Now I have a fully loaded '12 hatch Titanium :)

Haha. "I won't buy a Ford even though I haven't driven any new ones." Dumb.

You mean sync up your government motors rip off the tax payer piece of crap.

Kinect in bmw very promising

This is amazing. This is the next huge thing. Tue Microsoft ecosystem will be extremely rich. Phone, desktop, laptop, tablet, tv solution, and a car solution. This can be huge

More important... Home automation

My car will be named K.I.T.T.

Lol... Mine will be deep space:)

I always liked the name H.A.L.

I don't know why, but I have that feeling, that my car one day will not let me into it if its name is H.A.L.


And your K.I.T.T. will turn into a K.A.R.R. and not let you ever get out of it :'(

Our future seems to be doomed haha

Who wants live in Detroit? Hell no not me. Highest unemployment rate in united states. I hope president failure dont get re-elected

Que... Great competitive edge for American automakers.... Might even employ new people

President bush was the biggest joke of a president ever but of course your racist áss will never realize that.

Its actually been a shame that integration with windows phone and ford sync has been practically non existent. They could have integrated those together significantly before and didn't.

Microsoft better get a move on before Apple takes this space away from them. FIAT will be the first company to use Apples product in their cars. It wouldn't mean much except that they'll be dumping Microsoft's Blue&Me that they currently use.

I hope car makers support multiple platforms. Things are bad enough with OS wars and mobile OS wars. We don't need car OS wars!

+1 but sadly that is the way of brand buddies.

Would love to see this in action. Don't know if I'd own a MS OS infected car personally.

And I don't mean infected in a bad way

Glad you clarified, otherwise my comment would have been longer. LOL

This would be pretty awesome if it extended to the aftermarket. I would love to have some of the "Sync" tech and these options on my vehicles.
Windows Central Newsletter
Thank you for signing up to Windows Central. You will receive a verification email shortly.
There was a problem. Please refresh the page and try again.