Microsoft Launcher gets big 5.0 update with Windows Timeline support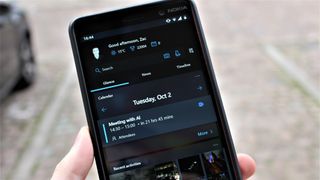 Microsoft Launcher's big update to version 5.0 is now rolling out to everyone on Android, coming a little over a month after first launching for beta testers. This update brings several added tweaks and features, but the biggest addition by far is Windows Timeline integration.
Timeline support has been a long time coming, with Microsoft promising its eventual release earlier this year. Now, when you're signed into the same Microsoft account on your PC and Android phone, your Windows Timeline activity will sync between devices. This allows all of your browsing activity from Microsoft Edge to show up in your Timeline on your phone, and vice-versa. Additionally, documents will appear in Timeline as well, so you can pick up where you left off in any Office documents, should you have the Office apps installed on your phone.
The other major change is related to the Feed layout, which now features dedicated tabs for News, Glance, and the aforementioned Timeline. The news tab is essentially one long feed of the latest headlines, powered by Microsoft News. This replaces the News widget that previously lived in the Feed. Glance, meanwhile, is similar to the previous Feed, albeit with a much cleaner interface that shows you relevant information at a glance with dedicated widgets.
Here's the official rundown of what's new in Microsoft Launcher version 5.0:
Feed - Updated Feed navigation for your Glance, News and Timeline tabs. You can now access your Feed settings from the top of your Feed
News - Updated News experience powered by Microsoft News
Timeline on mobile - Activities from your PC and phone now can be seen on your Android phone
Cortana - Use Cortana to send emails with multi-turn emailing. Cortana is now supported in the DE-DE market
Family - Parents can now view their kids' real-time location
See at Google Play (opens in new tab)
Dan Thorp-Lancaster is the former Editor-in-Chief of Windows Central. He began working with Windows Central, Android Central, and iMore as a news writer in 2014 and is obsessed with tech of all sorts. You can follow Dan on Twitter @DthorpL and Instagram @heyitsdtl.
I just noticed the update this morning. First impressions: it's just what I wanted. And you can turn off the news feed. Timeline seems to work great, though refreshing takes a bit long. (Still better than the laggy mess on desktop.) The navigation (swipe from the middle vs swipe from the edge) works well, better than I expected. Good job, MS.

I like the news widget but I like it even more that I can now just get rid of a full screen on my phone and still have the same size news feed. Top work.

Here it is 7:00 on 11/8 and my timeline is showing 2:00 11/7? So much for timely syncing

Does it have Live "Live Tiles" that are resizable? Do they flip to show new feed information?

I don't know why MS can't make a Modern themed launcher. That would be perfect. All I need is MS's launcher, with an official MS tiled start screen.

From someone still using Windows, I would consider this type of thing if they got it working with Windows Store rather than Google's store and got live tiles running. I'm not sure about the tiles thing, but I've heard nothing about it. I'm sure it isn't compatible with Windows Store yet though. I'm not up for buying all my apps twice though, so that would be an excellent move by MS. Probably best to wait for the not-Phones to come out but MS are dragging their heals a bit on that one. A more immediate solution could be a great idea for MS.

I don't think you understand what this is.

I loved this app until they got rid of the
windows live tiles features and essentially made it a clone of android.

I loved this app until they got rid of the
windows live tiles features and essentially made it a clone of android.

Yessir. When you're on the Feed page, tap the settings at the top right. You can toggle News, Glance, or Timeline on/off.

Ah, ok I have the feed page disabled already

Was hoping for landscape support

They got rid of the exiting app animation... It bugs me so much...

Love this new version, but they still need a lot of work on their News feed AI. I've been trying to train it, but I still rarely find anything that interests me. Searching in Bing and having sports teams in your calendar seem to be ignored too. Google is lightyears ahead of them in this area.

Their consumer AI is a mess. But I have to say, Google isn't amazing either. The things it apparently doesn't know about me despite all the data I give it are amazing. I don't drive, Google. Stop giving me driving directions.

Nice to see it updated. Can timeline be turned off? I never use it on windows 10.
Would still like to see live tile support come to the launcher. I use it a lot on Windows 10 and windows 10 mobile.

In MS Launcher, in the left pane, there's a settings button near the top on the right side. Click that and you'll see options for your feed -> turn off the Timeline feed.

Ahhhh. Thanks. I'm gonna need a lot of help turning this N9 into a Lumia 1550... 😂😂😂

Great launcher from Microsoft. Another thing they did right. I love Microsoft Windows 10 mobile but it's dead. The Launcher is the second thing I love.

How has this launcher pleased you on Android,, compared to having a Windows phone? I'm really interested in this launcher, but I still want to get the best experience with my N9

Just another example of why it was so genius of Nadella to kill off W10M. Granted, it may have appeared to be an act of cowardice on his part, when really it was a safe/practical move that probably saved Microsoft from ultimate ruin. To admit the platform was doomed and throw all his eggs into the Android basket has resulted in this brilliant launcher that brings the Microsoft experience to billions of Android users. At the same time it sends a clear message to UWP developers that UWP is a failed platform, the MS store is a failed ecosystem, and that they should probably learn to code in Android Studio like their younger counterparts or just go retire... thus compassionately giving them the closure they need. What a sweet man. This move will fill Microsoft's coffers with gold! And isn't that all that matters?

Ferris doesn't play by the rules. He's at a Cubs game.

The best launcher in the store just got better!

Why do some of my apps have circles around them now? Trying to figure that one out.. Love the launcher and my Note 9. Most of what I do on it is Microsoft based.
You could conduct quite a bit of work /browsing /play /communication and never leave that feed screen. If you set it up right you would just swipe around it and launch anything you need or work within it. It's kind of like a windows phone on one single screen of your android device.

Circles could be from your icon pack - might be a default

Yea, it looks like they changed the default icon pack. I use Viral for most but, any that it doesn't support go to default, which now have a circle. humph. Can't say I like it. but..still a great update.

I don't understand the point of Timeline. I used it on the beta, but just turned it off. Why would I need my web browser history on my home screen when I can just access it in my browser of choice? Is it because Edge doesn't properly sync the way Chrome does?

It's not just a timeline of websites, it's a timeline of everything you have done. Word , Excel, music apps, etc and other docs. Pretty much all you have been doing on phone or pc can be resumed quickly from timeline

Is there any way to turn off what I assume are suggested apps, when using search in the launcher?
Windows Central Newsletter
Thank you for signing up to Windows Central. You will receive a verification email shortly.
There was a problem. Please refresh the page and try again.