Microsoft Launcher's Cortana update now rolling out to everyone
A little bit of Cortana magic is coming to every Microsoft Launcher user with its latest update.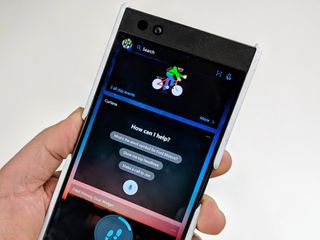 Microsoft's digital assistant, Cortana, is now a part of its launcher experience on Android. After launching for beta users in late-January, Microsoft Launcher version 4.6 is rolling out for everyone with Cortana integration and a number of other tweaks.
Cortana adds some interesting new capabilities to Microsoft Launcher. The digital assistant lives in your personalized feed, which is accessible with a right-swipe from your home screen. Once engaged, you can interact with Cortana using your voice, using the assistant to do things like make calles, change your wallpaper, schedule meetings, and much more.
While Cortana may be stealing the show in this update, version 4.6 also brings several other goodies, like the ability to place widgets in the dock or pin searched apps to your home screen. Here's a look at all of what's new:
Now Cortana, your personal digital assistant comes in the Microsoft Launcher: make a call, schedule meetings, change wallpaper, Continue on PC or read the headlines! ( en-US, en-GB, en-CA, en-AU, zh-CN )
Share Launcher via NFC & QR code;
Support Arabic/RTL languages
Intune integration supports remote data-wiping;
Choose contacts to display on your People card
Place widgets into the dock
Pin searched app/contact to home screen
If you're a Microsoft Launcher user, or simply want to give it a try on your Android phone, you can grab the latest update from Google Play now. And if you're a beta tester, we've seen a pretty steady cadence of updates moving through the beta track since Microsoft Launcher was released, so another new batch of features likely isn't too far off from testing.
See at Google Play (opens in new tab)
Dan Thorp-Lancaster is the former Editor-in-Chief of Windows Central. He began working with Windows Central, Android Central, and iMore as a news writer in 2014 and is obsessed with tech of all sorts. You can follow Dan on Twitter @DthorpL and Instagram @heyitsdtl.
To me "to everyone" means going global... :(

I agree wording like 'leaves beta' or 'heads to release ring' would be nice. It is insinuated that if you are getting an update that you already are eligable for the launcher itself though. If the headline read 'Microsoft Launcher's Cortana update rolls out globally" then you could get excited! I know it's not what you want to hear but give it some more time! It will come!

It is available globally, works great in every country... only the languages are limited.

You mean everyone in the US...
Would be nice if Microsoft could acknowledge the existence of the rest of the world from time to time. How long is cortana now on android? 2 years? With that speed they will make it available globally when I retire.

I am in Canada, I have Cortana and these features in the launcher...

Ok let's say countries which don't use the English language. I can use Cortana on my PC since the launch of Windows 10 and even longer on my Lumia (WP8) but not on my Android devices? That makes no sense. They already released Cortana for my country (Germany) but not for Android. Why? Where's the huge difference between Cortana on PC and Windows Phones compared to Cortana on Android?

Both Cortana and Microsoft Launcher with Cortana is available over here in the UK too

Yep, MS seems to be avoiding us.

Well, it looks like "Everyone" means every people in Cortana's supported countries.

Not even that. Cortana is available in many more countries on PC but not for Android. That's ridiculous. You can use her on Windows (and Windows Phone/mobile) in Germany but not on your Android Phone.

You can use the beta Cortana on Android in Germany. But I've had it with beta software from Microsoft.

im very horrible when it comes to android so excuse ignorance but how do i make this the defualt home screen instead of having to swipe to it?

Every Android phone is a little different, but you can usually go to Settings-->Apps-->Default Apps. On that screen, you can change your default launcher.

Do you mean that, if you are already using Microsoft Launcher, you want to see Cortana and the other cards like Frequently used apps, People, News and Recent Activities, etc. as your Home Screen? To change the default home screen within Microsoft Launcher, find an empty part of your screen and long-press. Then when you see the different screens sort of shrink down with a button beneath them that says "Set as default home," you can swipe over to the screen that you want to choose for the default home screen and press the "Set as default home" button. Hopefully, the way I explained it made at least a little sense...

I tried it but it won't launch navigation so I'm back to Google

Doesn't matter. I used Microsoft launcher for many months, but about 2 or 3 weeks ago it just started crashing. Now, it won't start up. I've uninstalled and reinstalled, I've written feedback. Nothing helps so Microsoft launcher is a no-go for me.

This is exactly what happened to me, but I've been using the beta. It's gotten a bit more stable in the last couple of updates, but sometimes will still take several seconds to load when I click on the home button. Plus, Cortana doesn't really work properly. If I hold the home button she pops up, but doesn't make any noise, and a lot of the actions don't work.

How can I enable Hey Cortana function?

Presently, "Hey Cortana" only works within the Cortana app on Android. I am really hoping that will change soon and that we will be able to use "Hey Cortana" no matter what the phone is doing and no matter what app we might be using at the time...

That won't happen unless Android changes it's restrictions. Currently only in-app 'Hey Cortana' works, and only for single step voice prompts. It's pretty mediocore compared to Windows where you can do multiple-step voice prompts... For example: Windows - You: "Remind me to...", Cortana: "Ok, I'll remind you to... is this correct?", You: "Yup", reminder saved....
Android - You: "Remind me to..", (no voice response) only shows it on screen and you have to manually click Save).

The stupid thing is, Cortana can make a call but she can't send a text or do a lot of things the app version can. I was very disappointed

Is Cortana itself ever going to get out of beta on Android?

I have downloaded the latest update but won't see cortana. Can anybody help how to set up Cortana?

Change the launcher language to english in general settings.

Is there any interaction between the Launcher-Cortana and the Cortana app? Can asking the launcher to do something the app can do work?

This is really horrible implementation of Cortana. I was expecting full Cortana UI that I can pin to a new page and avoid needing to open the app. Also, I rarely use voice with Cortana.

Yes ,This is good but I want Microsoft Launcher embedded with Cortana in English(India) as input method !

Got it but only after changing launcher language settings to English from System.
Windows Central Newsletter
Thank you for signing up to Windows Central. You will receive a verification email shortly.
There was a problem. Please refresh the page and try again.