Microsoft Launcher beta for Android snags Cortana integration
Microsoft Launcher is getting a dose of Cortana in its latest beta update.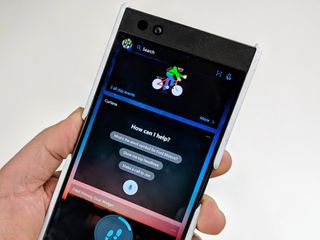 Since its launch in late-2017, Microsoft Launcher has picked up a number of tweaks focused mainly on customization. With the latest update rolling out to beta testers, however, one new feature is stealing the spotlight: Cortana integration.
Microsoft's digital assistant is now a part of Microsoft Launcher in beta version 4.6, bringing some new capabilities to the fore. Cortana lives in your personalized feed, accessible with a right-swipe from your home screen. Once engaged, you can use the digital assistant to do things like make calls, change your wallpaper, schedule meetings, and more.
In addition to Cortana, Microsoft Launcher version 4.6 includes some other, smaller tweaks to round out the experience. Here's a look at all of what's new:
Now Cortana, your personal digital assistant comes in the Microsoft Launcher: use Cortana to make a call, schedule meetings, change wallpaper, Continue on PC or read the latest headlines!
Share Launcher via NFC & QR code;
Support for Arabic/RTL languages
Intune integration supports remote data-wiping;
Choose what contacts to display on your People card
Place widgets into the dock
Pin searched app/contact to home screen
If you're already enrolled as a Microsoft Launcher beta tester, you can grab version 4.6 from the Google Play Store now. If you aren't enrolled, you can sign up to become a beta tester (opens in new tab) now. And if you'd prefer to wait it out, we've seen a pretty steady cadence of updates making their way through the beta track, so it shouldn't be too long before Cortana makes its way to everyone.
See at Google Play (opens in new tab)
Windows Central Newsletter
Get the best of Windows Central in in your inbox, every day!
Dan Thorp-Lancaster is the former Editor-in-Chief of Windows Central. He began working with Windows Central, Android Central, and iMore as a news writer in 2014 and is obsessed with tech of all sorts. You can follow Dan on Twitter @DthorpL and Instagram @heyitsdtl.
Good to see some proper functionality coming to it now!

Could someone who's tried it comment if it works better than the Cortana app? Right now, I can say something like "text so-and-so something or other" but then it brings me to a screen to select so-and-so's phone number which I have to physically tap before it sends the message. On Windows, it just does it, which was a lot nicer. BTW, Bixby just does it, too.

Yeah, if they can get it to the point where Cortana works exactly like it did (or does, I suppose, lol) on W10M, I'd be pretty happy. I don't have Bixby, but neither S-Voice or Google Assistant have been able to match Cortana on my L950 (RIP). It. Just. Worked.

The new update to cortana on the 1st, not the launcher, made it so you can send a text completely hands free. For instance, I have the Note 8. I have re-mapped the Bixby button to open Cortana, I then turned on 'Hey Cortana' option. Once I hit the Bixby button, Cortana app opens - I then say 'Hey Cortana' - Send a text to xyz - She then asks which number just like on my old 950xl. She then lets you tell her what you want to send, and then repeats back to you what you want to send, then you tell her to send it. Works exactly like the 950xl Windows Phone. Keep in mind, the Bixby button being able to launch Cortana only works if your phone is unlocked. It helps if you have your Android phone geofenced to your wifi connection, car bluetooth, watch (if you have one) - so that the phone stays unlocked when you are within range of those devices. Next up will be interception of calls and texts while driving and being able to respond on the Windows 10 phone....

Does anyone else find this completely pathetic? MS Launcher and now a hamstrung Cortana on it... it's like putting a Chevy sticker on a Ford. What the bleep happened? I'll tell you what happened, Nadella happened. If Nadella really cares about Microsoft he should resign and go to work for Google.

i think at this point, microsoft should just put out an android hardware but with microsoft launcher as default just like blackberry/amazon/ and a little bit like samsung. they know they have fans who are in millions downloading these MS Launchers

To early for that, Microsoft relly need to create Photo apps / Movies & TV Phone app as well. They still missing some base functionality apps for build Android phone with Google inactived apps for get Store, and have only Microsoft apps as the main defaults. But would like to see a Custom Roms buld for phones frome Microsoft. make it look like Windows Phone with Windows 10 Service but over Android, but with slowly releasing service after service for iOS / Android they will come a day where they problie gonna produce there own Android phones with Microsoft Service and still have the Store access. Google terms dont say the apps need to be the main apps, only that some rar of apps most be pre-installed, but they can send phone with inactive apps so they dont show up in the phone before the people active them.

You're missing the point slightly. Most people I know from work and school who use the Launcher have never used a Windows Phone in their lives. They really are carving out a new market by drip feeding people a taste of what once was Windows Mobile. Most of the diehard Windows Phone fans are clinging onto the platform with no intention of leaving. I think I speak for everyone in that group when I say Microsoft hardware with Android would just not cut it. You need to remember than apart from the Surface department, Microsoft suck at making hardware. The 650, 950 and 950XL were cheap feeling, creaky and all round pretty underwhelming phones. The only thing personally I would settle on would be a Surface team designed phone with a Windows Mobile esk visual OS and that can never be achieved through Android skins. I would also hazard a guess that the point of the MS launcher is to get people using Microsoft services making the Andromeda device an easier sell.

Yes, AlphaChap, you can include me in that group -- you are speaking perfectly for me. :-)

With the exception of higher end stuff like the Surface line, Microsoft doesn't want to be in the hardware business. They never did.

Yet Cortana is not available in most parts of the world

on the plus side , the localized what's new screen is a nice touch

Cortana on android is worse than Bixby

I wish Windows 10 apps were being this actively developed by Microsoft. Everyday more updates for Android and iOS apps than their own apps.

microsoft android and ios app are Microsoft own apps...not less than windows app They are all Microsoft app, with a small difference, android and ios app are used and by hundreds million users and could reach billioni users while windows 10 version on smartphone are used by few people and couln't reach anybody now.

On smartphone? I think you've misunderstood. They are on PCs of all form factors.

This is a great start, hopefully it continues to develop.

What's up with Bing Maps not available on Android, even from Edge?? Seems because if this, Cortana won't use your Favorite Places list, which is key when setting reminders such as "Remind me to pay Matt back when I get to Matt's House" or even "Remind me to buy nails next time I'm at My Home Depot" (Matt's House and My Home Depot are in my Favorite Places list). This doesn't work with Cortana on Android yet. I posted this on Ask Dan too...

Bing Maps still uses Here Maps for data so I installed Here Maps on my Android. It has all of my Favorites from Bing Maps. It's pretty nice.

Thanks I'll give that a shot, but Cortana doesn't use your Favorite Places still, right?

So I'm not just crazy. I use Edge and search on Bing for a location. I shows a map and some other stuff, and the map is clearly from MS. But when I tap on it, I'd like it to open my Here Maps app, but instead it goes to Google's map website. WTF.

Google Maps is set as your default maps app so intercepts any link it recognises .You need to set Here Maps as your default for those links if that's what you prefer

I don't understand why the Cortana interface is so inconsistant depending on where you open it from, or maybe I'm just 'doing it wrong.' When I open the app on Android it comes up with the informative screen, showing me upcoming or interests, with the talk to/type to option at the bottom. When I open it on my PC I get nothing except for search. The Cortana card on the launcher only has the option to speak to it I find that it is only useful for viewing my streamlined upcoming information when using the app on the phone. At least from there I can see a quick glance of my schedule, any upcoming deliveries, my to-do list (synced with Wunderlist) and any reminders. I don't know why this isn't carried across all of the Cortana screens that I have access to, unless like I said, I'm doing something wrong.

I've been hoping Microsoft would integrate Cortana into the Launcher. Glad to see it happening! I'm hopeful that we will eventually see Cortana with the ability to handle calls and SMS over Bluetooth when used with the Launcher for the kind of seamless call and SMS handling in the car that I used to have with Windows Phone and Win10 Mobile. It would also be nice if integration into the Launcher could somehow bring about "Hey Cortana" activation without needing the Cortana app open on the Android device.

I installed Cortana on my new Android phone, but find myself using Google's assistant more because "Hey Cortana" doesn't work from a locked screen.

Would like the Windows 10 integration without the launcher. I have moved on from Windows phone, so give me the integration with the launcher I already use.

Cortana lost me because the Invoke isn't available in Germany, Echo is...

Asked for it. Great to hear it's coming.

I was hoping that somehow this would also enable "hey Cortana"... Now I'm sad again..... Stupid Bixby....

Nice addition to Launcher. What would really round it out is adding Microsoft Photos to it. Being able to access photos directly from the launcher would be cool. Additionally, I would like to see them add Live Tile like features to their weather, news and Groove that can be activated in the settings.

finally...they should integrate also the lock screen

I wish I could use it in my car the way I could with Windows phone. There, I could call a special "number" and have it read messages ,etc. Could do the same on BlackBerry. Stupid Toyota doesn't support Android play so theres no option.

I wish the same thing. Cortana on my windows phone used to read me my texts and allow me to reply. and if I needed to start a text conversation I could "Call Cortana" on my WP and she would answer and I could give her voice commands. Once that is working I'll be much happier with her on my One+ 5 phone.

I'm a relatively new Android user after years of being a Windows Phone user. How easy is to switch back to my phone's original launcher. In my case, a Google Pixel 2.

Super easy. You can just change your launcher in settings

I would like to see the assistant added to "Yandex launcher". The last report I heard was the API and the functionality of Cortona would be made available and more open.

I recently (last week) went to Android but installed as many Microsoft apps as I could including the Laucher. Cortana actually does work but "Hey Cortana" only works while in the app. So I used "Ok Google" to start Cortana and then said "Hey Cortana". It worked! lol I know it's not practical but you have to start somewhere. :P

Please bring live tiles feature also

Not a fan of this implementation. Cortana is just a "card" within the Launcher feed, and is completely independent of the Cortana app if you already have it installed. I mean, it needs a separate login, for goodness sake. I had expected Cortana to *replace* the Launcher feed, similar to how Google Now/Assistant works. As it is, I prefer to disable the Launcher feed altogether, and use the Home screen integration already offered by Cortana. It honestly feels like a better experience. Disappointed. Between the Cortana app, Microsoft Launcher, and Bing Search, Microsoft has *three* independent, siloed experiences where Google needs just one. They are not thinking big enough.

I'm not sure what you mean when you say the Cortana card in the Launcher feed is completely independent of the Cortana app if it is already installed. I've had the Cortana app installed on my Galaxy S8 for months and just added the Cortana Launcher card yesterday and it works flawlessly with the Cortana app. There was definitely no need to login separately between the Cortana app and the Cortana card. Now, if you mean that you need to login separately for the Launcher itself and for the Cortana app, then, yes, that is accurate and is the same way with all of Microsoft's apps on Android. I don't know that there is an ability for a third party (non-Google) single sign on type experience across apps on Android.

All I care about is making calls with my bluetooth headset via voice commands, Cortana couldnt do that on android before so I switched to Google Now and that works prefectly, will check out if Cortana works, not holding my breath though.

Auto integration...text to speech...i know it was alittle clunky on W10M but I never realized no one else had this until i switched....

And yet the reminders is still linked to wunderlist instead of to-do
Windows Central Newsletter
Thank you for signing up to Windows Central. You will receive a verification email shortly.
There was a problem. Please refresh the page and try again.